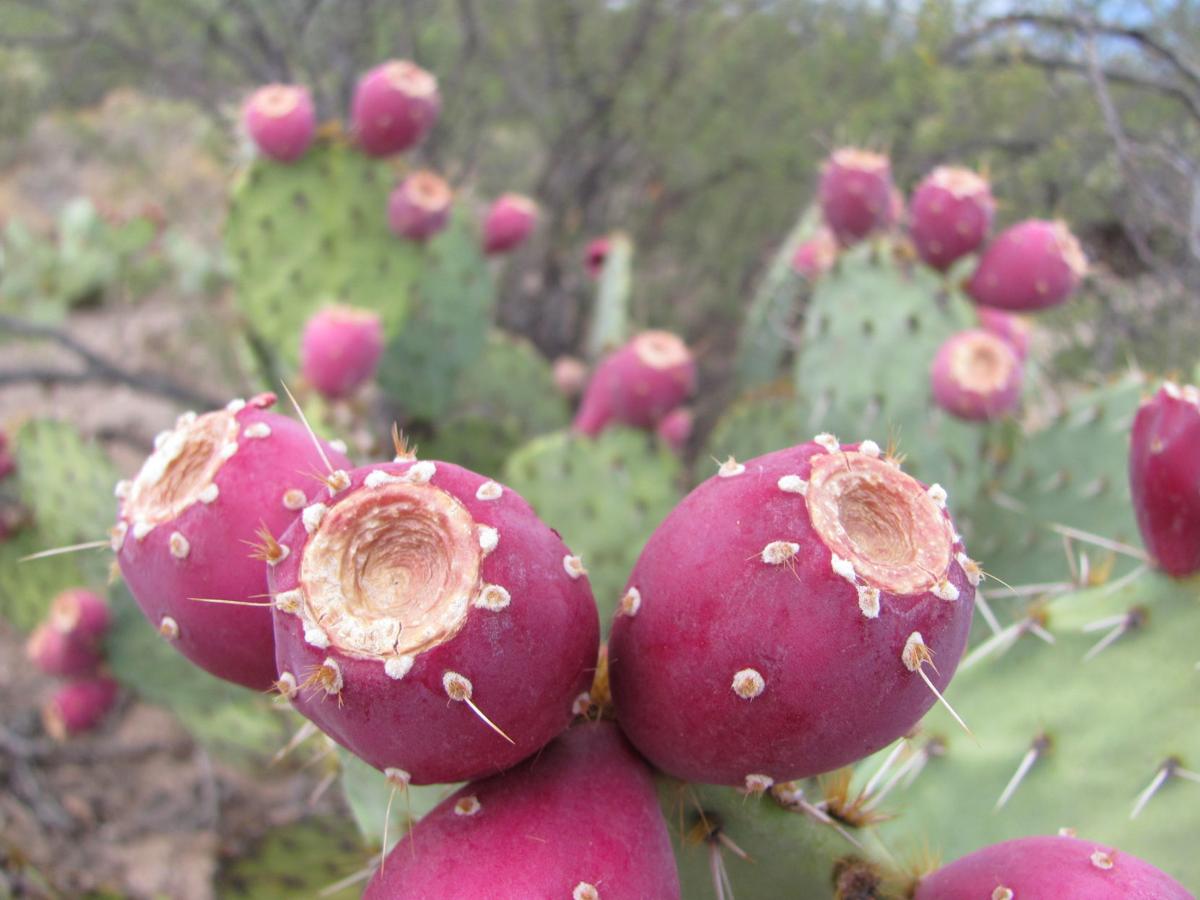 Re: the June 27 article "Get ready to pick prickly pears, a.k.a. tunas."
A recent article on harvesting and processing prickly-pear fruit failed to say how to best avoid the spines. Therefore, I must offer a brief public-safety notice. You do not have to suffer with prickly pear spines in your hands or anywhere else.
Gather the tunas with tongs, and drop them into a plastic grocery bag. Set a half-full bag into kitchen sink and cover tunas with water. Then, using the tongs, place two or three tunas at a time into a covered blender, gradually adding more into the blended liquid mash. Pour the mash gradually into a coarse strainer, and then through a finer one. Once the juice is drained away from the solids, there is no further risk of injury. Carefully put the solids in the trashcan and rinse the strainers. That's it. No tiny stickers in your fingers.
Sen. Martha McSally, exemplifying once again her craven obeisance to Donald Trump, voted last week with 39 other Trump party senators and against the constitutional separation of powers that 45 Senate Democrats, four Republican senators and one independent senator were trying to claw back. That measure, Senate Amendment 883 to S1790, which McSally helped kill, would have required Trump to receive congressional authorization in advance of his taking military action against Iran.
We recently saw just how close popular-vote-loser Trump came to single-handedly starting a war against Iran by his malfeasance or simple blundering, and now Martha McSally has helped green-light his tough-man fascistic war whims being egged on by his advisers, who lied us into war with Iraq.
Never forget for one moment between now and election day next year, that if Trump by mere dictate launches a war against Iran, Martha McSally will be that war's part owner.
Every Tucsonan should oppose the I-11 alt route because we can't put a river of concrete through the Avra Valley without destroying its heart and our unique sense of place, where flowers bloom at night and critters have the sense to hide from the noonday sun.
I hope we have the collective courage to rise up and say "no." Trade away our precious natural treasure for what? So more trucks can get to Phoenix faster? So our city can become Phoenix faster?
Independence Day honors liberty, not tanks
I served. The military has Veterans Day; Memorial Day becomes more military every year.
Independence Day recognizes the day we asserted our independence from England. It is a joyous holiday.
To insert tanks into Independence Day does only one thing: It recognizes that the current commander in chief avoided serving in the military, likes to play with tanks, would like to have his own private army and is thinking about (he said so) bombing Iran. The way he admires the North Korean dictator and his Russian friend makes it appear that he envies the military shows that his friends in North Korea and Russia can muster.
He says he got his idea in France. He should go to the gift, the Statue of Liberty, that France gave us and speechify there. Liberty is what the Declaration of Independence gave us.
May tank parades never come to Pima County — our streets have enough potholes already.
What is next, flyovers, marches and tanks at Labor Day, Christmas and Donald J. Trump's birthday?
I am a senior citizen, I am on Medicare and I love it. Still today, I pay into Medicare as I did during my working career. Everyone who is working is also paying into Medicare. Yet, the program is going broke. Just imagine what would happen to our taxes if Medicare for All goes into effect. Add to that, what would happen if reduced payments were made to doctors and hospitals?. Your wait times for elective medical assistance would be very long, as it is in the socialized countries. If it were to go into effect, I'm willing to bet that members of Congress would not participate, including Bernie Sanders. They love their free medical care that costs them nothing.
Hope bone spurs didn't hurt during speech
Dear Mr. President: I was delighted to watch you give your Fourth of July speech. You recited names of people who had shaped our country during the last 243 years with their own sacrifices. I'm sorry that you, yourself, weren't able to be one of those honored because of your bone spurs that prevented you from fighting in the Vietnam War. But, no worries. You can consider yourself a hero, as well, because of your exceptional ability to withstand the horrible phantom pain that those heel spurs must have caused you during your long speech.
Media should report on rally funding
The money being used by Trump to pay for his political rally on July 4 can be called redistributed by the media, but doing what he is doing used to be called misappropriation of funds.
The money earmarked for maintaining our country's national monuments was taken from the taxpayers for that purpose, and not for whatever purpose this egotist believes he deserves.
As journalists, you all used to hold the government officials accountable for things like this. I'm sure Fox News is telling everyone how patriotic misappropriating these funds is for the country, but the very fact that Fox calls themselves news journalists when they are basically state TV, says more than I could.
Trump, Pence, McConnell, Pelosi and, staying close to home, McSally, could all use to remember that they took an oath to represent all people in their area of government, not just their party.
It is revealing that Kim Jong Un now can count two intimate American friends, Dennis Rodman and Donald R. Trump. What a statement on international diplomacy.
Acceptance better than pride
The LGBTQ got more than its share of publicity with the 50th anniversary of the uprising at Greenwich Village's Stonewall Inn. There is a problem with the word "pride" bandied about.
It is if I were proud of being left-handed, left-eyed, left-footed and on occasion left out. Pride is the first of the seven deadly sins because it fosters an ostentatious display, which was much in evidence.
They would do better to replace "pride" with "acceptance," with the realization that the general public's interest in other people's sex lives by the vast majority is, to paraphrase Rhett Butler, "Frankly we just don't give a damn."
Re: the July 5 article "McSally, Kelly on opposite sides of Nike decision."
Gov. Ducey's conflict with Colin Kaepernick/Nike resurfaced as he sought to punish Nike by withdrawing tax incentives that would have led to 500 jobs for Arizonans. I think Ducey made an error by allowing his personal feelings to interfere with his normally good judgment that snuffed out an opportunity based on a controversy relating to the design on a tennis shoe. I have no issue with Ducey disagreeing with Kaepernick, but he must act with restraint and not in a way that chills the freedom of speech and harms the citizens of Arizona. What Kaepernick said was within his First Amendment rights, and Ducey knows this.
Nike has the right to make its own business decisions, and putting the American flag on a tennis shoe is in violation of our National Flag Code.
I would like to see Ducey reach out to Nike. Maybe they can put the state of Arizona outline on the shoe as a compromise and put 500 of our fellow citizens to work!