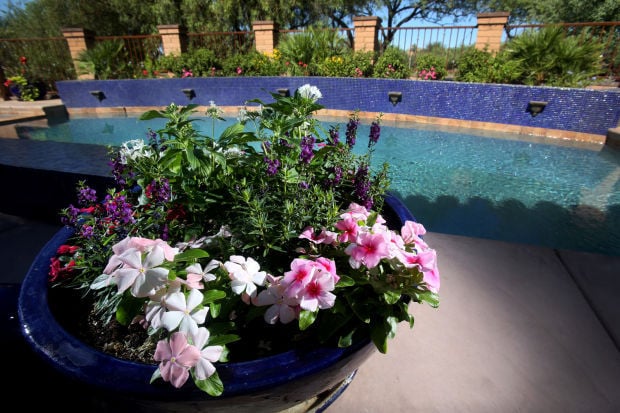 Outside Karen Gebbia's back door, a 12-by-6-foot raised garden bed is home to a who's who of plants: tomatoes, jalapeño peppers, oregano, mint, dill and strawberries.
The Pennsylvania native faithfully waters her plants once a day. She doesn't have a problem with pests. And she intends to use everything she grows.
"Our backyard only allowed for a small space with a raised bed," said Gebbia, who has lived in Tucson for 38 years. "That way you can contain the rich soil."
Planting seeds or transplants in raised beds or pots is known as container gardening, and it's a method growing in popularity among Tucson gardeners.
Chris Niccum has owned Sonoran Gardens Inc., a landscape contractor who designs and builds residential outdoor living areas, since 1996. A year ago, Niccum purchased The Contained Gardener, a shop he saw as a good fit.
"In the last few years, gardening in pots has gone from going into a nursery and seeing a few terra cotta pots to if you walk into any nursery today, they probably are devoting just as much space to pots as well as plants," Niccum said. "It's a great way to get a lot of relatively affordable impact; it really makes a strong visual impact."
Stephen Thomas, development assistant for Native Seeds/ SEARCH, agreed with Niccum.
"In general, there's a trend for people getting more involved in gardening in urban areas," he said. "It makes a lot for sense for people with no yards."
"Tomatoes are a gateway plant for a lot of people," said Thomas, chuckling. "They're delicious and beautiful, and they're prolific. They're actually kind of tricky to maintain, but there's just a lot of general interest in starting out with tomatoes."
He recommended the Nichols Heirloom tomato, a Tucson-created cherry tomato that's well-adapted to Tucson sunlight.
"People just want to reconnect with food," Thomas said. "There's nothing more delicious than a fresh-picked tomato. When people discover that themselves, that just gets them hooked."
Niccum bought The Contained Gardener from Marylee Pangman, who opened her store in 1998.
"It's a natural fit for them," Pangman said of the sale.
When Pangman moved to Tucson from New York in 1996, she became a specialist in how things grow in pots. She started making pots with flowers and currently has 30 to 40 containers in her yard.
"I was looking at all these pots, and thought I could help people," she said. "They try and they fail because our climate is so challenging."
She focused on flowers because she loves color. While in the UA master gardener program, she learned what doesn't work in pots. While cultivating a container garden indoors is possible, it's not recommended.
"People have succeeded, but you need a lot of light," she said. "Most summer vegetables need at least six hours of sunlight a day. People have had more success with herbs or tropical flowers inside."
Pangman continues to teach classes at the Tucson Botanical Gardens and is working on a book titled "Getting Potted in the Desert." While she gathers information for her book, Pangman blogs and maintains a website, PottedDesert.com.
While it's late to be planting a summer garden, Pangman said that some herbs, such as basil, thyme, rosemary and oregano, can be planted now.
Longtime container gardener Kerrah Cutter uses two 12-by-12-foot raised beds for her outside gardens.
"They're small, manageable areas, and you're not using the actual ground we're given in our own backyard," said Cutter, who also tends bar at Zona 78.
The 28-year-old University of Arizona psychology major is about to start planting some fall squash, including pumpkins and gourds. She suggested planting sunflowers with edible seeds during the monsoon.
"I grew up doing it," said the New Hampshire native. "My parents had a huge garden. … I feel like it's almost genetic."
Cutter saves packets of seeds in a basket, and goes to farmer's markets to ask for recommendations.
Container gardening can be done indoors or out, although people who like to grow food usually need more space outside.
Like traditional gardening, people can start with seeds or transplants. The first year, Gebbia used seeds, which didn't grow for her. This year, she transplanted 3-inch-tall plants to her raised bed in April. They have fared better and have yielded small amounts of vegetables and fruit.
"Experiment, try things out," said Thomas, who noted that Native Seeds/ SEARCH's catalog features about 600 varieties of seeds, all of which can be grown in the Southwest. "We also encourage people to grow and save their own seeds."
Native Seeds/SEARCH's store, at 3061 N. Campbell Ave., is celebrating its 30-year anniversary. The knowledgeable staff caters to all levels and can help you pick out your own packet of seeds, which start at $2.95.
"We can help you find seeds that have been grown in this region that have been grown hundreds, if not thousands, of years in this region and are adapted to thrive in the desert," Thomas said.
Despite what many think, it's more difficult to create a thriving container garden than one in the yard, Niccum said.
"There's the heat that's coming off the patio, there's a limited amount of soil and the soil tends to dry out faster," Niccum said. "It's really critical that watering is maintained, there's regular fertilization and regular pest control."
Niccum also advised regular deadheading, or removing the spent flowers, as well as regular pruning and thinning.
"I think the plants can be harder to keep healthy," said Thomas of Native Seeds/ SEARCH. "They're in a completely human-created environment."
But, he said, container gardening is great because of its variety.
"You can grow in anything - old coffee cans up to 5-gallon buckets," Thomas said. "I love greens: kale, chard, spinach, lettuces and arugula. They're easy, and they're prolific. You can keep picking them all season."
Niccum, of Sonoran Landscapes, also has noticed more people using high-quality pots.
"The whole thing is kind of a new trend," Niccum said. "The pots have really become a decorative piece, lots from Southeast Asia, mainly China and Vietnam. They can have a really striking positive impact or a really striking negative impact. A pot full of half-dead flowers makes a real negative statement."
The real beauty of container gardening, though, is the fact that it's an Everyman hobby.
"Anyone can garden," said Thomas of Native Seeds/SEARCH. "With sunlight, water and a little bit of love, you can have fresh food growing on your porch like magic."
And even if you're not great at first, many people don't seem to mind.
"I'm OK with not being successful with it, because next year, I'll know more and I'll have a better garden," Gebbia said. "I'm learning as I go."
Simple things to grow year-round
• Cherry tomatoes (Heirloom 1000 Sweet): "You're going to get fruit really quickly," Cutter said.
• Swiss chard: "It does really well in a good-sized container," said Cutter, who uses an apple juice barrel that she cut in half and drilled holes in the bottom. You can also use a 5-gallon container for spinach or arugula as long as you have six to eight hours of direct sunlight a day.
• Nasturtium flower: "These edible flowers are very posh right now. Spicy little buds, they come in these unbelievably orange, red, yellow colors."
Get seeds from the grocery store. For example, buy a tomato. Eat most of it, but squish some seeds on a paper towel. Leave it on the counter for two days so the seeds dry out.
Cut a little section of the paper towel with the seeds on it, and plant it in the ground.
Make sure to always have good drainage.
When your plants need water, their leaves will start to droop (i.e., squash, tomatoes, flowers).
Cutter waters her plants at night.
It's important to regularly fertilize about every two weeks, because the water that drains out of the holes leaches minerals. Cutter likes using diluted fish emulsion liquid - "The smell is pretty terrible, but it's not synthetic or harsh."
It's very easy to be organic, because your garden is on such a small scale. "You see a caterpillar, you pull it off," Cutter said.
Marylee Pangman suggests adding edible flowers to herb and veggie pots to make them more colorful and keep in the theme of sustainable plantings.
The summer list includes:
Be the first to know
Get local news delivered to your inbox!