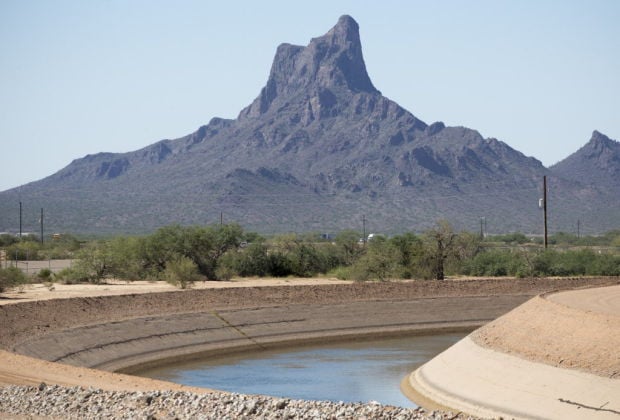 PHOENIX — A plan to protect Pinal County farmers from impacts of Central Arizona Project shortages now looks like it may take a huge bite out of the farmers' water supplies instead.
At a meeting Wednesday of a committee looking at a plan to protect Lake Mead from future steep declines, a top CAP official said the first shortage could slice Pinal County farmers' share of Colorado River water to as little as 80,000 acre-feet, based on tentative estimates.
That would amount to a cut of more than two-thirds of the 250,000 acre-feet of Colorado River water those farmers were due to receive this year, and nearly three-fourths of what they took in 2017.
It would force farmers there to take 55 to 60 percent of their land out of production, said Paul Orme, a Phoenix attorney who serves as a lobbyist for four Pinal County irrigation districts.
"This is an unexpected bomb," Orme said.
The steering committee is trying to put together a Drought Contingency Plan for Arizona. Its goal is to put together a plan by the end of November to divvy up the impacts of shortages on the Colorado River so no water interest group suffers unduly.
Probably the biggest issue facing the committee is how to compensate for the drought plan's impacts on farming. After more than two months of discussions, the 41-member group has yet to reach consensus on that.
As the drought plan is conceived, Arizona, Nevada and California would commit to taking substantially larger cuts in deliveries from the Colorado River than previously planned as Lake Mead keeps falling. That's to prevent Mead from falling to catastrophically low levels that would trigger more severe shortages later.
The Arizona Legislature would have to approve the plan in 2019.
If the preliminary figures hold up, farmers are likely to fight the plan.
"I realize that these numbers are potentially dire. If we want Pinal County to be a sacrificial lamb, the Legislature has the ability to make that happen. What I want to know is why everything has changed so substantially," Orme said.
Pinal farmers get 250,000 to 300,000 acre-feet through CAP supplies. If and when Lake Mead drops below 1,075 feet, the first river shortage would be declared.
The farmers have been seeking to save 150,000 acre-feet during shortages. That was what they called "full mitigation."
Committee members representing Tucson, Phoenix and other cities objected to the farmers' proposal, arguing that much of that mitigation would come out of their hides when they paid far more than farmers to cover part of the cost of building the $4 billion CAP.
On Wednesday morning, the makings of a compromise had appeared during a closed-door session with many of the committee members. Farmers would shave their request to 105,000 acre-feet during the first round of shortages and 70,000 acre-feet during a second round, triggered at Mead falling below 1,050 feet.
The state, the federal government and the CAP would also try to raise $85 million to $100 million to compensate water users who give up some of their supplies.
But Wednesday afternoon, CAP General Manager Ted Cooke told committee members that only 80,000 acre-feet would be available to farmers during that first shortage, if the estimate of full mitigation is based on how much water CAP users order for 2019. Plus, they'd get no water when the lake dropped below 1,050.
The first cause of this change is that 2019 CAP water orders, some of which came in only Tuesday night, showed that cities and tribes — which hold higher priorities for the water than farms — had ordered more than expected. That leaves less water for farms, meaning the amount of water the farms would lose in a shortage — or gain from mitigation efforts — would be less than expected.
Second, the total amount of river water available for the CAP for 2019 is less than in 2018.
Noting that the 2019 order figures are preliminary, Cooke said, "I'd like to redefine what full and partial (mitigation) means." Later, CAP and Arizona Department of Water Resources spokeswomen DeEtte Person and Sally Stewart Lee agreed there is no final figure yet for how much water farms would get under a "full mitigation" plan.
Cooke's comments came in response to questions from Don Pongrace, an attorney for the Gila River Indian Community. It appears the tribe, too, will lose far more water during the first shortage than it had previously expected, he said.
On Thursday, farm lobbyist Orme noted that the earlier, higher estimates of farm mitigation water were based on four or five years of CAP water orders. The 80,000 figure is based on "one year worth of orders and no history of delivery under those orders," he said.
But using the 2019 figure is valid, because its higher water order continues a trend dating to 2015, said Cynthia Campbell, water resources planning manager for the city of Phoenix. Many cities and tribes have bought more water each year, to store for future shortages, she said in an interview.
"They told us several years ago that this was going to happen," Campbell said, of past warnings of looming shortage. "And cities have done the prudent thing of storing water that's available for the future."
Using that argument, "then you have to decide is it better public policy for them to take more water and store it while farmers get none?" Orme said.
"It's a fine discussion to have about what should be the policy when you are talking about somebody else's water," replied Campbell.