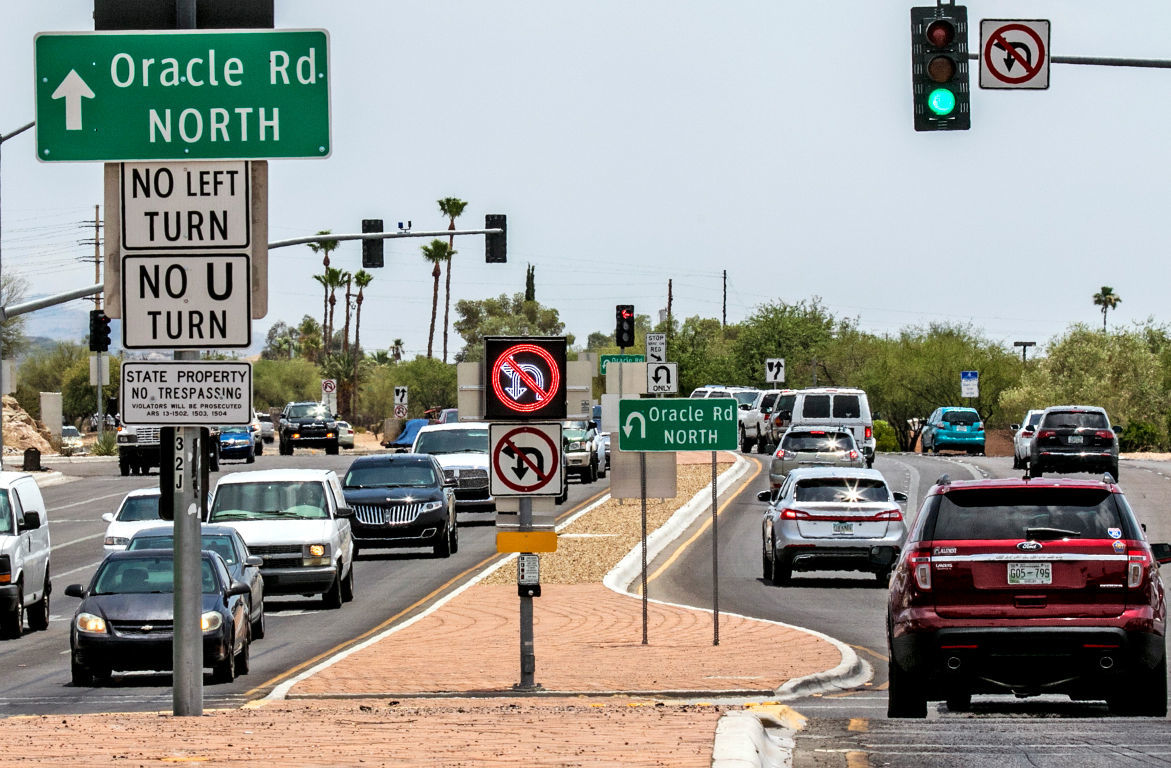 To the thousands of incoming students at the University of Arizona, welcome to Tucson.
Here are some tips to help navigate the city:
It might seem like half of the city streets are falling apart, and the other half are under construction. That's because Tucson is in the sixth year of a 10-year, $200 million effort to fix city streets.
Large swaths of Grant Road are under construction north of campus for a widening project and should be avoided as much as possible.
Downtown Tucson is enjoying a renaissance, and there are plenty of places to shop, eat, drink and enjoy live music. And the Tucson Convention Center is booking more events every year, including professional hockey.
The Tucson Streetcar — called Sun Link — is one of the best ways to travel between campus and downtown.
If you choose to drive through downtown, be ready for a lot of stoplights and busy crosswalks. A short distance can talk several minutes, depending on what's happening there.
Tucson has a variety of methods for left turns at intersections.
Some intersections lead with left turns, some are at the end of a green light. And along a portion of Speedway, the city is experimenting with new arrows that are more of a lagging left turn arrow but are tied to pedestrian crosswalks. That means a blinking yellow turn arrow can turn red in the blink of an eye. It's safest not to make assumptions about the streetlight pattern and to be wary of drivers who run red lights.
Tucson also is experimenting with "Michigan Left" turns. These indirect left-hand turns require drivers on Grant Road to go through the intersection to the next stoplight — one block down — where they can make a U-turn, then go back to the intersection you wanted to turn at in the first place to make a right turn .
There are several of these along Grant Road and another one at Ina and Oracle roads on Tucson's northwest side.
Tucson is divided by two streets when it comes to addresses — Stone Avenue and Broadway.
North and south street addresses start at Broadway, while east and west street addresses start at Stone.
One of the closest Eegee's to campus — trust me, you'll need to stop by soon for lunch — is 2510 E. Speedway.
So you know right from that address, you are pretty far away from Stone Avenue.
Easy-to-see street addresses are a bit inconsistent across Tucson. Street signs at major intersections include the block number if you're double-checking a map app.
There are two legitimate ways to pay to ride the streetcar along its 3.8-mile loop from downtown to Banner - University Medical Center. Tickets and passes can be purchased from a vending machine or by using Sun Link's app on your cellphone.
The latter comes with a series of hassles including paying a convenience fee every time you buy a pass and being routinely asked to show that you paid by a fare officer. Handing over your phone gets old pretty quick.
Full-time students get a 50 percent discount on the passes through the UA's program.
And then there 's parking.
The city offers a variety of ways to pay for parking at a meter, including an app you can download and put on your cellphone — you know, in case you don't have a stack of quarters handy.
Parking tickets can get pricey, and the city has plenty of people walking about handing them out.