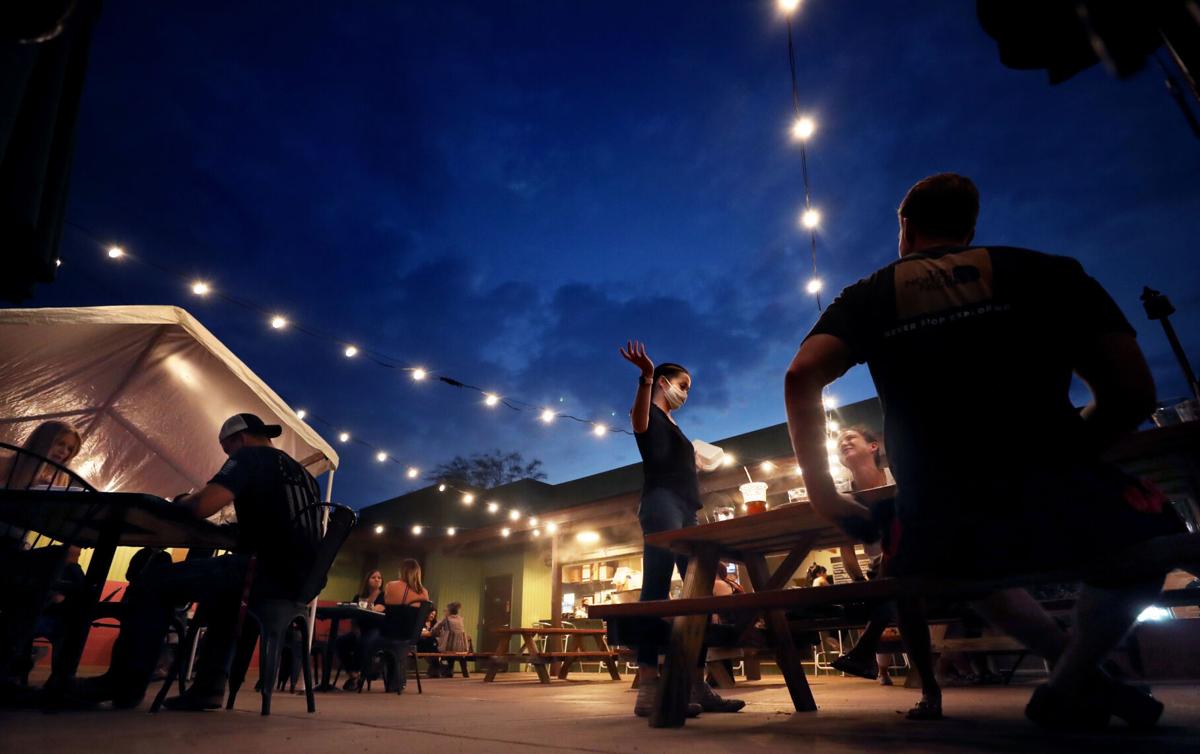 It hit 99 degrees in Tucson on the first day of fall on Sept. 22.
Over the following couple of weeks, we flirted with 100 degrees while never quite reaching it.
And now, finally, we can call it fall — as we know it, at least, with temps in the 80s.
And when the weather cools, we hit Tucson restaurants with outdoor patios.
Since the COVID-19 pandemic, outdoor dining has become the thing to do. Restaurants around the city in the past year have created patio spaces on sidewalks and breezeways and expanded existing patios to meet the demand.
We can't shine a light on all of them, but we've found five that we like to think are pretty idyllic for al fresco dining.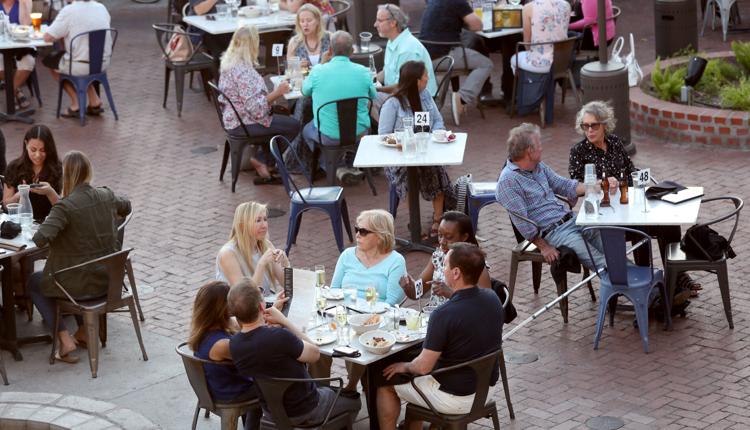 St. Philip's Plaza
Hours: 6 a.m. to 2 a.m. daily; restaurant hours vary by location
That's about an acre of restaurants that can seat hundreds of diners including 400 on the central plaza, with its glistening fountain and a 21-foot-by-28-foot stage that hosts live music six days a week.
On Mondays, Krueger turns the stage over to University of Arizona coaches — football coach Jedd Fisch and basketball coach Tommy Lloyd — who broadcast their weekly radio shows from the plaza.
Each of Krueger's restaurants have their own patios to go along with their wholly distinctive cuisines and interior designs. Union Public House, which celebrates its 10th anniversary on Halloween, is the largest with room for 100 diners, he said.
"For us having this much beautiful outside space and the ability to seat hundreds of guests comfortably and safely outside has really given us a tremendous business opportunity," Krueger said, adding that he has seen a sizable increase in business since the COVID-19 pandemic restrictions imposed in March 2020 were lifted that May.
Two weeks ago, Krueger installed a 17-foot-wide LED video wall to enhance the coaches' radio shows. He also has improved the LED stage lights and sound system for the plaza's live shows.
Coming up: DJ Big Brother Beats is on stage at 10 p.m. nightly Thursday, Oct. 14, through Saturday, Oct. 16. Zona Libre is on stage at 7 p.m. Saturday. For future events, visit uniontucson.com/union-events.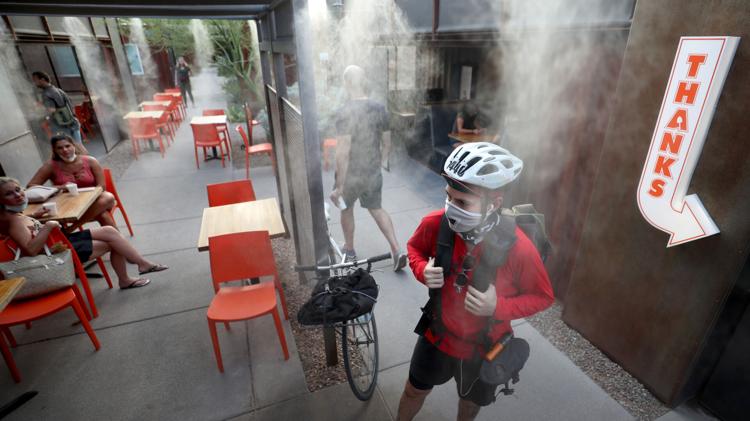 MSA Annex and Mercado San Agustine
Hours: 7 a.m. to 9 p.m. Sundays through Wednesdays; until 11 p.m. Thursdays through Saturdays.
Take the Sun Link Streetcar to the end of its westbound line and you land at the Mercado District, home to the Mercado San Agustin and its little sister MSA Annex.
The Annex is an architectural wonder with its shops and mom-and-pop restaurants housed in large shipping containers that ring a small courtyard. Sun shade sails blot out the brunt of the sun's punishing rays in the summer months and heaters are cranked on in the winter months.
A half-dozen picnic tables fill the Annex courtyard, where diners can grab a plant-based burger and fries from Beaut Burger or a craft beer at Westbound, owned by the folks behind Tap & Bottle. The annex also is home to Decibel Coffee Works and Kukai Fresh Japanese Kitchen, but Westbound and Beaut Burger are the only ones that have makeshift dining room containers.
Next door at the Mercado, shoppers can grab a pastry from La Estrella Bakery, which recently opened its third location just up the street in the old El Rio Bakery spot on Grande Avenue in Barrio Hollywood, and sit in the Mercado's partially covered patio area. Other restaurants include Seis Kitchen & Catering, which specializes in regional Mexican cuisine; and the upscale Agustin Kitchen,which serves brunch and dinner.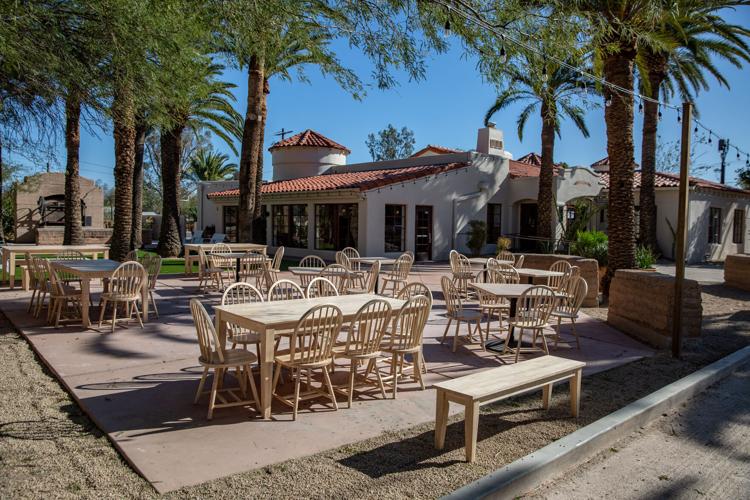 Locale Neighborhood Italian
Hours: 11:30 a.m. to 9 p.m. Sundays and Tuesdays through Thursdays; until 10 p.m. on Fridays and Saturdays
Business partners Deborah Tenino (Contigo Latin Kitchen) and Nick Kreutz opened Locale last December as the COVID-19 pandemic was ebbing and flowing — and not entirely in the direction health officials had hoped. But the restaurant, at the former Old Pueblo Grill, had space going for it: 8,100 square feet of it, perfect for socially distanced pandemic dining.
The restaurant, with its menu of old-school Italian including pastas that come in family size to feed up to four and Roman-style square pizza sold by the slice, also has an enviable patio big enough to space out tables and seat 100.
"With the weather getting nice, a lot of people want to sit outside so we've been busy," Tenino said.
The patio also is the perfect place for dessert under the stars. Locale offers classic Italian desserts including tiramisu and gelato.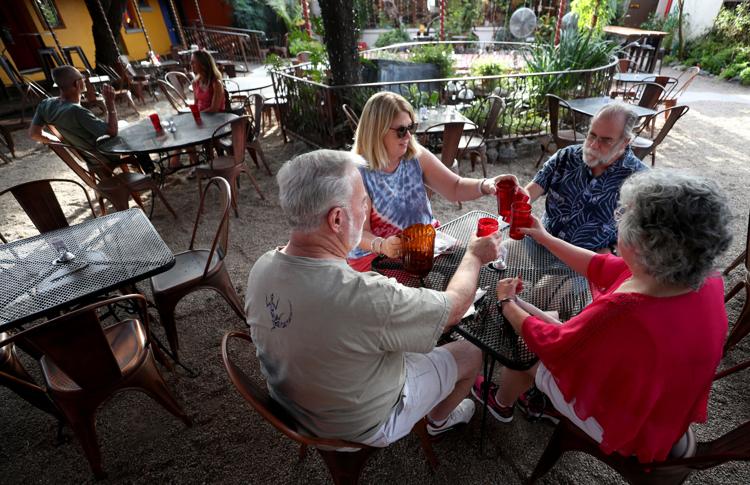 LaCo/Tallboys
Hours: 9 a.m.-3 p.m. Sundays-Mondays; 9 a.m.-9 p.m. Tuesdays-Thursdays; and 9 a.m.-10 p.m. Fridays-Saturdays.
After a second stretch of being closed due to the COVID-19 pandemic, this last time a whopping nine months, La Cocina, which now goes by LaCo Tucson, reopened in September, with Tallboys, formerly of North Fourth Avenue, sharing its courtyard space.
A family affair, LaCo is owned by Jo Schneider and Tallboys belongs to her son, Ben Schneider. The Schneiders joined forces during the pandemic. Jo's other son, Eli, who was operating Bentley's House of Coffee & Tea pre-pandemic, is also now helping with operations at LaCo, located amid the shops of Old Town Artisans in the El Presidio Historic District, downtown.
A lot has changed. Tallboys has taken over the old Dusty Monk Pub space and its menu is served both inside and in the courtyard for brunch daily from 9-11 a.m. A limited happy hour from 3-5 p.m. includes appetizers and burgers. Dinner service, which features a mix of La Cocina classics and bold new dishes created by executive chef Alan Lambert, runs from 5 p.m. until close Tuesdays-Saturdays, Ben Schneider said.
The courtyard remains a downtown oasis, with its stringed lights stretched between the restaurant and surrounding shops, tall trees for shade and a stage for live music.
Ben Schneider said the family is easing back into things while they get their sea legs, but they are happy that they can provide a comfortable outdoor space as the pandemic continues.
"It is a very safe place," Schneider said. "We are able to spread people out nicely."
Saguaro Corners
Hours: 11 a.m.-9 p.m. Tuesdays-Fridays; 10 a.m.-9 p.m. Saturdays and Sundays.
As the mercury drops in Tucson, Saguaro Corners is making the transition from its high-pressure misting and cooling system to a patio that is "extremely well-heated" for the fall and winter months, according to co-owner Dave Musso.
Located on the far, far, far east side of town (a two-minute drive and you are hanging with the local wildlife at Saguaro National Park), the restaurant is a haven for folks from Vail, in-town residents living east of South Harrison Road and the occasional family of javelinas.
Saguaro Corners sports a killer craft beer roster, a healthy selection of mixed drinks and an innovative lunch and dinner menu, serving everything from lobster mac and cheese to Cuban sandwiches.
Musso said a fall menu is on the horizon, bringing back fan favorites like Saguaro Corners' chicken and dumplings dish and debuting new plates, including a pimento mac and cheese and its fall version of their skirt steak salad.
Enjoy a pint and a meal at picnic tables with your friends and family under the glow of the restaurant's giant neon cactus.