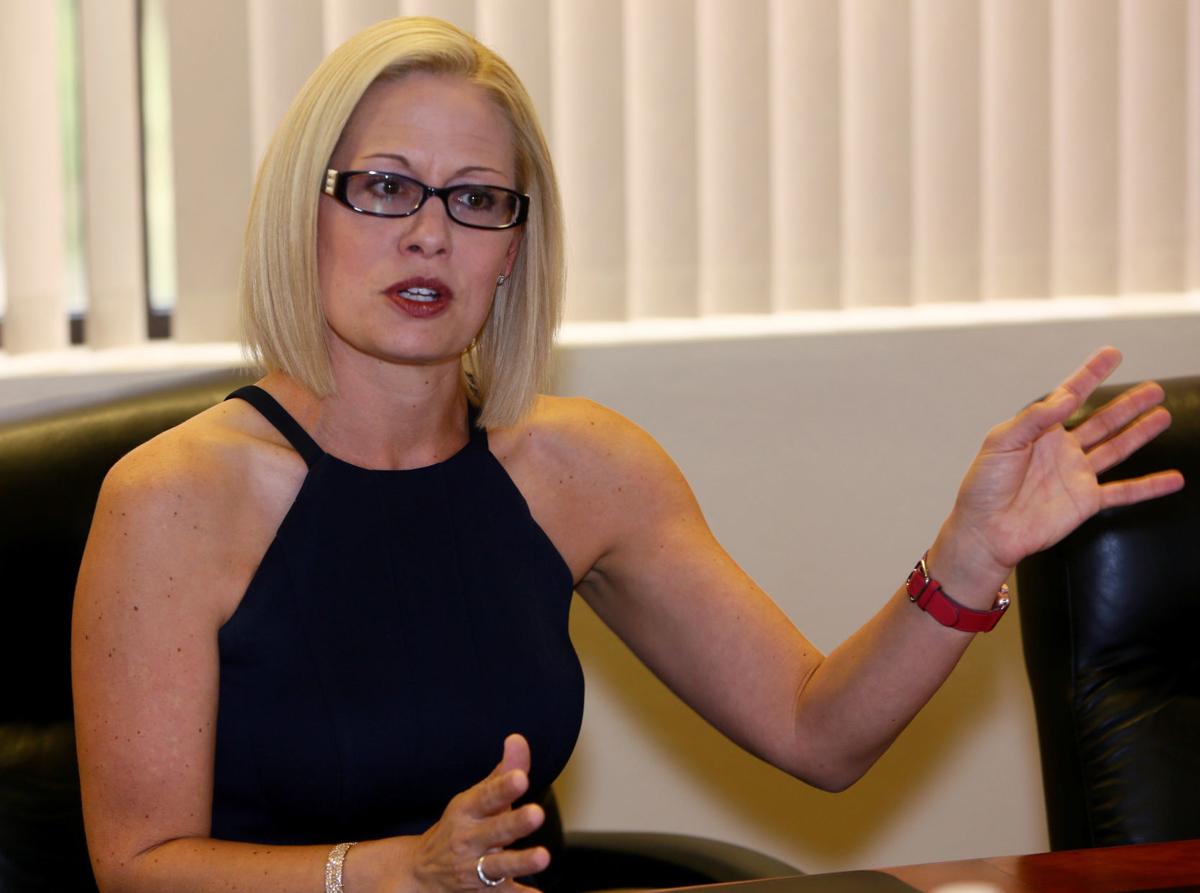 The race to represent Arizona in the U.S. Senate is one of the most watched in the country, with good reason.
It offers two views of Arizona, and our future:
Martha McSally's Arizona follows the Trump agenda, embraces tax cuts for the wealthy, values veterans, wants a border wall, seeks to repeal the Affordable Care Act, and is itching for a fight on trade, tariffs, immigration, foreign relations and the environment.
Kyrsten Sinema's Arizona is more pragmatic than ideological, unafraid to change, concerned about health-care affordability and access, values veterans, supports local law enforcement assisting federal immigration authorities, and is inclined to work together rather than draw battle lines.
The Arizona Daily Star editorial board supports Kyrsten Sinema's approach to Arizona and endorses her in the race for U.S. Senate.
Southern Arizonans are familiar with McSally, a Republican who is finishing her second term in Congressional District 2. We endorsed her in 2016.
While she has done good work in helping to keep the A-10 fighters at Davis-Monthan Air Force Base and being an advocate for the military, we have found her determined march to the political right, and her alignment with President Trump, alarming.
In her quest for a Senate seat, gone is the McSally who supported a bipartisan approach to immigration reform and who portrayed herself as an independent thinker (although she voted with Trump 97 percent of the time).
McSally has avoided unscripted public appearances, preferring to meet with selected groups at job sites or other controlled-access situations — a pattern we find troubling because it excludes contact with most of her constituents.
More than a month ago, the Arizona Daily Star's editorial board invited McSally and Sinema for an endorsement interview. Sinema accepted, McSally's campaign did not. Our endorsements are based on candidates' records, performance and statements.
Sinema, a Democrat, has had an interesting political track. She started as a progressive liberal in the Arizona Legislature and was known for opposing the war in Iraq. She has moved toward the center in Congress, and angered Democrats by not supporting Rep. Nancy Pelosi as speaker of the House, or Sen. Chuck Schumer as Minority Leader.
Sinema has also cast votes that agree with Trump's position during her time in Congress. She positions herself as someone independent of partisan dogma, and her voting record supports that. Being able to work across divisions is key to success, especially in political office, and we value her ability to do that.
Sinema's focus on the pragmatic shows in her legislative record in Congress: She's put forward changes to the Affordable Care Act, such as delaying the health insurance tax and the medical device tax, and tackled immigration and public safety with legislation to increase the number of Customs and Border Protection officers.
Two moments from our interview with Sinema stood out as we weighed our endorsement choice for Senate: On health care, she talked about how working with others takes compromise, but that the discussion must begin with clear and defined principles to build on. "You don't just show up with a plan," she said.
And, when discussing her evolution from the left toward the center-left, Sinema was thoughtful and refreshing in a time when fidelity to an ideology or personality is a litmus test of worthiness: "I am committed to learning and growing," she said. "I have changed. It has definitely been a process.
"I would hope we would expect our leaders to learn and grow," Sinema said.
We agree. And for this reason, and others, we endorse Kyrsten Sinema for the U.S. Senate.
Catch the latest in Opinion
Get opinion pieces, letters and editorials sent directly to your inbox weekly!