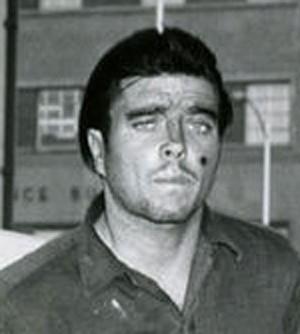 It all began with a missing 15-year-old girl. Then two sisters went missing.
The story of Charles Schmid, a young man who seemed to draw teen girls to him and appeared to have an inflated sense of his own power, made headlines around the country.
Many of the stories were unflattering to Tucson, which was called a hayseed town. Speedway was a seedy street.
In the end, Schmid was convicted of murdering the missing girls and burying them in the desert. Others were involved, but Schmid was at the center.
Time Magazine ran an article about the case and the Arizona Daily Star reported on it on Nov. 24, 1965:
Time Gives Full Treatment To Schmid Case
Magazine Tells Of 'Image Building'
Charles H. Schmid, facing charges of murder in the deaths of three Tucson teenaged girls, is described in this week's Time magazine as a swinger who "always had wheels, money, tall tales and an inexhaustible supply of available girls' phone numbers."
The news magazine article also said Schmid went to bizarre lengths to build his image.
"He added 3 in. to his meager (5 ft. 3 in.) frame by stuffing rags and folded tin cans into his black leather boots. He dyed his hair raven black, wore pancake makeup, pale cream lipstick and mascara," the magazine said.
Time also reported that Schmid's supply of cash was from a generous weekly dole from his mother. "Schmid bragged to the boys," the story said, "that it (the money) came from smuggling cars into Mexico, to the girls that it came from women whom he taught '100 ways to make love.'"
Schmid landed in jail after Richard Bruns, 19, turned informer and told police Schmid had taken him into the desert and shown him the bodies of Gretchen and Wendy Fritz and boasted he had killed them.
Bruns also told police that Schmid had shown him a grave in another desert location in June of 1964, shortly after Alleen Rowe, 15, disappeared from her home. Acting on the Bruns story, police also rounded up John Saunders, 19, and Mary Rae French, also 19.
Time says that according to their statements, Schmid, who was dating Mary French, and Saunders were at Mary's house the night of May 31, 1964, when Schmid idly wondered if they could kill someone and get away with it. He suggested Alleen, a bright pretty student who had once stood Saunders up for a date; the others agreed.
Mary French, the Time story says, persuaded the girl to go for a drive with them. She was taken about five miles into the desert, where Schmid and Saunders walked her down to a dry stream bed and hit her on the head with rocks until she died.
Time also hints at a curtain of silent conspiracy. It said:
"Almost as fantastic as the murders themselves was the disclosure that at least 30 teenagers, all friends of Schmid's, had apparently heard him brag about the crimes — and said nothing. Confided one 16-year-old coed at Tucson's Palo Verde High School: 'A lot of people knew, but it was already too late. Telling would just have made it tough on everyone.'"
Schmid was convicted, escaped from prison several times but was always caught and died in prison in 1975 after he was attacked by several other prisoners who stabbed him numerous times.