The menu at Chef Wang is so large, it takes a four-ring binder to list everything they serve. Fortunately, this leads to a fun study session because every laminated page has colorful pictures of Chinese dishes you've probably never seen before. 
Even on the first page, we were hard-pressed to find an appetizer we recognized. There are no egg rolls here. Instead you'll find peppery pork kidneys and marinated octopus with cucumber and carrot. After asking about the vaguely titled "cold combination," we were invited to look at the open buffet line placed at the front of the dining room, which was filled with almost nothing but pickled vegetables.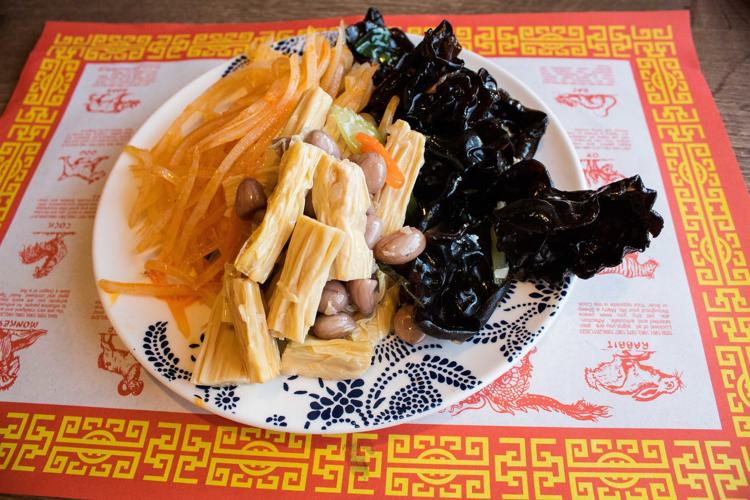 That's because Chef Wang, or Zhuang Yuan Lou if you speak Mandarin, is essentially a Northeastern Chinese restaurant. The new spot is a partnership between Baoge Chen and Chef Hongquan Wang, who are from the city of Shenyang in the Dongbei region of China. The pickled vegetables are actually a hallmark of this region, which stretches up toward Russia and North Korea. 
Dongbei has a colder climate than much of mainland China. This has traditionally made farming more difficult in the wintertime, leading people to preserve their vegetables. (One of the dishes we ordered at Chef Wang actually had kimchi in it. Others have a Chinese version of sauerkraut called suan cai.)
Dongbei cuisine is not heavy on rice. But it is known for its hearty stews and its flaky meat pies made with wheat dough.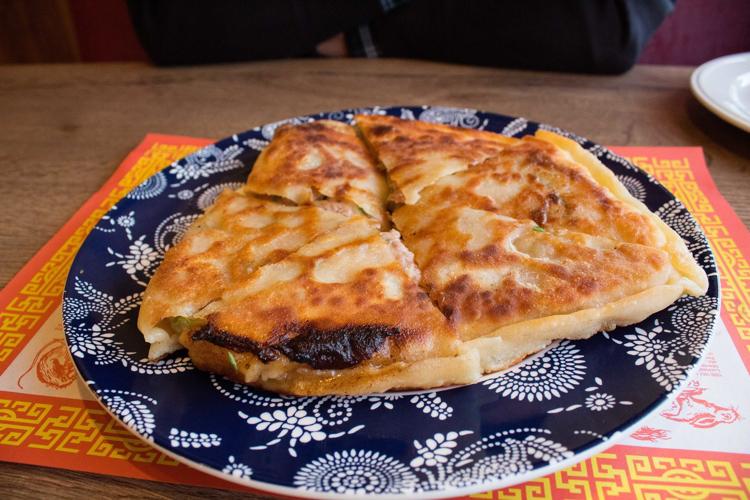 Of course, that's just one asset of the menu at Chef Wang. You'll also find an array of Sichuan hot pots, meat skewers, seafood, noodles and even a page of "Popular dishes in America" which includes orange and broccoli chicken, honey walnut shrimp and more.
The restaurant is inside an old Mariscos Chihuahua on Grant Road, and has a suburban vibe that led my lunch partner to call it "The Cheesecake Factory of Chinese food." It's nice but approachable, and has something for everyone. 
To give you some guidance, here are three standout dishes I tried over the last week. The restaurant did just open in late April, but my first impression was that you should skip the Sichuan and go for the Northeastern Chinese dishes, which you can't find anywhere else in town.  
Jingdong meat pie (pictured above)
The "Dumplings, pancakes and buns" section of the menu is rather extensive with selections like Chinese beef burrito and fish pot sticker. You'll be tempted to order the house special pancake, which is shaped like a big sombrero in the picture. It actually came out flat with no fillings, and was less substantial than the Jingdong meat pie. The meat pie was basically a flat pork meatball that was layered into sheets of crispy pastry dough. Hands down, my favorite dish on the menu so far.
Small steamed bun, AKA soup dumplings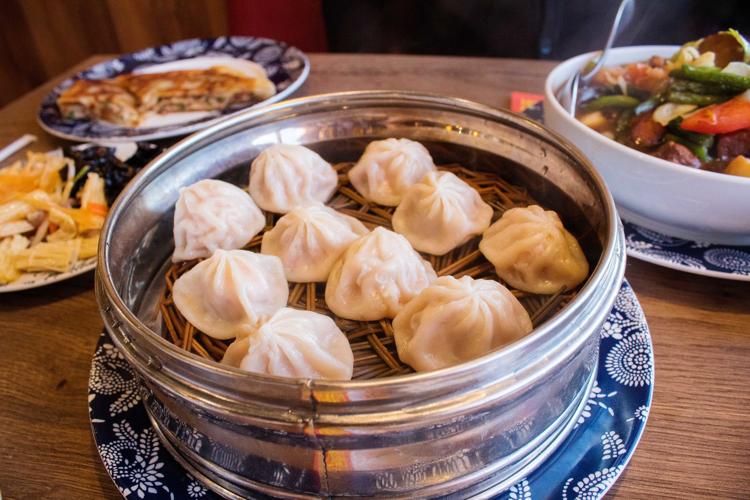 This trendy dumpling, hailing from Shanghai, has been relatively difficult to find in Tucson until recently. The insides are filled with meat and a gelatin cube that melts into broth when the dumpling is steamed. The soup dumplings at Chef Wang are a little less liquidy than others, but I enjoyed them immensely.   
Dong-Bei stew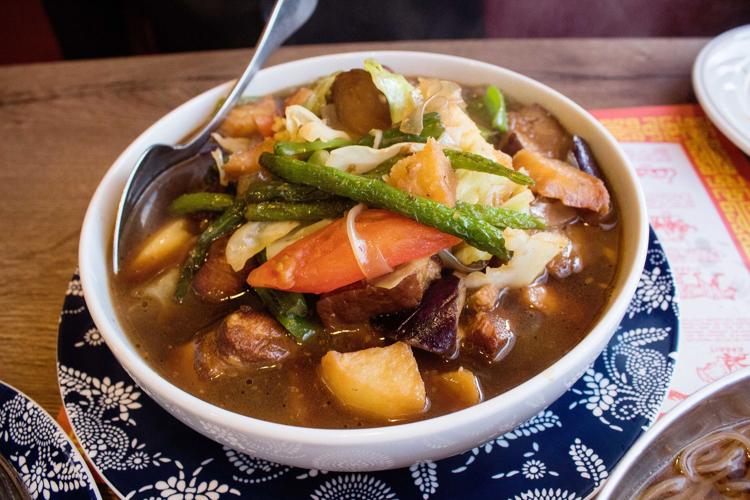 Stews and soups take up a big portion of the menu, and this is one of the heartiest they have. Chen's daughter Tianci Borisevich described it as a kitchen-sink kind of stew that has a little bit of everything: fatty pork ribs, eggplant, potatoes, tomatoes, green beans and even some wide cellophane noodles tucked in the bottom. My dinner partner enjoyed the broth, saying it was both hearty and light at the same time. 
BONUS! Candied hawthorn on a stick
I don't think it's on the menu and I actually haven't tasted it myself yet ... But on both visits I noticed the servers walking around with big skewers of round red fruits. They're actually Chinese hawthorn berries, which are coated in caramelized sugar as a street snack. So save room for dessert, if you can! 
Chef Wang is at 356 E. Grant Road, Phone: 520-367-5375, Hours: Monday through Thursday 11 a.m. to 9 p.m., Friday and Saturday 11 a.m. to 9:30 p.m., and Sunday noon to 9 p.m., subject to change