I half expected the food tour of Marana to begin with a bucket of peanuts at the Texas Roadhouse. But here we were out in the desert, standing around a big rock and pointing at spirals. 
It was one of those rare rainy days when the muted sky brought out the pastel colors of the plants, and you could actually look at things without sunglasses. The boulder was about the height of a human and tinged with soft pinks and mossy greens. The ancient figures were outlined in an oily black color, and a little hard to spot. Luckily we had an archaeologist with us ...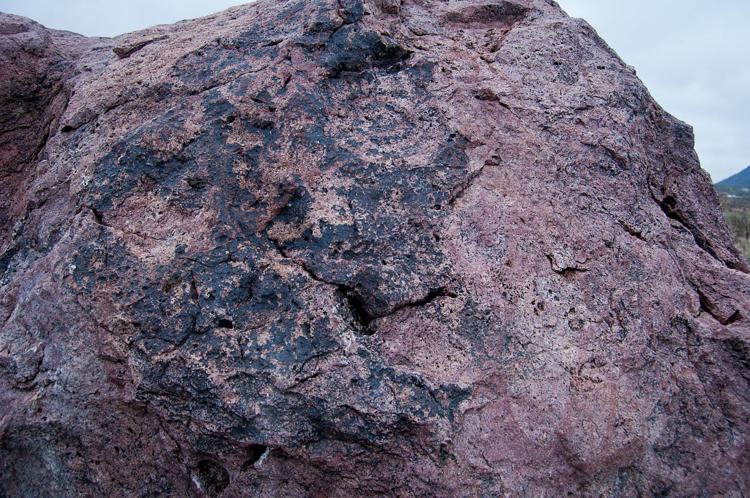 Dr. Suzanne Fish, the researcher who's responsible for much of what we know about Tucson's early city of gastronomy, told us we were standing in the remains of an abandoned Hohokam village which dated back to AD 500. There were bowling ball-size holes carved in the bedrocks. Ancient villagers used the holes as mortars to grind mesquite beans, which require a different technique than grinding corn with a mano and metate. 
Half an hour earlier we'd met in the parking lot of Marana's new outlet mall and piled into a van, driving past chain stores and suburban saguaros to a desert spread where the mountain peaks towered all around us. This was the first stop of the Marana Gastronomy Tour: Los Morteros, or The Mortars.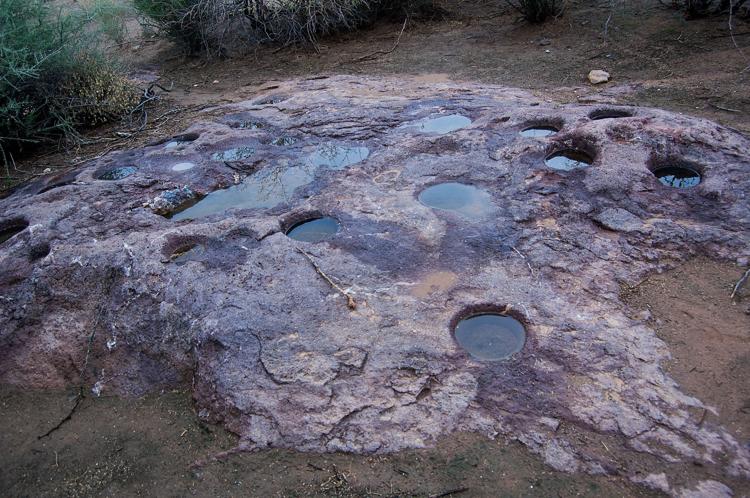 I don't usually do these kinds of things. Tucson's recent City of Gastronomy designation has spawned half a dozen foodie tours of seemingly every neighborhood. Now you can pay someone to feed you chicken tenders on Fourth Avenue, or take you down to La Doce for some tacos. (They charge extra to explain the salsa bar, jk 😉.) A new tour actually popped up this month that visits every restaurant in the Presidio District downtown while an ethnobotanist talks to you about wild plants.
But I usually prefer to just do these things myself, 'cause I live here and stuff. The Marana Gastronomy Tour intrigued me still ... partly because I never go to Marana. But maybe I should? The northern suburb has a sleepy reputation but I was surprised to learn about its importance as the Old Pueblo's breadbasket.
This 120,000-square mile patchwork of land is home to many of the farms we get our local produce from, like BKW with its White Sonora Wheat and farmers' market staple Larry's Veggies. Marana has been a community of farms, orchards and ranches for the last 300 years, but its ancient history is just as important: The town is home to Las Capas, the archaeological site that demonstrated 4,000 years of farming in the Tucson Basin, a fact often cited in our UNESCO Gastronomy designation. 
While the Las Capas site was only discovered during the expansion of a wastewater treatment facility on Ina Road, Marana is teeming with other hikable sites from the Early Classic Period of Hohokam culture. (They gave us a map!) Los Morteros lies in a subdivision on a 2-acre plot of land northeast of West Lambert Lane and Linda Vista Boulevard. For something so residential, I was blown away by how undisturbed the area was. Look behind the scrubby creosote bushes for a small rise in the landscape: There you'll see the remains of a Hohokam ballcourt.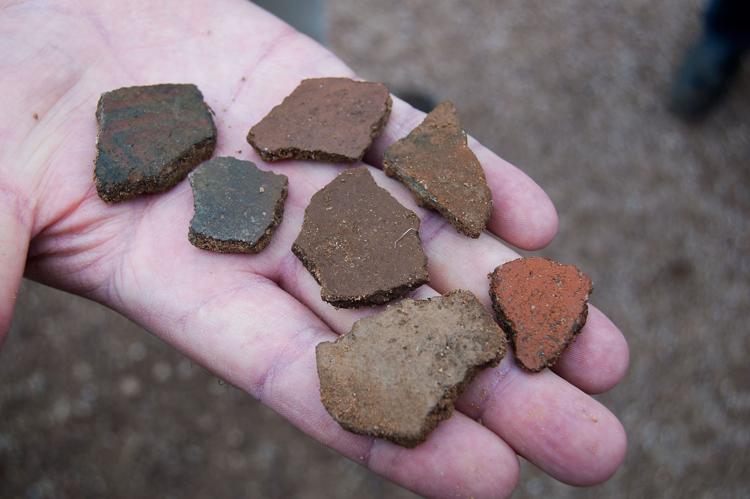 Back in the van, we took the side roads to a warehouse district just south of Ina Road near the I-10 freeway. Tucked back away from the street you'll find two nanobreweries Catalina Brewing Company and Button Brew House, which opened last year. I always thought of this area as old-school Thunder Canyon Brewery territory, but these joints feel decidedly downtown. 
We walked into Catalina Brewing Company, a small tasting room that was decked out with bike memorabilia, including beer tasting palettes that had a bicycle's crank arm as a handle. We sipped through our tasters. Each beer seemed to have a different local ingredient — a spicy chiltepin porter, an American Ale flavored with mesquite flour — and they were all deliciously nuanced. (With its subtle nutty sweetness, the Pecan Doppelbock with locally-grown pecans was a standout.)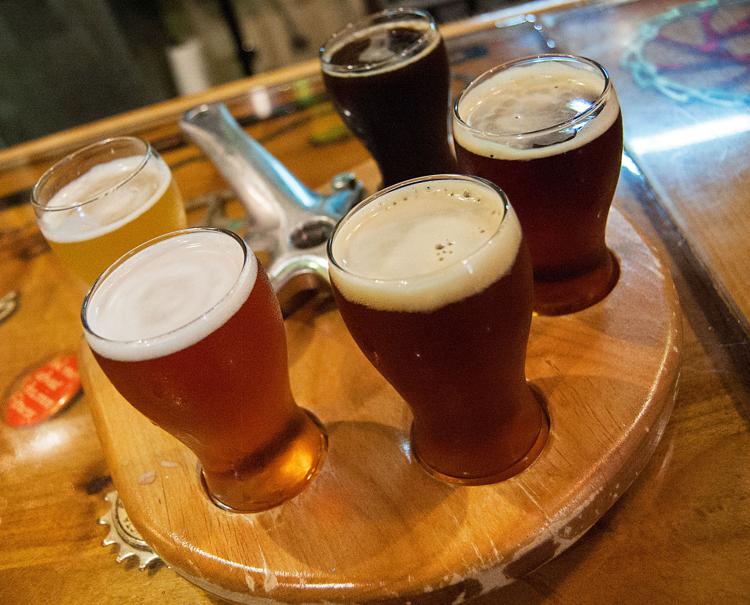 Meanwhile our tour guide Laura Cortelyou of Discover Marana, which organized the tour along with Gray Line Tours, had set up a spread of appetizers from the nearby Bean Tree Farm. Every dish had wild ingredients, like the chunky salsas with barrel cactus fruit, chia seeds and creosote buds?
I later learned that Bean Tree Farm isn't much of a farm at all: It's a desert ecological preserve located on a private residential neighborhood in Marana. The farm's founder Barbara Rose is an advocate for foraging and living off the wild foods of the desert. (You can buy her products like prickly pear juice, cactus chutneys on her website beantreefarm.com.)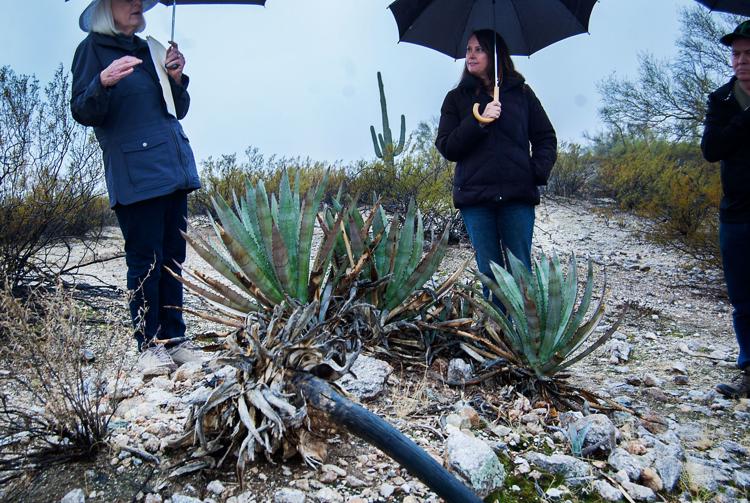 Before we hit the Ritz (yeah, I know), Suzanne took us on a brief agave interlude back out in the desert. Agave plants can tell us so much about the cultures of the Southwest: how they ate the sweet hearts, made fibers from the leaves, where they lived and how they farmed, etc.
And so umbrellas in hand, we gathered around an ancient roasting pit and saw the Hohokam-style agave murpheyi that Suzanne had planted for her research. I stood there naked to the sky and just let the rain soak me, because at that moment I felt alive; I wanted to be a part of the desert.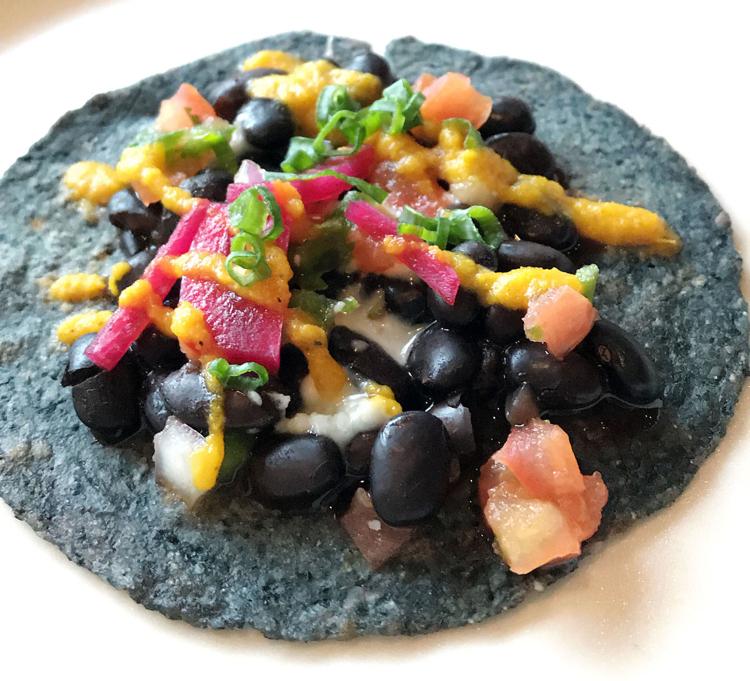 Then we got back in the van and drove to the Ritz-Carlton Dove Mountain, where people are civilized and they have a flute player in the lobby. We sat down by the ceiling-length windows in the Ignite bar, and Chef David Serus began to send out a five-course meal of Mexican-inspired bites.
The decorated French chef brought a colorful refinement to his delicate pozoles and heirloom corn tamales. It was like seeing a brilliant outsider look at Tucson and think, "I can do this ..."
So he went up to Marana and got started. 🌵🌵🌵
Sign up for the Marana Gastronomy Tour at discovermarana.org. Upcoming dates are March 23, April 6 and April 20. The tour costs $109 and is all-inclusive. Also check out the "A Taste of the Wild: The Marana Foods Gastronomy Tour" with herbalist John Slattery.