Local chef Mateo Otero came up with a creative way to decide where he should open his second restaurant. His South Twelfth Avenue spot Rollie's Mexican Patio put up business signs at two different locations across Tucson to see which one received more buzz. 
You may have seen the banners over the weekend. One of them was posted on the former Wig-O-Rama building at 98 Congress Street. The second was taped on a wall behind the Safeway at Grant and Silverbell, Mateo says. 
"We were testing the waters of different locations, to see what kind of response we get ... see how many people get excited," he said. Mateo says the signs were put up by a "fan" on Saturday morning.
This is Tucson's editor Irene McKisson saw the downtown sign during dinner on Saturday, and posted a photo on Instagram with the caption "Whoa. Spotted at the old Wigorama on Congress." By Monday afternoon, the post had 359 likes, 28 comments and had reached 6,033 people, making it our most popular post of the week.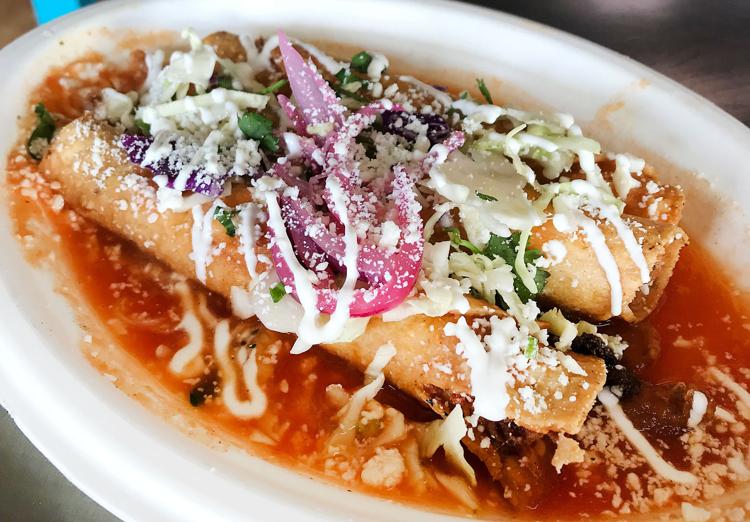 Followers wrote comments like "Boom!" and "No f*cking way!" People seemed to be really excited that they'd be able to get Mateo's signature flautas in downtown Tucson. The only problem is, Mateo had no intention of moving into that specific spot; in fact he hadn't even spoken to the building's landlord Peach Properties. The sign was actually put up on the outside of the window — with duct tape. 
Peach Properties' Ron Schwabe says his office received an explanation call afterwards about what Rollie's was up to, but that he had never directly spoken to Mateo. Schwabe has been working on bringing a coffee shop into the space for the past several months. "I'd love to talk to him (about renting a space), maybe not for that location ..." he says.   
By Monday morning, the sign had been taken down, followed by a clarification on Rollie's Instagram page: "Hello Tucson: Just to clear things up, we are not opening a downtown location, yet. ... We wanted to see which banner got more attention and get a feel for where we will be opening our next location. Hopefully in the near future you will see a real Rollies sign downtown."
Mateo says he was excited by the large response he got, and is looking at several neighborhoods for his restaurant at 4573 S. 12th Ave., including midtown, the west side and the northwest side. (Right now, the downtown location is the clear winner on Instagram with seven votes, while the west-side spot has two.) 
He says he hopes to open up his second location in the next couple years. 
"If there's any good investors out there that would like to invest in a second location for Rollie's, lemme know," he says.