---
Let's get to the point! We know you want some beach in your life and San Diego just too 'spensive right now. Look south, toward the glistening blue waves of Puerto Penasco, Sonora AKA Rocky Point.
This Mexican beach town is only about five hours by car and half the price of anywhere in California. Thousands of Arizonans travel here every year for its Sandy Beach resorts, stunning seafood and offbeat vibe. Heck! You've probably been here yourself, but we figured you could use a refresh.
What is Rocky Point, and why do we call it by an English name? Because the town was most recently settled by Americans as a drinking and gambling haven during Prohibition. (Al Capone apparently stayed at the city's oldest building, the Posada La Roca hotel.) In the '30s Rocky Point was redeveloped as a railroad and port town, and tourism took off from there.
We're not Mexican nationals, but Andi has been coming to this lively beach joint since she was a kid. (Her mom has a second home here.) So she helped us come up with this list of 10 cheap activities. Hit her up at aberlin@tucson.com if you want more suggestions! She'd be happy to tell you all about her favorite booze cruises.
How to get there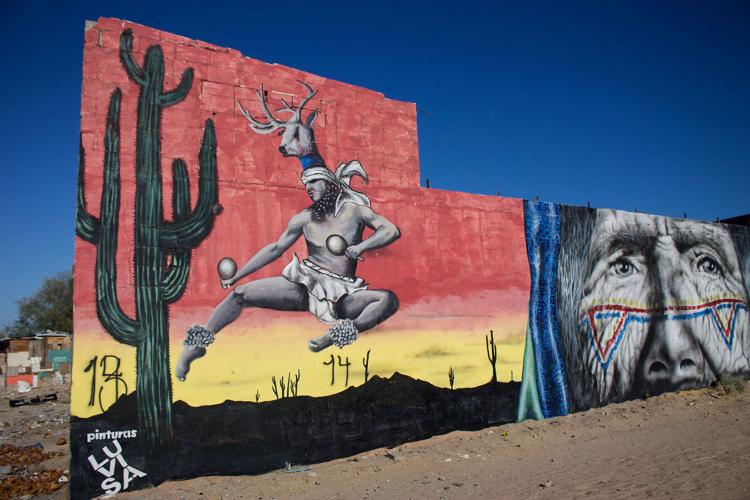 The most direct way to the beach is driving west on Highway 86 out of Tucson til you hit the town of Why (because Arizona is the best, duh!). From here, take Highway 85 south past the border to the small town of Sonoyta, Sonora. Once in Mexico, follow the dusty one-lane interstate til you get into town.
The drive to Rocky Point is an adventure all on its own — from tall saguaros to rocky peaks, you will totally feel the enchantment of this region. Be sure to spot Kitt Peak National Observatory high in the Quinlan Mountains as you putter your way through part of the Tohono O'odham Nation. There's also a gas station in Why where you can register for Mexican car insurance — ours was about 40 bucks — and stock up some snacks for the last leg of the trip. Don't forget your passport!
Take a photo with an Organ Pipe cactus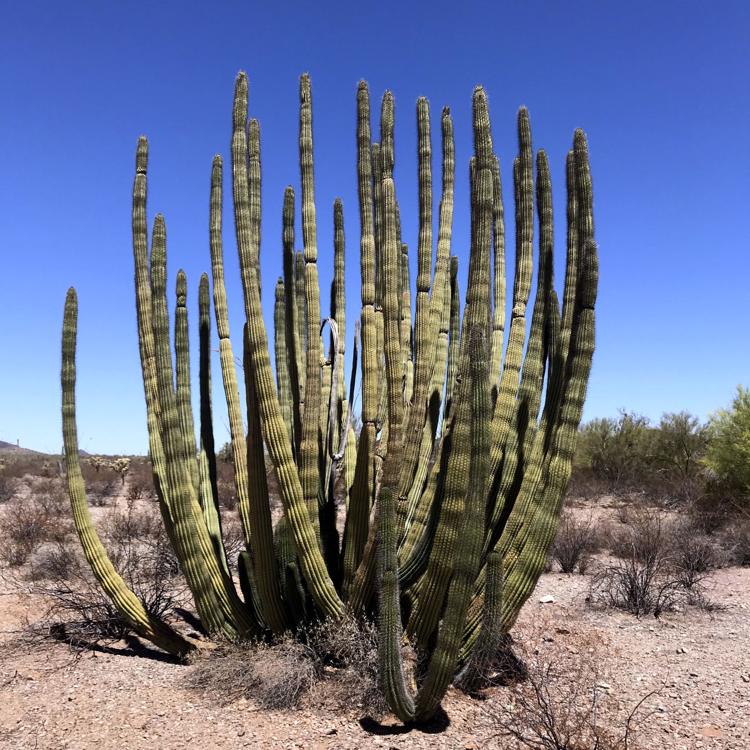 These towering beauties look like a saguaro and an ocotillo had a baby — and you can can find the largest population of of these unique plants in the U.S. at the Organ Pipe Cactus National Monument, which stretches about 23 miles from Why to the international border. If you have some time, head over to the monument visitor center for a small walking tour.
Take in the sights of the Malecon
After a few hours in the car, you're bound to want to do some good leg stretching and take in the sights. Before heading to the resorts, check out the Malecon. Also known as "The Old Port," this vibrant district offers some of the best food and shopping in town. Take a stroll along the boardwalk and marvel at a giant statue of a man sitting on a shrimp (it's more impressive than it sounds). Watch the sunset with locals who line up along the ledge, drinking Tecates and blasting music — what a way to start a vacation.
Savor fresh shrimp from the Sea of Cortez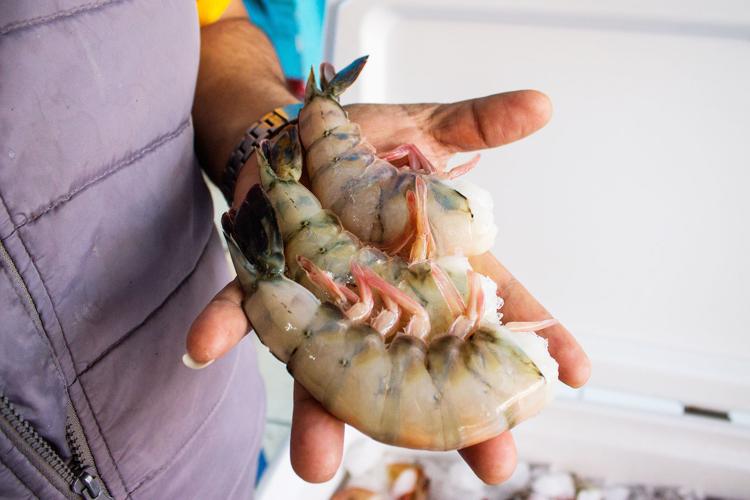 The Old Port has a sizable fish market, where vendors sell everything from shrimp to seabass and big white buttery clams, which can be steamed or eaten fresh in a ceviche. If you don't feel like cooking, head to one of the seafood spots in the Malecon and have the chefs prepare it for you. Aqui es con Flavio serves a gorgeous aguachile of raw shrimp in a limey sauce with pureed green chiles and red onions. It's definitely worth seeking out. Address: Circunvalacion 10, El Puerto
"Get a Michelada, baby!"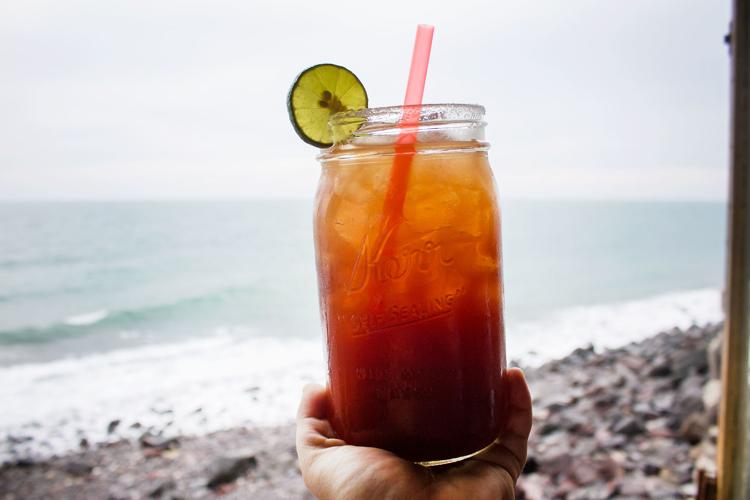 Nothing says "we got here" like an alcoholic beverage, preferably with beach views. We like the Satisfied Frog on the southern end of the Malecon, where they make spicy micheladas in mason jars. Ask them to open up the windows and let in that salty ocean breeze. Get some guacamole while you're at it, their chips are choice! Address: Ave Primero De Junio S/N, El Malecon.
Go shopping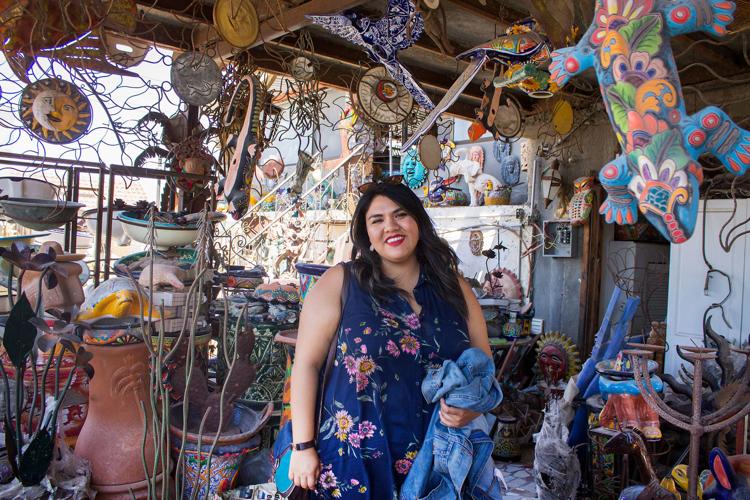 Most shops in the Malecon have the items we've come to expect in a beach town: seashell sculptures, flashy sunglasses, and those shirts that make you look like you're a cartoon wearing a bikini. There's even a Mexican Rodeo Drive! But if you dig a little deeper you might just find some cool treasures. Curiosidades Sofia in the Malecon is a three-story shop stuffed to the brim with artisan crafts, located just a few blocks up from the main drag. Here you can find find pottery, sculptures, and home goods. Take some time to get lost in the aisles — only to return when you find the perfect ceramic tile or fish rug. Address: M. Palacios 8, El Puerto
Have Breakfast at Max's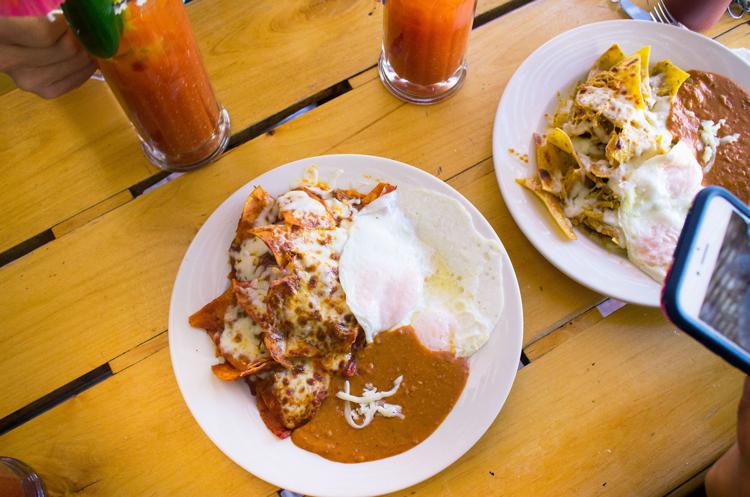 If you're heading to the beach, eating at one of the restaurants along Calle 13 is a must. Travelers come to Max's for the homey vibe, full breakfast menu, and giant Bloody Marys in footlong mugs. But we just can't get over the chilaquiles: Where others are dry, these are saucy and cheesy, and come with refried bean perfection and eggs your way. Try not to have these for breakfast every day you're there 😊 Address: Centro Comercial La Marina, Calle 13 S/N, Local 13, Centro
Do a day at the beach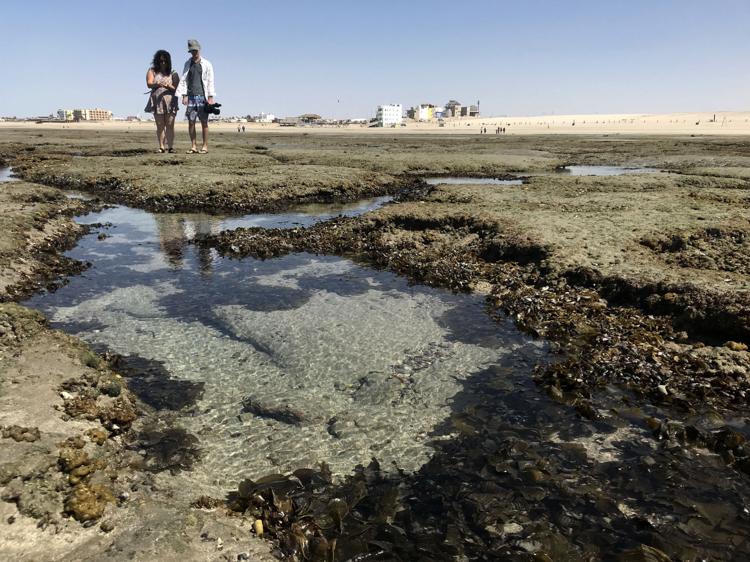 Hanging out by the beach is the dream of every Arizonan mermaid. Swish your fins over any one of Rocky Point's five beaches for a day of fun in the sun. Playa Bonita and Sandy Beach are the easiest to visit as they are right near the Malecon and resorts in town. Wake up early for a chance to look at sea life in tide pools during low tide at Playa Bonita. We were able to spot a couple hermit crabs and a fish! Other fun activities include zooming on banana boats, jet-skis and paddle boarding. You can also ride horses while you're there — because long walks on the beach are overrated. Find more info on Rocky Point beaches here.
Dink a piña colada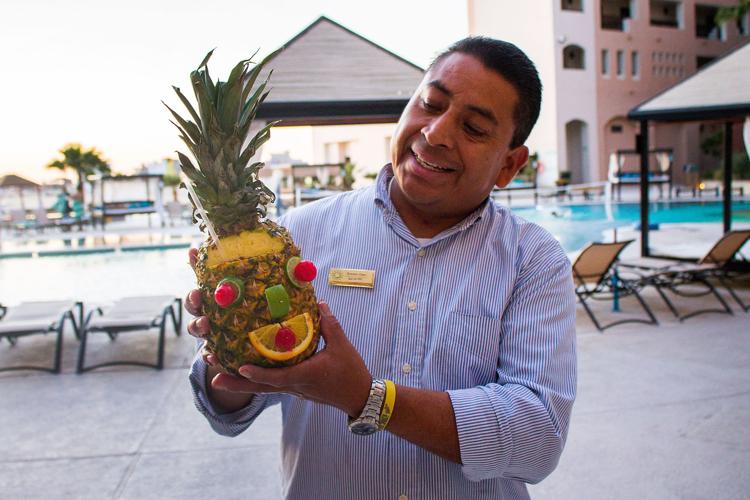 Do you like pina coladas? It's easy to find one around here. Everyone from food stands to divey bars carry them. The blended rum drinks range from simple concoctions in plastic cups to fancy pineapple drinks that take five minutes to make. We usually head to swim-up bar at the Penasco del Sol hotel, because everything tastes better in the pool! Address: Paseo Las Glorias #1, Centro
Eat all the beach food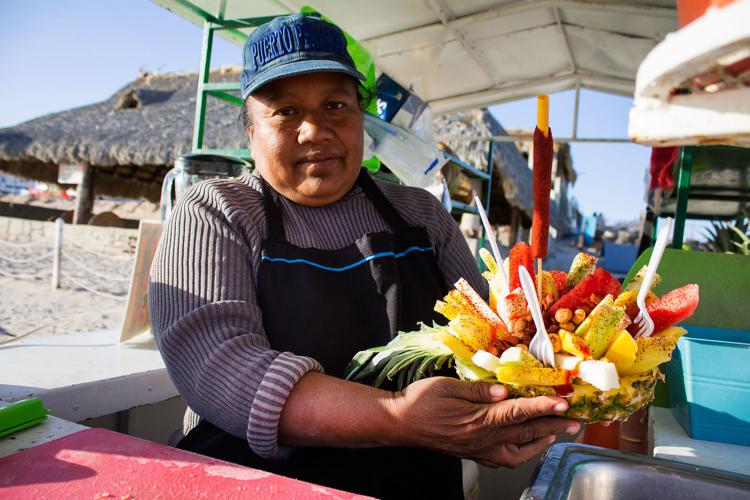 On busier weekends it's possible to do all your shopping and eating without leaving the beach. The sands of Playa Bonita fill up with vendors selling colorful trinkets, pushing paleta carts and carrying big fruits stuffed with lots of little fruits. Every vendor has a different menu, but basics include watermelons and pineapples that are stuffed with fruit and candies, then spritzed with chamoy sauce and chile powder. Also look out for the mangoes cut into roses, and fresh coconuts that are chopped up and stuffed with shrimp.
Eat some Sonoran-style carne asada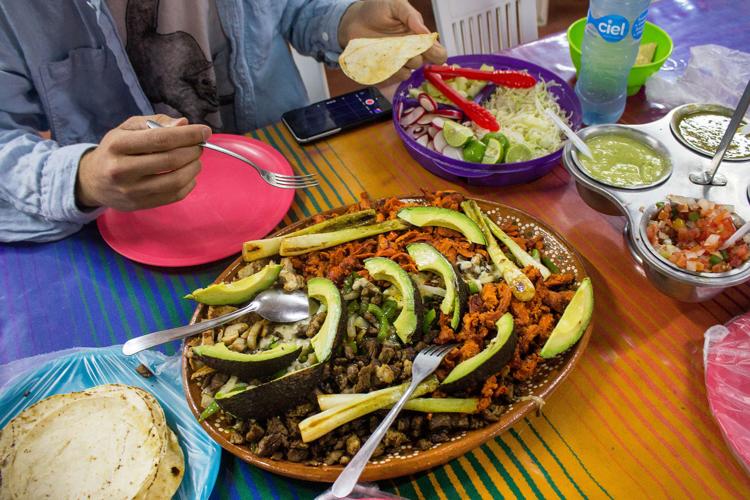 The streets of Calle 13 are lined with taquerias grilling up all manner of smoky meats. You can't go wrong here, but our favorite spot is El Molcajete, which is marked by the piles of green onions it sets in front of the long flattop. They make a giant parrillada platter with five different types of meat: carne asada, al pastor, pork chops, cheesy alambres and piquant slices of cured chorizo. It's served with flour tortillas, so you can make your own tacos. If you're closer to Sandy Beach, try Burros Longos Mimi for some killer carne asada burritos. Addresses: El Molcajete is on the southeast corner of Calle 13 and Plutarco Elias Calles. Burros Longos is at Calle No Reelección 28, Obrera
---

Before you head down the road, take your car to Jack Furrier Tire & Auto Care to get it Road Trip Ready with 50 percent off services that will get you where you need to go. Click here for more info or call 520-547-5005. With 14 locations around Tucson, you'll find one near you.