When Belinda Beeler was 27, she was working as a general manager of a fast-food chain in Orlando. Unlike the average fast food employee in Florida, she had already lived in four time zones that spanned 11 hours of time difference, and she dreamed of collecting another: PST, in overcast, metropolitan Seattle. She had never been, but something about the city captivated her imagination; perhaps that it was as far away from Orlando as you can get in the continental US.
Belinda is a former military brat, raised by an extended matriarchy of aunties and grandmas in Adana, Turkey, and her stepfather on- and off-base in Alaska. She and her mom are close in age. When they moved in with her mom's sister in Florida during a divorce while Belinda was in high school, Belinda didn't leave. She attended a state school and settled down, getting by and hoping something would change.
Then she won the lottery.
She had been playing slots at a local casino, which I like to imagine as the bizarro Disney World. The lights went flashing and tokens purged out of the metal orifice. She won the jackpot: tens of thousands of dollars. She quit her job the next day and packed a U-Haul for the Pacific Northwest.
Fortunately for us, Seattle did not suit Belinda. Belinda missed the sunshine and knowing people in her community. Her new job as an engineer for a fire sprinkler system company paid better than her last gig, but it was boring with a capital "B." She stayed for two years, until a best friend from her past suggested she come out to Tucson. Belinda is the kind who can say she never looked back and mean it.
Her mom ended up here, too. They had visited when Belinda was a baby. As you know, it's the kind of town that you come back to. Her mom got a job as a waitress; Belinda established herself as a professional photographer.
The moment we've been building up to happened at Rillito Park Farmers Market, where there are now three vendors selling different kinds of Turkish food, so there's no competition, only collaboration.
Belinda lives nearby, and she and her mom were once out on a Sunday. This particular market happens underneath a modern arcade, shading the vendors and shoppers alike, elaborate murals of horse racing and a track in disuse buffering the view of the Catalinas.
The family had made it a third of the way down the arcade before they came across Gamze Büyüktopçu. She was selling birds' nest baklavas and boat-like pide, which is lazily likened to 'Turkish pizza' because it shares the crusty base and generous portions of cheese.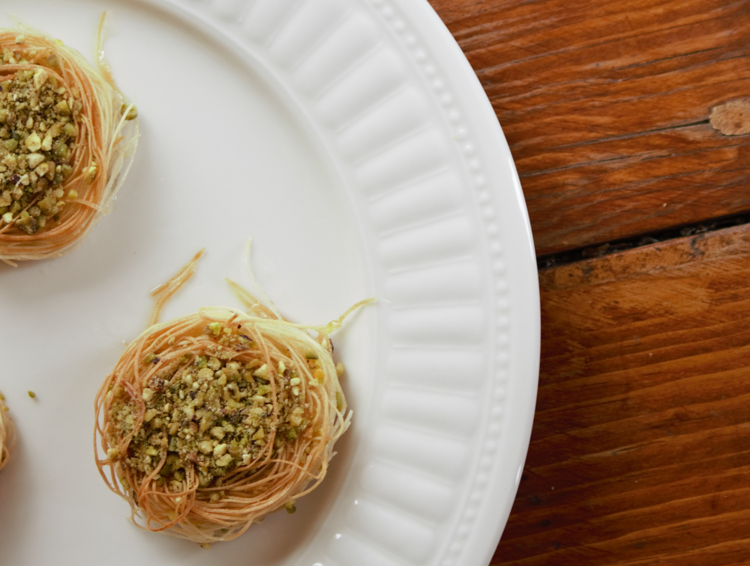 Gamze had moved here with her husband, who has a physics PhD and was recruited to Tucson to teach at the collegiate level. Gamze learned traditional Turkish embroidery in high school and college, but needed to practice her English before she could teach art to students older than pre-K. In the meantime, she figured she could make and sell the Turkish foods she missed sorely from her first home.
If you have never tried Turkish food before, it's important to realize that the empires that have risen and fell around the Bosphorous Strait, the cleft between Asia and Europe, have spanned three continents and countless cultures, and incorporated elements of each into one of the richest and most storied cuisines in the world. Before and despite recent political upheaval, Istanbul has been an international destination for its food, culture, and millennia of history.
I've kept an eye out for Turkish food in Tucson since moving here. While Tucson's only Turkish restaurant, Istanbul, offers solid standards (their mucver, zucchini fritters, are a special indulgence), it keeps Turkish food accessible by sticking with Mediterranean grill classics familiar to many who have only tried Greek food. Pide like Gamze's — which heats up wonderfully in a toaster oven — is absent from the menu.
Gamze alone delighted Belinda and her mom. A predominately white space like a Catalina Foothills farmers market is not where they expected to find a cultural enclave. They continue with their Sunday, making their way by vendors selling raw milk and infused olive oils and rows and rows of produce, before encountering hot food vendors like Mi Salsa Burritos.
Tucked amid the hot food stalls, Belinda noticed women in colorful hijabs furiously pressing balls of dough through what looked like a laminating machine, then filling the long sheets with spinach and feta, or spiced mashed potatoes, or aromatic beef, and grilling them on a flat top. Belinda's mom speaks Arabic, and gleefully exclaimed at the vendor, Elif Demirbas.
Elif was making gözleme, a stuffed flatbread specialty from the Anatolian region. She was the first Turkish vendor at the Rillito Park Market, back in 2016, and is now looking to expand her operation to a brick-and-mortar.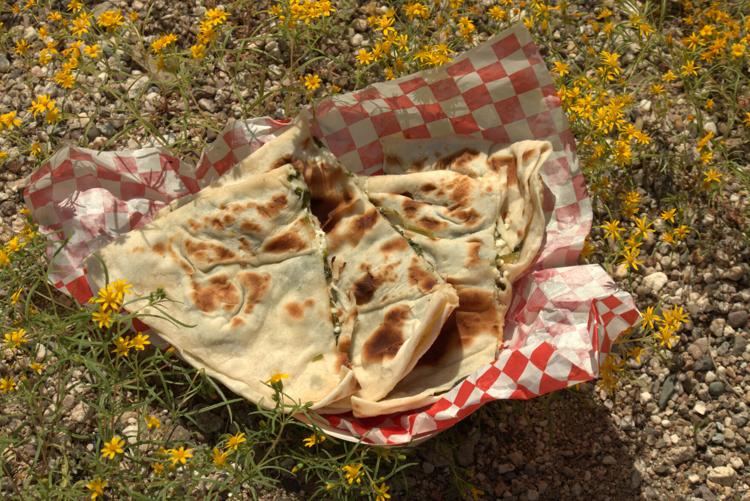 "I bought a machine to fry little balls of dough," she said, "Lokma — they're somewhat like donuts, but very small, and chewy. We soak them in syrup." It's too much equipment to fit under her vendor tent at Rillito, but she's excited to offer them at her storefront, when she finds a suitable lease.
Elif and Belinda's mom are now friends. "My mom was over at Elif's literally two days ago," said Belinda during our interview. "I love them both, but it's a little bit like hanging out with my aunts."
Thus an idea was born: if these other women could make a living selling Turkish foods at these markets, so could Belinda. Because Turkish cuisine encompasses a huge diversity of food, each purveyor could comfortably have their own niche without repetition, or treading on each other's toes.
Although Belinda's first impulse was to sell the pickles and fermented foods that she and her mom make together, the food safety screening required by the county was a nonstarter. "To sell pickles you have to have access to a lab to do regular pH testing, stuff like that. It was a nightmare," said Belinda. "And expensive. It would take me forever to turn a profit."
She had been in touch with the Heirloom Farmers Market family, which runs most of the markets in metro Tucson, including the one at Rillito, after Elif helped her make the connection. They told her there was a waitlist to get on the list for packaged foods, but an opening for a hot food vendor. "That decided it. I would make köfte," she said.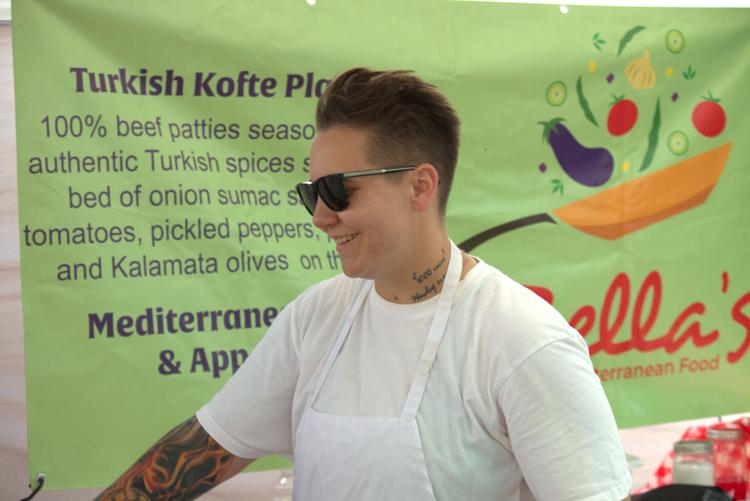 She started in April 2020 at the Rincon Valley market, one Saturday every two weeks. Since, her menu has been under development, using the slower summer period to experiment with what customers like. Her current menu is centered around sandwiches made of grilled meats, along with tapas and condiments like cacik, a yogurt dip many farmers market attendees confuse with Greek tzatziki.
"I do a lot of education," she said with a laugh.
Belinda's dream is to open an upscale market, a la Time Market or Flora's Market Run, that offers imported ingredients from Turkey. "You're never going to be able to cook anything that tastes like this at home," Belinda said, of her köfte (meatballs), "because you probably don't have these spices in your pantry."
We bonded over a love of pul biber, an exceptionally bright genre of red pepper flake, made with fruity, mildly spicy aleppo peppers, that my vegetarian boyfriend puts on everything.
For now, Belinda imports spices from middle eastern markets like Babylon or Caravan. "If they don't have something I need, they'll pull out their catalog for me, and we'll search together until we find it," she said.
Belinda exists at the intersection of many communities: the purveyors of these markets aren't the only people who have helped her launch her business.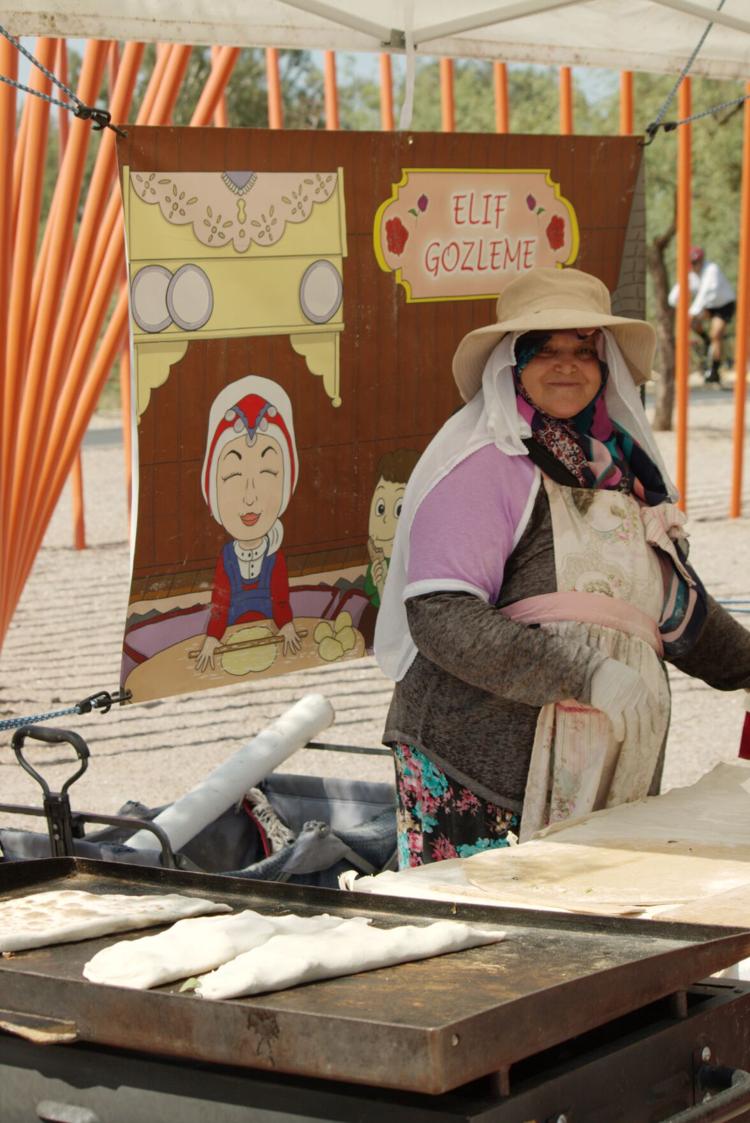 "I am interested in the practice of Buddhism," she said. "It takes a lot to be able to say you are a practitioner, but I'm working to get there." One of the first places she tested her recipes were with the monks at her temple, on Swan Road and 22nd Street. "They rely on our donations of food and money, so I have made sure to share my food with them. They love it, especially my mom's pickles."
"One day the monks came out to the market, in their bright orange robes, to support me," she said.
Her mom is also crucial to her business. "Most of the recipes are hers," she said. "We both like to cook, but we have to stagger the times at the commercial kitchen. We're both chefs; we can get hot-headed, and it's hard to share the kitchen."
"But I love her to death," Belinda said, to clarify.
Yet the most enduring support is within the farmers market itself. The vendors lean on each other: one day Belinda is borrowing deli containers from Elif; another day Belinda's sharing her leftover to-go bags. Belinda sees the hot food vendors who have brick-and-mortar establishments, or are well on their way there. She can ask them questions about paperwork and health certifications, and they mutually share food. "The lady from the burrito stand — awesome lady, super successful — owes me a meal," Belinda said with a smile. "And one day I'm going to need something from her, too."
"That's what I like about the farmers market community," Belinda said. "We're all building towards something. And we support each other along the way."