If you've never been, we hope to change that. The gem show dazzles every year. If you're already planning your trip, we can help with the logistics. 
Why you should go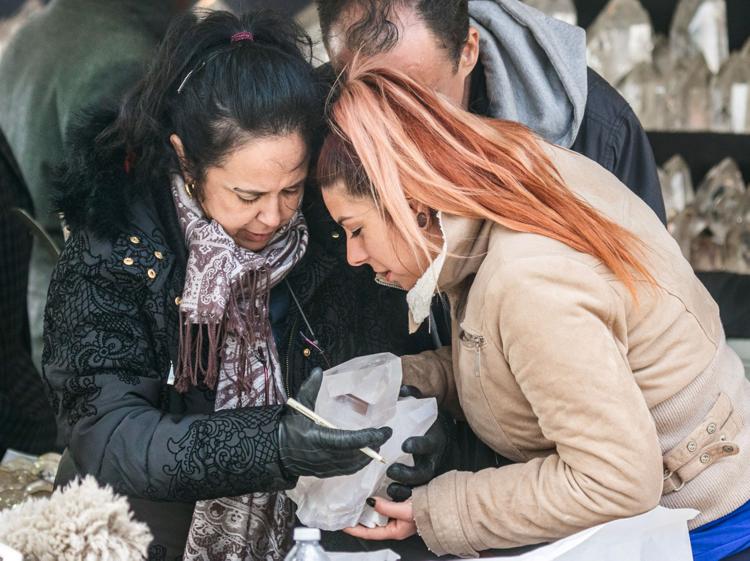 If you are a Tucsonan who has always thought that the gem show was just for out-of-town visitors, may we gently correct you? 
While the Tucson Gem, Mineral and Fossil Showcase does indeed draw tens of thousands of vendors and shoppers from around the world, there's plenty to do for the casual, local explorer. 
Think of it like a marketplace for museums. Hundreds of vendors sell everything from fossilized wall art to tiny gemstones. And you get to peruse all of it, mostly for free. You'll find human-size geodes, dinosaur skeletons and otherworldly meteorites that you can walk right up to. The price tags alone are incredible. Last year, I saw a megalodon shark jaw priced at $35,000. Let me just get out my credit card ... 
That's not to say you can't do some shopping of your own. The gem shows actually have tons of reasonably priced beads, minerals and more. Even the kids can do some shopping (because, rocks). 
After I decided to pass on the megalodon jaw last year, I ended up taking home a coffee-mug-size amethyst cathedral for about $10. It still sits in a place of honor on my bookshelf. 
Also, while there are a few shows that are only open to wholesalers, most are open to the public, so don't let that scare you away. Go here for the complete list of shows and to see which are wholesale only. 
It's actually not one show (anymore)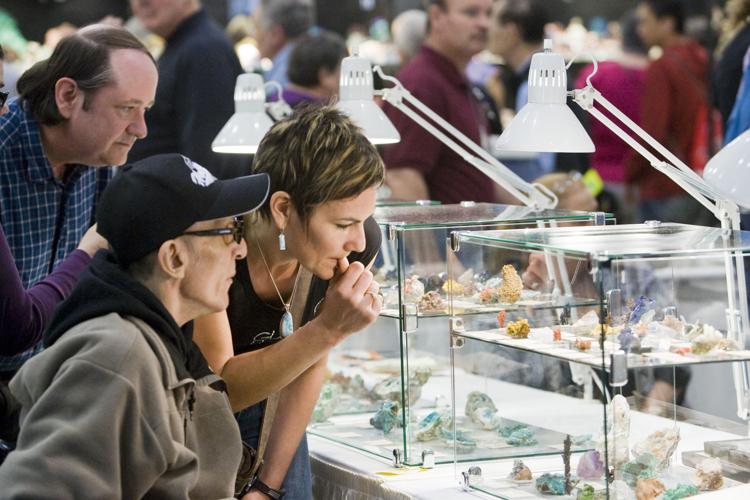 The Tucson Gem, Mineral and Fossil Showcase officially begins Saturday, Feb. 1 and runs through Sunday, Feb. 16.
This year, about 50 individual shows are scheduled.
So yeah. There are lots of gem shows. Let us explain. 
The massive, world-renowned showcase that we know today actually started with one gem show by the Tucson Gem and Mineral Society in a Tucson elementary school in 1955. About 1,500 visitors came, according to a 2014 Arizona Daily Star story. For some context, the Star recently reported that last year's showcase (so that's all the shows together) attracted 65,000 unique visitors who visited six shows or more, according to a study done by FMR Associates for Visit Tucson.
Here's how it got so big. 
In 1961, the young Tucson Gem and Mineral Show snagged an exhibit from the Smithsonian Institution. Peter Megaw, the exhibits chair and the co-chair of the Tucson Gem and Mineral Society, says the curator began telling his peers about the great time he had in Tucson —  a welcome break from nasty winters — and other museums took notice. Soon, satellite shows starting sprouting from the main show's spillover. 
Fast forward to 2020 and the dozens of shows set up around the city. 
The Tucson Gem and Mineral Society still puts on a museum-class show of its own. This year's theme World Class Minerals showcases some of the best minerals from museums including the Smithsonian and Harvard University. The set of specimens from the Smithsonian come from two collections that put the Smithsonian on the map as a premiere mineral museum, Megaw says. 
Stunning exhibits you can see include something called the Dragon's Lair, which is 900-troy-ounces of gold found in Australia that is close to 2-feet tall, Megaw says. (A troy ounce equals about 31 grams).
The 66th Tucson Gem and Mineral Show runs Feb. 13-16 at the Tucson Convention Center, 260 S. Church Ave. Tickets cost $13 per adult. Kids 14 and younger with a paying adult get in free. Go here for a coupon and more ticket info. 
Getting around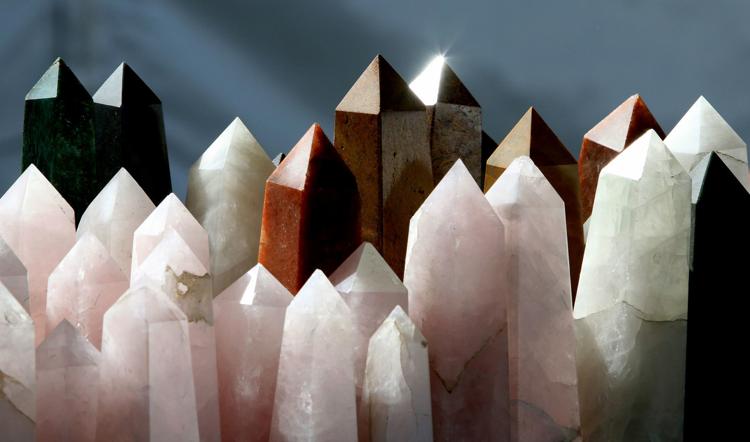 To plan your gem show day, visit tucsongemshowapp.com, a mobile site where you'll find a list of shows, transportation options and a map. 
Some of the shows have their own parking (sometimes free, sometimes for a few bucks), or you can park at one of the shuttle hubs (between Linda Avenue and Avenida del Convento or on Milber Street, west of Country Club Road and south of Ajo Way). Parking on Linda Avenue costs $7 and parking on Milber Street is free. Both give you access to the free GemRide shuttle. 
If you plan to hit up multiple shows in a day, consider the shuttle. 
Rawr 🦕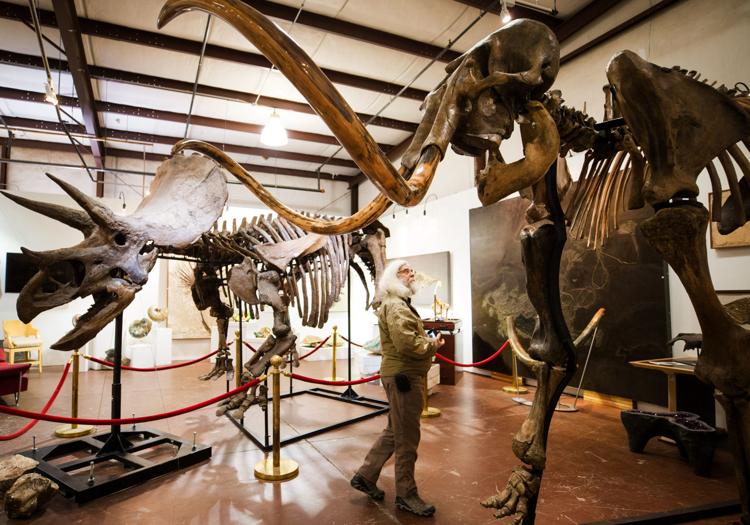 If you have any dinosaur-lovers in your home, the gem shows are a must. Go to the Mineral and Fossil Co-op, 1635 N. Oracle Road, to meet an adult stegosaurus skeleton from Wyoming, a thescelosaurus, a triceratops skull, and a 35-foot-long Tyrannosaurus rex named "Roosevelt," according to this Star story. That exhibit by GeoDécor will be open until Feb. 16. 
The 22nd Street Mineral, Fossil, Gem and Jewelry Show, 600 W. 22nd Street, is a great place to see all the things the gem show has to offer. But it also always delivers on the fossil front. This year, the free show will have Ice Age skeletons to check out, plus some amazing petrified wood furniture, says owner Lowell Carhart. If you're new to gem show-ing, we'd recommend starting here. Parking is $5 and there are also food trucks. The show runs until Feb. 16. 
The main Tucson Gem and Mineral Show Feb. 13-16 will also have some dino displays with a mosasaur skeleton that stretches 30 feet. Also, baby dinosaur skeletons. Yes. Baby dinosaurs. Megaw tells us that you'll be able to see four of the best baby dinosaur skeletons in existence, including a baby T-Rex and triceratops. Chomper, is that you? 
Fuel that wanderlust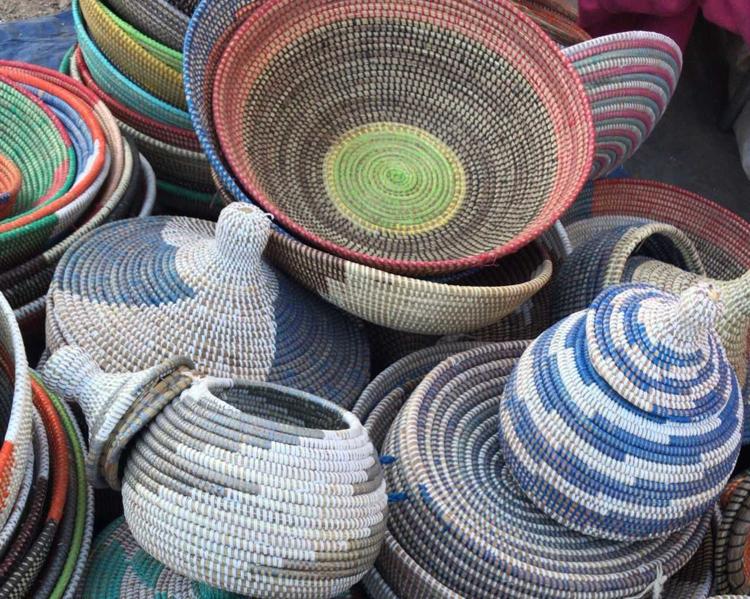 Your gem show travels can also take you across continents or beyond our atmosphere. Not to mention the fact that many of the gems, minerals and fossils come from around the world. 
Check out a virtual reality simulator at the 22nd Street show that will let you explore space. You'll also be able to check out meteorites, moon rocks and more.
If you'd rather keep your feet on the ground, check out the African Art Village at 279 S. Linda Ave. near the Mercado San Agustin and the MSA Annex. You'll find around 120 exhibitors from around Africa selling their masks, beads, fabrics, food and more. That free show remains open until Feb. 16. 
All the bling 💍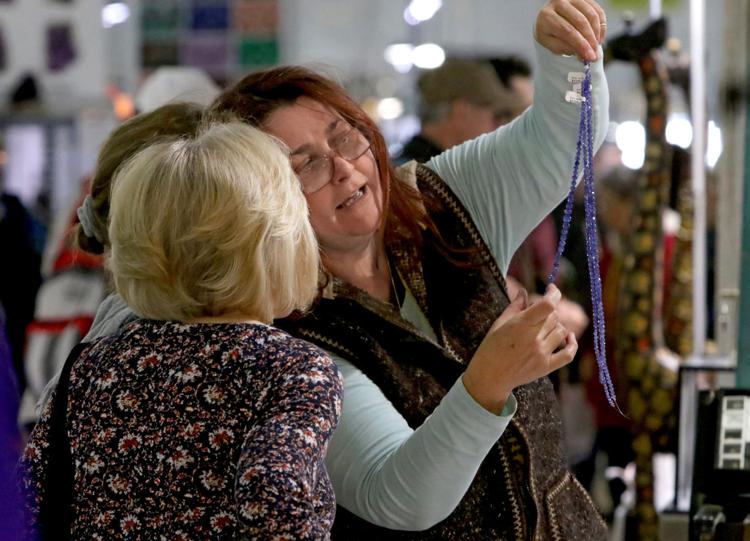 This showcase has 1,000 exhibits and workshops to explore, according to a press release. So in addition to all the beads, gemstones, metal work and jewelry you could hope to buy, you can also learn how to make some of these beauties on your own. 
Show manager Casey Johnson points out that many of these workshops and "make-and-takes" are free or low cost. For example, this Silver Metal Clay Charm Make and Take costs $15 and this beaded peace ring workshop is free. Of course, if you're a serious crafter or just want to go for it, there are also pricier workshops, such as a workshop to make a glass flower garland necklace. That class costs $60, in addition to about $30 for a materials kit. Go here for the complete list of workshops. Pre-registration is recommended. 
The show is free to attend and runs until Feb. 8.