Editor's note: Tommy Lynn Calhoun will compete in the 2017 Miss USA competition as Miss Arizona USA 4 p.m. Sunday, May 14 live on Fox 11. This story was originally published Nov. 20, 2016. 
---
Before you try to fit 2017's Miss Arizona USA into your preconceived beauty queen box, there are a few things you need to know. 
First of all, she's from Tucson — the first Miss Arizona USA to come out of the Old Pueblo in more than 20 years. Represent. 
Also, Tommy Lynn Calhoun, 26, entered her first pageant at a county fair as a 19-year-old dared by her half-brothers who said she could never win. She showed them. 
You also should know that she's secretly a history nerd who studied up on Arizona history before moving here about three years ago from Paso Robles, California. 
Calhoun owns two boxers — one a rescue dog from California and the other from the Pima Animal Care Center. 
And she loves sweets and would eat pudding for breakfast if she could. Keeping a clean diet before pageants can be tough when all she wants is some pie.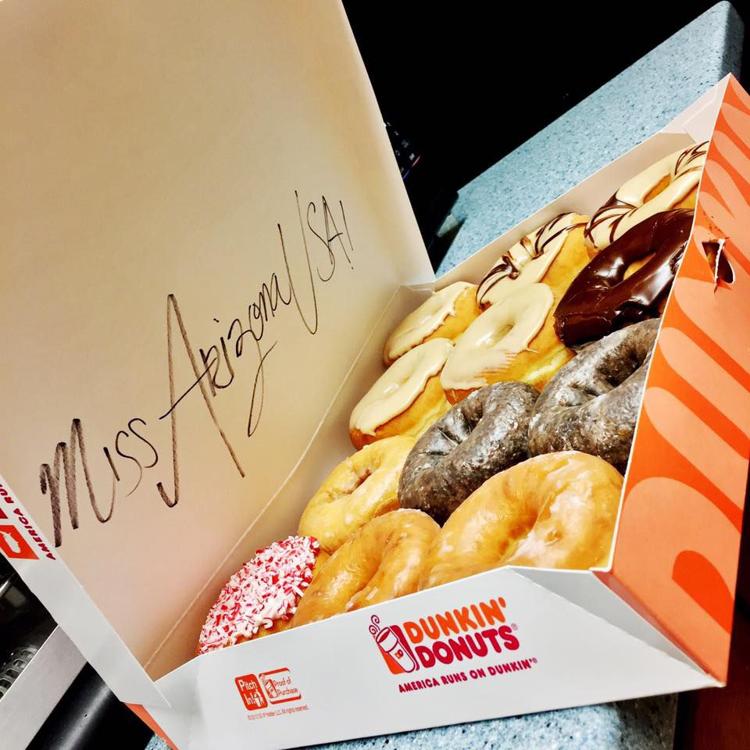 But most importantly, Calhoun has a back story, a past that defines everything she does today. 
She grew up couch-surfing
She compares her life to a Sandra Bullock movie. No, not "Miss Congeniality," but "The Blind Side." And in this story, she's Michael Oher, the underdog kid. 
She never met her biological father — he was incarcerated — but she hears she looks like him. 
"And my biological mother had an undiagnosed mental illness, (issues) with substance abuse and was deaf," Calhoun says. "Sign language is my first language prior to English." 
Calhoun says she was the kid who hopped from house to house, sleeping on friends' couches. 
"I fell through the cracks," she says. "I didn't have CPS assistance or teachers speak up for me. I was somebody who slept at friends' houses a lot. That's how I got homework done." 
But now she has pageant parents
Her life changed when she met Holly Dunkel, a paramedic, while volunteering in the emergency medicine Explorer Program as a 15-year-old. 
"Tommy's story started coming out, and I realized that she didn't have a family," Dunkel says. "I just knew that here was this kid who had such incredible potential but just didn't have parents." 
Calhoun eventually moved in with Dunkel and her husband John Dunkel. Suddenly, she had accountability. Suddenly, she had a support system.
"They had no children of their own, so I went from being that forgotten child to being the apple of someone's eye," Calhoun says of the Dunkels, whom she now calls Mom and Dad. 
The Dunkels were willing to formally adopt Calhoun, but by the time it was financially viable, she was about 18, Holly Dunkel says. 
She remembers her daughter saying, "You're Mom and Dad. I don't need a paper to tell me you're my parents." 
And now they're pageant parents — Mom ready for the dress hunts, Dad at the ready to talk current events and prep for pageant questions. 
Calhoun just needed someone to believe in her, someone to tell her that she could amount to something. 
"I didn't think I was capable of performing in that capacity until I tried," she says. "You get to see achievement and fulfillment. I liked that I was able to break barriers and limitations." 
She wants to set the example she needed when she was younger: "Be greater than your circumstances."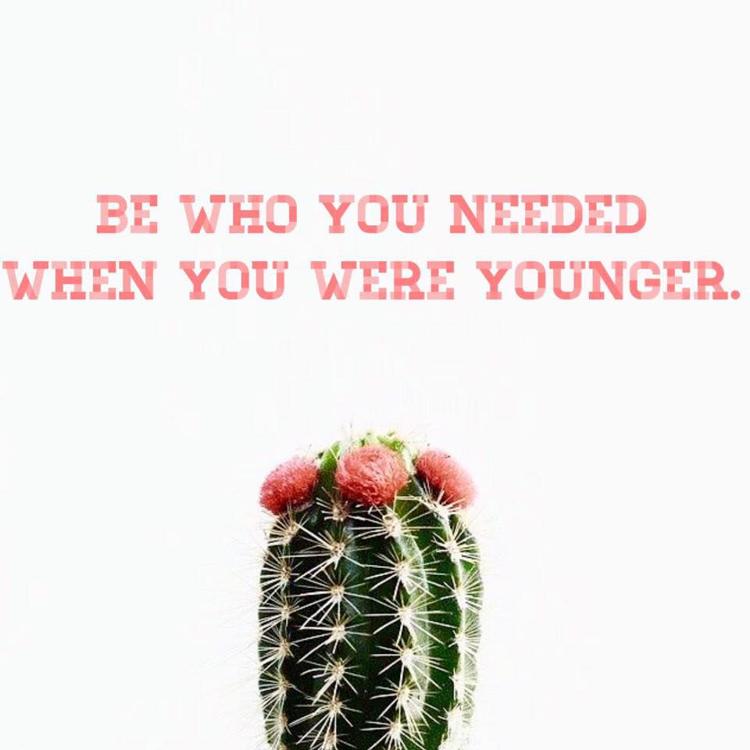 "Tommy's... she incredibly strong, and this was something that she set her mind to," Dunkel says. "That's something that the school counselor had said to me: 'This girl is smart and determined and she is a fighter.' And I have seen her develop into that and become more eloquent in doing it. She has realized her potential. ... She has put her heart into this and with the help of family in  back of her, she has excelled." 
She will give up the sweets for a "moment of pure bliss"
She estimates that she has probably participated in about 10 pageants in Arizona and California and was recently the Arizona Bowl Queen for the Nova Home Loans Arizona Bowl. She'll do it again this year. 
In May or June (the dates haven't been announced yet) she'll take the stage in the Miss USA competition airing on Fox. The winner of that competition goes on to compete in Miss Universe. 
In the meantime it's all about the training. Ninety percent of the work happens before the competition, Calhoun says.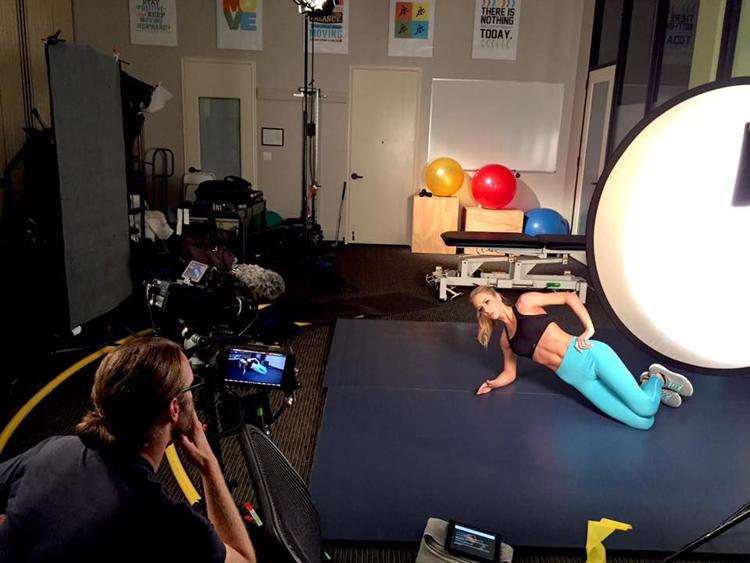 From figuring out what she is going to wear, to taking dance and makeup lessons, to putting in the gym time, to staying up-to-date on current events —there's little rest for an aspiring beauty queen. 
Oh, not to mention her full-time job as a physical therapy technician for Athlon Physical Therapy. And her occasional side-gig as a fitness model. 
Calhoun's boyfriend Jake Fischer, a former linebacker for the Arizona Wildcats, says down time for them looks like a workout at the gym, Sunday breakfast downtown and a good dose of "Harry Potter." Fischer blames Calhoun for making him a "Harry Potter fan for life." 
"Her big thing is she likes to talk to kids and tell them they don't have to be a product of their environment," Fischer says. "If you see something, go and get it. It doesn't matter what is standing in your way. Her getting over that and proving it to herself before anyone else, I think that was the biggest thing that has molded her into the person she is today." 
Fischer now works as an investment adviser representative for Primerica, Inc. The two met through mutual friends and began dating while Fischer was still playing for the Wildcats. They dated long distance for more than a year before Calhoun moved to Tucson.
"People call us a power couple, which is weird for me, because I see myself sitting at home eating my Ho Hos," Calhoun says with a laugh. 
Only when she's not training for a pageant, of course. Calhoun no longer sees herself as a statistic, trapped by circumstances. Even last year, when she was the second runner up in the Miss Arizona USA competition, she kept at it. She took charge, worked hard, and here she is. Miss Arizona USA.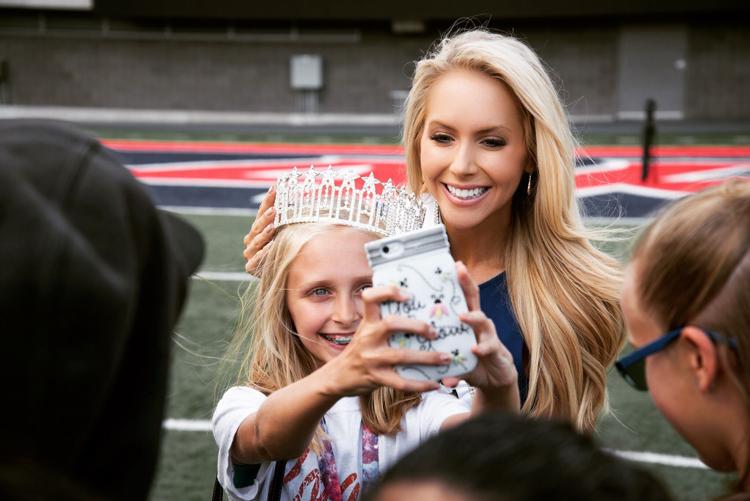 "It's been a six year climb for me and to finally attain something that you are so passionate about and serious about, it's an incredible feeling," Calhoun says. "I wanted to give everyone high fives and hugs on stage. It was a moment of pure bliss."