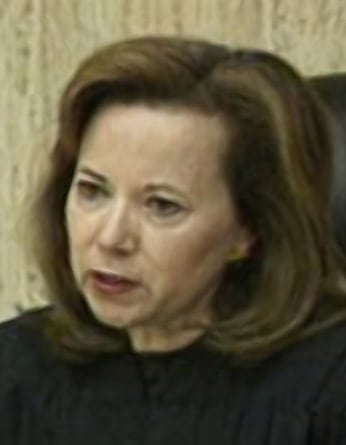 The federal judge who will be ruling on whether to block Arizona's new immigration law from taking effect is known as a thorough, efficient, intelligent and fair jurist.
U.S. District Judge Susan Bolton has earned that reputation during nearly a decade on the federal bench in Arizona and 11 years before that as a Superior Court judge in Maricopa County.
"I don't think that either party could ask for a better judge," said Dave Cole a law professor at the Phoenix School of Law and former Maricopa County Superior Court judge. "She is very deliberative, very reflective, runs a very tight ship in the courtroom. Very detached, objective, good at applying the law."
On Thursday afternoon Bolton will hear arguments on the U.S. Department of Justice's lawsuit asking her to block Arizona's new immigration law from taking effect July 29. She'll also preside over a hearing Thursday morning dealing with other attempts to block the law.
Bolton, 58, is handling all seven lawsuits against the state law, which requires police to question those they have stopped for some other reason about their immigration status if there is "reasonable suspicion" they are in this country illegally.
The consensus among members of the legal community interviewed for this story is that she's the right person to have making such an important decision.
"She's very smart, very well prepared, very quick to cut to the core of things," said Robert Bartels, an Arizona State University law professor. "She's a terrific administrator. She just really gets things done quickly, but still well."
Lawyers are happy when they draw Bolton as the judge for their cases because they know they'll get a fair shake, said Mary Jo O'Neill, regional attorney for the Equal Employment Opportunity Commission's Phoenix office, who brings about five cases a year before Bolton.
"You never worry that there is going to be any bias. You won't hear that about every judge," O'Neill said.
Bolton has been in Arizona since 1975 when she took a job with the Arizona Court of Appeals after completing law school.
Bartels, one of her law school professors in Iowa, wrote her a letter of recommendation for the law clerk position with the Arizona Court of Appeals. Bolton worked there until 1977 before going into private practice.
In 1989, she became a Superior Court judge in Maricopa County, a post she held until becoming a federal judge in 2000.
Bartels moved to Arizona in 1982 and took a case in front of Bolton in Maricopa County Superior Court.
"She had a very good reputation as a trial judge on the Superior Court and my experience with her was good," Bartels said.
That good reputation has followed her to the federal level, where she is known for how she conducts herself in court and her quality of work, he said.
"She doesn't put up with nonsense from lawyers or parties," Bartels said.
Bolton has shown an ability to control the courtroom from her days as a Superior Court judge, said John Randolph, a Phoenix lawyer who worked with Bolton at the Shimmel Hill Bishop and Gruender law firm in Phoenix and tried a few cases before her in court.
Randolph remembers being in Bolton's chambers in Superior Court when two attorneys began arguing in front of her. She didn't have a gavel, but found something to bang on her desk and told them she wasn't going to hear arguments until she said so, he recalls.
"I was impressed by that," said Randolph, now a lawyer at the Sherman & Howard law firm in Phoenix.
"That is the type of control you need as a judge."
Randolph and Cole said that despite knowing Bolton professionally and personally, they don't know her political leaning.
"I couldn't even guess who she would vote for," said Randolph.
Her decision on the SB 1070 case will be monumental and is being watched closely, but at the same time everybody knows the case won't end with her decision, Cole and Bartels said. The case is likely to go to the 9th Circuit Court of Appeals regardless of what she rules, he said.
Who is U.S. District Judge Susan Bolton?
• Age: 58, born in Philadelphia.
• 1975-1977: Law clerk, Arizona Court of Appeals.
• 1977-1989: Private practice in Phoenix.
• 1989-2000: Maricopa County Superior Court judge.
• 2000-current: Judge, U.S. District Court of the District of Arizona.
• B.A. from University of Iowa in 1973.
• Law degree from University of Iowa College of Law in 1975.
Source: Federal Judicial Center
Judge Susan Bolton is a registered independent in Maricopa County. She was appointed to the federal court on Oct. 20, 2000, as an independent. She was nominated by Democratic President Bill Clinton on the recommendation of Republican Sen. Jon Kyl.
• January 2010: Rules that Arizona cannot legally bar residents of other states from helping a political party get on the ballot here, rejecting arguments by Secretary of State Ken Bennett that allowing only Arizona residents to circulate these political petitions is necessary to prevent fraud. The decision was considered a victory for the Green Party.
• February 2008: Upheld a designation of critical habitat in Arizona, Utah, Colorado and New Mexico for the Mexican spotted owl despite an effort by the Arizona Cattle Growers' Association to overturn it.
• February 2002: Sentenced a smuggler to 16 years in prison for leading 14 illegal immigrants to their deaths in the desert between Yuma and Ajo.
• 2002: Ruled that Border Patrol officials had legal immunity and couldn't be sued for their part in a 1997 immigrant roundup that led to 430 arrests and drew complaints that Hispanics who were U.S. citizens were harassed because of their appearance.
• 2000: Struck from the ballot a land-preservation proposal advanced by the Arizona Legislature that was a bid to counter a similar proposal by environmentalists that remained on the ballot. Bolton said the Legislature's proposal violated a state constitutional requirement that ballot measures cannot cover more than one subject. Critics called Bolton an activist judge, and accused her of working with the environmentalists to torpedo the Legislature's option.
Sources: Arizona Daily Star archives, The Associated Press.