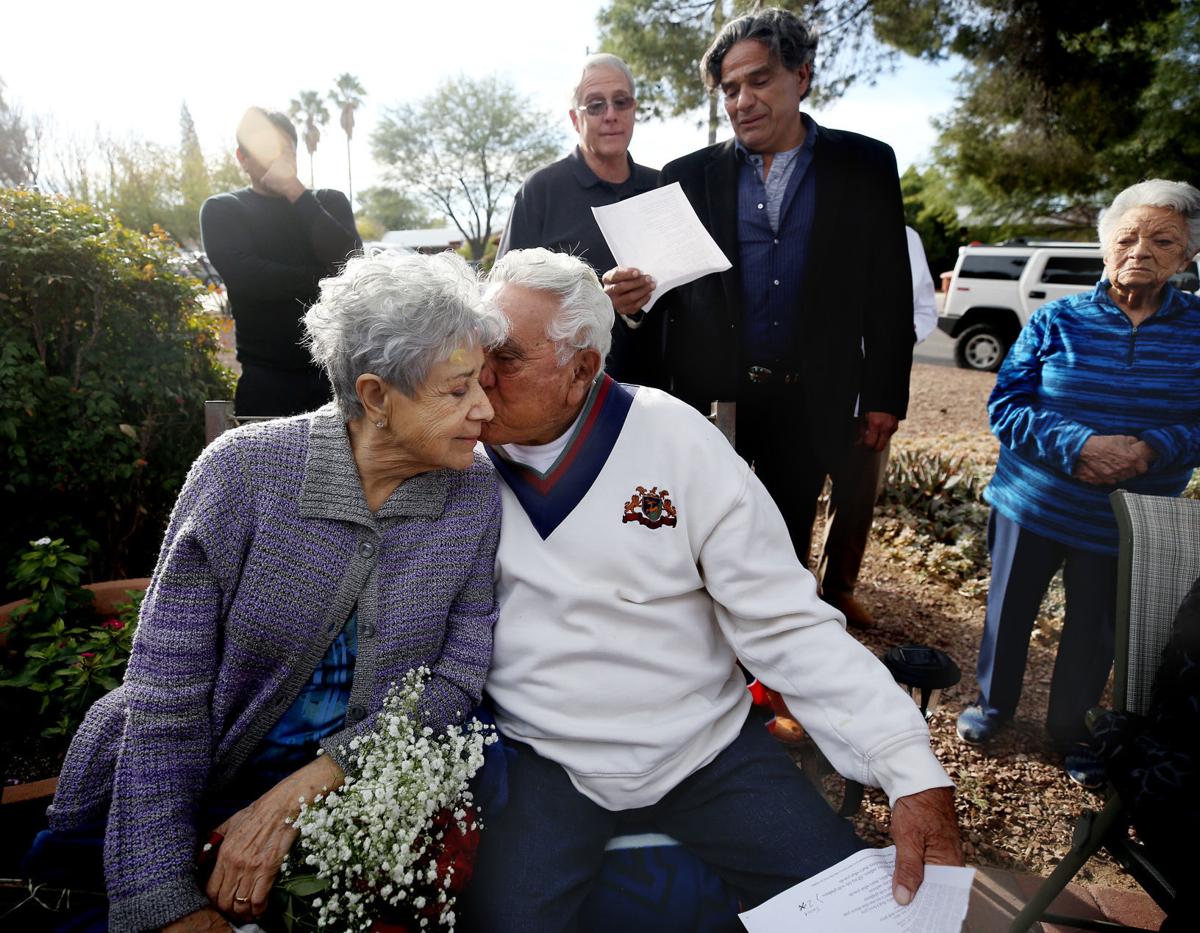 Helen Acedo faced death head-on. At 85, she spent the last days of her life on her own terms with the support and love of her family.
Six months ago, Helen was diagnosed with kidney cancer, and one kidney was removed. However, the cancer spread and she decided not to pursue treatment, said son Rick Acedo.
Helen, a native Tucsonan who was born in her mother's home on West Simpson Street in Barrio Viejo, was raised Catholic, and her deep love for God and the saints taught her not to fear death.
She understood it as being connected to the cycle of life. She began planning her funeral long ago, before her illness. It was only natural, like for many in her generation.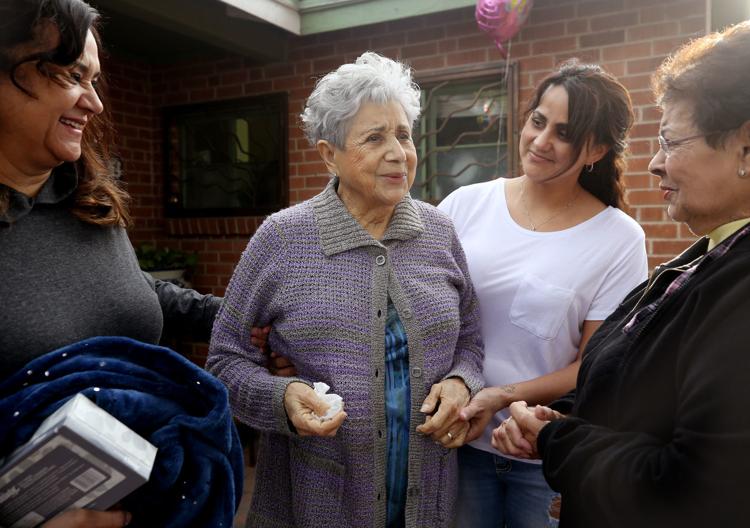 Start a conversation
Meanwhile, end-of-life care experts applaud the Acedo family for listening to Helen and helping care for her to the end, in her home, the way she wanted.
But, they say, not enough families are discussing death, or the end-of-life care treatment that loved ones would like. Doctors and health-care workers also are not doing enough to start the conversation with their patients, they say.
In response, the Lovell Foundation and the Community Foundation for Southern Arizona partnered to award nearly $3 million to be given out over two and four years for end-of-life care and planning services to local organizations. The initial grants were awarded last summer to 10 projects, of which nine are in Pima County, and most of the projects will run through 2019, said John Amoroso, executive director of the David and Lura Lovell Foundation. Among its numerous projects, the philanthropic family foundation supports integrative health and wellness.
The funding for the selected organizations is to be used to work with families, couples and individuals to engage in end-of-life conversations through workshops, meetings and appointments. The money also will help to better train physicians, health-care teams and medical students about how to have the discussions with patients.
The funds and organizations include:
$1 million to the Arizona Hospital and Healthcare Association to engage communities across the state about their healthcare directives and to train physicians and health care teams how to communicate with their seriously ill patients about their goals of care. 
$600,000 to United Way of Tucson and Southern Arizona to be the backbone for the ELDER Alliance, a collaboration of nonprofit groups, businesses and government agencies that advocate for quality-of-life issues for older adults. It will work with 13 state agencies that are involved with nearly 200 groups working in end-of-life issues.
$550,000 to Interfaith Community Services to expand its educational Wholistic End of Life program with standardized materials, and to train volunteers to assist people in care and planning, including community meetings.
$28,617 to University of Arizona Center on Aging to integrate the Living Will Project into the new UA College of Medicine curriculum. The project has first-year medical students write their own living wills, and they reflect on it during their four-years of studies.
$284,000 to the Tucson Medical Center Foundation to provide resources to primary-care practices, hospital case management and volunteer groups to improve advance-care planning for adults and their caregivers.
$110,000 to Tu Nidito Children and Family Services for its Angels by your Side program, which offers support for children and families from a terminal diagnosis to bereavement.
"What we have done with this funding and what the partners are doing is creating one of the largest end-of-life networks in the country. We are one of the leading communities now in this effort and hopefully will be looked at as a model for other communities in the nation," said Amoroso.
"We have this silver tsunami of baby boomers needing this type of care, and Arizona is where many are retiring," Amoroso said.
Pima County demographics show 25 percent of all residents are 60 and older. In 2017, Arizona's population was estimated at 7 million, and by 2020, one in four Arizona residents — about 1.75 million — will be 60 or older, according to state projections.
"We want to fundamentally change the conversation about end-of-life care and planning because it has such an impact on our lives emotionally, spiritually and financially," said Amoroso. "The dying process has been stretched out because of longevity and medical technology, and so we can linger for years. If we don't have a clear idea of what our wishes are and have communicated that to our families and our caregivers, then we are at the mercy of the system. We want people to get the care they want, no more, no less," he said.
"Death and dying issues will always be challenging, emotional and difficult," said Sandra Nathan, a senior vice president for the Community Foundation for Southern Arizona. She said through the work being supported by the Lovell and Community foundations, individuals will be making their end-of-life decisions and ensure those wishes are addressed by their families, nurses and physicians.
"We want to normalize these conversations so that people are at ease to share their plans around dying so they can get on with the joy of living," said Veda Kowalski, health and senior services director for Interfaith Community Services.
The organization will support intentional conversations between doctors and their patients, a mother with her son, friends sitting around a table at a book club or partners taking a stroll on a beach, Kowalski said.
For the first year, Interfaith Community Services hopes to reach more than 700 people during community workshops. The documents people need to fill out are to be provided for free, and participants will receive help completing the paperwork and learn how to get the conversation going with loved ones. Among the documents provided will be a durable health-care power of attorney and a living will.
Sarah Ascher, senior director for the end-of-life care partnership of United Way, which is coordinating the efforts among the funded agencies, talked about her personal journey.
When Ascher was 15, her mother died at home in New Orleans of breast cancer at the age of 51. "She had to convince her beloved doctor to allow her to go off chemotherapy and die at home the way she wanted to die," recalled Ascher.
Then, when Ascher was in her early 20s, her 18-year-old brother shot himself in the head in a suicide attempt over the breakup with his first love.
"He was on life support for one week, and we decided, as a family, to take him off life support and donated his healthy heart and organs," she said. She also cared for her father, a psychiatrist who developed dementia. Ascher was his legal guardian and caregiver.
"I learned that health care is very difficult to navigate. I learned how important it is to listen to the people being cared for, first and foremost, and how important it is to care for the caregivers," she said.
"There is still a lot of stigma talking about death," said Ascher. "We need to fundamentally change the way we talk about it. It may start at your own kitchen table. It may mean getting people to fill out advance directives, or to identify a health-care proxy. We also need to get employers to start talking about it," she said.
UA medical students are learning about the Living Will Project, which enhances their knowledge of and comfort with end-of-life care, said Dr. Mindy Fain, chief of geriatrics, general internal medicine and palliative medicine at the UA Center on Aging.
"We want new physicians — the next generation — to have the skills and the confidence to guide patients and families through these conversations," explained Fain.
Under the four-year curriculum, medical students write their own living will, which states a person's desires regarding their medical treatment when they cannot express it, or if a doctor has diagnosed the person as being incapable of doing so.
"Many find it a moment of pause," she said of the students. "They question, 'If I was terminally ill, would I want attempts of resuscitation?' For the first time, they had to understand personally what it felt like and how patients would feel," said Fain.
Students visit a hospice and learn about end-of-life care and death and dying from a cultural perspective. They learn about the difficult conversations and engage in role-playing.
"The curriculum is a key part of their education, and end-of-life care is critical for all physicians. It is a skill to learn and a value to have," said Fain.
Most practicing doctors are not having end-of-life care conversations with their patients until the patient turns 65, said Fain. "Some doctors say it is not relevant because their patients are healthy, and others don't do it because it takes time and they are uncomfortable," she said.
Fain said through another program, internal medicine faculty members are teaching residents at clinics about end-of-life conversations with patients. "It is the right thing to do," said Fain, explaining that all it takes is a car crash for a family to face difficult decisions.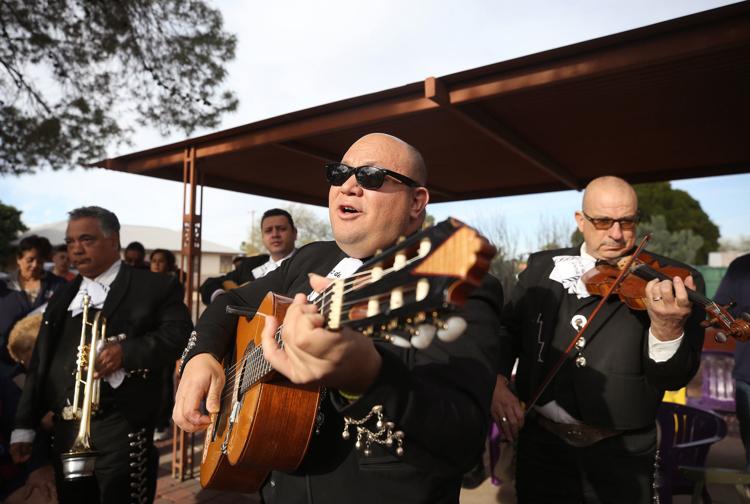 Helen Acedo's celebration
On Feb. 2, Helen Acedo celebrated her 85th birthday at her midtown home, where she was cared for by her husband, Richard Acedo, a retired plumber, and her children with the support of Casa de la Luz Hospice.
While Mariachi Luz de Luna performed outdoors, Helen greeted relatives and friends who hugged and kissed her, and told her what she meant to them. "She was a guiding light to all of us," said Rick Acedo, explaining that her maternal warmth was felt by her nine children, 30 grandchildren and 25 great-grandchildren.
"Have I Told You Lately That I Love You" was among the special songs chosen for Helen by her husband of 65 years.
Helen died shortly before 11 a.m. on Feb. 8 in her bedroom, near images of Our Lady of Fatima and the Virgin of Guadalupe. Her husband and children were with her. The fragrance of freshly cut rosemary floated in the air. Lit candles were in the room. She received the sacrament of anointing of the sick by the Rev. Mark Long.
"It was tearful, but she told us: 'I want you to rejoice my death. I want you to stay on track and live life to the fullest,'" recalled Rick Acedo. The son repeated what his mother told everyone who left her home: "Go with God."
On Feb. 19, she will lie in a rosewood casket dressed in a country-Western white blouse and black skirt. She will wear a seashell necklace with matching earrings and red leather boots. Her hands will clasp an earth-tone rosary of Our Lady of Fatima from the Vatican. Her viewing is at 10 a.m., followed by a funeral Mass at St. Ambrose Catholic Church.
White doves will be released during her burial at Holy Hope Cemetery, and Mariachi Luz de Luna will serenade her and the crowd once more with songs, including "Have I Told You Lately That I Love You."