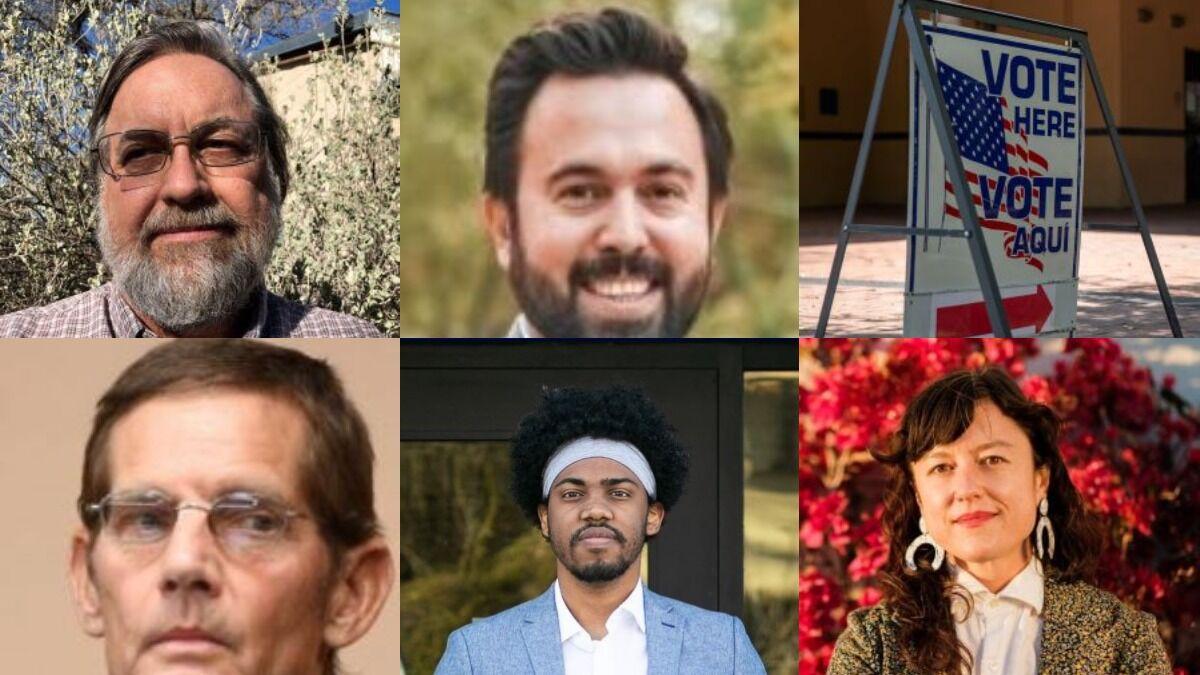 The city of Tucson's primary election is little more than a week away with contested races in two of the three ward seats up for grabs on the City Council.
All registered voters who live in Wards 3, 5 and 6 should have automatically received a vote-by-mail ballot. Those completed ballots are due to the City Clerk's office by Election Day on Aug. 3. On that day, voters will have the option to cast their ballots in person at several different locations across town.
There are five total Democratic candidates running in the contested primaries in Wards 3 and 6, and only one of those candidates — Steve Kozachik — is an incumbent.
The candidates have expressed different motivations for running and plans for tackling the biggest issues facing Tucson, including COVID-19 response, environmental sustainability and access to affordable housing.
The winners in the two contested Democratic primary races will advance to the general election Nov. 2, where independent candidates are listed as running. There are no contested primary races on the Republican side with only one write-in candidate vying to advance to the general election in Ward 3. 
The Ward 5 seat is also up for election, but incumbent Councilman Richard Fimbres is running uncontested and will automatically advance to November, where again he is facing no listed opponent.
While city primaries are ward-only elections, residents citywide will pick the winners in November.
Ward 3
The Ward 3 seat on the council, which represents the northwestern side of the city, is up for grabs this year.
Sitting Ward 3 Councilwoman Karin Uhlich is not running for a full term. She served on the council from 2005 to 2017. Earlier this year, she was appointed to fill the seat after Councilman Paul Durham resigned.
Vying for the open seat in the primary are Kevin Dahl and Juan Francisco Padrés.
Dahl has lived in Ward 3 for 38 years, and during that time he has been active in Democratic politics and environmental causes. He has worked for the U.S. Forest Service, served as natural resources parks superintendent for Pima County and as executive director of the Tucson Audubon Society. He currently works as Arizona's senior program manager at the National Parks Conservation Association.
"I was asked by a group of Tucsonans who were looking for someone to run who would be particularly strong on climate change, water and other environmental issues," said Dahl, who considers himself an experienced leader with a deep investment in his community. "I've had to read budgets, meet payroll, work on strategy, manage people and work in collaboration with other organizations and stakeholders. I've been to lots of meetings in my life, and I know how to be an effective facilitator during meetings."
After spending this campaign season knocking on doors, Dahl said residents are most concerned about access to safe and reliable public transportation, the future of the water supply in the area, crime, climate change, housing and the city's continued response to the pandemic.
To address some of those concerns, Dahl said he would like to see city walkways separating motorists from cyclists and pedestrians, "follow the science" when it comes to navigating the virus, and keep bus fares free post-pandemic. Dahl said he's also in support of reducing carbon emissions — the city has already set a goal of carbon neutrality by 2030 — and helping people adapt to a sustainable lifestyle in the desert climate.
"We need to make sure people can be cool in the summer. That might include weatherization and certainly planting a lot of trees," Dahl said. "Let's have vegetative alleyways, pathways and pocket parks. The other benefit of that is it provides a place where people can recreate and tune into nature."
Padrés said he's running partly out of "frustration," about the poverty rate in Tucson and in Ward 3, specifically.
"As someone who's lived here since 1999 and has small kids, I want to stay here and thrive," he said. Additionally, Padrés, a business owner who worked as an economic development specialist for the city, said he has the experience and know-how it will take to listen to constituents and effectively pass public policy.
"I had the opportunity to learn about the city and how it works and develop an appreciation for public service," said Padrés, who unsuccessfully ran for the Pima County Board of Supervisors last year. After that race, he noticed a lot of overlap on issues affecting his ward and decided to run when Durham resigned.
Padrés, whom the Arizona Daily Star's editorial board endorsed, said his diversity of work experience in the private and public sectors as well as his Mexican-American heritage will bring much-needed representation to Ward 3, where close to half of residents speak Spanish. "We've never had a Hispanic member from Ward 3," he said. "I'd be a much more diverse type of individual than we are accustomed to seeing on the City Council."
In his view, poverty, rising crime rates and housing costs are the top issues facing Tucsonans.
"We need to bring more investment and jobs to Tucson. Without it, poverty will be hard to take on," Padrés said, adding that the city should also look for more innovative solutions to building affordable housing units, such as rezoning vacant commercial properties. On the public safety side, he said that while he agrees with the need to rethink policing, "we need to properly fund our police department so they have enough resources to not only be active, but proactive in fighting crime."
As for navigating the lingering COVID-19 pandemic, Padrés said his priority would be educating people about the efficacy and ease of getting the vaccine.
"It's reaching out to those communities that tend to lack information, whether it's communities of color, impoverished communities or even non-believers."
Republican Alan Harwell Jr. is a write-in candidate for the Ward 3 primary ballot, and only registered Republicans or independent voters who opted to vote in the Republican primary will be eligible to vote for Harwell. He must receive at least 134 votes to advance to the general election.
Independent Lucy LiBosha will appear on the general election ballot.
Ward 6
Incumbent Ward 6 Councilman Steve Kozachik is facing two Democratic challengers in this year's primary, Andres Portela and Miranda Schubert.
First elected to the City Council in 2009, Kozachik is running for his fourth four-year term in office. But this is the first time he has faced primary challengers.
"It's the way the system works," said Kozachik, who received an endorsement from the Star's editorial board. "I'm absolutely happy to lay my record down and let my constituents make a decision."
During his tenure, Kozachik has focused on numerous issues, including tightening local gun restrictions, shutting down greyhound racing and developing a climate action plan. The latter has included an ongoing effort to reduce contaminants known as PFAS in the local water supply.
"I'm not prepared to walk away from that right now," he said, noting that as a council member, he's on the "cusp" of completing environmental remediation work with federal and state agencies. "There's no more important issue for this reason than our water security. PFAS contaminating our groundwater — without being hyperbolic about it — is an existential threat to the region."
Kozachik acknowledges that many residents struggle to find affordable housing in Tucson. But, he said, that's not a problem the City Council can solve unilaterally. Kozachik, who recently left a 32-year career in athletics management at the University of Arizona, said that's where his experience working with contractors and other private businesses will come in — to get the city "working with the private sector, landlords, homeowners and the Multifamily Housing Council to identify and implement strategies to address the whole housing affordability issue."
Additionally, Kozachik said he will continue to navigate the pandemic with his constituents' health and safety in mind.
Portela has spent much of his adult life advocating for equitable housing policies as a community organizer and policy advisor.
Portela, a graduate of the UA, has worked for former U.S. Rep. Ron Barber's office, the Southwest Fair Housing Council and as the senior policy advisor for the Ward 1 council member Lane Santa Cruz. While working for the city, he created the Commission on Equitable Housing and Community Development and the Office of Equity, which has not yet been staffed. He also held public forums that included business owners, developers and residents who have struggled to secure housing.
"That's what it should look like when we create a coalition to solve these problems," said Portela, who added that he ultimately decided to run for City Council after his representative questioned the purpose of creating the Office of Equity. "I no longer saw myself in my elected representative."
If Portela does get the chance to represent Ward 6, he said he would rely partly on his and his neighbors' experiences in the community to inform solutions to create more affordable housing and economic opportunity, while pushing for increased mobility and environmental justice.
Portela wants to continue efforts to ensure access to a safe water supply as well as improve roads and public transit to make it easier for people reliant on all forms of transportation, like bikes and wheelchairs. In the realm of housing, Portela said, "All I need is a seat at the table," in order to make two big changes designed to lift barriers to affordable housing: hiring a public advocate for renters and homeowners, and eliminating restrictions for renters using housing assistance.
And as Tucson still grapples with the pandemic and the uncertainties regarding the delta variant, Portela said he is advocating for vaccinations and "the continued use of wearing masks," all in an effort to return to "normal."
Schubert's campaign video tells viewers they have a choice to make during this time of social upheaval: "Uphold the status quo or rebuild our systems to be more equitable and just."
Schubert, who says she has been "disrupting the status quo" her whole life, told the Arizona Daily Star that she was inspired to run for the Ward 6 seat this year because she felt she was "hearing a lot of important perspectives that weren't gaining traction in local decision-making." In Schubert's view, the key to protecting the democratic process is including diverse perspectives and electing local government leaders who "center the people who are the least empowered in these processes when we're making decisions that impact them."
Schubert, who is a student advisor at the UA and founding member of the United Campus Workers of Arizona, said one of her greatest assets as a member of the City Council would be her ability to "meet people where they're at," empower them to take action in their lives, and organize community members. "All of these things have the same core motivation, which is bringing people together to model a more inclusive and just society moving forward."
In Schubert's view, racial justice, housing affordability and climate policy are the most pressing issues facing Tucsonans right now.  In addition to taking concrete action, like reconsidering land use and containing urban sprawl, Schubert said that if she is elected she would not address those top three issue separately. Rather, she would "take all of those things into account with any decisions we make."
Independent Val Romero will appear on the general election ballot in Ward 6.
Kathryn Palmer covers local government for the Arizona Daily Star. Contact her at kpalmer@tucson.com