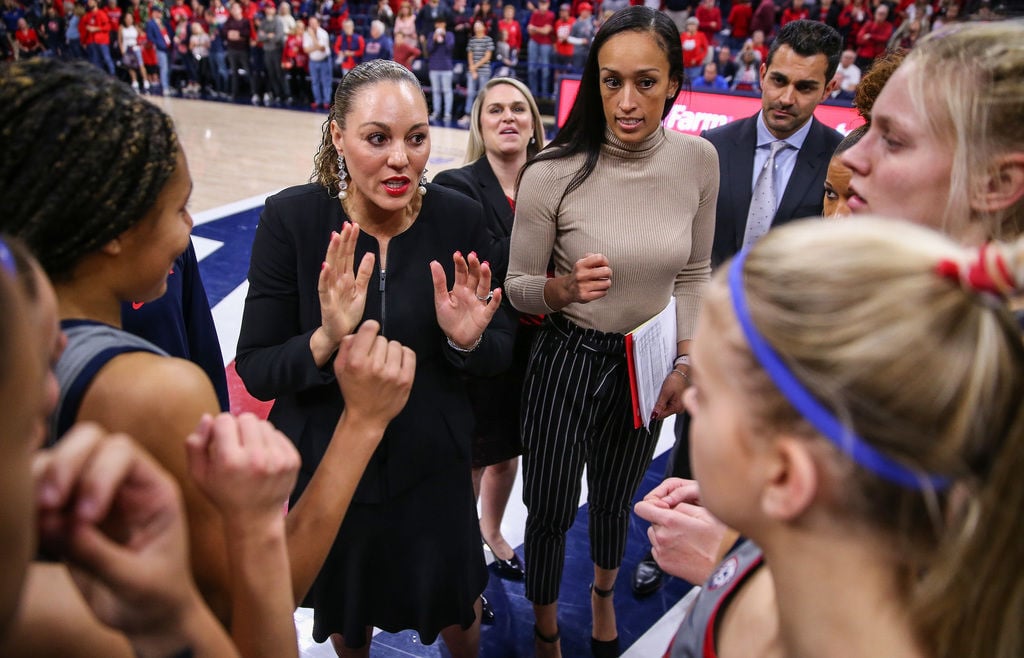 Adia Barnes says bring it.
Bubbles, mini-bubbles, creative ideas to play during a season that's already in flux. The Wildcats will be ready.
As long as it's safe and the country has a better handle on the coronavirus pandemic, Barnes says she doesn't care what it looks like.
"Whatever it takes for us to go and play," she said.
The Pac-12 announced Tuesday that it was postponing all sports until January. The teams affected include women's basketball, which was originally scheduled to start non-conference play in November.
While no one knows what the season will look like, many options are already being considered. NCAA President Mark Emmert hasn't ruled out the idea of a bubble similar to what the NBA, NHL and The Basketball Tournament have used.
Barnes says she doesn't have a favorite idea yet.
"There were different things that were talked about — maybe a scenario where we go one place for the weekend and that's the bubble for that time. It's us, men's basketball and there are five games every day. One spot where you're isolated for that week, and then we're flying with the men charter or whatever," Barnes said. "… Then the bubble like the NBA, WNBA that was brought up. … I know the Pac-12 is exploring options all around the West Coast. …I don't know which one it's going to be."
Barnes says she's certain there will be a season. It just may not look like anything she, players and fans are used to.
"I'm just a little bit more optimistic at this point, because now at least we have a date and now our players are coming back," Barnes said. "…I really feel like basketball will happen. Because just bigger arenas. We don't have to go to capacity, we can go to 7,000 people and socially distance and wear masks.
"… I feel like we're going to play. Is it for sure we're going to play all non-conference? No, it might be 10 games, it might be seven games — you choose what it looks like — and play the conference. But I don't think the athlete would mind if you have May Madness. I don't think anybody in the country cares. I think we all just want sports. But we (also) want kids to be healthy. I want kids to be safe."
Barnes said she's proud of the Pac-12 for doing "something bold that other people weren't willing to do," and said the UA has been on the "cutting edge" in testing and other protocols.
"I think the most surprising thing for me is, how come every other school isn't doing what Arizona is doing?" she said. "We've had three (reported) tests positive in 200-and-something people. I don't know why there isn't a universal protocol for every school."
Decision time
Lauren Ware arrived on campus this week. Soon, she'll have to make a decision that she was hoping to put off as long as possible: Volleyball or basketball?
The original plan was for Ware, a freshman two-sports star, was to play volleyball, take a few weeks off in December and play the Pac-12 season in basketball. That plan got turned upside down once the conference moved both volleyball and basketball to January.
Ware is meeting with both Barnes and UA volleyball coach Dave Rubio this weekend. Her decision will come soon as she has to pick one sport to start training.
If she selects basketball, Ware can get used to the system by training the entire offseason with the team.
"I think that's a huge advantage for us and for her," Barnes said. "I think that maybe for her and just looking at the whole situation, it might be better. She's just coming off injury to play one sport, and she'll have her own fifth year to play volleyball if she starts just with the basketball. I think for her that's just something she has to decide.
"I wouldn't be surprised if she chose to be with basketball this year …. I'm hoping that's the decision she makes, but I don't want it to be a pressure thing. I want it to be what she feels right for the right time."
Playing basketball would also give Ware a chance to carve out a role on a UA team poised to make a deep NCAA Tournament run. Wildcats star Aari McDonald is a senior, as is Sam Thomas and transfer Trinity Baptiste.
Taking it slow
The Wildcats will take a slow, measured approach to getting back onto the court, in part because players have been scattered for so long.
Many Wildcats didn't have access to facilities and equipment to properly train during the summer. Some, like Sevval Gul from Turkey and Semaj Smith from Long Beach, California, were in complete lockdown.
Workouts began Friday, with five players spaced 30 feet apart in the Cole and Jeannie Davis Sports Center. Players did some movement exercises; next week, they'll start lifting with no weights. This will go on for three weeks. They will continue to be tested.
Once players can move on to the Phase 2, they'll lift weights in small groups. Phase 3 will be basketball activity, but shooting only.
"We're not going to go and start doing sprints and because we just don't know the level of fitness the last five months," Barnes said.
Unfair edge?
Arizona is one of the last Pac-12 schools to start offseason training. Many schools have been back a month or longer.
Barnes said that fact bothered her at first. Then, she began looking at it from a different perspective.
"Is a month going to do-or-die? No, but from a competitive standpoint, you do think about that," Barnes said. "… If the SEC keeps their same schedule, they could potentially have five-on-five full practices in a month-and-a-half. That would be a big disadvantage if everybody isn't shut down, because then potentially they can be practicing basketball two or three months before we can. As coaches, we can voice our concern about that, because if we're all competing for a national championship, they have an advantage.
"But then I guess you have to look at the health and safety — what's the priority? …I'm glad we waited, because we're doing it right. And we're proving that."
Oh, baby
Barnes is due to give birth to her second child Sept. 15. She plans to take two weeks off and get back to it.
"People think I'm crazy," Barnes joked. "I am probably crazy, but that's why I coach. … I'm a trooper, I'm pretty tough. I think I can handle that."
Be the first to know
Get local news delivered to your inbox!