To celebrate Tucson this holiday season, our food writer is putting the spotlight on La Doce. Follow along as we eat tacos and soak up the atmosphere at 12 different joints along iconic South 12th Avenue. Share your favorite taco memories with us on Facebook, Instagram, or at elueders@tucson.com.
---
Before we talk about El Güero Canelo's tacos, we need to discuss a matter of reputation. Of all the restaurants featured in 12 Days of Tacos, El Güero Canelo is the only one whose Yelp reviews are predominantly written by diners from out of state.
This could be for a variety of reasons: it's one of the oldest establishments on La Doce; it's the only mom-and-pop taco shop in town that's won a James Beard Award, has multiple locations or a drive-thru. Their Sonoran dogs were even available for shipment nationally on Goldbelly. Before they sold out, people from Washington state to Washington D.C. could order six dogos for $75 or 12 for $99.
For the record, my favorite Sonoran dogs are either at Hot Dogs y Tacos El Manantial or the cheesy chipilon at Aqui con El Nene (and I've tried many) — but Sonoran dogs are so replicable, I suspect changing the source would not dramatically alter someone's experience of the dogo.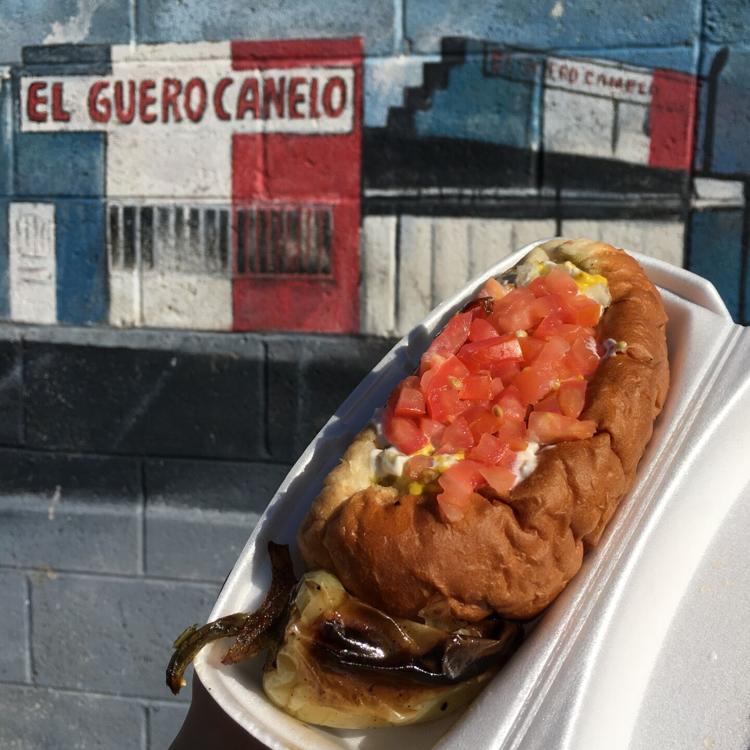 Tucsonans know how Sonoran dogs taste, but out-of-towners don't. A hundred Yelp Elites from across the country describe the experience in a hundred basically similar terms: While some are jazzed by the fattiness of the bacon and the hot dog, the softness of the bolillo (likely from Alejandro's), the mild tang of the salsa verde, the flurry of beans and grilled onions, others simply don't like the dogo — I'd guess, regardless of who made it.
To tourists (and, perhaps, the James Beard Award committee), El Güero Canelo acts as synecdoche for Sonoran hot dogs at large. Their admiration for or disappointment with the Sonoran dog is taken out on El Güero Canelo, for better and worse. The restaurant is responsible either way.
Regardless of my personal opinions, I take pride in Sonoran dogs as a Tucson food made big. I feel the same way about El Güero Canelo. Something about the place feels like home.
So when I pulled up to the drive-thru to order a couple tacos Lorenzas, I was struck yet again by its appearance. The restaurant seems to have grown organically and simultaneously to our city: from the old cart kept on its south side to the small lobby where you order and the newer, diner-style digs separated by a wall and a few concrete steps.
The glass between the two structures is now lined with articles and accolades depicting El Güero Canelo's accomplishments, which I largely take to celebrate the accomplishments of the Sonoran dog as a whole. The tables populating the dining hall are centered around a glorious salad bar, which, like everywhere else, offers Styrofoam plates and aluminum foil to package your bounty.
The newest and most functional appendage in the days of COVID is the drive-thru, carved out of the dining hall. Despite signage on the northern Utah Street, it's really faster to enter the drive-thru from the south-western exit off of 12th itself. You'll follow traffic cones to a window where you'll order and pay, and park in a designated spot until a runner brings your order out to your window. The biggest disadvantage here is that orders come without any of the accouterments from the salad bar. Like many tacos on 12th, the Lorenzas we tried — marinated beef and chicken, diced, grilled and placed on a crunchy tortilla with mild beans and cheese — would have been even yummier with a squirt of lime and a dash of salsa.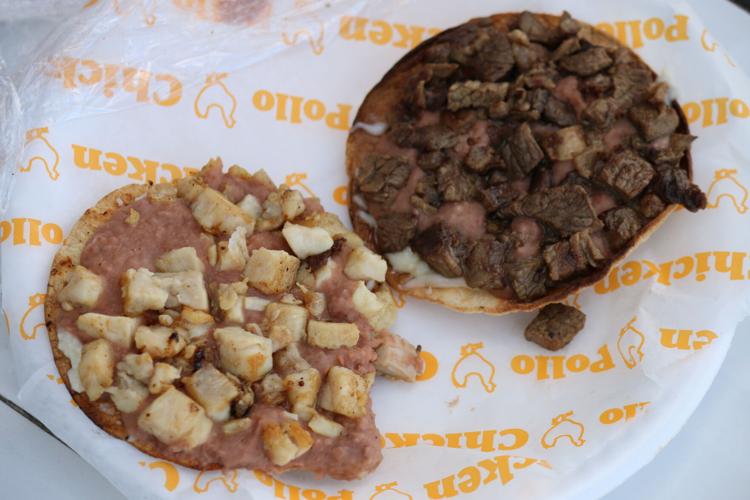 Next time, I might just sit outside, on a tiled picnic table under an awning. I'll dash in (wearing an N95) to grab some pico. I'll feel the sun on my face and be grateful that in Tucson, we can dine outdoors year round. I'll smile at the couples walking back to their car with Indiana plates. And I'll order a Sonoran dog.
---
Open 10 a.m. to 10 p.m. Tuesday-Thursday | 10-12 a.m. Friday-Saturday | 9 a.m. to 9 p.m. Sunday | Closed Monday
For more information, check out their website.
Two tacos Lorenza cost $3.49 each.