Downtown Tucson's Mexican food scene took a hard hit this fall when heavyweight restaurants like Cafe Poca Cosa and Elvira's closed their doors. But a new brunch spot on Scott Avenue is filling in that gap this Saturday.
La Chingada Cocina Mexicana is a new effort by the owner of the popular southside sports bar The Neighborhood. With a background in construction and development, Manuel Daniel Cordova designed the interior of the new restaurant himself, creating a colorful mix of warm woods and intricate Spanish tile patterns.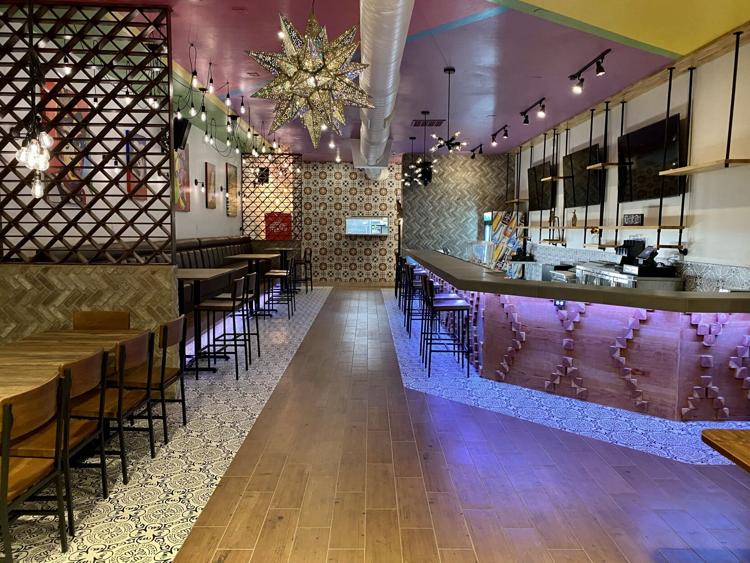 The space at 31 N. Scott Ave. looks nothing like it was before, when it housed the casual burrito joint Alejandro's Cafe until it closed in 2018. Poppy paintings of Mexican icons like Cantinflas and Pedro Infante cover the walls. And there's a long bar area, which will serve custom margaritas and The Neighborhood's award-winning specialty, the michelada. Also, there's a new sidewalk patio area out front with a few tables. 
"We're gonna serve traditional omelets and pancakes, the classic breakfast plates. But we're gonna focus on Mexican food, which is going to include enchiladas, chilaquiles, a couple breakfast plates with a little Mexican American twist to it," he said. "From Neighborhood, I like playing around with items. Every couple of months we'll bring something new to keep it interesting." 
The menu is largely American and Sonoran with some Southern Mexican influences, basically a hodgepodge of recipes from different members of Cordova's family. His wife Jessica Altamirano is heading up the kitchen, cooking up everything from eggs to complex moles that will be available for breakfast, lunch and eventually dinner. For the lunch rush, La Chingada will also have a grab-and-go counter at the front with homemade tamales, tacos, burritos, tortilla soup and more. (The restaurant is currently in soft opening stages and hasn't put out its full menu yet.) 
Cordova signed onto the lease in February right before coronavirus hit, and has been doing a total rehaul of the building ever since.
"I like downtown, obviously I've seen it grow and it's changing," he said. "At one point I would like to bring The Neighborhood over here downtown. ... We'll see how next year plays out and if that's possible." 
La Chingada opens Saturday Dec. 12 at 31 N. Scott Ave. Its opening hours will be 8 a.m. to 3 p.m. daily.