What's Eritrean food? You've probably tasted it without even knowing it ... The signature tsebhi stews of this northeast African country are very similar to the wat stews of neighboring Ethiopia, especially when you're mopping them up with that spongy injera bread.  
Many of today's Ethiopian restaurants are actually run by Eritrean people, as is the case with the trendy Cafe Desta near downtown Tucson. Welday Gebrezgabher Gezehen himself worked as a manager at Zemam's Too among other jobs, before he broke out last month and opened his first restaurant Queen Sheba near Tucson Medical Center.
Welday's family recipes for spicy berbere lamb and split pea alicha would feel quite at home in an Ethiopian restaurant; After all, the two countries were one until the early '90s. But you'll see the words "Eritrean style" peppered throughout the menu, like in the shero stew made from yellow chickpea flour. (In Eritrea it's typical to eat vegan on Wednesdays and Fridays during Lenten season, so you'll see a lot of vegetable dishes on the menu.) 
Something you might not find at an Ethiopian restaurant? Spaghetti. And no, it's not on the kids' menu.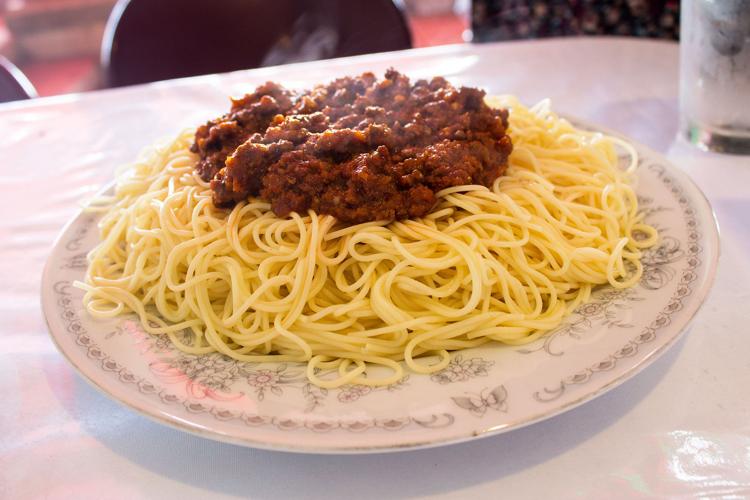 In the early 20th century before it was occupied by Ethiopia, this coastal nation on the horn of Africa was an Italian colony. The Eritrean capital city Asmara, still known for its sidewalk cafes and European art deco architecture, was the center of Italy's African Empire, and was called "Little Rome."
Welday's wife Negesci Gebremichael prepares the pasta dish from the couple's home city Asmara by piling cooked spaghetti noodles on a plate and topping the mound with a beefy tomato sauce. It looked like an Italian-American dish, but the sauce had a hint of African spice that reminded me of a spicy berbere stew.  
You won't find it on the menu quite yet, but Queen Sheba also makes a sweet bread called himbasha, which had chewy texture like Italian focaccia. Welday said you can eat it for breakfast with a coffee, but it's also served during celebrations. (Welday also makes his own injera bread, which is used as the base for the lush stews.)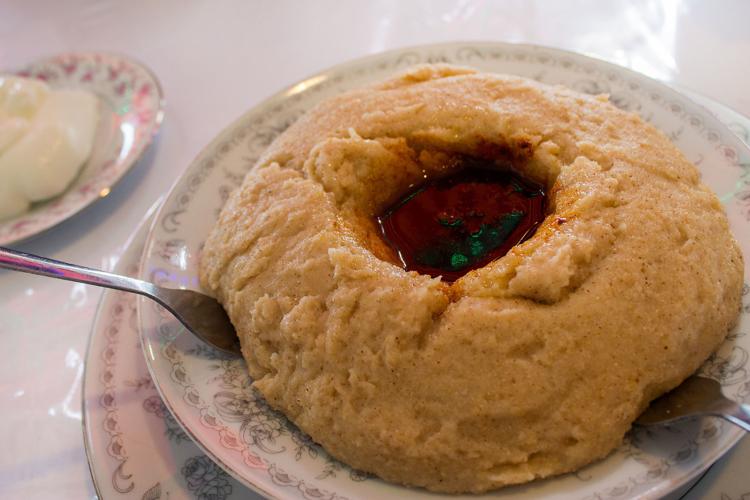 Queen Sheba serves another celebratory dish called ga'at, which is basically a stiff mound of porridge shaped into a volcano. Welday's ga'at is made from three types of flour — cornmeal, barley and teff — and tasted like hardened polenta that smacked of African spices. This porridge volcano is served at weddings, or to celebrate the birth of a new baby. 
Dig in a spoonful and then dip it in the fiery lava pit of chile butter. The fresh yogurt on the side cools it off. It's a comforting dish, but the herbal flavors are a little intense, so I suggest sharing this one with a group.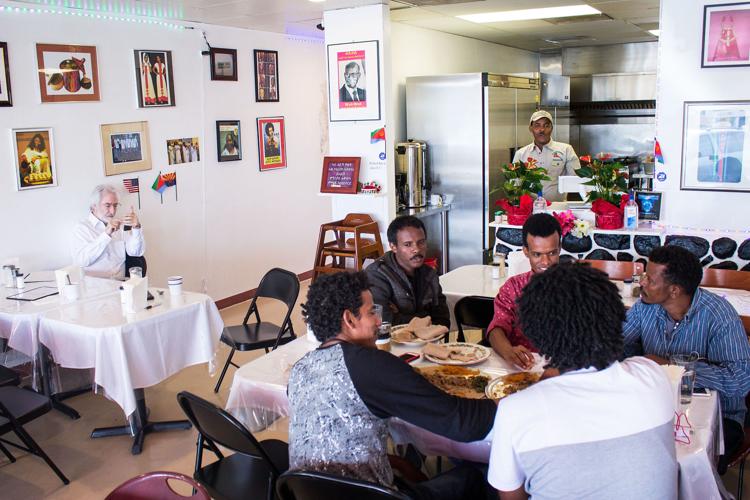 But that's part of the fun. Like Ethiopian food, Eritrean food is also meant to be shared among family and friends. This bright but intimate space is a funky place to share some conversation while passing around the plate of injera bread. And to smooth things out, bring your own bottle of beer or wine. The corkage fee is only a dollar.