Pizza joints on every corner. Can that be part of America too?
Last year we said goodbye to Cup it Up's unique brand of politically-charged fast food in a cup. The restaurant's original location was tucked into the Trader Joe's shopping center on Speedway and Wilmot. And now sitting in its place, we've got a concept that's a little easier to swallow: gourmet pizza!
Owned by a restaurateur couple from Portland, Pizza Luna calls itself a "neo-Neapolitan" pizzeria, which basically means it's artisanal by our rule-breaking West Coast standards. The dough here is cold fermented for 72 hours, which is a pivotal step in creating that perfect pizza crust with a slightly sour flavor. If this restaurant has any funk, you're gonna see it in the pizza itself as well as the interesting toppings; not necessarily in the atmosphere.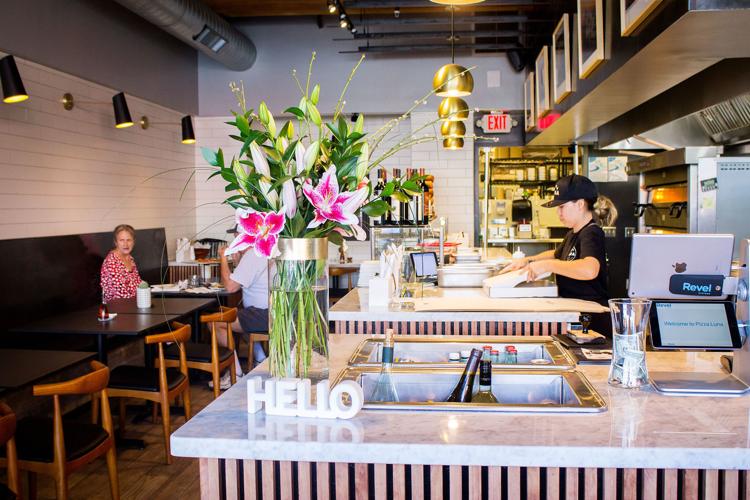 Pizza Luna isn't a Bianco's or even an Anello. It's much more casual, albeit extremely well-executed for something that closes at 8 p.m. If I had to put it on the pizza spectrum, I'd group it close to Sauce. You order at the counter and take a seat at the long booth that runs along the side of the room, or on the small patio area looking onto the Trader Joe's. (Ooh, basil starters!) They even sell pizza by the slice, which seemed to be the most popular option during lunch.
The menu at Pizza Luna looks quietly innovative in a very Portland way. The ingredients themselves are top-notch, which you just don't see too often around here. Take the spicy Italian sausage on the Sausage Rossa pizza for example; it's housemade and has a beautiful zing to it. The devotion to quality ingredients is never more apparent than in the restaurant's cheese plate; which has got to be one of the most impressive in Tucson for the size and price.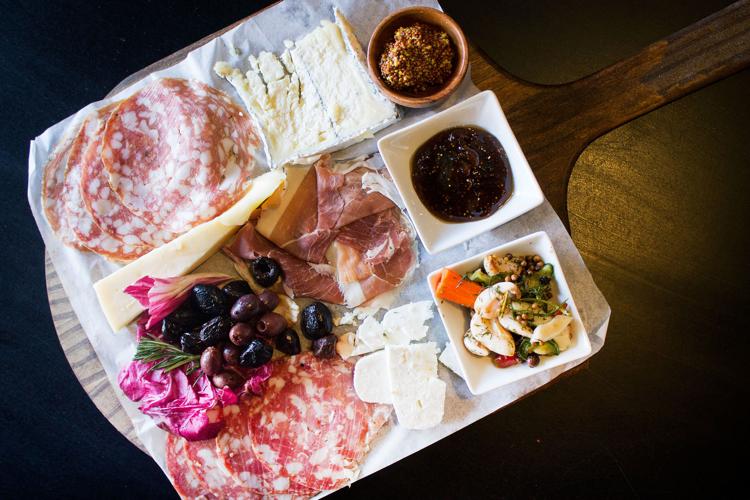 For only $12 you get a healthy slice of tangy Humbolt Fog goat cheese, aged Italian Fontina and several chunks of Israeli Feta cheese that had a spongy texture like mozzarella but that signature salty Feta flavor. The plate also comes with prosciutto and two types of Italian salami, as well as nice selection of olives and delicately pickled veg. (Crostini on the side.)
As someone who's worked in a cheese shop, I don't tend to order restaurant cheese boards because I can make them at home for cheaper; But Pizza Luna's was worth it in every way. I'm not sure I could get that stuff at the store for cheaper than they gave it to me. There was so much that two people could eat off that thing and be satisfied.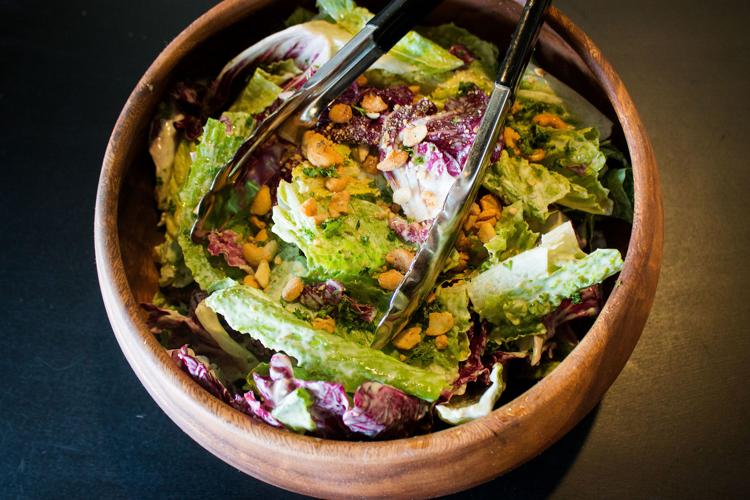 We also ordered a salad, which too felt celebratory in a way I didn't expect. The Simple Green Salad featured healthy hunks of Romaine, nutty cashews and bitter radicchio that were all dressed in a creamy tarragon vinaigrette. It all came out in a gorgeous wooden bowl; something you'd break out during a dinner party and pass around the table. But this is lunch ... work is fun! 
To be honest my lunch partner and I were halfway to full by the time the pizza came out; so I suggest splitting a 12-inch and one of these starters. Our sausage and vegetarian pizzas were still bubbling when they hit the table; the former was glowing with a gooey moat of melted cheese. There were wild mushrooms and crumbly sausage tucked in there, but this wasn't no fork pizza.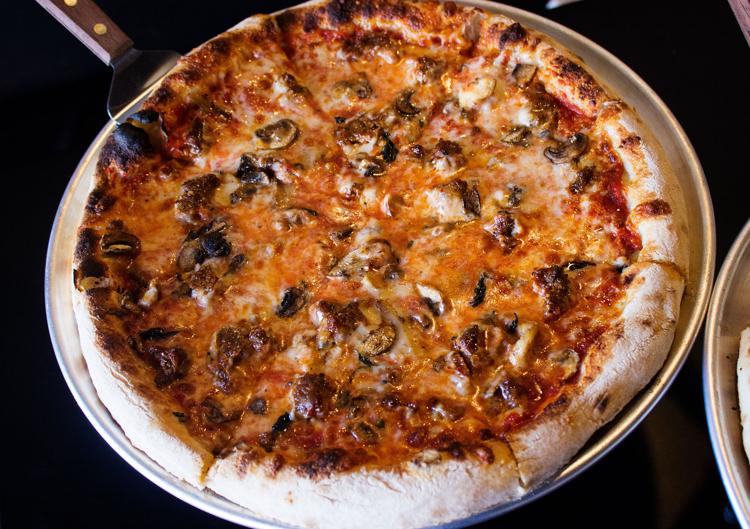 You pick it up and you fold it like a New York slice and you go for it. The bread is thick and the toppings are abundant, unlike what I imagine true Italian pizza to be. While we were eating a man named Bill from Brooklyn started to talk us up, and he told us this was the only place he could find the New York-style pizza that he missed from home.
The Puttanesca pizza had intense flavor combos with bright feta cheese, olive slices, cherry tomatoes, artichoke hearts and garlic. You didn't even need the red sauce in this one; and I never say that!!! Pizza Luna actually has three different pizza Biancas on its menu, in addition to a Pizza Verde with Mediterranean lamb sausage, feta and fontina, and a housemade pesto sauce.  
This whole spiel feels like a bit of a stretch because I know that most people will be in here for the $8.25 slice and salad special, available every day until 5 p.m. Who has time for cheese boards when jarred masala is waiting. But that's what's cool about America ... there's great pizza even when you don't need there to be!
Pizza Luna is at 1101 N. Wilmot Road. 520-344-7637. Hours are 11 a.m. to 8 p.m. Tuesdays through Saturdays and 4 to 8 p.m. Sundays.