We were standing below a statue of a naked Yaqui man spearing a giant bull with wings. Benito Juarez was there too, just stoically pointing across the street with his long silver finger. 
Our tour guide explained that the Mono Bichi was a "monument to reason," and also a symbol of the sprawling Mexican border city we were just beginning to explore. The iconic statue located on the main highway a couple miles from the Arizona-Sonora border served as a jumping off point for our Nogales Gastronomic Tour, which was equal parts history and food.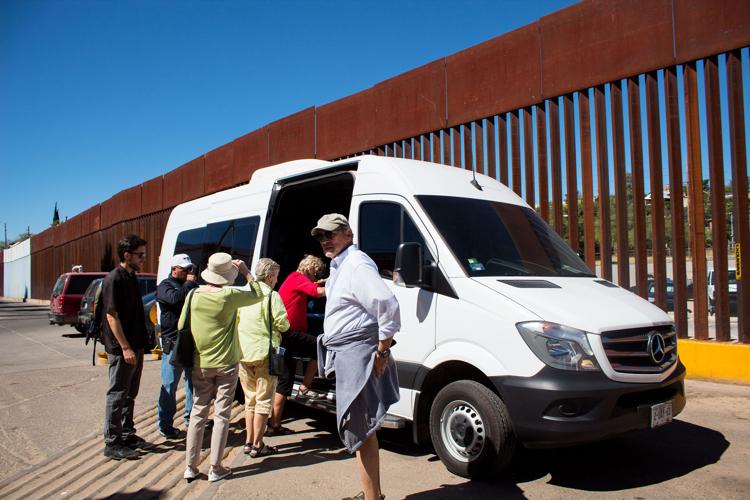 Just a few minutes prior, we had met at the Burger King in Nogales, Arizona, walked a block across the line and piled into a van on the other side of the border fence. I was sitting in the back taking notes and little glimpses of the street life whizzing by while Alex La Pierre laid out the theme of our afternoon. 
"This tour focuses on what is Sonoran food, versus what is Mexican food," he said. His nonprofit organization the Border Community Alliance runs these weekly tours to introduce Arizonans to different cities across the state of Sonora. With textbook memory, Alex ticked off the qualities that make Sonoran food unique, like the reliance on wheat and cattle, to the little chiltepin pepper balls that are the wild ancestor of modern chiles.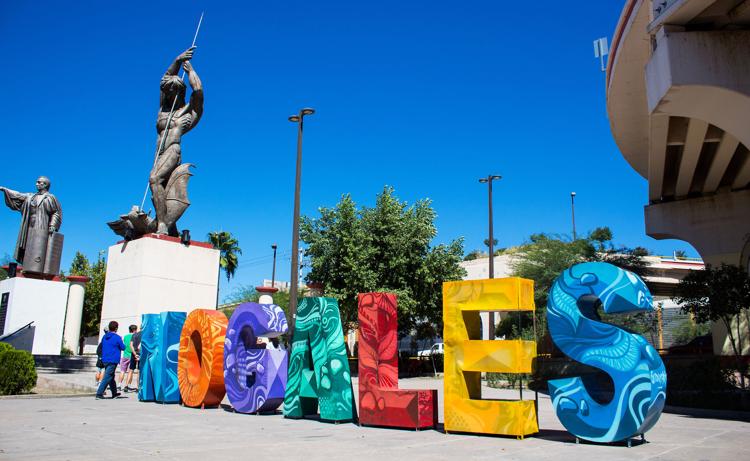 I try to go down to Nogales every month or two because the streetlife and the food make me feel happy, but I have to say I had never been to any of the restaurants on this tour. Our itinerary was definitely "off the beaten path," as Alex said. We were about to visit a craft brewery (?!), a food truck park and a hip Central Mexican restaurant in the city's main eating district Calle Hermosillo. In other words, where the locals go.
But first we ate tacos ... I would expect carne asada, but Alex took us to a mariscos spot just down the street from the Mono Bichi statue. "Sonora has one of the longest coastlines in Mexico," he said. The bright and clean El Pescadito is actually an Hermosillo chain that now even has a location in Mexico City. It reminded me of Taco Fish on South Twelfth Avenue in Tucson (also from Hermosillo).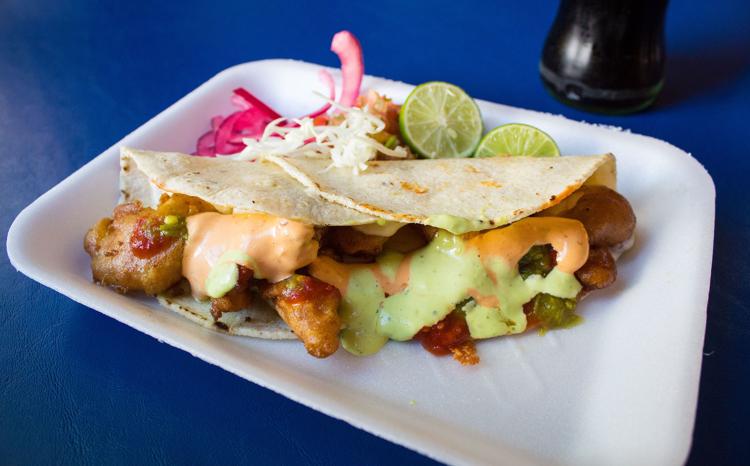 The menu was made up of various battered fish and shrimp tacos, as well as the Sonoran smoked marlin, which tastes like a more robust tuna fish. The guy frying the shrimp in a big vat up at the front told me his favorite taco was the Enchiloso a la Plancha: "Te moriras de emocion," the menu warned.
Holy mackerel! This was two-tortilla treat was one of the tastiest fish tacos I've ever had, and I've eaten them in their birthplace Ensenada. I think it was mostly the fact that it had gooey white cheese tucked in with the fried shrimp: an unstoppable combo. Downtown Nogales has its fare share of meaty taco spots, but El Pescadito is worth seeking out if you're willing to take a cab.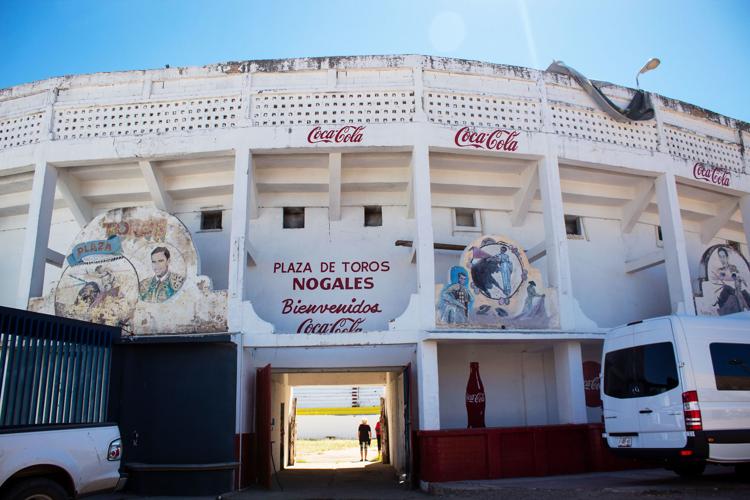 After our taco-tizer, we took a quick side trip to visit the historic Plaza de Toros, which has been closed since Sonora banned bullfighting in 2013. A local group of Nogalenses has been trying to revive the stadium for concerts and community events. Follow them here. 
After the sightseeing, we hopped back in the van and drove uphill to a small suburban shopping center anchored by Cerveceria Argova's new tasting room. Formerly Nogales Brewing Company, the first craft brewery in Sonora is headed up by two young entrepreneurs/beer enthusiasts who are fighting the good fight against mass-produced brews like Tecate. 
For the shopping center exterior, I was surprised by how cavey/cool this place was. It was covered in street art murals of cartoon beasts, with lots of lush wood paneling and geometric light fixtures. 
The brewery had about a dozen taps, many of which we got to taste. I took home a six-pack of Krovitz Amber Ale, which they wrapped in a plastic garbage bag for me. (Classy!) Next time I'll be back for the hazy IPA and some of that kombucha.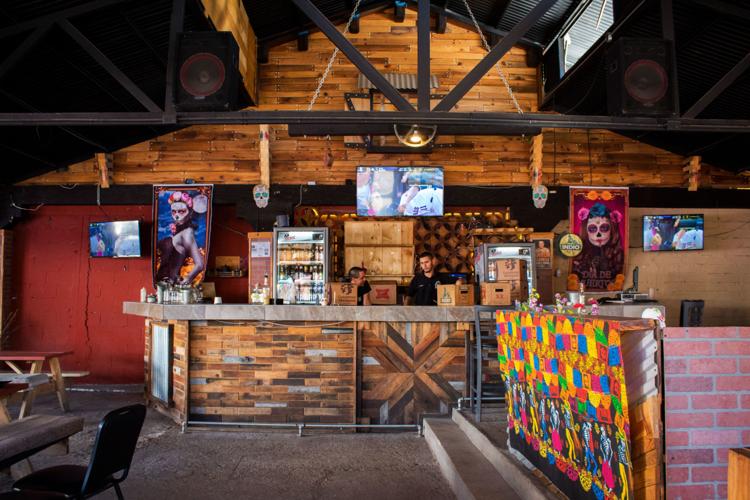 Beers jangling in the backseat, we took a quick stop at a food truck park in the city's food district Calle Hermosillo. The park was anchored by bar called La Granja, which seemed like a good place to get a michelada. The food truck park didn't get going until around 8 p.m., so I just took a look around. But I was surprised at the variety ... It wasn't just tacos and burritos. Who knew Nogales had a pizza food truck! 
Back on Calle Hermosillo, I was struck once again by the array of options available here. Spicy chicken wings? Sushi? Sure! We slipped into an inconspicuous building down the street, which turned out to be the main destination of the trip: La Llorona.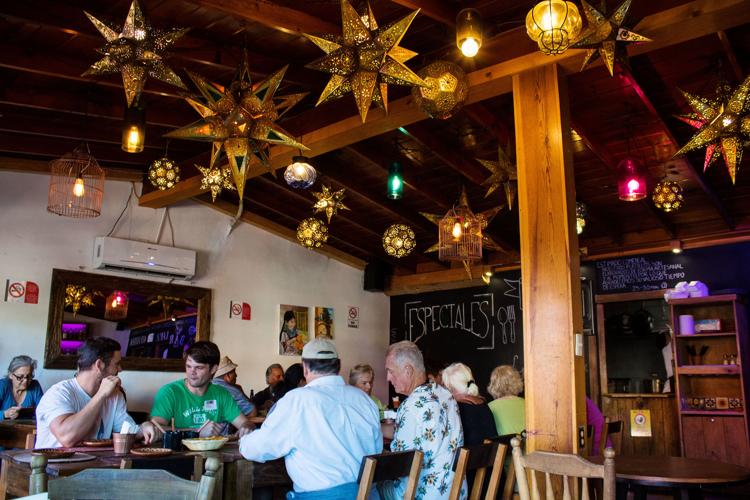 The story of this restaurant is interesting to me: Chef Fernando Luévanos is originally from Buenos Aires, Argentina but came to Nogales from Guadalajara, Mexico. His menu specializes in Central Mexican dishes, much like Penca in downtown Tucson. But this place serves grasshoppers, so you know ...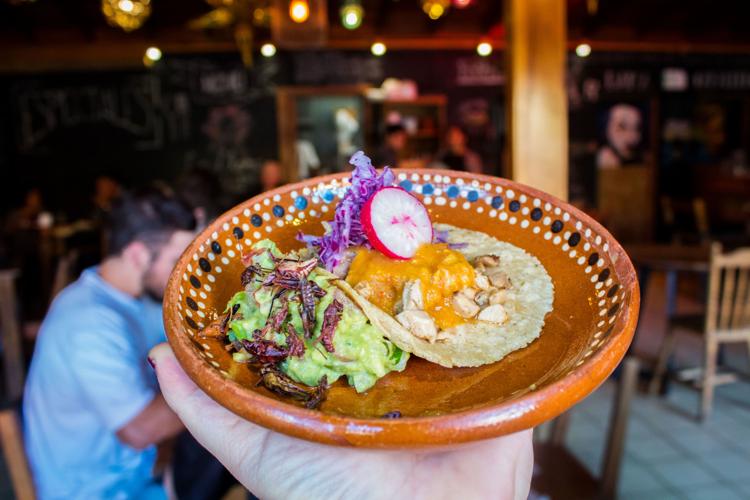 We were treated to a four-course meal that included chocolatey mole, lechon pork taco with a mustard sauce and the festive Chile en Nogada that features sweet walnut sauce and pomegranates in a savory stuffed pepper. To put it short, this was not a meal I'd ever expected to have in Nogales, Sonora.
Gourmet dining here has always meant the old school La Roca by the border fence, where people sing mariachi and offer you bowls of gussied-up guacamole. (Afterwards in a salty margarita haze, you walk back past the strip clubs and the railroad tracks and buy some trinkets to take home.) This experience at La Llorona was definitely de moda, if you know what I mean.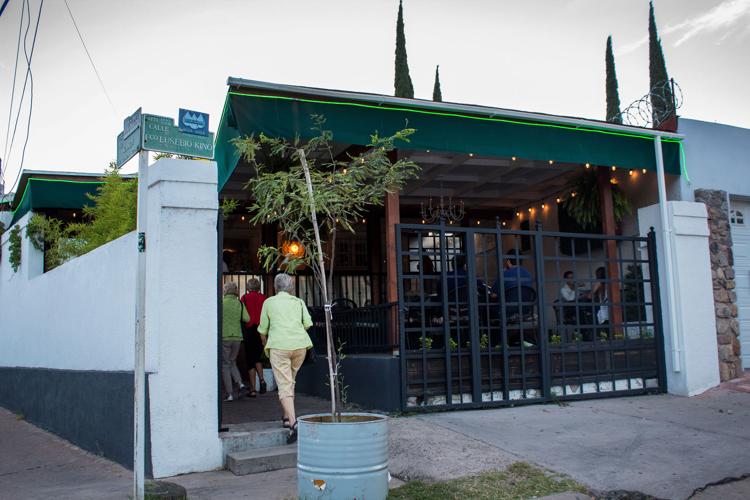 To complete the evening, we stopped off for coffee in the upscale Kennedy neighborhood of Nogales, where one of the historic houses had been turned into a French cafe. I ordered a latte and stared at a painting of a naked aristocrat lady with dark red lipstick. The cafe was called Mi Dulce Pecado, or "my sweet sin." What happens in Nogales, stays in Nogales?