Twila Busby's classroom is literally glowing.
Everywhere you look Hollinger K-8 students are working on costumes that combine technology with design, engineering and fashion. Most of them light up with circuits they programmed themselves.
There are dragons, a ghost robot, glowing tutus, light-up bow ties and a garden-inspired skirt and blouse. Students add the finishing touches as they prepare their designs for the country's first MakeFashion Edu runway event Saturday, Jan. 26.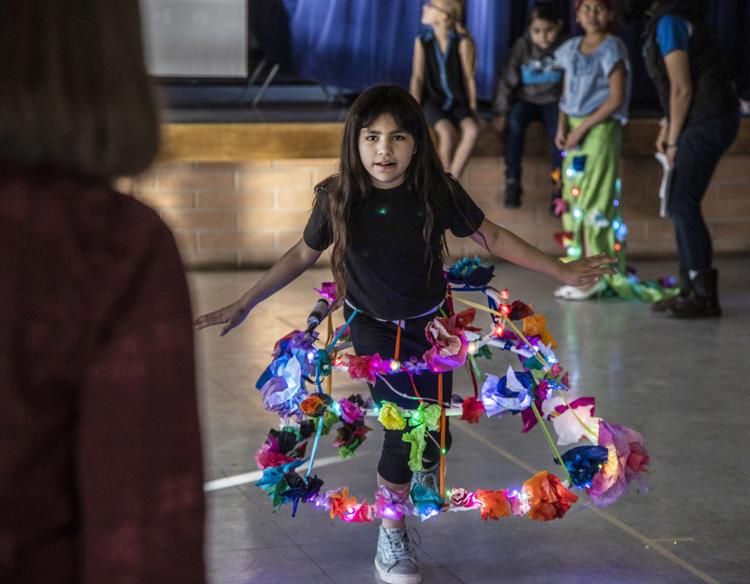 MakeFashion Edu is an international non-profit that sprung from MakeFashion, an organization started in Canada for professional designers and engineers to express themselves through tech and fashion. (You might know this as "wearable tech.")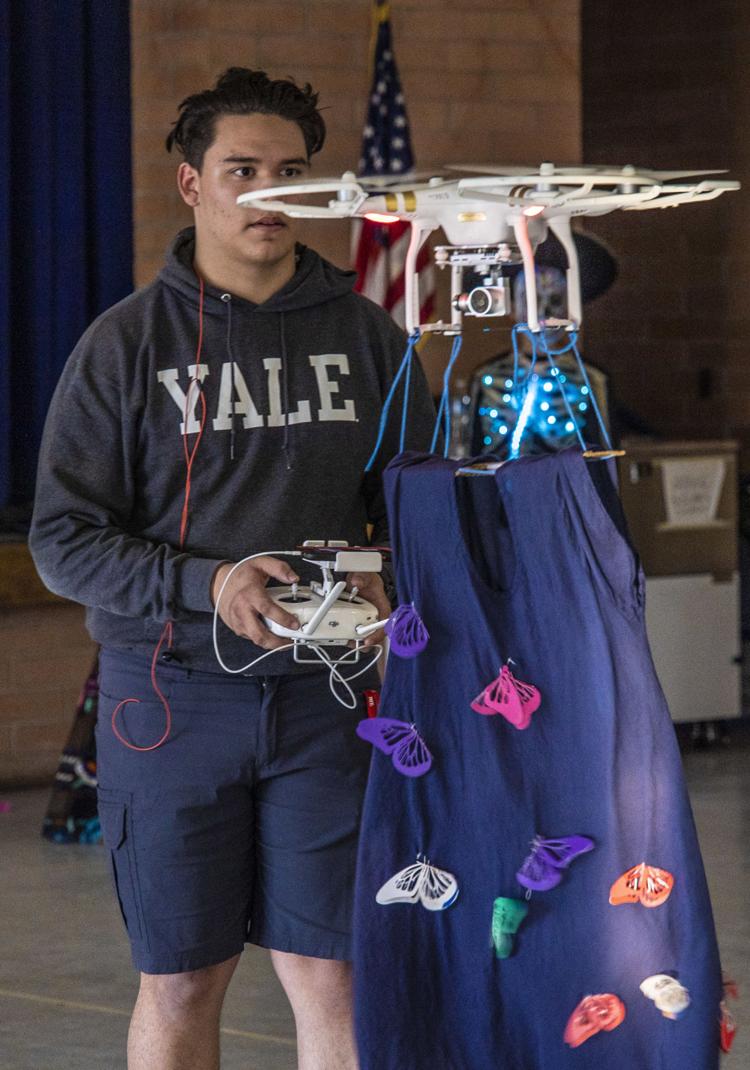 The event is a collaboration among TUSD schools Hollinger, Drachman Montessori and Pueblo High School.
"For adults it's a powerful medium to cross-collaborate engineers and designers," says Carrie Leung, director of the maker program at Shen Zhen American International School in China. "It's a platform to express themselves in fashion and tech. If adults can do it, why can't kids?"
Leung, who worked with Busby in China, is in Tucson for the week to help with Saturday's event. She has been working with Busby to bring the program to Tucson. 
George Parra, an 11-year-old fifth grader, constructed a robot head wearing a top hat out of cardboard and tupperware and painted it silver. He programmed the light strips that go with it. The icing on the cake, though, is the fan-like contraption inside of the hat. When he turns it on, air pushes the top of the hat up. 
"I was creating a robot head, but we got crazy and decided to make more," George says. "I was gonna do a whole robot body but wanted to do something original, so I decided to do a ghost robot...I am pretty proud of myself because this took a lot of work. I made three prototypes of the hat."
Before she started working with MakeFashion Edu, Busby created a makerspace at Hollinger where she is a maker coach and reading specialist. Last year she hosted the school's first maker fair and is holding another one in May. 
Her makerspace is a place for students to access materials — technology, fabric, art supplies, machines and more — that help them create projects combining their interests with academics.
"MakeFashion is just a more focused subset of making and we could see how it would be a great entry for students, especially for girls, into the world of tech or STEAM as we like to call it in education," Busby says. "Opportunities to create with technology, not just consume. We believe our students need these kind of opportunities and venues to find their passions and build the skills to be happy and successful in life."
Debbie Summers, retired principal of Utterback Middle School, is helping with the event as a volunteer.
"Kids need to be doing things. They need to have a purpose for learning and putting those skills into something they see," Summers says.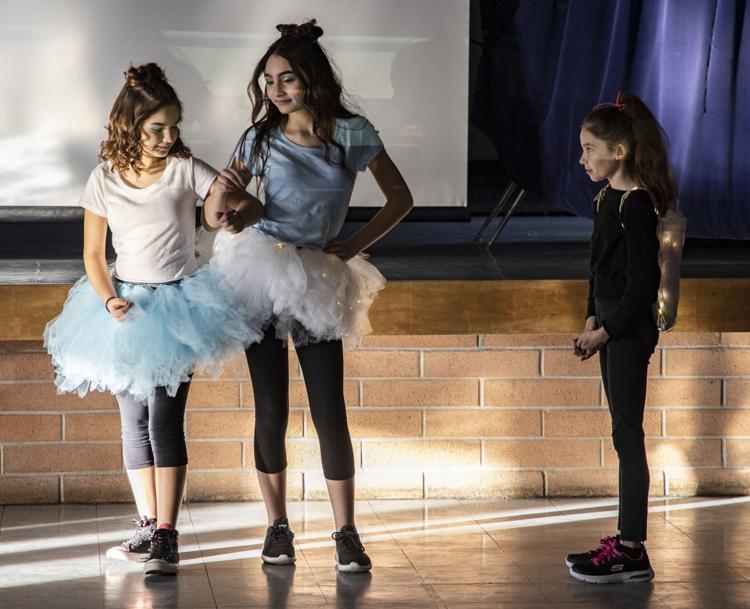 Leilani Beltran, an 11-year-old fifth grader created a nature-themed outfit with her group. They love gardens and painting so they used those passions to create their design — a long green skirt with tissue paper flowers and lights to represent the garden and a blue blouse as the sky. 
"When I grow up I want to be an artist," Leilani says. "This is giving me a step to become an artist using sewing and drawing."
About 40 students, from second grade through high school are participating and have been working on their projects for the last six months. They conceptualized, designed and put the finished pieces together and will get to show them off in runway fashion show on Saturday, Jan. 26 at The Sea of Glass Center for the Arts near Fourth Ave. The event is open to the public.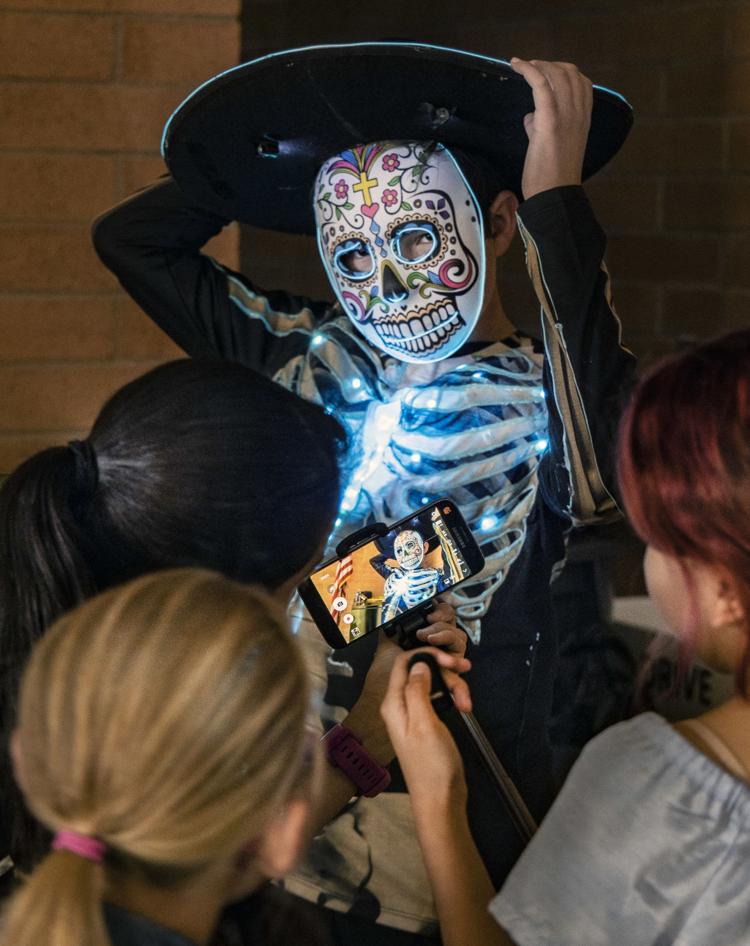 "The event is kind of the cherry," Leung says. "But the three to six months leading up to it is the meat and bones. It's where they learn, create and collaborate. Just by meeting the kids today and yesterday I can tell they're feeling like they can do things. The amount of girls programming and doing circuits is amazing and for boys to say 'I'm doing fashion' — it's breaking barriers."
Diana Gallego, an 11-year-old fifth grader, used ideas she found online as inspiration to create a dragon head out of cardboard and paper and scaly wings that she sewed herself. She also had to program circuits to make it light up. 
"I made these spikes and around it there are cones that will light up with a circuit playground," Diana says. "This is a new skill for me. It's fun. I like messing with it and seeing what I can do. I learned how to sew for this, too."
Diana says she wasn't sure if she'd "get into it" at first, but that changed when she realized she could do it. 
"I was nervous that mine wasn't that good," Diana says. "But now, I'm happy and excited. Now I'm proud of myself."
If you go
What: MakeFashion Edu STEAM Runway Event
When: Saturday, Jan. 26, 4:30 p.m.
---
Twila Busby's maker space runs on donations and volunteers. She's looking for donations of craft supplies, electronic supplies, tools, wood, boxes, fabric, etc. You can contact her at Twila.Busby@tusd1.org if you would like to help out.