Karol Santiago can't really talk about her twin daughters' new bedrooms without getting emotional. 
She built this place for them. 
"I'm most excited that I got the opportunity to help with my home," Santiago says.
Santiago's will be the 17th Women Build Home in Tucson. The local version of the program brings women together to raise money for and build a home that will go specifically to a woman, usually a single mom. 
Santiago first heard about Habitat for Humanity about eight years ago, when a friend who built her house with the nonprofit invited Santiago over for Christmas. 
The first time Santiago applied for a Habitat house, her income disqualified her — she didn't make enough. So she made some changes.
An overdrawn account disqualified her the second time. So she modified some habits. 
And finally, it worked. Her third application was approved, and construction on her new home began in October 2017 on World Habitat Day. 
"We have three main requirements," says Laura Sanchez, the director of marketing and communication for Habitat for Humanity Tucson. "Ability to pay, willingness to partner and need." 
Future homeowners put in 250 hours of work — sweat equity — on their own home and their neighbors'. They take classes and workshops on budgeting, saving for a down payment and home maintenance. And then they put down money and pay a monthly mortgage — with zero-percent interest.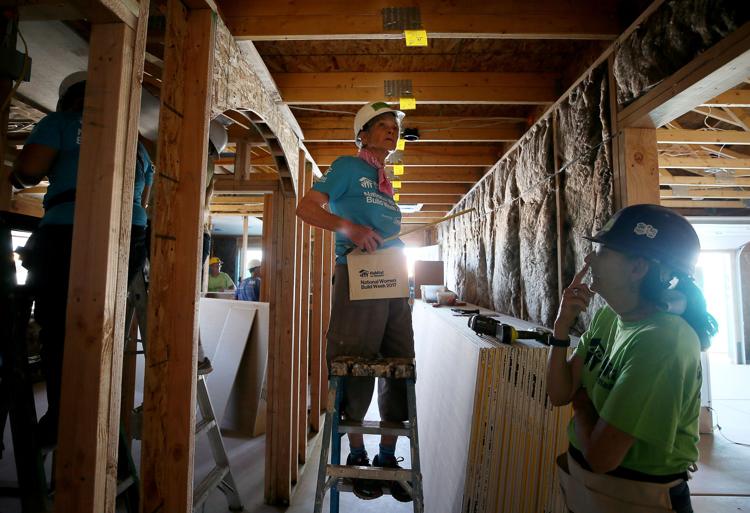 A committee of women also helps to raise about $90,000 for the Women Build home to go toward building materials, permitting, water and electric hookups and other needs, Sanchez says.  
"We want people (on the committee) who care about this and who understand the importance of kids having a safe home and not having to move around." says Lynne Wood Dusenberry, a co-chair of the fundraising committee. "
The focus on single moms makes it even more rewarding, she adds. 
"It's something that women are able to do to come together and help another woman completely change her life, not just for today but for the long term," Sanchez says. 
Santiago and her 8-year-old twin daughters live in a mobile home with her sister and her two kids. She moved in after she and her twins' father separated. They share an inflatable mattress and have lived there for more than a year, Santiago says.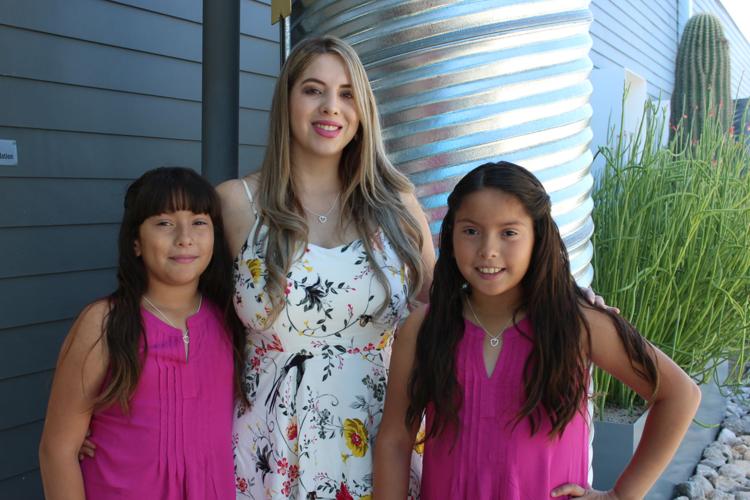 "Maybe people say, 'I don't have time,' but we all work and have to make a little time, because it's going to be for something that's worth it," Santiago says of Habitat's requirements. "It's your future. Your kids' home. And yeah, there were hot days, whole days where you work hard, but you get to the end ... and they make you feel like you're doing more than just putting a nail in the house. You feel useful." 
Santiago works as a medical assistant for Indian Health Service at the San Xavier Health Center on the Tohono O'odham reservation. She took time off — without pay — to meet her required Habitat hours. She estimates that she put in about 20 hours a week.
"She has a job and she worked on her credit to be able to get into this program, so she is good financially," says Sanchez. "She is willing to partner and willing to work hard for a better life for her children, and that's what makes her a perfect candidate for this program." 
The Women Build volunteers see the houses transformed from raw materials into a home. 
"It's one thing to see this," says Women Build crew leader Lynn Andreen, gesturing to the unfinished house earlier this year. "But it's totally different to see families go into their house and get the keys. It's very emotional. I always wear sunglasses."
Andreen is one of the handful of women who participate in the construction  of the Women Build house. Like many of the women who volunteer, she had little, if any, construction experience. 
But that doesn't really matter. 
"When I was younger, my dad would get out all of his tools, and I wasn't allowed to do some of the stuff and I always wanted to, but these guys are like, 'Hey, get the saw,'" says Andreen, in her 60s. "So I'm finally getting to build."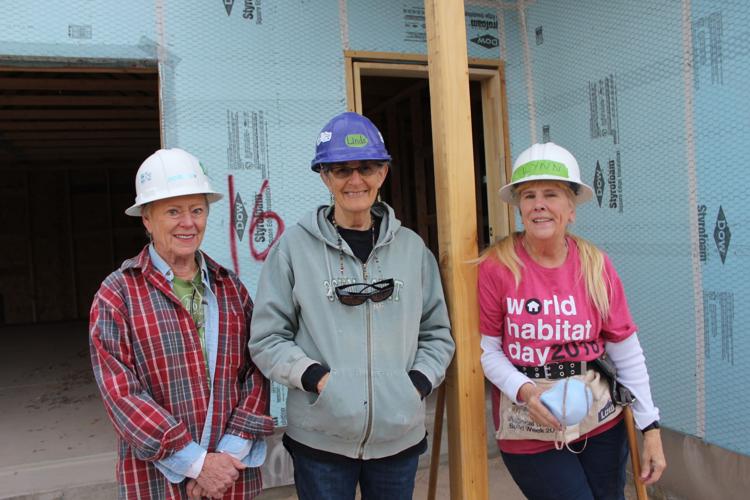 Volunteers are assigned tasks on the construction site and then given instruction if they need help. 
"We do basically everything, from raising walls to interior framing to stucco prep, ... roofing, painting ..." says crew leader Toni Laxague, in her 60s.
They see the project go from concrete slab to completed home. 
"It gives women a chance to learn," she says. "(Construction) is not something you necessarily know how to do, so it gives them a chance in a non-threatening environment when no one is judging whether you can drive a nail with one blow of the hammer or if you know how to use a skill saw or a chop saw. You can learn that in a non-threatening environment." 
In May, more than 100 volunteers came together for National Women Build Week to make a big push toward completing Santiago's home. 
"It's all about empowering women to address the affordable housing crisis in their own community," Sanchez says. 
And because volunteers usually work alongside the future homeowners, they get to know the faces behind each project. 
"Invariably, they are humble and hardworking, and you really have a lot of respect for what they're going through," says crew leader Linda Marble, 70.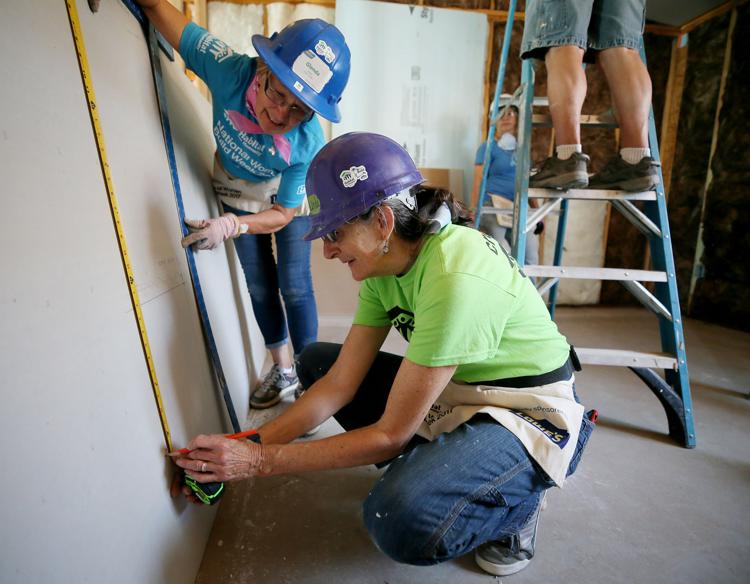 Santiago has juggled her commitments to Habitat for Humanity with a full time job and caring for her twin daughters.
"One of my twins has cerebral palsy, but they both have special needs," she say. "It has been difficult. And they want to know: Where are you going? To work on the house? Again?" 
In May, 8-year-olds Karol Contreras-Santiago and Danielle Contreras-Santiago saw the house for the first time. And they are stoked. 
Santiago has told them to "imagine the colors you want inside of you room." She chokes up even saying it. 
By the end of the summer, the family will go from sharing a mobile home to owning a three-bedroom, two-bathroom house. Plus, kids live next door. Her daughters are also excited about that. 
"We had moved around a lot," she says. "We never had enough money. We were renting again and again. So I didn't want that any more. I think there is some moment when you have to stop and know what you really want. And (the twins) are getting big, and I didn't want them to keep growing up and not have a place I could say, 'This is yours. Let's go home.'"