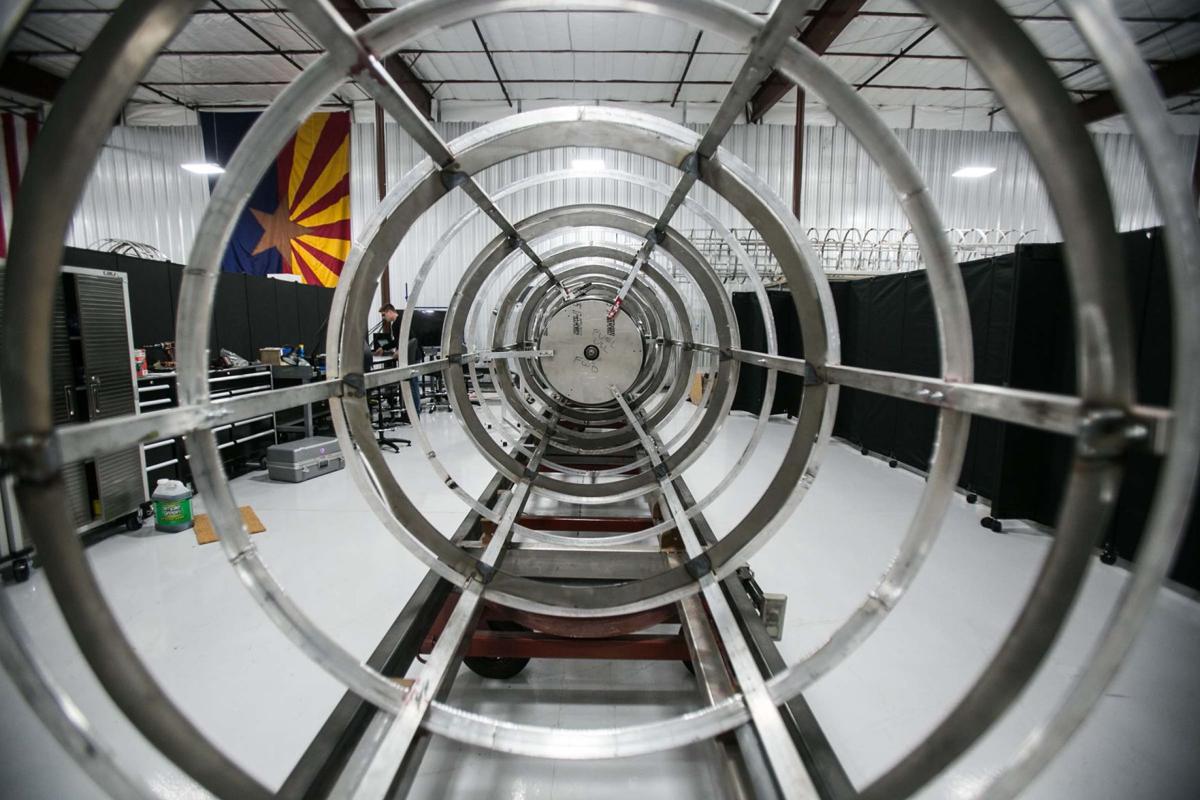 Tucson-based small-satellite launch startup Vector has won a key U.S. patent for its small-rocket engine technology as it moves toward its first orbital flight later this year.
Vector was awarded patent number 10,072,612 on Sept. 11 for its "enhanced liquid oxygen-propylene rocket engine," including a rocket-propellant injector made with 3-D metal printing and optimized to use propylene.
The patent covers some of Vector's foundational technology, based on work by Vector co-founders John Garvey and Eric Besnard when Garvey was developing Garvey Spacecraft Corp. and Besnard was a professor at California State University, Long Beach.
Besnard, now chief technology officer at Vector, said he and Garvey tested various propellants, including so-called RP-1, a common kerosene-based rocket fuel, and liquid oxygen with methane and propane, in a search for the ideal propulsion system for small rockets built to take tiny satellites into space.
The researchers found that using liquid oxygen with propylene, a hydrocarbon gas, provided the ideal combination of combustion efficiency and energy density.
When chilled, the propylene gas can be stored under pressure in a tank and fed to the engine directly, with much smaller fuel tanks and without fuel pumps normally used in rocket engines, Besnard said.
"That, combined with the recent advances in (3-D) printing technology, has really made this an enabler for this low-cost launch vehicle that we're doing," he said.
Vector's business model is to serve a fast-growing market for launches of tiny nanosatellites for about $3 million per launch — a fraction of the price of a ride on a full-size rocket.
The use of 3-D metal printing, a form of so-called additive manufacturing, enables engine designers to build in complex features like curved holes that would otherwise require multiple parts, Besnard noted.
"You don't have to make tens of parts that you have to weld together and test," he said. "We're able to have all kinds of curves and passages and orifices and all that, so that's something very unique we're able to do."
Garvey and Besnard are named as co-inventors on the engine patent, along with Christopher Bostwick, Vector's director of propulsion and former chief engineer at Garvey Spacecraft; and Christopher Anderson, a former Garvey mechanical engineer now working for Vector.
Meanwhile, Vector plans a suborbital test launch of its Vector-R rocket prototype mainly to test its mobile launch pad, at a site near Mojave, California, in the next few weeks, Vector co-founder and CEO Jim Cantrell said.
The timing of the company's first orbital launch, from Kodiak, Alaska, is still up in the air but Cantrell says he expects liftoff sometime between late October and late December.
Vector also is finalizing another round of financing and is finalizing designs for its planned manufacturing plant south of Tucson International Airport, with tentative plans for a groundbreaking in early 2019, he said.
World View chief tapped
In other space (or near-space) news, Taber MacCallum, co-founder and chief technology officer of Tucson-based World View Enterprises, was recently named chairman of the board of the Commercial Spaceflight Federation, a Washington, D.C.-based advocacy group with more than 80 members involved in the emerging industry.
World View has developed steerable, high-altitude balloons that can carry small payloads into the stratosphere and operate for long periods over an area of interest, much like a satellite, for imaging and other research uses.
Tech Council doings
Steve Zylstra, president and CEO of the Arizona Technology Council, will be in Tucson on Wednesday, Oct. 3, for an annual "state of the council" update and breakfast at Pima Community College's Downtown Campus.
Zylstra will provide an overview of recent council activities and discuss workforce-development initiatives and public policy successes in Arizona and in Washington, including research and development tax-credit legislation.
The tech council also will hold its 2018 Southern Arizona Tech + Business Expo on Oct. 24 at the Tucson Convention Center.
For more information or to register for these and other Tech Council events, go to www.aztechcouncil.org.
The business news you need
With a weekly newsletter looking back at local history.