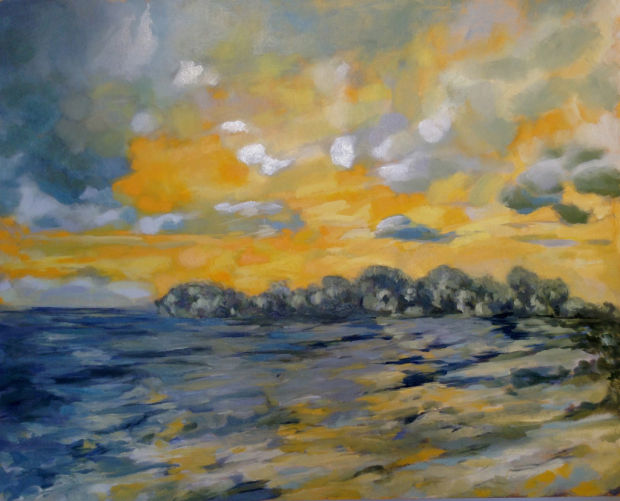 Artist Betina Fink doesn't just look at the natural world and say, "Oh, nice." She sees it, inhales it and then expands our perception of it through her art.
Like this painting, "Winter: Dawn, Hanalei, Kaua'i," among the recent works she'll have in her "Landscapes in Oil" exhibit at Rancho Linda Vista, opening Sunday.
She wrote in her online blog about the piece: "I worked on the painting from memory and sketches done on site, and I also took some photos, just to jog my memory of how intense the sky was, and the delicate reflectiveness of the ocean. So primal, so endless, a wonder."
It captures the beauty as well as the sometimes threatening light and clouds that loom over this town on Kaua'i's northern shore. It also captures the colors of the sky and the movement of the ocean and Mother Nature's mood. Put it all together and we not only have a picture of dawn at Hanalei; we also have a sense of how mercurial it can be, how beautiful, and how profound.
The artist has more at the show - plein-air and studio works with Fink's moving perceptions of the world around her.
The show opens Sunday with a reception from 2 to 5 p.m. and can be seem from noon to 5 p.m. Sundays through Feb. 28 at the RLV Gallery, 1955 Linda Vista Road, in Oracle. It's a beautiful ride to the ranch - perhaps it will inspire some art of your own. If the drive doesn't, Fink's works may.