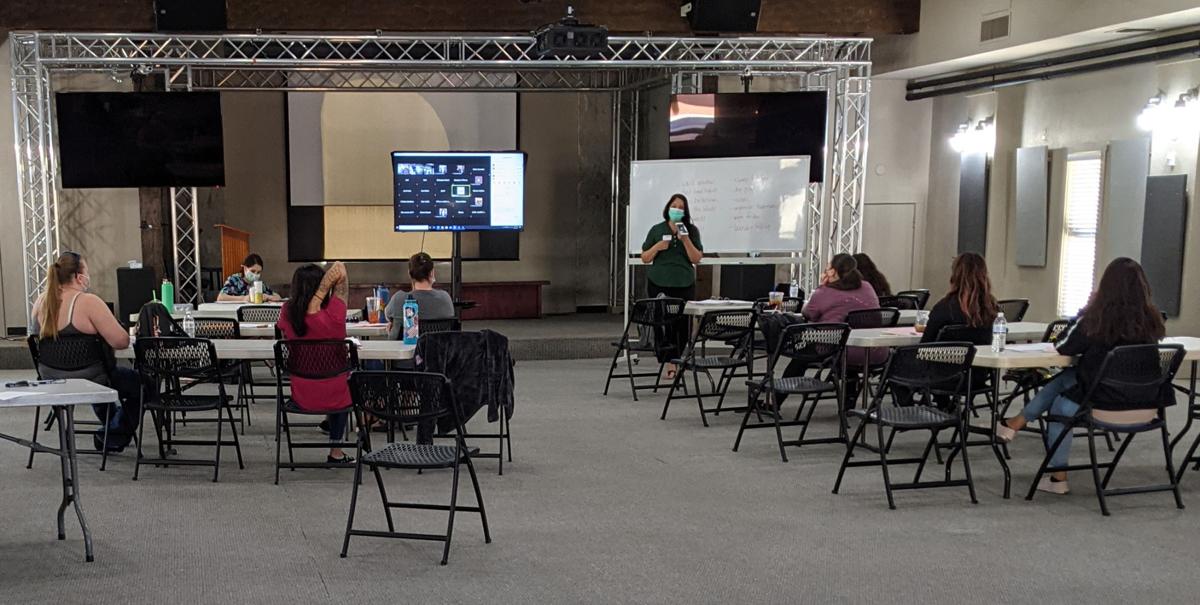 The Stronger Families Project program at Arizona Youth Partnership is an evidence based program with a goal of building a positive relationship among family members, especially between parents and their youth.
This is done by providing a healthy and safe environment for families to increase their dialogue and discussion of topics that may be too difficult to have at home.
These conversations are about peer pressure, stress, and the ways youth and parents can work together to reach their goals individually and as a family.
When meeting in person, the program includes dinner for the families followed by the families coming together to discuss what they learned during the session.
Now, a partnership between Arizona Youth Partnership Stronger Families program and Interfaith Community Services' Single Mom Scholars Program is delivering this initiative to more local families. The scholars program is pioneer in the efforts to break the cycle of poverty through its two-generation approach.
Conversations for the partnership began before the onset of the pandemic. The first organizational meeting between the agencies was held in January 2020, with both programs realizing that a version of the Stronger Families Project would be a great fit for the Single Moms Scholars program.
The program empowers low-income single moms to earn a college degree while simultaneously working with their children to gain social capital, build leadership skills, and improve academic performance.
Christine Barry, Arizona Youth Partnership director of prevention services says: "It is great to partner with Interfaith Community Services and their Single Mom Scholar Program. Arizona Youth Partnership has partnered with Interfaith Community Services in the past and delivering this impactful program to their program members and their families seemed like another perfect opportunity."
The Stronger Families Project is normally held in eight-week cohorts during the school year but has adapted during the pandemic by moving to a fully virtual format. The organizations decided the program would best fit the partnership in a once-a-month format so that more families were able to participate.
The original start date for the program was delayed by the pandemic, and both agencies decided to start the modified program in a hybrid of virtual and in person social distanced meetings beginning in January.
As we are unable to provide a meal in person, each family is provided with a gift card to enjoy lunch or dinner as a family. This is supported by a grant from the Bayer Fund to Arizona Youth Partnership. The program, in its third month, is serving 29 families and 51 children.
"I know that having an evidence-based program focused on youth for those in our program is a step in the direction. Interfaith Community Services is focusing on whole family well-being," says Lauryn Valladarez, Interfaith Community Services director of self-sufficiency programs.
The program has been well received by the participants in the program. One mother, who had taken the program years ago said, "I'm enjoying revisiting the program now that my kids are older."
Another mom, taking the program with her two teens said "I am really enjoying these workshops. With two teens that have different personalities, me working and going to school, these workshops have helped us become closer as a family. We have learned to use our family time better."
Arizona Youth Partnership, founded in 1990 is a nonprofit based in Marana, now serving youth in several counties.
Tax-credit donations to AZYP help support more partnerships with other community organizations to build stronger families. "Partnering with other agencies to reach families is the core of our mission and how we conduct our programming," says Lori Malangone, CEO of Arizona Youth Partnership.
To see more about Arizona Youth Partnership and the programs it offers, go to azyp.org
Interfaith Community Services was formed in 1985 with the idea that volunteers and congregations of diverse faiths should work together and share resources in better responding to community needs. To find out more about Interfaith Community Services visit icstucson.org.