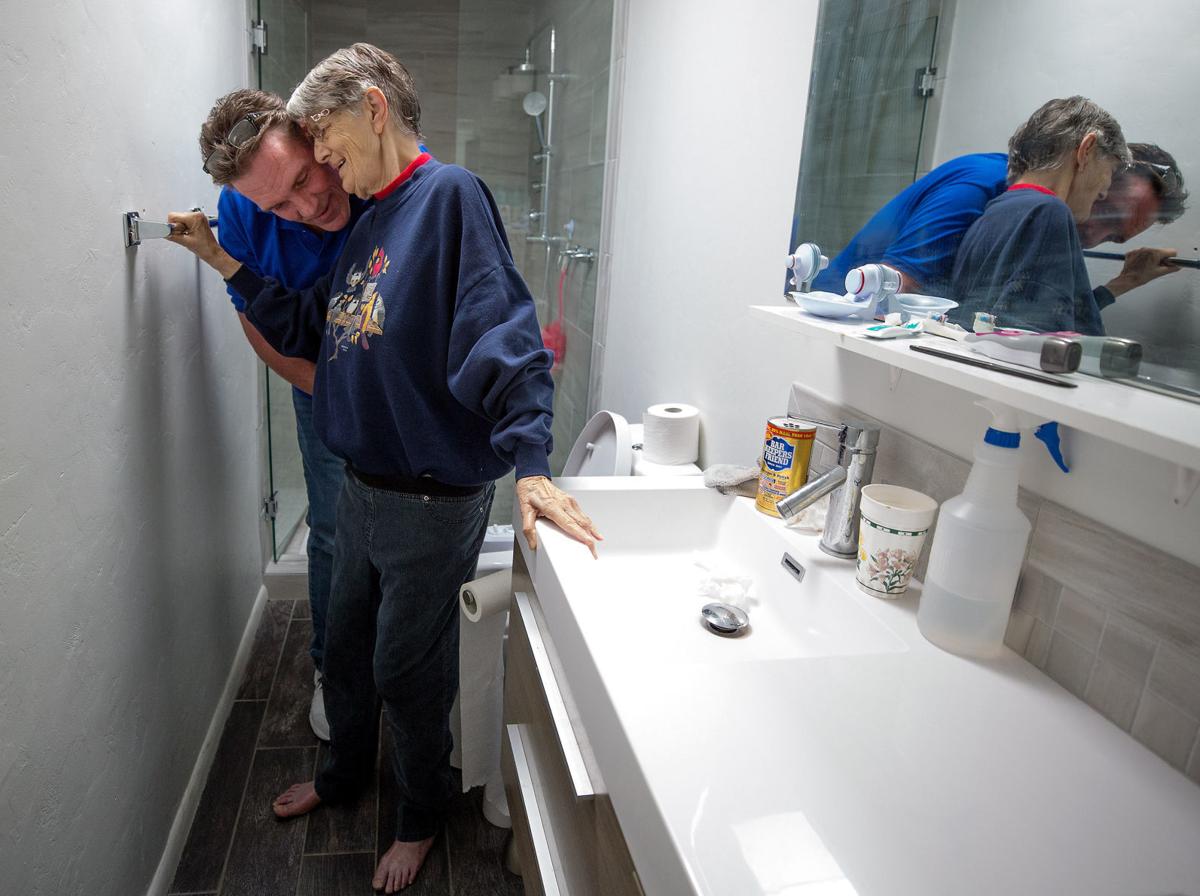 The number of people living with Alzheimer's in Arizona is expected to grow by 43 percent over the next seven years, says the national Alzheimer's Association.
Among other findings in the association's 2018 Alzheimer's Disease Facts and Figures report:
An estimated 5.7 million Americans have Alzheimer's dementia, including 140,000 in Arizona.
By 2025, the number of people age 65 and older with Alzheimer's dementia is estimated to reach 7.1 million. In Arizona, the number of individuals with Alzheimer's is predicted to be 200,000.
The burden on Alzheimer's caregivers continues to grow. In 2017, more than 16 million Americans provided about 18.4 billion hours of unpaid care in the form of physical, emotional and financial support — a contribution valued at $232.1 billion. In Arizona, 330,000 caregivers provided 376 million hours of unpaid care, valued at $4.7 billion.
Alzheimer's disease — a progressive, irreversible disorder and the most common form of dementia — develops when brain cells stop functioning and eventually die. The disease affects parts of the brain that involve thinking, remembering and using language. It can ruthlessly impede a person's ability to carry out daily activities. There is no cure.
Retired businessman Chuck Josephson knows the cruelty of the disease well. At 84, he has cared for his wife, Joan, 85, for 13 years.
She "started showing signs of memory loss in 2005, and by 2010 an MRI revealed the damage to her brain," Josephson wrote for the Arizona Daily Star in a series of articles in 2016 and 2017 about the disease that has robbed him of the woman he married.
For 35 years in Tucson, Joan was a church pianist, organist and children's choir director. The couple worships at Our Savior's Lutheran Church on North Campbell Avenue, north of East Speedway.
Joan and Chuck no longer play Mozart duets in their midtown home, and she no longer can play the way she did a few months ago. "Her fingers just won't obey her brain," Chuck wrote in a recent email interview.
"Still she can smile, try to do what she is asked, and generally stay a fine human being. She may get food on her sweater and drop popcorn all over the floor, but she can still recognize her name on an envelope in the mail.
"She may not recall my name, but she still knows me. That will continue for a while, but then stop. What then?" asked Chuck.
Joan experiences incontinence, and lately it has taken a toll on Chuck. Recently, Chuck hired Christopher Brandon, who works daily in the mornings, getting Joan up, showered and dressed, and washing her bedding.
This time gives Chuck freedom to take back his mornings and do crosswords and Sudoku puzzles, and prepare breakfast for himself and Joan.
The rest of the day's chores — housekeeping, errands, cleaning Joan and changing her up to three times a day — prove tiring, difficult and overwhelming for Chuck. He said he cannot afford to pay the annual tens of thousands of dollars for caregiving professionals or care homes.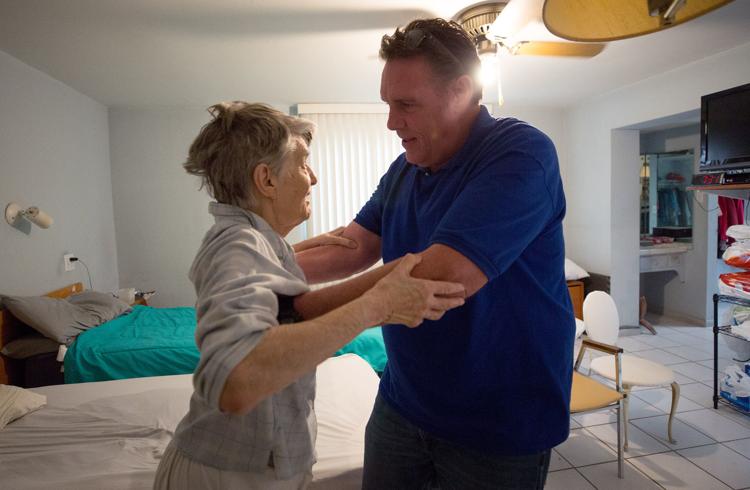 "This past year Joan's growing need for constant care has been very difficult for me," said Chuck. "A couple of months ago the world collapsed. Joan fell and bruised her hip, making walking painful for her. This led to a stay in the hospital and rehabilitation for a few weeks.
"I felt some guilt at my reaction to this: She was being taken care of elsewhere! Yippee! For those couple of weeks, I was 'free' for the first time in years. Can anyone understand this?" he asked.
He said he worries about what is happening to him. He starts but cannot finish projects, write and mail letters or birthday cards, or go to the gym. He suffers from loneliness and insomnia, and worries about depression.
Dr. Pierre Tariot, director of the Banner Alzheimer's Institute in Phoenix, a premier research institute, said the institute's mission is "to end Alzheimer's without losing another generation." Multi-billion-dollar research is funded by the National Institutes of Health and through philanthropy and biotechnology and pharmaceutical industries.
"There are six Alzheimer's-prevention studies active in the world right now. ... We oversee three of the studies," said Tariot. The studies began six years ago. "There are three international trials enrolling 4,000 people who don't have any symptoms of memory difficulty, but who are at risk of developing symptoms of Alzheimer's because of their genetic makeup," he said.
"The clinical trials are designed to find out whether the drugs will delay the emergence of symptoms or slow down their progression once they show up, or prevent the onset of symptoms altogether," said Tariot. He said the studies were developed with the Food and Drug Administration, and, "If one or more of these treatments is successful, there is a path to approval for marketing."
Researchers have not yet found drugs to slow symptoms of the disease, but "there is room for cautious optimism," said Tariot. He said the drugs being studied "are known with certainty to attack the underlying disease process," and "all studies point to the likely conclusion that the earlier we intervene with these experimental treatments, they are likely to work."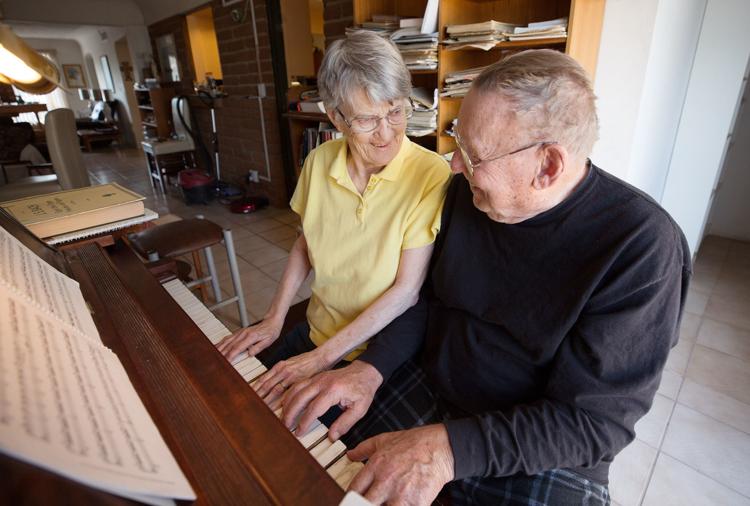 He said symptomatic treatments are being studied "with a reasonably high chance for them to become available on the market within a couple of years."
W. Mark Clark, the president and chief executive officer of the Pima Council on Aging, says the Medicaid cost "of caring for people living with Alzheimer's in Arizona is projected to be $364 million this year.
"That cost is expected to soar to $537 million for 2025."
"Fear of receiving a diagnosis of Alzheimer's or dementia can prevent older people from seeing a physician about memory loss, which can cause underlying medical problems to worsen," said Clark. He said not all memory loss is related to Alzheimer's.
Causes can include medical conditions or medication side effects, vitamin deficiencies, emotional problems and alcohol abuse.
Pima County demographics show 24.6 percent of all residents are age 60 and older. In 2017, Arizona's population was estimated at 7 million and by 2020, one in four Arizona residents will be 60 or older, according to state projections.
The most significant contributor to the age boom is greater longevity "made possible by improvements in public health, nutrition and medicine," said Clark.
There are free programs and services to support those with Alzheimer's and their families, said Morgen Hartford, regional director of Alzheimer's Association Desert Southwest Chapter in Tucson.
"There is quality of life with dementia and I encourage people to reach out to us," he said. The Tucson office serves seven counties.
Free services includes helping families with ongoing case management and support, including working with other agencies to identify goals and challenges and come up with plans to address their needs.
Hartford said the association is partnering with Arizona State University in a research program, Early Partners in Care, or EPIC, to work with people in the early stages of Alzheimer's and those caring for them to cope with the changes and plan for the future of their care. Those interested in participating in the seven-week program can get information from Hartford or his staff. (See box above.)
A statewide task force worked to develop proposals for the Arizona Alzheimer's State Plan to support families facing Alzheimer's disease and related disorders.
A media and education campaign is underway to promote awareness of the disease in the public, private and business sectors.
Contact reporter Carmen Duarte at cduarte@tucson.com or 573-4104. On Twitter: @cduartestar