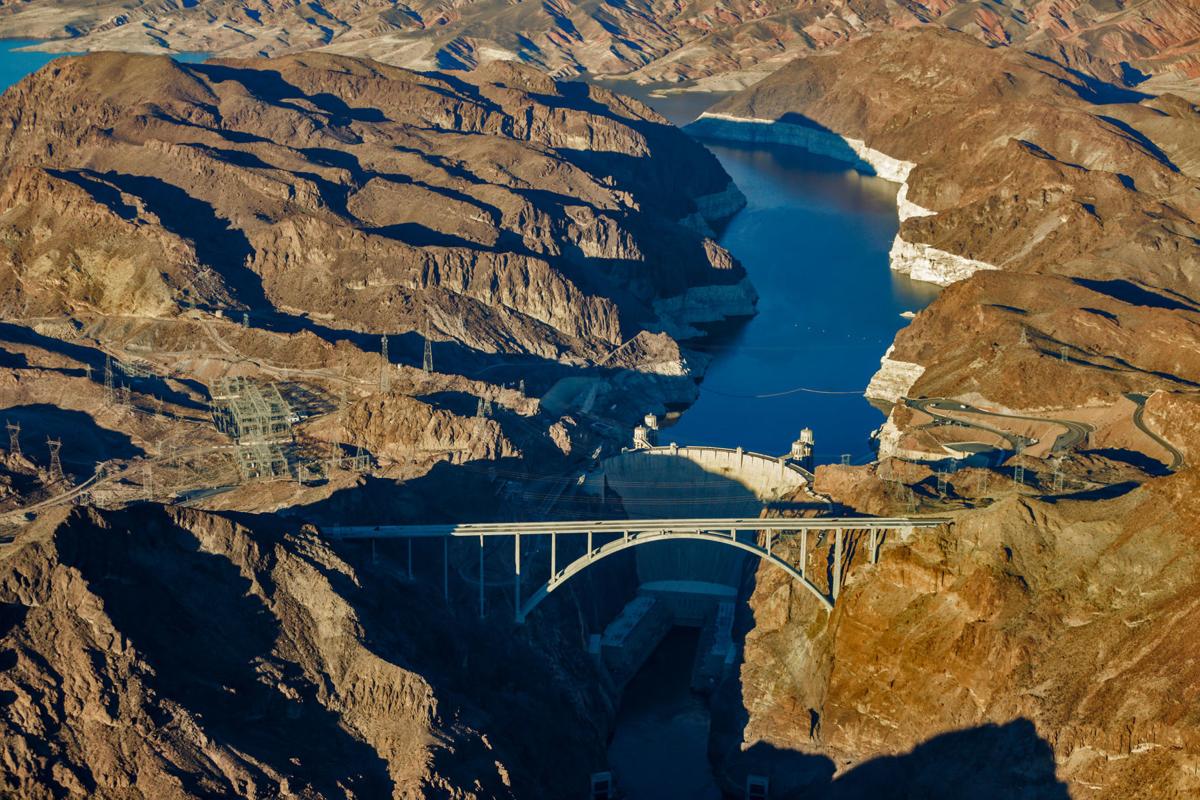 The Colorado River has lost enough water because of climate change since 2000 to supply the Central Arizona Project for a year, researchers for a new federal study found.
In a finding an outside water expert called "eye-popping," the study concluded that the river loses nearly 10% of its annual flow for every increase in temperature of 1 degree Celsius, or 1.8 degrees Fahrenheit.
The amount of water that didn't flow down the Colorado due to climate change since 2000 was about 1.5 million acre-feet, or about 2 billion tons, said Christopher Milly, one of the two co-authors.
Besides closely matching the typical annual delivery of CAP water to Tucson, Phoenix and Pinal County, that's enough to serve all the drinking water Tucson Water's customers need for more than 15 years.
From 1913 to 2017, the river's average annual flow dropped about 20%, and about half that decline was due to warmer weather, Milly said.
The river's water losses will likely continue, if not accelerate, by a range of 14% to 31% over the next 30 years as temperatures keep warming, said the researchers, who are with the U.S. Geological Survey. Their study was published Thursday in the journal Science.
That's much larger than the 9% decline that a U.S. Bureau of Reclamation study predicted in 2012 would be the most likely drop in Colorado River flows by 2050.
"Increasing risk of severe water shortages is expected" across the seven-state Colorado River Basin, the new study said. The river serves 40 million people and supports 16 million jobs, it said.
The study came out as Arizona, California and Nevada began the first year of a seven-year drought contingency plan that's aimed at cutting water use in the river's Lower Basin. This year's cuts are relatively minor. But over time they could reach up to 1.2 million acre feet a year. That's approaching 10% of the river's average annual flow.
Water officials from all seven river basin states expect to start work on a longer-range plan this year for the over-allocated river.
"There's not a drop of that water that no one has a claim on. If and when that supply is reduced by 10 to 20 to 30%, someone is going to have to stop using as much water," said Milly, a senior research scientist. The co-author was physical scientist Krista Dunne.
The finding about the river flows' sensitivity to temperature increases is "eye-popping," said Brad Udall, a Colorado State University researcher who has worked on several past studies about the river and climate change.
USGS's conclusion that river flows dropped 9.3% per degree of temperature increase was at the upper end of the range that Udall and former University of Arizona climate scientist Jonathan Overpeck found in a 2017 study.
They estimated the decline could have been as little as 3%.
The USGS researchers were able to pinpoint the most likely decline at a much higher level by using computer models, Udall said.
The new study calculated how much warmer temperatures contributed to less snowpack, more sunlight absorbed by the land, more evaporation and ultimately lower river runoff.
"The Colorado River Basin loses progressively more water to evaporation, as its sunlight-reflecting snow mantle disappears," researchers Milly and Dunne wrote.
Snowpacks that last into late spring and early summer have historically provided reliable, plentiful water supplies and protection against major fires, Udall said.
In a much warmer climate, snowpacks that melt early significantly reduce water supplies and result in "landscape altering" blazes like the Camp Fire that virtually leveled the town of Paradise, California, in 2018, he said.
Also, the study found it is unlikely that precipitation trends expected over the next 30 years will help river flows. Most likely, they'll hurt more than help, Milly said.
The study's forecasts don't take into account the widely varying possibilities of changes in precipitation in the river basin due to climate change. No scientific consensus has been reached on whether it will cause precipitation to rise or fall.
But the researchers concluded that the best case is that precipitation increases could improve river flows by 3%. Their worst case is that decreases would cut flows by 40%.
Speaking on the implications for the river basin's water management, Udall said new rules governing the river basin, once approved, are likely to run at least until mid-century.
So it's "paramount" that the new rules consider the predicted, serious flow reductions, he said.
"More broadly, these results tell us that we need to reduce greenhouse gas emissions as soon as we possibly can. We've wasted nearly 30 years bickering over the science," Udall said. "We now have the technologies, the policies and favorable economics to accomplish greenhouse gas reductions. What we lack is the will."