John Sidney McCain III, a six-term Arizona senator, former POW and the Republican Party's 2008 presidential nominee, died Saturday afternoon. He was 81.
McCain was often called a "maverick" for his self-deprecating humor, a reputation for speaking his mind and his party-line-bucking statements and votes.
He was known to explode during floor debates and could blow up at colleagues, yet his piercing brown eyes filled with tears during a 2008 Arizona Daily Star editorial board meeting while he discussed a veteran he felt he let down.
"His whole life was public service," said former U.S. Rep. Jim Kolbe, a Republican who represented the Tucson area in Congress from 1985 to 2007. "He epitomized what it means to be a good public servant."
McCain spoke to what was important, Kolbe said.
McCain survived 5½ years in filthy, brutal prisoner-of-war camps in Vietnam and had been treated for four melanomas since December 1993. He was diagnosed with glioblastoma, an aggressive brain cancer, after surgery July 14, 2017, in Phoenix to remove a blood clot above his left eye.
About two weeks after his surgery and diagnosis, McCain returned to Capitol Hill and joined fellow Republicans Lisa Murkowski and Susan Collins to cross party lines and vote thumbs down on the repeal of the Affordable Care Act, also known as Obamacare.
"He did exactly what he should have done," said Bob Walkup, Tucson's Republican mayor from 1999 to 2011.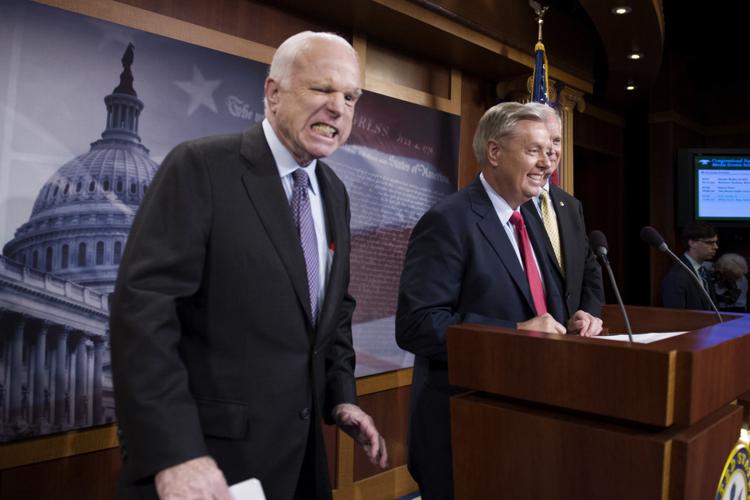 McCain always stood up for what he believed, even when it was unpopular or opposed his party, Walkup said.
The senator had been in Arizona since Dec. 17 and did not vote later that month on the rewrite of the tax code, a major legislative victory for Republicans.
From home he continued cancer treatments and physical therapy while keeping up with his official duties as much as he could.
Senators cannot vote from afar, but he weighed in on issues that mattered most to him by issuing occasional statements and commenting on Twitter.
He also received briefings from his staff and visited with friends and political colleagues.
On Aug. 24, his family announced he had decided to stop treatment for the cancer he had battled for more than a year.
In his memoir "The Restless Wave," released May 22 and co-written by former aide Mark Salter, McCain said he knew his present term would be his last and that "I'm freer than colleagues who will face the voters again." He said he wouldn't hold back any opinions.
He blasted nationalism, isolationism and the "ideological ghettos" into which the nation has split. He chided President Trump's worldview, hyperbole and description of the media as "the enemy of the people." He called out what he described as Trump's resentment toward immigrants, refugees and minority groups; the president's inability to separate truth from lies; and Trump's praise for some of the world's worst tyrants.
He slammed Trump after a news conference that followed the July meeting with Russian President Vladimir Putin in Helsinki, Finland, calling the president's remarks and dismissal of U.S. intelligence as "one of the most disgraceful performances by an American president in memory."
He offered a prescription for the nation's political crevasse: "Before I leave, I'd like to see our politics begin to return to the purposes and practices that distinguish our history from the history of other nations.
"I'd like to see us recover our sense that we are more alike than different. We're citizens of a republic made of shared ideals."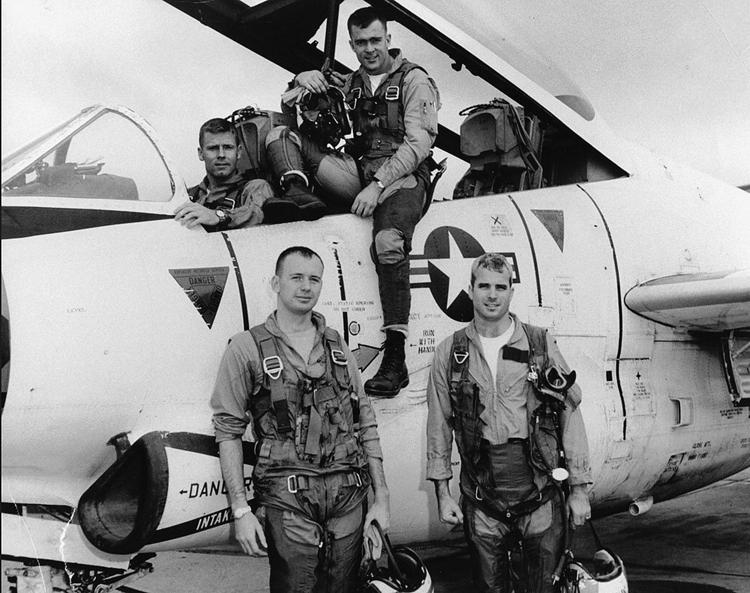 Making of a hero
The nation took notice of McCain in 1967 in grainy black-and-white photos depicting an injured captive in a grimy Hanoi hospital.
He had graduated from the U.S. Naval Academy in 1958. He was fifth from the bottom of his class academically and near the top of the list for challenging rules, racking up demerits and enjoying a rabble-rousing good time.
As an aviator who flew attack planes from aircraft carriers, McCain was aboard the USS Forrestal off the coast of North Vietnam in 1967 when a rocket from a F-4 Phantom jet fighter was accidentally launched. It zipped across the deck and hit a parked A-4 Skyhawk jet piloted by McCain.
Hundreds of sailors were seriously injured and 134 died as a result of the ensuing explosions and fires. Anti-McCain factions tried to blame him for the incident by releasing erroneous reports during his 2008 presidential run and after his vote against the GOP health-care bill.
McCain served on the USS Oriskany after the Forrestal fire. On his 23rd bombing mission of the Vietnam War, on Oct. 26, 1967, while targeting a power plant in Hanoi, a Soviet-made surface-to-air missile slammed into McCain's jet.
He ejected, smashed into part of the plane and broke his right arm in three places, his left arm and his right knee. Knocked unconscious by the force of the ejection, he plunged into Truc Bach Lake in Hanoi.
After being pulled from the water and beaten by an angry Vietnamese crowd, he was taken to the Hoa Lò Prison, referred to by American POWs as the "Hanoi Hilton."
There he received limited, shoddy medical care. He was interrogated, bound and beaten, and lost 50 pounds due to dysentery. Stuck in solitary confinement, he communicated with fellow POWs via taps on cell walls and played memory games to exercise his mind. Rather than give up the names of his squadron, he listed the names of the Green Bay Packers' offensive line to his captors.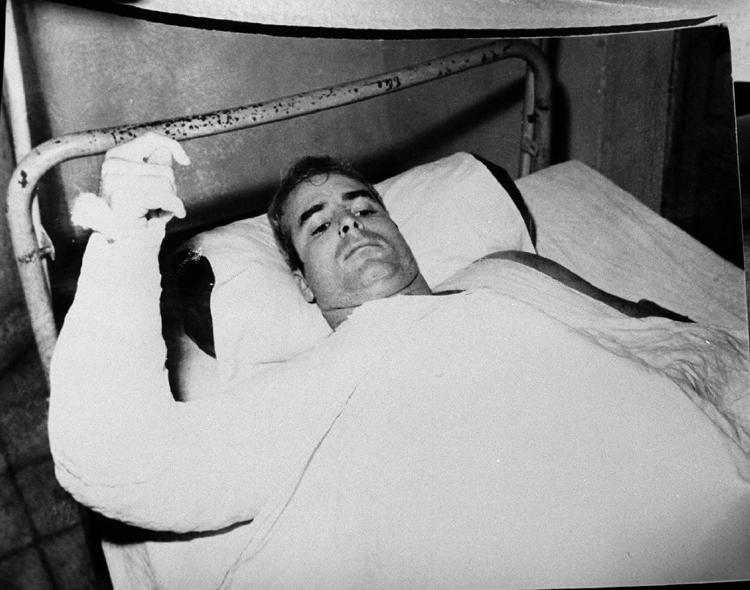 When Vietnamese officials realized McCain's father was commander of the U.S. Pacific Command, they offered him early release. McCain said in various writings that he was committed to the service's Code of Conduct and wouldn't leave prison ahead of those who had arrived before him.
He and 107 other American prisoners of war were released on March 14, 1973, after the United States and the Vietnamese signed the Paris Peace Accords.
His stiff movements and inability to lift his arms above his head — he could not comb his own hair — were permanent reminders of those years of torture, torment and untreated injuries.
McCain was "tough minded but always fair," said Walkup, which he attributed to McCain's mental resilience during incarceration.
McCain was strongly opposed to torture, a position informed by personal experience.
"People who have worn the uniform and had the experience," he said, "know that (torture) is a terrible and odious practice and should never be condoned in the U.S. We are a better nation than that."
He advocated for the release of a Senate report on the interrogation and detention tactics used by the CIA after Sept. 11, 2001. After abuses at Iraq's Abu Ghraib prison and other U.S.-controlled facilities, he pushed for the military to adhere to the interrogation policies of the Army Field Manual.
He was accused of flip-flopping on the issue in 2008 when he voted against a bill to limit the CIA to field-manual practices. He said his opposition was that the CIA should be able to use valid techniques that are not included in the field manual.
"None of those techniques would entail violating the Detainee Treatment Act, which said that cruel, inhumane and degrading treatments are prohibited," he said in defense of his vote.
In May, McCain opposed Trump's nominee to lead the Central Intelligence Agency, Gina Haspel, after she refused to say during a Senate committee hearing that torture was immoral.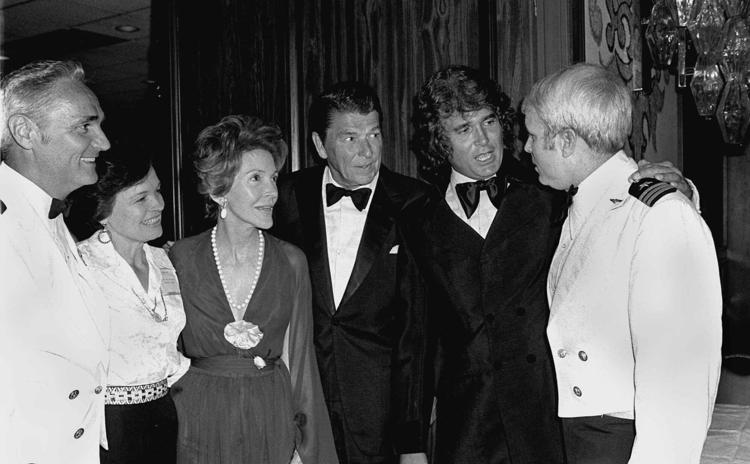 After the war
McCain continued to serve his country after his return from Vietnam, something Tucson Republican leader Jim Click said he particularly admired.
He tasted politics beginning in 1976 while serving as the Navy's liaison to the Senate.
He signed his Navy discharge papers in 1981, shortly after his father was buried in Arlington National Cemetery, and went to work as a public affairs agent for his father-in-law's Arizona beer distributorship, Hensley & Co. He traveled the state, banging the drum for Hensley and making contacts that laid the groundwork for his future in politics.
McCain carried the label of "carpetbagger" when he entered politics. He was born to a Navy family in the Panama Canal Zone when it was a U.S. territory — his father and grandfather were four-star admirals — and attended about 20 schools as his family moved from base to base.
When 15-term Republican Phoenix-area Congressman John Rhodes announced his retirement, McCain and his wife Cindy bought a house in Rhodes' district. McCain was elected to Congress in 1982.
In 1986, after two terms in the House, he won the Senate seat that Barry Goldwater, the 1964 GOP presidential nominee, held for 30 years.
"John fell in love with Arizona," and Arizonans fell in love with a great legislator, said Kolbe.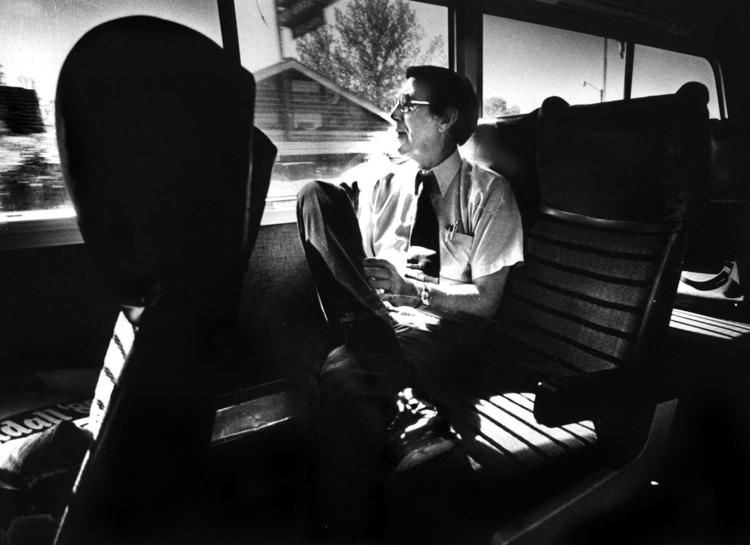 Morris K. Udall, a Democrat who represented Southern Arizona in the U.S. House for 30 years, suggested to the newly minted congressman that they work together on issues of common interest.
Udall was a mentor to McCain and the two traveled the state together, said former Udall aide Terry Bracy. Udall piqued McCain's interest in the environment, natural resources and Native American issues. Anne Udall said McCain told her he learned the importance of consensus and compromise from her father.
Udall and McCain worked together on the Arizona Wilderness Act of 1984. The bill designated more than 1.1 million acres of wilderness and released 540,000 acres of federal land for uses such as mining and grazing.
Later in his career, McCain pushed amendments to the Bipartisan Sportsmen's Act of 2014 to support hunting and sport fishing in Arizona and across the nation. The act was intended to enhance outdoor recreation on federal lands.
He put his own hiking boots on the ground. He hiked the Grand Canyon rim to rim and roamed the trails in Red Rock State Park and Oak Creek Canyon outside Sedona. His family released photos of McCain on a hike less than a week after his cancer diagnosis was made public.
A plaque honoring McCain and Udall for championing the Grand Canyon was unveiled in April on the South Rim. Sponsored by the National Park Service and the Grand Canyon Association, the plaque recognizes the duo's efforts on behalf of goals such as visitor safety and protecting wildlife.
McCain was a leader in the bipartisan 1992 founding of the Udall Foundation, an independent, executive-branch agency that offers scholarships, environmental mediation and other services that strengthen the environment and Native American nations, said Bracy.
After Parkinson's disease took away Udall's ability to speak and recognize visitors, McCain frequently went to the veterans hospital in Washington, D.C., sat at his mentor's bedside and read newspaper clippings on Udall's favorite topics, like the environment. He made those visits for eight years, until Udall's death in 1998 at age 76.
The visits showed that McCain was a man of integrity and ethics, said former U.S. Rep. Ron Barber, a Democrat who represented Southern Arizona in the House from 2012 to 2015 and was district director for former U.S. Rep. Gabrielle Giffords.
When Barber was tethered to dangling tubes in intensive care after being shot twice in the Jan. 8, 2011, attack in Tucson in which six people were killed and Giffords was shot in the head, John and Cindy McCain came to see him.
McCain "went out of his way to visit," Barber said. "He didn't have to do that."
McCain was on a congressional fact-finding trip in South America at the time of the mass shooting. He returned two days early to attend a memorial ceremony at the University of Arizona with a speech by then-President Barack Obama. McCain's friend U.S. District Judge John M. Roll was killed in the attack.
The senator gave no interviews during his visit to Tucson. He met with victims, their families, doctors, nurses and the first responders to the scene. He saw it as a time for grieving, not rhetoric, his spokeswoman said.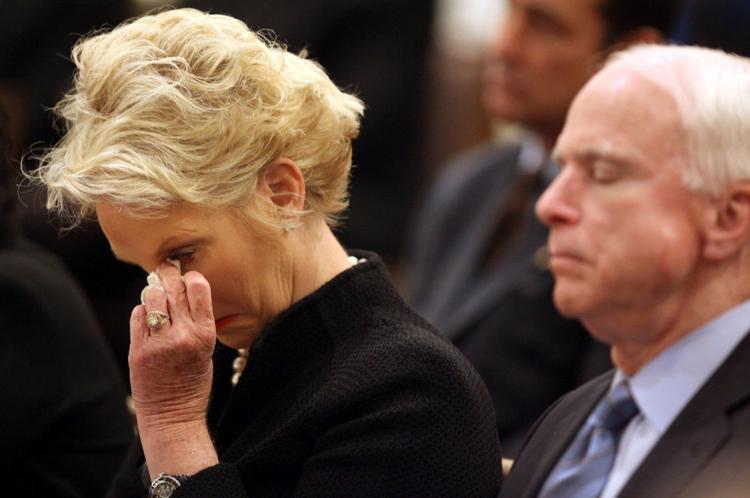 McCain and his wife also visited with Giffords' husband, Mark Kelly, and attended services for Roll as well as the funeral of Christina-Taylor Green, the 9-year-old killed in the shooting.
McCain and Arizona's second Republican senator, Jeff Flake, asked the Interior Department to support the establishment of a permanent memorial for the victims of the 2011 shootings, saying that a "permanent memorial also would convey the Tucson community's spirit of solidarity in the face of the horrific event."
McCain was one of the Republican senators working with Democrats to support expanded background checks for gun buyers. In an October 2000 ad, McCain supported killing a federal exemption that lets private gun dealers sell firearms without conducting background checks.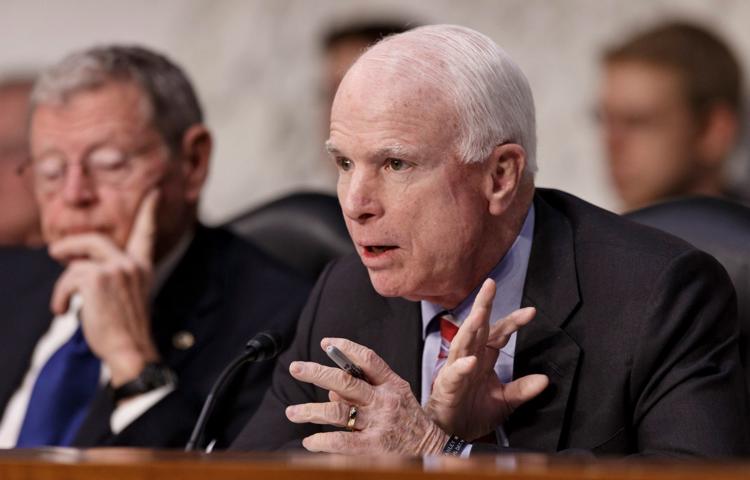 Supporting Tucson
McCain "made a difference to the life of this city," former mayor Walkup said.
Walkup, an industrial engineer who managed the production of A-10 Thunderbolt II aircraft for Fairchild Republic in Long Island and worked for Tucson's Raytheon, said he and McCain had an instant rapport.
"He understood defense and defense policies," Walkup noted. "He understood the relationship between A-10s and military readiness and the status of Davis-Monthan" Air Force Base.
McCain, chairman of the Senate Armed Services Committee, blasted Air Force leadership when it attempted to mothball the 280-plane "Warthog" fleet by 2019 to save money and use newer, pricier planes, even though a replacement was not fully operational.
"McCain understood that no plane could do what the A-10 can," said Walkup. McCain told the former mayor that the Warthog would be flying for years to come.
He was steadfast in his support of the military, Walkup said. He listened in good faith to the concerns of the community and recognized the importance of the DM50, a local nonprofit that advocates for the base and its personnel. He fought off the Base Realignment and Closure Commission and pushed for an expanded mission for Davis-Monthan.
Davis-Monthan and Fort Huachuca in Sierra Vista owe McCain a debt of gratitude, Walkup said.
McCain also helped get Tucson's streetcar on track.
He was no fan of big-dollar mass transit projects, said Bracy, who was assistant secretary of transportation for President Jimmy Carter. However, McCain realized that the streetcar was important to the future of downtown, said Walkup.
Bracy and Walkup both said McCain's behind-the-scenes effort helped secure the federal grant necessary to fund the streetcar. Bracy's firm has been the long-term Washington lobbyist for Tucson.
McCain was willing to cross ideological lines for the city, Bracy said.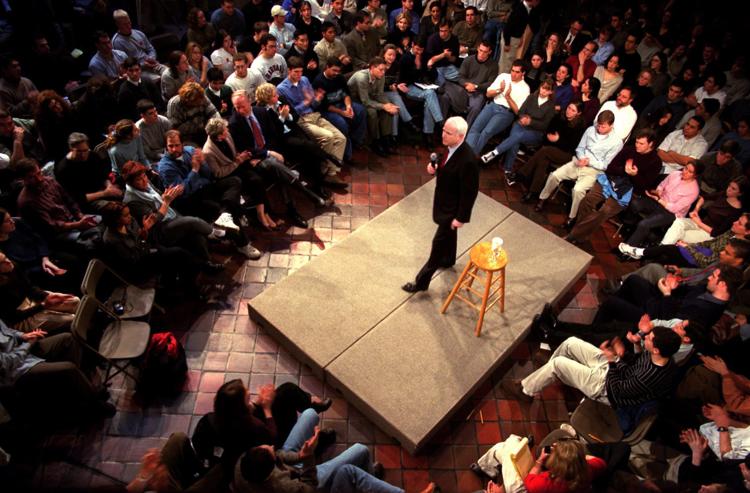 The Straight Talk Express
McCain stepped onto his campaign bus, the Straight Talk Express, in a presidential quest in the 2000 election. He crossed the Midwest and the East, winning a few primaries, including the coveted New Hampshire contest. After a bitter battle and loss to George W. Bush in South Carolina and a lackluster showing in the March Super Tuesday contests, McCain withdrew from the race.
He announced his 2008 presidential campaign on "The Late Show with David Letterman." He boarded the bus again and traversed the roads of middle America, stopping in small-town coffee shops and lodge halls touting government reform, moderation, bipartisanship, immigration reform and other "maverick" positions that didn't always appeal to the Republican core or expanding tea-party factions.
"My biggest predicament was my difficulty convincing voters of change," McCain said in his memoir.
He picked Sarah Palin, then governor of Alaska who had the requisite profile as a reformer, as his running mate, and he was selected the party's nominee at the Republican National Convention.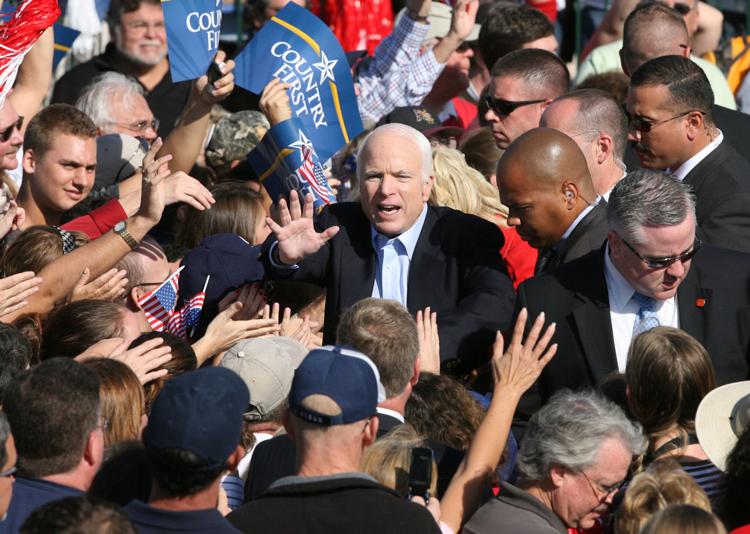 With the financial crisis of 2008 looming and the "tea party assault," McCain wiggled further to the right during the campaign.
Walkup recalled a town hall in Minnesota during which a McCain supporter spewed racially charged accusations about Barack Obama and said she was "scared" of him.
McCain responded. "I have to tell you: He is a decent person and a person you don't have to be scared of as president of the United States," he told the supporter.
"He always kept high ground," Walkup said.
McCain apologized for compromising his principles out of political self-interest when he failed to call for removal of the Confederate battle flag from the South Carolina Capitol dome as he campaigned in that state's GOP 2000 presidential primary, the New York Times reported in April 2000.
"I feared that if I answered honestly, I could not win the South Carolina primary," McCain said in the Times article. "So I chose to compromise my principles. I broke my promise to always tell the truth."
Even though McCain was hawkish on the war in Iraq and advocated for a counterinsurgency campaign in 2003, he wrote in "The Restless Wave," that "the principal reason for invading Iraq, that Saddam had WMD (weapons of mass destruction), was wrong.
"The war, with its cost in lives and treasure and security, can't be judged as anything other than a mistake, a very serious one, and I have to accept my share of the blame for it," McCain wrote.
His public positions and votes reflect resistance to women's rights issues such as equal-pay legislation.
He voted to defund Planned Parenthood, opposed requiring insurance companies to cover prescription contraception and supported abstinence-only sex education. He said he favored a constitutional amendment to outlaw abortion except in cases of rape, incest or when the life of the mother was at stake.
"To me, it's an issue of human rights and human dignity," he told NBC's "Meet the Press" in 2007.
Women made up 53 percent of the presidential electorate in 2008, and McCain lost their vote with 43 percent to Obama's 56 percent, according to Cornell University's Roper Center for Public Opinion Research. Overall, McCain took 46 percent of the vote to Obama's 53 percent.
Over time, McCain turned the loss into a personal punchline.
On CBS's "Face the Nation" in July 2017, he shared his hunch that the GOP stealth health-care bill, secretly written by a group of Republican senators, was doomed. But he admitted that his prediction could be off, as was his expectation of being commander in chief.
"I thought I'd be president of the United States," he quipped. "I've been wrong."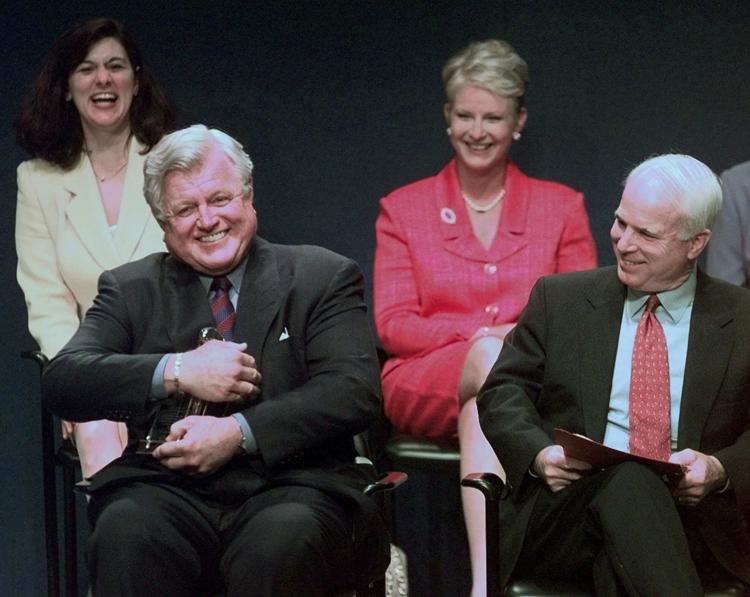 Crossing the aisle
McCain wore a figurative path in the Senate carpet crossing the aisle, advocating bipartisan efforts and friendships.
"He was a moderate who could compromise," said Click, the Tucson car dealer who first met McCain at Ronald Reagan's inauguration and held fundraisers for him during almost every election cycle afterward.
And, though he could be cantankerous, McCain's sense of humor was legendary.
"You had to be on your toes," said Kolbe. "He was always fun to work with, and you never knew what was going to happen next."
McCain and Sen. Edward Kennedy, D-Mass., introduced a 2005 immigration bill that included legalization, guest-worker programs and border reinforcement. Kennedy, whom McCain described as a friend and who was often a verbal sparring partner, was diagnosed with the same cancer as McCain and died in 2009.
His public stance of immigration shifted over the years.
"I'm willing to negotiate anything," he told Vanity Fair in 2007. "I think the fence is least effective. But I'll build the goddamned fence if they want it."
However, facing a tough far-right primary challenge in 2010, he blamed immigrants for crimes and made a call to "complete the danged fence" in a TV commercial.
He pursued comprehensive immigration reform as a member of the "Gang of Eight," a bipartisan group that drafted a 2013 measure that included work-visa options for low-skilled workers, a path to citizenship for those in the United States, system reforms to reduce visa backlogs, and an improved verification system for employers. The immigration bill passed the Senate, but the House did not act on it.
He and Delaware Democrat Sen. Chris Coons introduced a bill in February 2018 that would have given DACA (Deferred Action for Childhood Arrivals) recipients, known as "dreamers," a path to citizenship and bolstered border security, with technology such as radar surveillance and drones, but without funding the border wall.
"A wall along the southern border isn't going to solve the problem," he wrote in "The Restless Wave."
"It might make it worse. Spending tens of billions of dollars on a dubious barrier to illegal immigration takes resources away from more effective border security and enforcement," he wrote.
"He tried his best to pass comprehensive immigration reform," said Santa Cruz County Sheriff Tony Estrada, a Democrat who was born in Mexico and immigrated to the U.S. with his family when he was a toddler. Santa Cruz County shares a 53-mile border with Sonora, Mexico.
"I have served for 50 years in law enforcement in our border community and feel fortunate to have known this fine gentleman," said Estrada.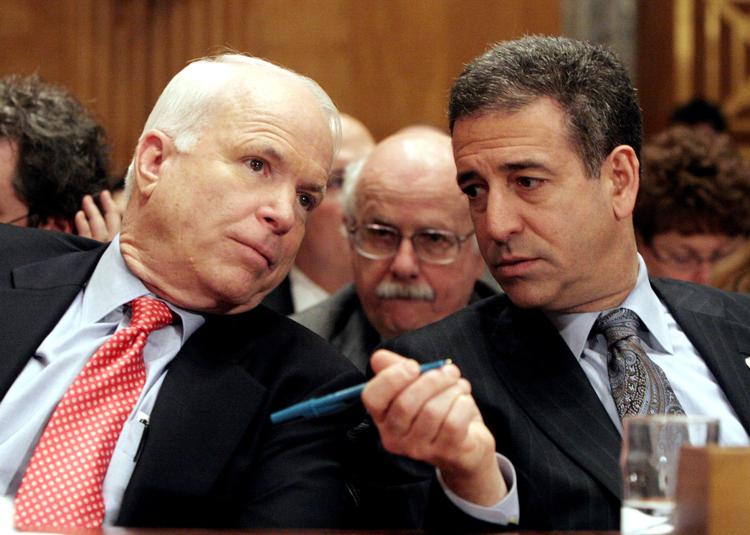 "My asterisk"
If you're amused — or annoyed — by the, "I'm (candidate's name) and I approve this message," at the end of political ads, you have McCain and former Sen. Russ Feingold, D-Wis., to thank.
McCain and the liberal Democrat teamed up to sponsor the Bipartisan Campaign Reform Act of 2002, which created new campaign-financing rules. The measure was intended to restore trust in the political system and make campaigns more fair by prohibiting large contributions by wealthy individuals.
The unintended consequence was that big-dollar donors shifted from established political parties toward special-interest groups. Critics claim the result has been the proliferation of negative, single-issue ads.
McCain's efforts in campaign finance reform were considered by some to be recompense for the "Keating 5," which McCain described to The Arizona Republic in April as "my asterisk." He was one of five senators accused of meeting with federal regulators, encouraging them to back off an investigation into the risky investments of developer Charles H. Keating Jr.
The government at the time was about to seize Lincoln Savings and Loan, a subsidiary of Keating's American Continental Corp. Lincoln Savings failed in 1989, costing the federal government about $3 billion and costing many investors their life savings.
McCain had accepted campaign donations from Keating, his family had traveled with the Keatings, and McCain's wife, Cindy, and his father-in-law had real estate investments with Keating.
The Senate Ethics Committee in 1991 cleared McCain of acting improperly but rebuked him for using "poor judgment." McCain put $112,000, the amount of Keating's campaign contributions, into U.S. Treasury coffers and reimbursed Keating for the trips. Cindy McCain and her father held the business partnership with Keating for 11 years, CNN reported. The McCains filed separate tax returns and had a prenuptial agreement.
In his 2002 book, "Worth the Fighting For," McCain said attending the meetings with regulators was "the worst mistake of my life."
Addressing Facebook's and other social media's role in the 2016 election, McCain was among a bipartisan group of senators who pushed the failed Honest Ads Act, which would have mandated disclosures on online political and issue advertising.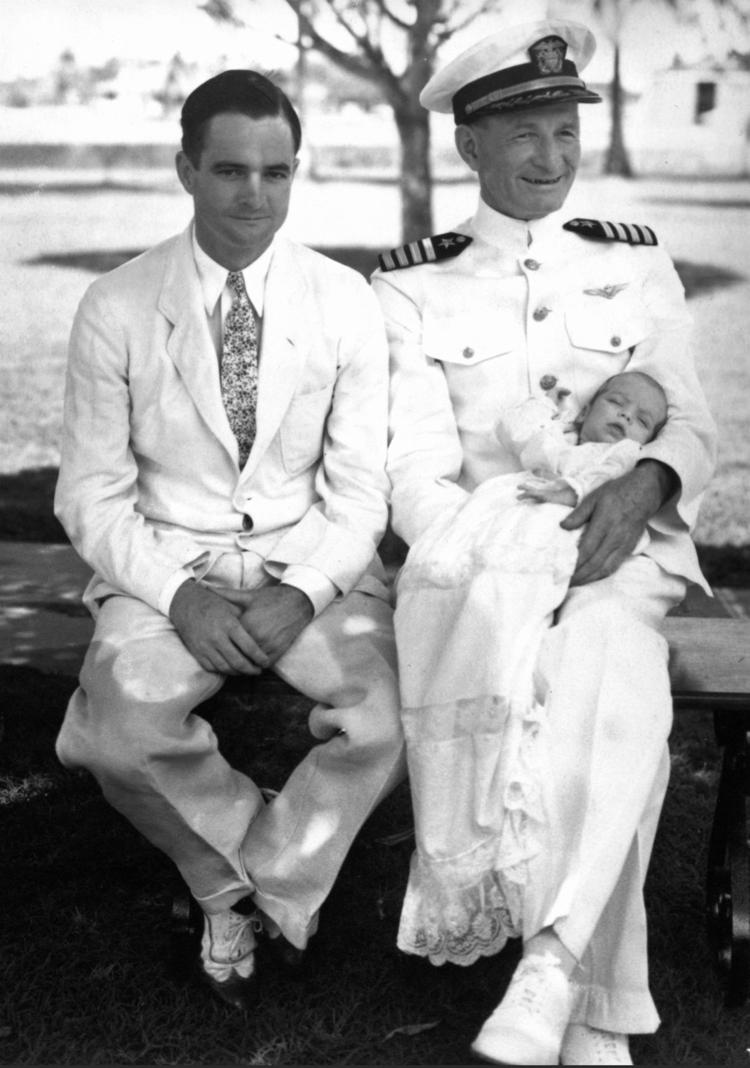 The early years
McCain was born on Aug. 29, 1936. His father, John S. McCain Jr., died in 1981 from a heart attack. His mother, Roberta McCain, turned 106 on Feb. 7 this year. McCain had two siblings, Joe and Sandy.
McCain married Carol Shepp in 1965 and adopted her sons from a previous marriage, Doug and Andy. They had a daughter, Sidney. John and Carol McCain divorced in early 1980, and McCain married Cindy Hensley later that same year.
Cindy McCain has chaired Hensley & Co., founded by her father in 1955, since 2000. Hensley acquired Tucson's Golden Eagle Distributors in 2016.
The couple had three biological children, Meghan, John and James, and adopted Bridget from Bangladesh.
From 1988 to 1995, Cindy McCain ran and funded a nonprofit that organized medical-care trips to disaster-struck areas. While in Dhaka after the 1991 Bangladesh cyclone, the group went to an orphanage started by Mother Teresa. Cindy McCain was concerned about the survival of two baby girls — one had a heart problem and the other a severe cleft palate — and brought them to the U.S. for medical treatment.
She told The New Yorker in 2008 that on the flight home from Bangkok she "realized that this child had chosen me and I could not give her up."
She didn't tell her husband about the baby and when she landed in Phoenix, she said, "Say hello to your new daughter," McCain said on the presidential campaign trail. Friends of the McCains adopted the second baby.
In addition to his seven children, McCain had five grandchildren.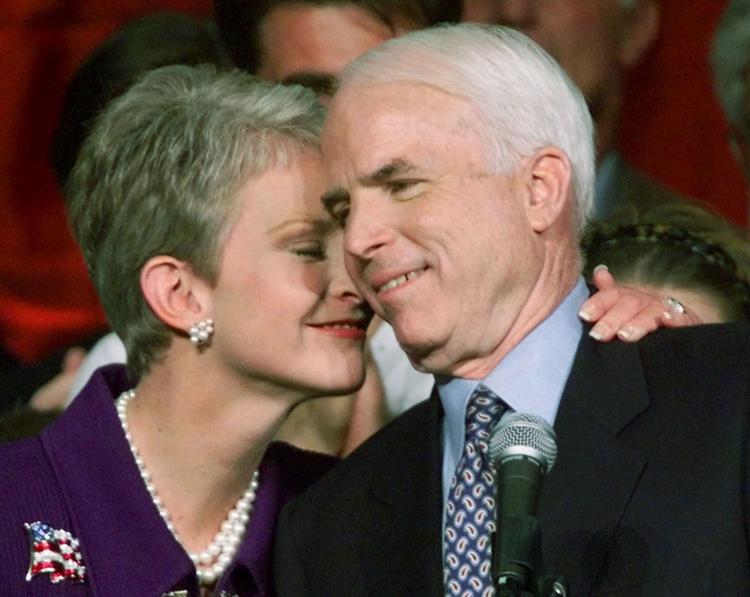 He wrote seven books with Salter: "Faith of My Fathers" in 1999; "Worth the Fighting For" in 2002; "Why Courage Matters: The Way to a Braver Life" in 2004: "Character Is Destiny: Inspiring Stories Every Young Person Should Know and Every Adult Should Remember" in 2005; "Hard Call: Great Decisions and the Extraordinary People Who Made Them" in 2007; "Thirteen Soldiers: A Personal History of Americans at War" in 2014; and "The Restless Wave: Good Times, Just Causes, Great Fights, and Other Appreciations" in 2018.
His military awards and decorations include the Silver Star, the Bronze Star, the Legion of Merit, the Distinguished Flying Cross and a Purple Heart. He received numerous leadership and freedom awards and honorary degrees from U.S. and international colleges and universities.
In July, the U.S. Navy added the senator's name to the Japan-based destroyer already named for his father and grandfather, the USS John S. McCain.
The LBJ Foundation honored McCain in June with its LBJ Liberty and Justice for All Award, which honors those who carry on President Johnson's legacy and his mission "to right wrong, to do justice, to serve man."
"The state and country will miss him," said Kolbe. "We need people who stand up for principle and what's right."
He "will go in history as a real patriot," said Sheriff Estrada. "I wish all our politicians in Washington had his compassion."