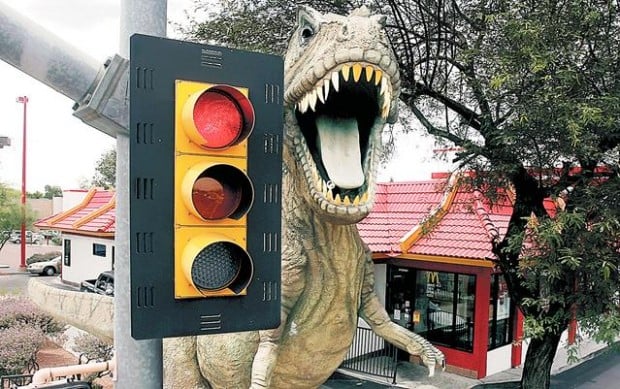 It looms over one of Tucson's busiest intersections, waiting to prey on unsuspecting motorists who often are too preoccupied to notice its presence until it's too late.
Their kids sure notice it, though.
No, we're not talking about the red-light camera installed two years ago at East Grant and Tanque Verde roads, but the 18-foot-tall, 40-foot-long concrete dinosaur that has been perched in front of the McDonald's on the northwest corner of the intersection for 15 years.
One of the most recognizable landmarks in Tucson — especially by the city's younger generations — the two-story Tyrannosaurus rex was installed by Michelle and Michael Retzer, who have owned the restaurant at 6651 E. Tanque Verde Road since the mid-1990s.
A second statue, a 10-foot Maiasaura with a nest of baby dinosaurs, resides inside the restaurant's lobby.
"It was my son's idea," Michelle Retzer said of the statues, explaining that then-2-year-old Garrett was a "huge dinosaur fan."
Garrett's dinosaur desire came at a time when interest in the prehistoric beasts was at its peak, thanks to the 1993 movie "Jurassic Park."
Helping the Retzers' cause was their ability to get the concrete animals made locally. They contracted with Amado-based La Reata Studios — which Michelle said was one of the companies that helped make the dinosaurs used in "Jurassic Park" — to have the creatures built and shipped to their store, at a cost of around $55,000.
The dinosaurs are in relatively good condition after all these years, Michelle said, though the Maiasaura did suffer a debilitating injury in its first year after some kids climbed on it and poked out the gel-like eyes.
Both dinosaurs are now protected by wrought-iron barriers, Michelle said.
"It actually looks like she was a crying dinosaur," she said. "We couldn't replace them, because once the gel hardened it became part of the sculpture. We've just kind of left it, kind of as a reminder."
The T. rex outside gets regular washings to keep it clean and noticeable, which isn't hard for a dinosaur on a corner.
"We can't travel anywhere in the United States or even Mexico without running into people who say, 'Oh, the dinosaur McDonald's, I know that!,'" Michelle said.
Is there something you've noticed while driving through Tucson that has piqued your curiosity, to the point you wish you could find out more about it? Drop us a line, and we'll look into it.
Get local news delivered to your inbox!
Subscribe to our Daily Headlines newsletter.