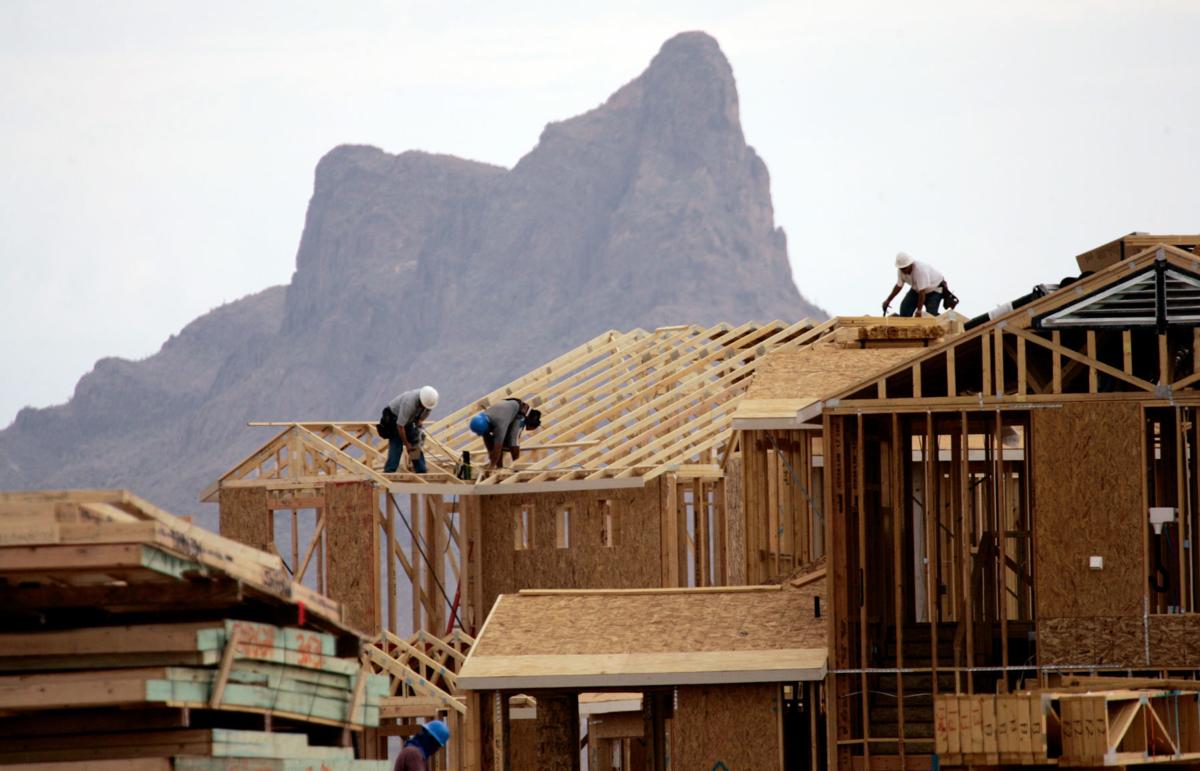 Overhauling a state water program that allows new suburban developments to sprout on pumped groundwater will likely take years — if it ever happens.
While concern is mounting about "unintended consequences" of the 1993 law that set this program up, the law's complexity and its strong support from developers and homebuilders make it hard to change.
The law allows pumping groundwater for new subdivisions whose developers lack access to renewable supplies such as Central Arizona Project water from the Colorado River. To meet state requirements for an assured, 100-year water supply for new development, subdividers pay a water district to buy and recharge renewable water elsewhere.
Developers and some economists say the growth this has allowed has been an economic boon for Pima, Pinal and Maricopa counties.
But critics, led by the authors of an Arizona State University report on the district last fall, say it will get harder to find renewable supplies in the future as CAP water runs short due to drought and climate change. The critics also worry that overpumping for these subdivisions will trigger land subsidence that causes ground fissuring.
There's no shortage of potential fixes. The most recent comes from former Arizona Gov. and ex-Interior Secretary Bruce Babbitt. He says future master planned community developers should be required to find and buy their own renewable supplies — an idea developers will fight.
But not only is the law highly complex, so is the water system it created and the Central Arizona Groundwater Replenishment District that runs it. The district has different kinds of memberships for subdivisions and municipalities. To pay for its replenishment water, it charges different fees to homebuilders and buyers.
"Whether in this session there will be legislative changes, it's hard to say," said Rep. Kirsten Engel, a Tucson Democrat. "I just don't know that people are up to speed on it and how best to solve the issues raised."
Also, "it's been in existence a long time, supplying water to all these communities in central Arizona. You change one thing, it is going to affect a lot of people," she said.
Among them are developers and homebuilders, whose lobbyists are influential at the Legislature and say they see no need for change. Changes in the law will have to work for the real estate industry, said Jim Holway, a CAP governing board member.
"Developers always hold the key to how sustainable the district is going to be," said Tucson Assistant City Attorney Chris Avery, co-author of a critical 2007 paper about the district.
"Certainly tweaking around the edges could be done. More fundamental shifts are unlikely," Holway said.
The most Engel hopes will happen this year is creation of a joint legislative committee to study the replenishment district.
Arizona House Speaker Rusty Bowers, who calls the replenishment district the state water system's weakest link, also will consider forming a committee but agrees major legislation is unlikely this year.
Water policy issues take time and careful deliberations involving many parties before they're ready for the Legislature, he said.
"But time and time again, we have shown that Arizona is up for the challenge," Bowers said in a statement.
Arizona Department of Water Resources Director Tom Buschatzke said people interested in assured water supply issues can bring them up as the agency prepares for water management plans due to be finished in 2023. A governor's office committee is also looking at these issues now, including those involving the replenishment district, ADWR said.
For now, "the biggest concern I have is if we do nothing," Engel said.
"There can be more and more developments that can come online and there are no limits on enrollment," she said. "It seems like the first thing we need to do is to put a cap on that while we're trying to figure out some of the other issues."
Big developers have free pass, Babbitt says
Babbitt says the replenishment district now needs fixing because it's heading for a crisis in which it can't find enough water to recharge to compensate for what's pumped.
Rather than "just sticking it in the face of the development community," by limiting enrollment in the district, "you can transfer the obligations to the developers of master planned communities," he said.
"They have the resources to do this on their own," he said.
At issue is the gap in water planning that exists between letting developers go forward and joining the district, and not having a clear idea where replenishment water will come from in the future, said Babbitt.
"CAGRD is putting out plans of operation every 10 years, and they keep signing these people on. It's building a tower of expectations which is going to collapse," he said.
While the district can work for smaller subdivisions, the problem is these master planned developments have a free pass, Babbitt said.
"That is the big issue at the core of this thing," he said.
"One of the biggest mistakes Arizona could ever make"
Homebuilder lobbyist Spencer Kamps says approving Babbitt's idea would be "one of the biggest mistakes Arizona could ever make."
The concern of many rural communities today that the replenishment district wants their Colorado River rights would only magnify if this idea became law, he said.
"It would put hundreds of people on the water market, when right now only the CAGRD is on the market. You would have the development community all over the state trying to purchase water," said Kamps, attorney for the Home Builders Association of Central Arizona. "If water people want developers knocking on people's doors in Yuma, Mohave and La Paz counties, then give us that policy."
Sierra Club lobbyist Sandy Bahr would go further, by sunsetting the district — letting its current activities continue but not letting new developments join.
"It seems like a mechanism for unsustainable development. Maybe now is the time to have it go away," Bahr said.
Last year's ASU report suggested more moderate approaches. It said authorities should examine more rigorously how much water is realistically available to replenish aquifers serving future growth. State law should be changed to let the district deny future memberships if it can't find replenishment supplies, the report said.
The report also urged the state not to allow pumping for growth in one place and replenishment of aquifers elsewhere.
In response, Robert Anderson, an attorney who represents builders, says CAP shortages are a threat to all water users, not just those served by the district. Already, surplus CAP water that the district used to buy when nobody else wanted it has gone away, "but the district planned for that to happen," he said.
As for limiting enrollment, there already are ways to do that, he said. You can't even join the district if you don't have 100 years worth of groundwater, he said. In Pinal County, the state's groundwater models are already showing signs of limits to such growth.
Second, if the district can't find enough renewable supplies, the state can reopen or revoke the district's 10-year operating plan, he said. Also, if there isn't enough renewable water, a development can't rely any more on membership in the district to keep its assured water supply status, he said.
Some of Anderson's comments are misleading, said Kathleen Ferris, a former ADWR director who co-authored the ASU report.
While ADWR can revoke an operating plan if the district runs short of water, any subdivision already in the district and that has sold even one lot can still be developed, she said.
In Pinal County, for instance, as of 2015, 90% of nearly 57,000 lots enrolled in the district were not yet sold.
Locked in conflict
CAP board member Holway said the replenishment district has served a purpose in providing water supplies for communities on the urban edge that otherwise lacked them.
But now we should figure out how to directly deliver renewable supplies to these suburbs as they slowly urbanize, so they no longer depend on the district, he said.
Ultimately, solving these problems depends on whether surface water supplies can be transferred around the state, Holway adds.
The replenishment district and rural communities have been locked in conflict over that issue for several years, scuttling efforts to send Colorado River rights from riverfront counties to Tucson and Phoenix. What's needed are rules to protect rural and urban areas' interests, and measures to ease impacts on communities that lose water, he said.
Right now, a bill pending in the Legislature would ban water transfers from the river to inland cities. Yet Central Arizona's growth and the ability to sustain Pinal County farming will be limited if new supplies aren't imported into this region, Holway said.
"We need to address the issue of whether we will move water to people or move people to water," he said. Otherwise, he said, "we will both perpetuate and greatly increase the conflict and uncertainty over water supplies throughout our state."
Contact reporter Tony Davis at tdavis@tucson.com or 806-7746.
On Twitter: @tonydavis987.