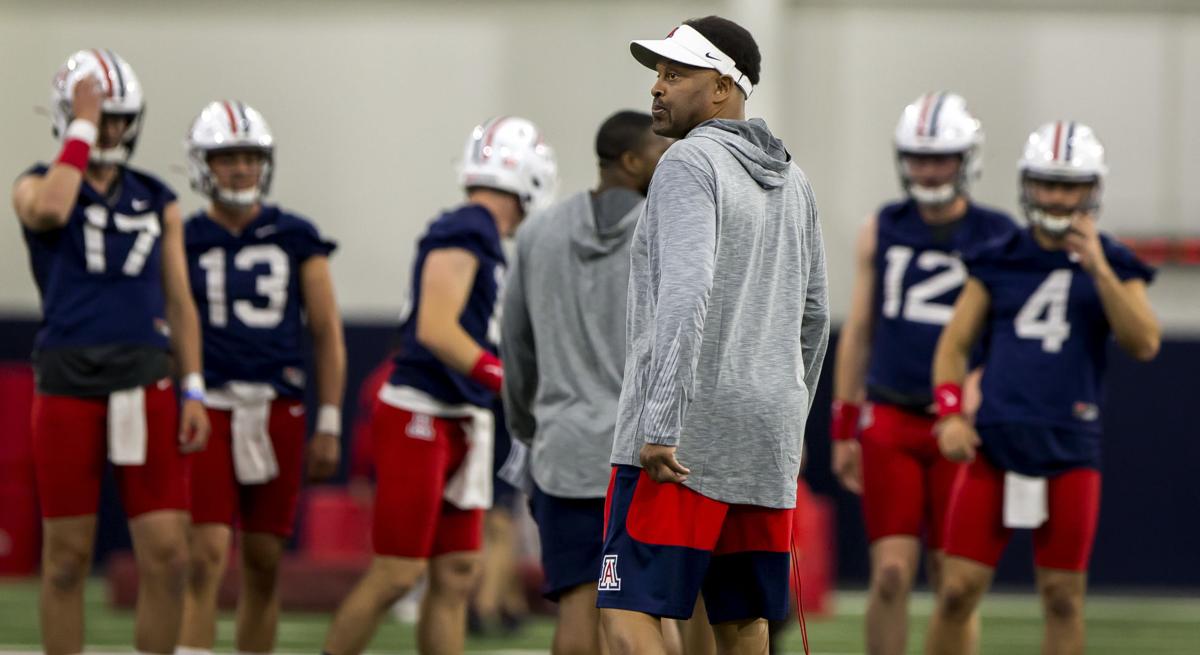 Now that Pac-12 football is coming back — barring something unforeseen; in 2020, you never know — we can turn our attention to actual football matters.
Kevin Sumlin and his staff are working on a practice plan that will get underway Monday. The Arizona Wildcats will increase their activity to 20 hours per week over the next two weeks before shifting into training-camp mode Oct. 8 or 9. They will begin the belated, abbreviated '20 season Nov. 6 or 7.
Thursday's announcement by the conference brought answers, but it also left questions. Are the Wildcats better prepared than others to jump into intensified training and real games? Are they worse off? Do they face more challenges than most after an offseason filled with upheaval?
"We do, but we don't," Sumlin said during a video news conference Friday. "We had four practices in the spring. People forget about that. Some people didn't have any. We've been on the field … with our players.
"So yeah, there's challenges. But there's challenges for other programs in this league who did not have spring football at all. So we're not alone, let's put it that way."
Eight schools in the Pac-12, including Arizona, have changed their head coach, at least one of their coordinators or some combination thereof since last season. Of the eight, three (Colorado, Washington, Washington State) never got on the field for a spring practice. Another (USC) practiced only once before the coronavirus pandemic shut down sports across the nation.
Additionally, the restrictions in Arizona haven't been as severe as, say, California. So the Wildcats have been able to conduct weightlifting sessions and on-field work with coaches within the NCAA-dictated 12-hour-a-week limit.
But back in early March, new UA defensive coordinator Paul Rhoads had no idea he would lose three potential starters to transfer. Safety Scottie Young Jr. was the first to depart. Linebackers Tony Fields II and Colin Schooler followed. Veteran edge rusher Kylan Wilborn, who likely would have played a rotational role, joined them earlier this week.
Young left in mid-April, so he might have transferred regardless of the pandemic. Fields departed in mid-July; he probably wouldn't have left if the season had proceeded as normal. (Arizona originally was supposed to open Aug. 29 against Hawaii and would have started training camp in late July.) Schooler and his brother, Brenden, a wide receiver, entered the NCAA transfer portal after the Pac-12 announced on Aug. 11 that it was postponing all sports for the remainder of 2020.
"The Schooler situation was different just because they were brothers, and they were intent on going somewhere to play this fall," Sumlin said. "They didn't have the information that they have today, which is unfortunate.
"They made it clear to me that they wanted to play this fall and then have an opportunity to play at the next level next year. So their decision was based on … the information they had at that time, (which) was that that opportunity was not going to be available here in our league."
Arizona lacked depth at linebacker and safety before Fields, Colin Schooler and Young transferred. Their departures only made that problem worse.
Sumlin acknowledged that young players are going to have to fill some of those gaps. Walk-ons also likely will be called upon to fill out a two-deep at linebacker if Rhoads indeed moves to a true 3-4 front.
Sumlin mentioned the defensive front and receiving corps — now sans Brenden Schooler — as areas that need to be solidified. He praised the running backs and offensive line, citing the experience gained last year as reason to feel bullish about the latter.
"That's our situation," said Sumlin, whose team finished 4-8 last year, ending the season on a seven-game losing streak. "But guess what? There's a lot of other programs in this league that have new head coaches, have new staffs, have not even been on the field with their players. It's all in how you look at it. As you guys know, I'm a glass-half-full guy."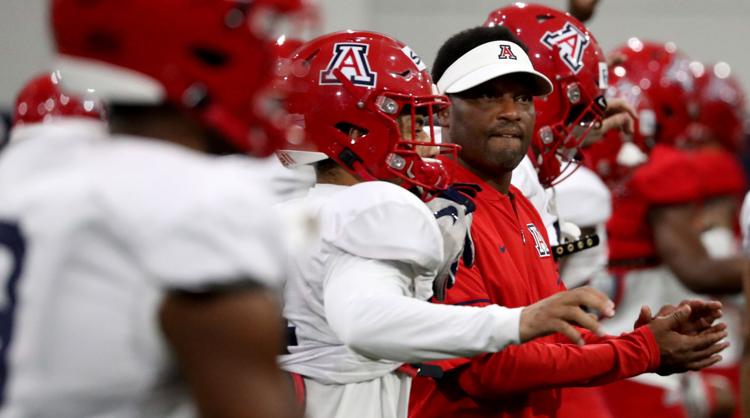 No fans allowed
Regardless of when or where the Wildcats' seven-game season begins, they will be playing in a stadium devoid of fans. Fans will not be allowed to attend Pac-12 sporting events for the remainder of 2020, per league policy.
UA athletic director Dave Heeke expressed disappointment with that decision.
"I was an advocate for fans," Heeke said. "But I certainly respect the decision and understand where we're going."
Capacity at Arizona Stadium likely would have been capped at 25%, but even reduced crowds would have impacted the game-day atmosphere and the athletic department's bottom line. Tailgating won't be permitted on the UA campus either.
Heeke cited the conference's desire to remain unified as one of the principal drivers in the decision to proceed without fans. Some leagues are playing with a limited number of fans in attendance, some with none at all.
UA season-ticket holders have the same options they had before Thursday's announcement: They can donate the money they've paid for tickets to the athletic program; they can apply that money as a credit for future ticket purchases; or they can request a refund.
"We've had great support," Heeke said. "The majority of our fans have said we want to stand by the program and want to help you through this very difficult time. Football is a significant revenue producer for us, and I've been very pleased and very appreciative of what many of our fans have decided to do, and that's to support the overall program by continuing to stay on board and donating their funds forward."
Extra points
Sumlin and his staff will conduct a team meeting Sunday, as well as a parent meeting, to discuss the program's practice plan and address any lingering concerns or questions. The players had the week off from football activities. In a normal year, they'd get a week off before having to report for training camp.
Sumlin on this unusual year: "It's not traditional. The thing that I keep talking about in this building with our players, our coaches is — you've heard me say it a bunch — 'the new normal.' Whatever you've done in the past, how we put together the books, how we've done things from a practice standpoint, we've got to be flexible."
The Wildcats have been participating in what Sumlin has described as "OTA-style" practices. The players can wear helmets and light pads, and they can work with sleds and tackling dummies. They had been doing that about three times per week. Sumlin said that number likely will increase to four next week and five the week after that.
Offensive tackle Edgar Burrola remains suspended from the team, Sumlin said. Burrola was suspended in late July for violating the program's COVID-19 protocols. The redshirt junior started six games last season. "Edgar's situation has not changed," Sumlin said. "That's an ongoing discussion."
Be the first to know
Get local news delivered to your inbox!