The Star counts down the top 10 players in Cholla history.
Cholla's standout stars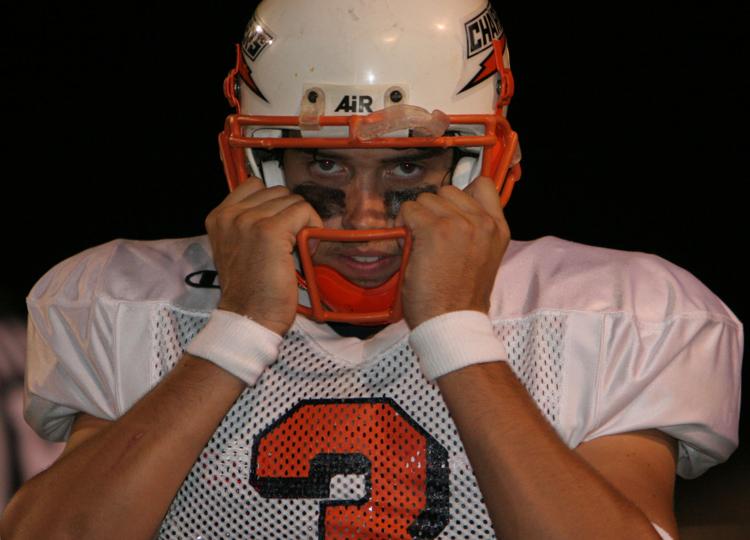 The high school football season is just around the corner and the Star is counting down the days with a top 10 all-time list for each program in Southern Arizona.
Amphitheater, Sierra Vista Buena, CDO, Catalina and Catalina Foothills started off the countdown. Up next: Cholla High.
10. John Denny, Jr., TE/DB, 1998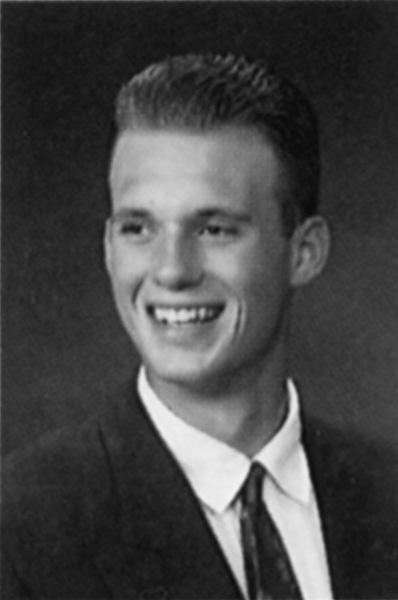 The 6-foot-3, 200-pound tight end was named to the 4A Coaches' All-State football team in 1997 as a tight end/defensive back for the Chargers. He caught 21 passes for 292 yards his senior season and was a second-team All-Region defensive back as a junior. Denny went to Arizona as a linebacker and was on the team for three seasons before leaving to play baseball. His father, John Denny, Sr., won the National League Cy Young award in 1983.
9. Jordan Porter, QB, 2018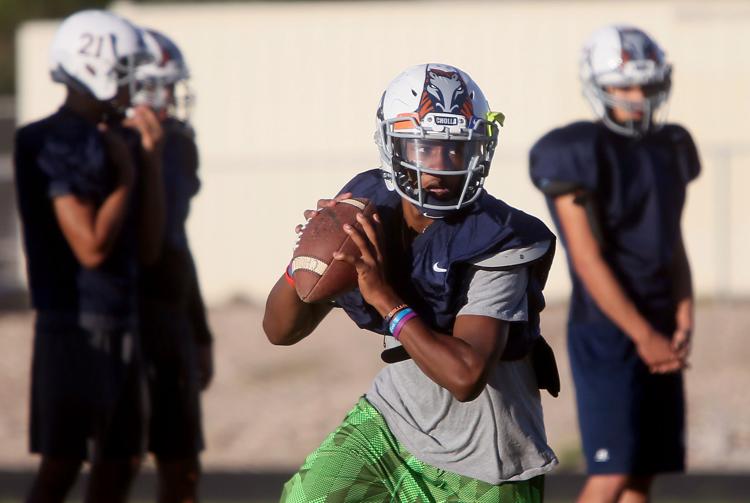 Jordan Porter eased into the dominant role Southern Arizona became accustomed to seeing him in, before having his way with defenses on the gridiron throughout his senior season. As a junior, Porter appeared in eight games and threw for 135.5 yards per contest, totaling 12 touchdowns and 6 interceptions. Nothing too special, right? Enter 2017. Porter started all 10 games and amassed 3,002 passing yards, good for eighth in Arizona. His 27 touchdowns ranked third in Southern Arizona, as he maintained a 61.2 percent completion rate. But his ability to almost single-handedly take over a game can be attributed to his dual-threat mobility. Porter rushed for 1,727 yards (13th in state) as a senior with 22 touchdowns (19th in state) on the ground. And he's a quarterback, folks. His 4,729 all-purpose yards as a senior ranked second in the state.
8. Chris Corral, ATH, 1989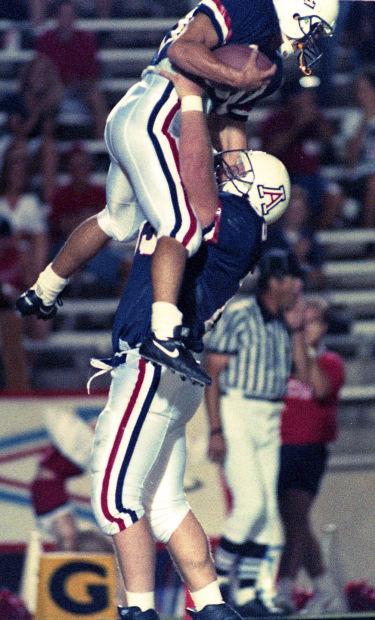 Cholla's Chris Corral, with ball, was deemed too small and slow for Division I football, but eventually walked his way onto the Arizona roster and became a key receiver during the Desert Swarm team in 1992. At Cholla, the 5-foot-10, 174-pound Corral was named first team All-Region and made the All-Star Football first team in 1988 as a senior. Corral had 611 yards and eight touchdowns on 35 receptions and made his impact as an all-around player.
7. Kirk Warburton, LB, 1971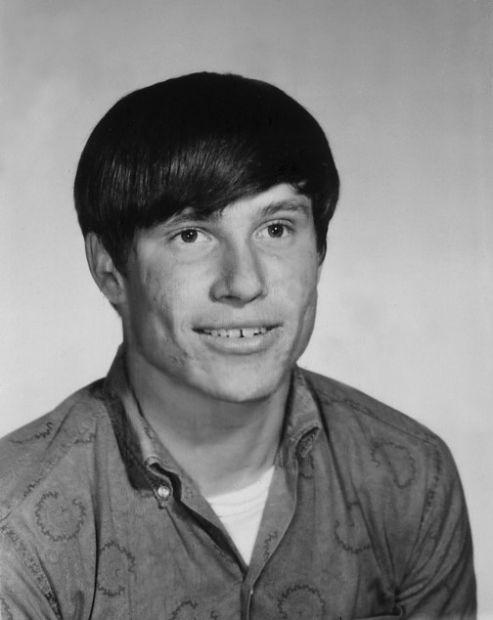 Kirk Warburton was an All-State linebacker for the Chargers inaugural team in 1970. The defensive stalwart anchored the Cholla defense and earned an All-City first team spot while helping the Chargers to a 6-4 season. Warburton ended his career with two interceptions in a 32-8 win against Santa Rita.
6. Cody House, QB, 2006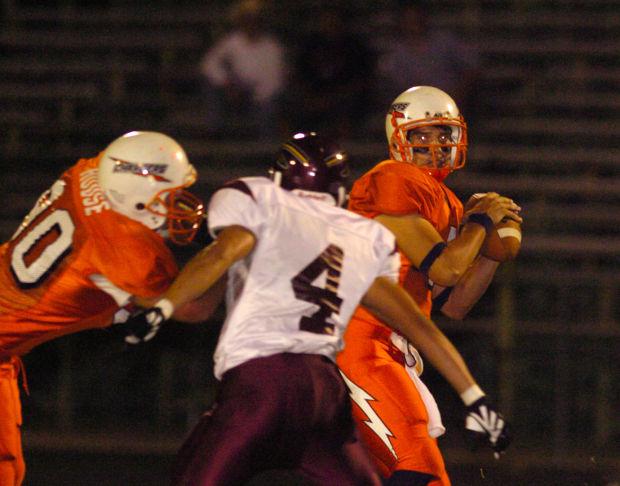 Quarterback Cody House guided the Chargers to a 9-3 record and a trip to the state quarterfinals 2005 to tie the 1987 Cholla team for best record in school history. House was the most prolific passer in Southern Arizona. He threw for 2,301 yards and 19 touchdowns as a senior while completing 53.3 percent of his throws. House and his favorite target Frankie Gonzalez were both first team All-Southern Arizona selections, and the duo had a shot at taking Cholla to its first-ever semifinal appearance. However, eventual champion Palo Verde defeated the Chargers 21-9.
5. Tom Lodge, WR/TE, 1971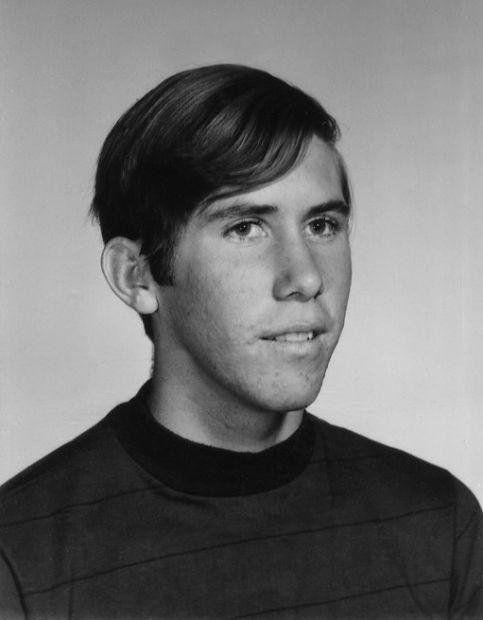 Receiver Tom Lodge and quarterback Rene Elias teamed up to make one of the most prolific scoring combinations in the city in 1970. Lodge, an All-State end, was named second team All-City as a senior and still has a school record with five touchdown receptions in a 58-28 win against Phoenix Indian.
4. Jonas Eldridge, RB, 1984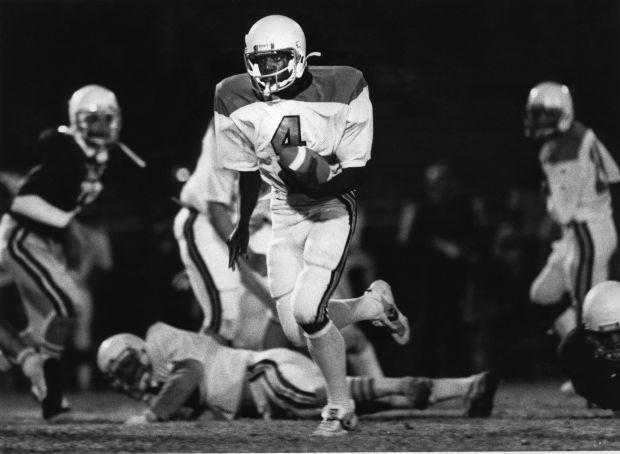 Running back Jonas Eldridge was the second-leading rusher in AAA Southern Division in 1983 with 1,117 yards and nine touchdowns on 164 carries. He was named the captain of the Arizona Daily Star's 1983 All-Metro Football Team and was also named to the Super 11 team. The Blue Chip prospect also contributed as a junior with 898 yards and 11 touchdowns and eventually went to NAU after graduating from Cholla. He led the Lumberjacks in rushing as a redshirt freshman but injuries eventually derailed his career.
3. Mike Scurlock, ATH, 1990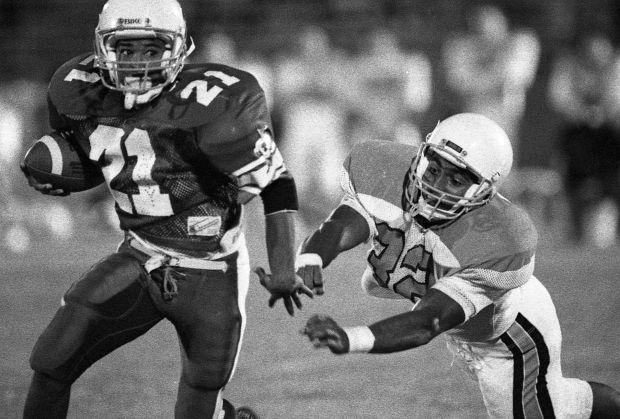 Safety Mike Scurlock is one of only two Cholla graduates to play in the NFL. He appeared in 65 games for the St. Louis Rams and Carolina Panthers. Scurlock made his mark at Cholla as a running back. After transferring from Sunnyside as a junior, Scurlock led the 4A Kino Division with 751 yards on 125 carries as a senior in 1989 despite being hampered by a pulled groin. The two-time All-Southern Arizona running back went on to play four years at Arizona at cornerback, safety and inside linebacker before being selected in the fifth round by the Rams in the 1995 NFL draft.
2. Randy Hunter, SE/DB, 1980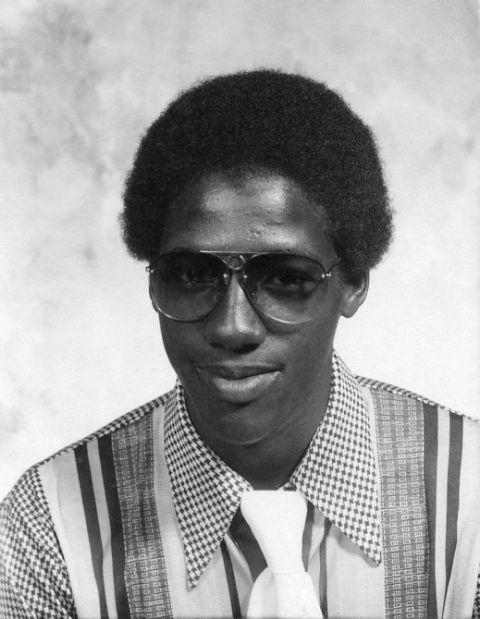 Two-way star Randy was one of the top football players in Tucson in 1978 and 1979. Hunter was named first team All-City as both a split end and a defensive back his junior and senior year, and he also was named first team All-State as a DB in 1979. He finished third in AAA-South as a junior in receptions (34 for 572 yards) and was second in receptions as a senior (41 for 567 yards and six touchdowns). He had 11 interceptions his junior season and four his senior year.
1. Vance Johnson, RB, 1981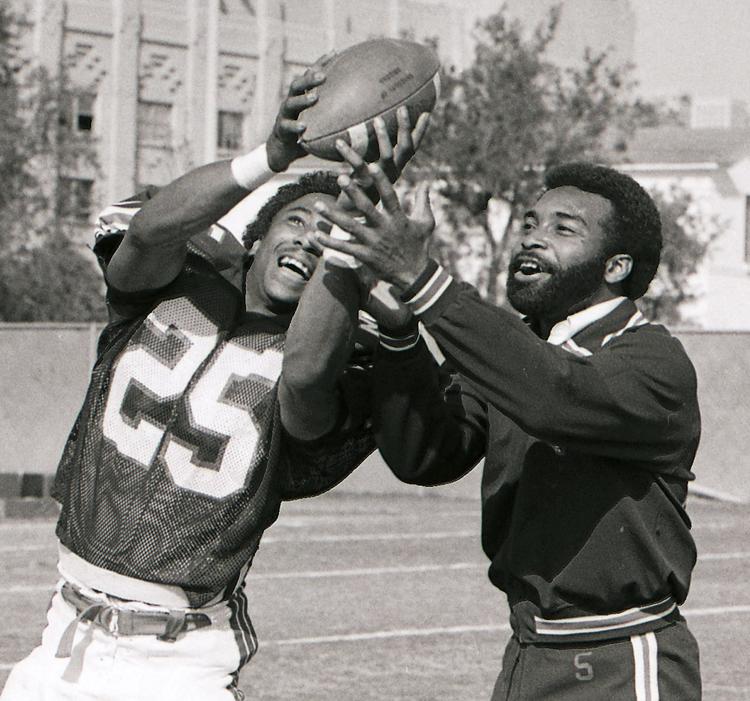 Before becoming one of the top receivers in Denver Broncos history, Vance Johnson made his name known at Cholla as one of Tucson's top running backs. Johnson racked up 1,382 yards on the ground to become an All-State, All-Metro and Super 11 selection. He went on to excel at the UA by gaining 1,873 yards in his career and earning first-team All-Pac-10 honors in 1982. Then, as a member of the Broncos, Johnson appeared in three Super Bowls and was a member of the 'Three Amigos' receiving core. Johnson ranks fifth in team history in catches (415), seventh in touchdown receptions (37) and seventh in yards (5,695).