It's fun to sit in this bright little cafe and stare at the people walking by with their shopping bags. They all have the same intrigued look on their faces when they see the sign that says "healthy dessert." 
This term isn't a contradiction for Meitong Ye, who runs the shop Nomico, nestled in the Best Buy shopping center near the Tucson Mall. Originally from Hong Kong, Meitong came up with the idea while she was studying nutrition at the University of Arizona.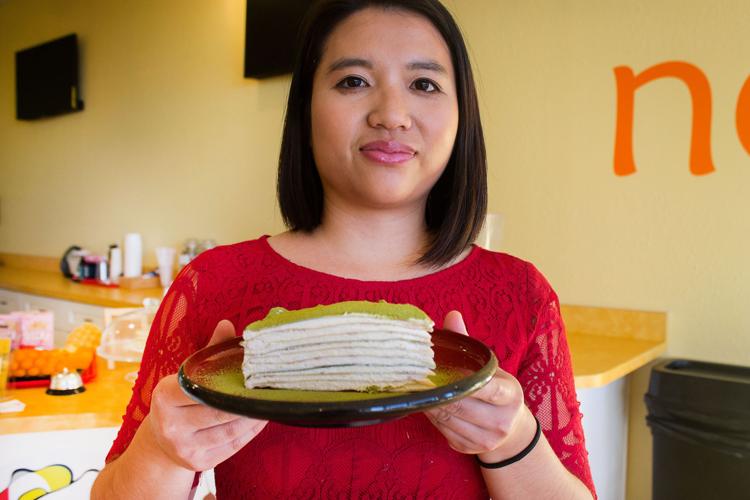 "I wanted to open a dessert shop that's not overwhelming sugary stuff," she said. "I want to bring those desserts from Hong Kong. The desserts we have are not very sugary, but very good for the body."
Nomico is actually a franchise that originated in Hong Kong, with stores throughout mainland China and other countries like Thailand. The Tucson location at 595 E. Wetmore Road is the only Nomico in the United States, she said. 
It's pretty fitting, because Hong Kong desserts are having a moment right now. You can find the Instagrammable street food "bubble waffles" at highbrow brunch spots like Teaspoon in Casas Adobes Plaza. But as far as I know, this is the only place in town that serves ... CHEESE TEA! If you haven't heard about that yet, read on. You're in for a literal treat. 
On a recent afternoon Meitong took us through some of the coolest creations on her menu. I also added some thoughts from our expert taster Samantha Munsey, who happened to be doing the Instagram story of all the fun stuff we ate. 😊 Strap in guys, it's jello time! 
Raindrop Cake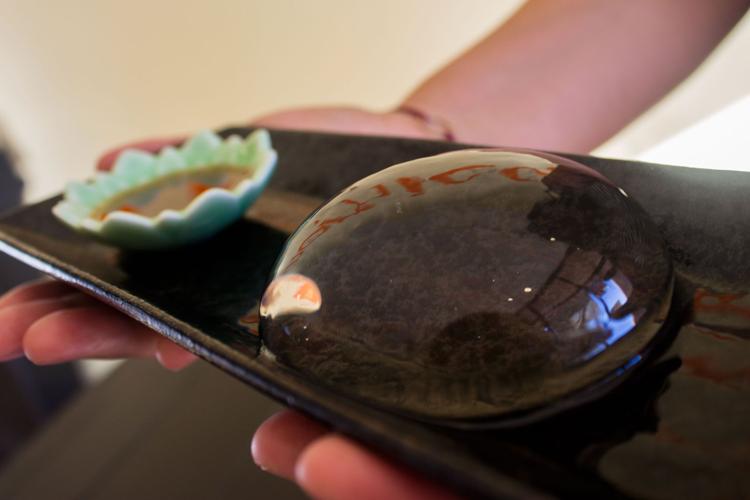 This uber-trendy jelly mold kinda looks like a breast implant, but don't say that out loud. It's a RAINDROP CAKE! This translucent dessert is actually from Japan, and it's made from water and a veggie-based "agar" powder, rather than gelatin which actually has animal products in it. Meitong adds a little sugar, but most of the flavoring comes from sauces like brown sugar and honey lemon, which you can pour directly on top. 
Sam's thoughts: "I was the most excited about this one. The raindrop cake is  an internet food trend I always wanted to try — along with charcoal ice cream and unicorn milkshakes. After beholding with my own eyes in real life, I decided to give it a go. Whoa. It's like watery jello with no flavor. Also, I can't tell if I'm eating or drinking. The syrupy sides add just enough flavor to let me know there is something in my mouth. I think I would get it again out of novelty of making someone else try it."
Bubble Waffle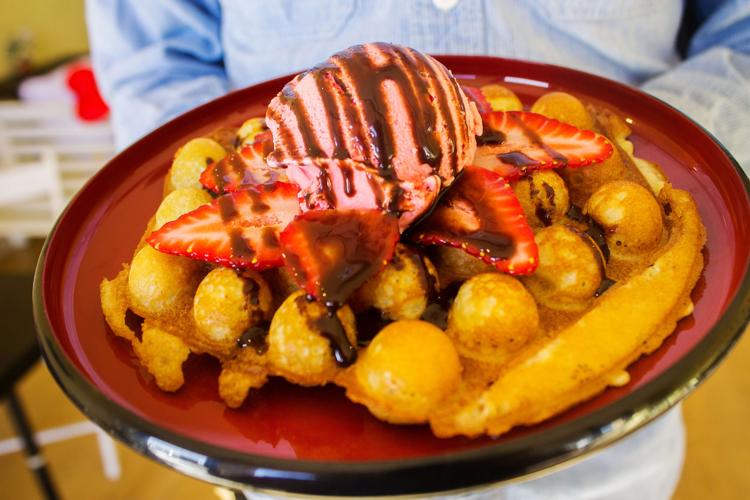 This spherical egg waffle is popular on the streets of Hong Kong, where it's often studded with fresh fruit, ice cream or chocolate. You make it with a nifty-looking waffle iron that looks kinda like the exterior of the golf ball ride at Disneyland. It's a little airier than a regular waffle, but it's the safest bet on Nomico's menu. 
Sam's thoughts: "So puffy. So sweet. So cute. I'm a big fan! 🙌 I feel like I'm eating an inverted waffle — there's no nooks, only spheres. If you're new to the Hong Kong sweet scene I would suggest getting this, you can't go wrong with a little dough and fruit."
Crazy shaved ice "Nomico special #1"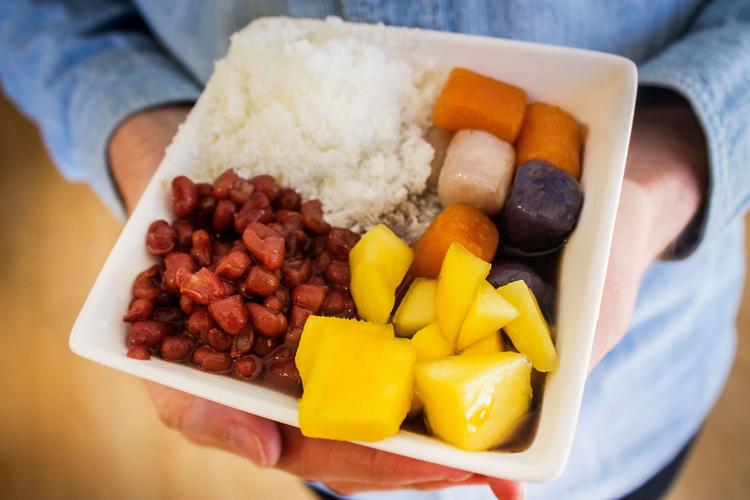 Honestly, this was a little overwhelming. Technically a shaved ice, this special seemed to have every temperature and texture under the sun. There were the handmade taro and yam balls that had been frozen like Japanese mochi. And then the red bean slurry with a savory sweetness. Fresh mango, that's easy. But then underneath, a black wad of grass jelly? "Asian people like grass jelly," Meitong said. "It's very good for the body." Is grass jelly made from grass? Nope. It's an herb, kinda like mint. 
Sam's thoughts: "There is so much happening in this bowl, and I'm here for it. Am I healthy now after eating all that grass jelly?"
Milk tea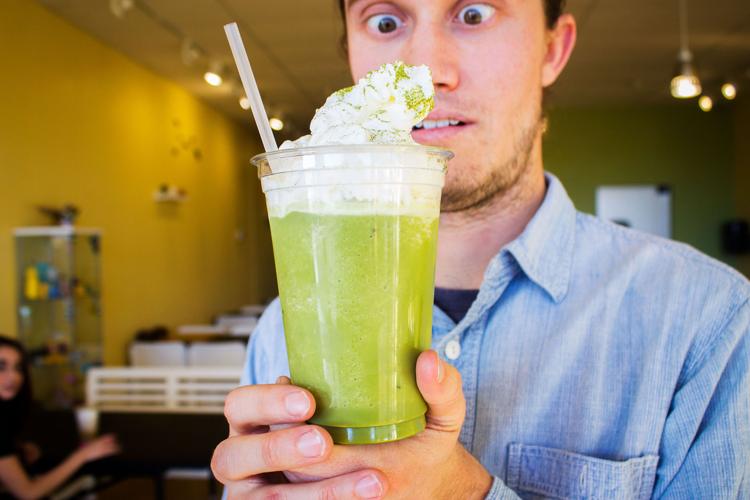 We all know Taiwanese boba tea. But Hong Kong milk tea is its healthier cousin. Unlike boba it's not made from artificial sweeteners or powders. It's just freshly-brewed tea and condensed milk. Meitong says her milk tea only has about 132 calories, whereas a similar boba tea might have 680. "Our milk tea, you drink it every day, it's fine for your body," she said. Insiders' tip: get the matcha for a green tea boost! 
Sam's thoughts: "Boba is the best! And this Hong Kong-style milk tea takes it up the level it deserves. You can taste how fresh the ingredients are, and after hearing it has less calories than your traditional boba tea I have a feeling I'll be back a few dozen times this month.:
Cheese tea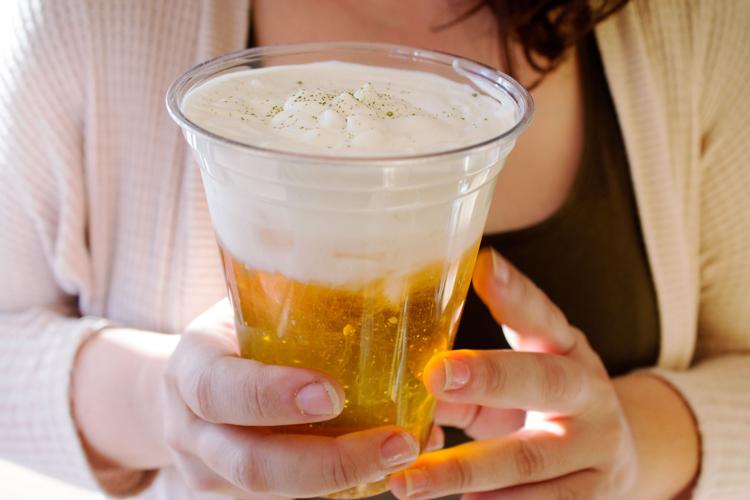 Ralph. Just kidding it's actually not that bad. The "cheese" is actually more like a thick whipped cream, made from milk and sweet white cheese. It kind of tastes like tea with a shot of salty probiotic yogurt. Meitong says cheese tea is pretty popular all over China right now, but it's just starting to flourish in places like New York and Los Angeles. Meitong says that most shops make their foamy topping from milk powder, but she uses real cheese. Good for her! 😜
Sam's thoughts: "Andi has been on such a quest to find cheese tea that when we saw it on the menu I thought she was going to order 12 of them. I can't say I was very enthused. Cheese? In my tea? The smell is a little funky, like sweet milk that spoiled. But if you can plug your nose and take a sip it's very pleasant as the fat from the dairy mixes in with the lightness of the tea. I think this has to be an acquired taste, true cheese lovers only."
Butterfly Pea tea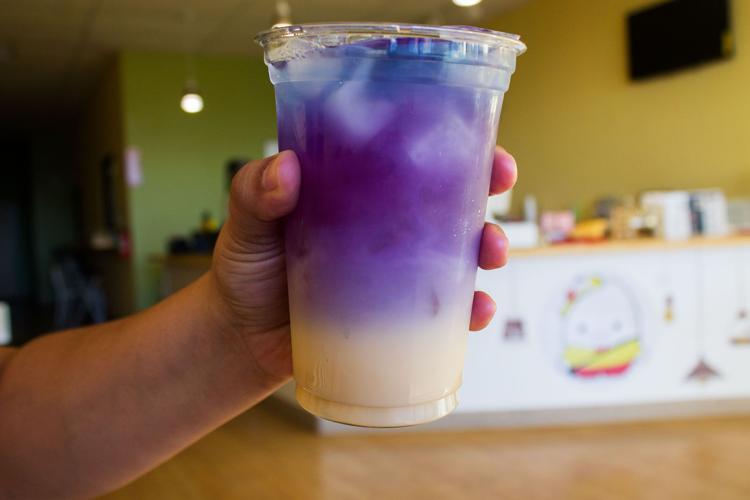 The incredible, color changing tea! The Clitoria ternatea, also known as the Butterfly Pea plant is a funky drink from Thailand. The color changes from blue to purple when exposed to citrus. The flavor is sweet, with a little lemongrass kick. Meitong says it's healthy for women's skin, but like some herbal teas, you shouldn't drink it if you're pregnant. 
Sam's thoughts: "My mind is forever melted by this drink. The shift in color happens almost in an instant, to the point where you're like "is this even the thing I ordered?" It's got some fruity and floral flavors and I want to be sipping this on a beach somewhere in a purple paradise."