A former funeral home in downtown Tucson is transforming into a swanky cocktail bar.
When it opens next month, Owls Club will be the anchor business in a larger project headed by Patricia and Ron Schwabe of Peach Properties. Along with developer Marcel Dabdoub, Peach has invested nearly two million dollars into the purchase and renovation of the historic Bring Funeral Home at 236 S. Scott Ave. 
The Schwabes, who own Penca, have enlisted the restaurant's bartender, Bryan Eichhorst, who has turned the gourmet Mexican spot downtown into one of Tucson's most innovative cocktail bars. 
The team hopes to create a destination area on the cozy side street, bringing in local retailers, offices, an Exo Roast Co. coffee shop and even an escape room. (By next year they also hope to build out a late-night takeout kitchen run by Penca's chef Drew Burk, inside one of the garages on the south side of the building.)
Owls Club will be front and center, inside the former chapel on the ground floor. The 2,500-square-foot space will feature tables made from the original church pews, as well as a bar top made with repurposed wood from the recently-closed Chicago Music Store.
The concept, according to Eichhorst, is based on the original Owls Club at 378 N. Main Ave. In the early 1900s, the club served well-heeled bachelors working at the Tucson outpost of the Southern Pacific Railroad. 
The group "had grown up in big cities, were wealthy, used to going out dining, going to see ballets," Eichhorst said. "Kind of uppity wealthy guys, to get off the stagecoach in a tuxedo and look around and there's nowhere to eat, there's nowhere to drink, there's nowhere to do anything."
To solve their problem, they had an ornate mansion built by Tucson architect Henry Trost to hold wild dinner parties catered by the best chefs. It was called Owls Club because the parties would last late into the night, Eichhorst said. It was "our own little nice place out in the dirty west."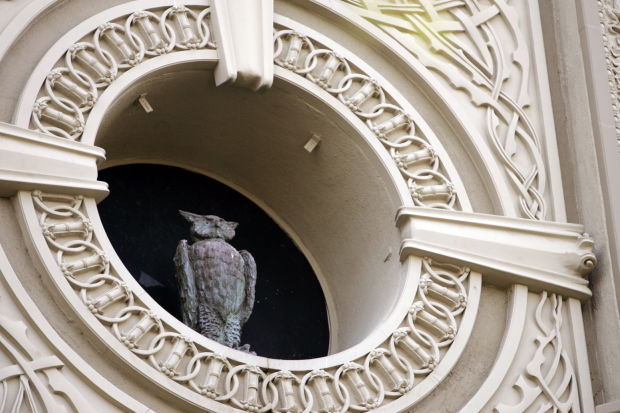 The modern Owls Club will feature a concise cocktail list of "complex originals," in addition to a well-curated selection of Old World wines and 8 beer taps. Eichhorst is also compiling a 100-strong whiskey list with everything from Buffalo Trace Benchmark bourbon at $2 a shot, to a 34-year old Port Ellen single malt at $6,000 a bottle. (There will also be a $2 beer offering, possibly Dixie from New Orleans.) 
We're doing the "New York brown-and-stirred style, rather than bright, fresh acid-driven at Penca ... Something you sit and contemplate over, something introspective," he said. 
The bar will also feature live music on a stage built where the pulpit of the chapel used to be. An additional lounge room with a TV and bookshelves will be a nice place for small parties. 
Patricia is hoping the bar and community space will bring more locals south of Broadway, where downtown is just beginning to expand. 
"We do have in downtown, some areas that are dead areas," said Patricia Schwabe. "They used to walk here and everything would be dark. Now it will be alive, and it will have a presence."
Other tenants coming in ...
Tucson's Exo Roast Co. will sell locally-roasted coffee from in a small kiosk at the front of the building. There will also be a patio for outside seating. 
The locally-owned arts collaborative Creative Tribe Workshop will move into a studio on the second floor. 


An escape room called Ace of Escape will be upstairs in the original living quarters of the funeral home's caretaker. (It's the second location from Tucsonans Kathy Gehlert and business partner Allison Vivas.)


Several "first-time local owners" will open retail spots in the garages by the parking lot.