Not long after it closed its small storefront on Wilmot, Holy Smokin' Butts BBQ is now open in the sprawling space that once held Gordo's Mexicateria. The new restaurant at Broadway and Kolb was packed on opening day, with customers lining up for tables and to order takeout from a separate cashier. 
The 6,500-square-foot space features an open counter where you can see the meat being carved and prepared. Holy Smokin Butts serves its meat like they do in Texas, laid out directly onto the tray with a paper liner. Owners Curt and Marisa Lewis spent time in Texas before they came back here to start their own food truck, according to a 2017 article in the Arizona Daily Star.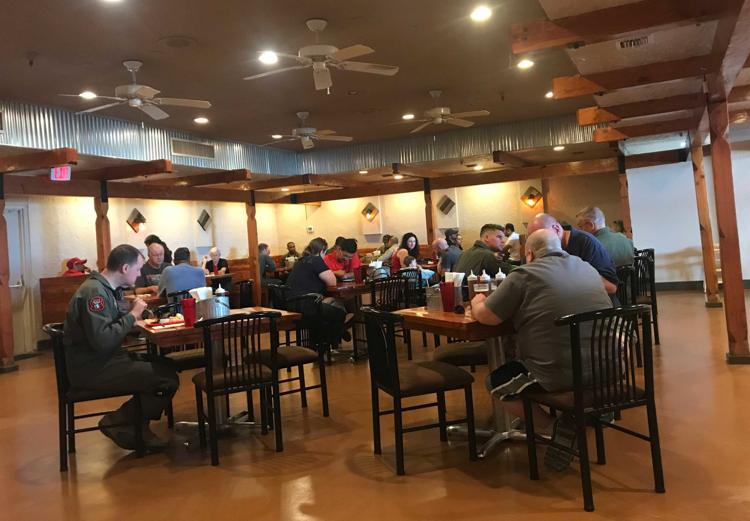 Unlike the saucy barbecue styles of Kansas or Tennessee, Texas is known for its dry-rubbed brisket, smoked long and slow. The larger location allowed the Lewises to increase their smokers from one to eight, so they can produce a whole lot more brisket and other meats. 
The restaurant is still tinkering with its menu, so there were no physical menus on the table during today's lunch service. But the website lists smoked meats like brisket, pulled pork, sausage and tri-tip, which can be ordered by the pound or in a combo as well as a sandwich. Holy Smokin Butts also had a small bar area with several beers on draft. 
Holy Smokin Butts BBQ is at 6940 E. Broadway. Phone: 520-329-3088. It's open Tuesday through Saturday 11 a.m. to 8 p.m., closed Sunday and Monday