Peter "Pops" Yucupicio first discovered hot chicken about five years back during a trip to the Bonnaroo Music Festival in Tennessee. It just so happened he went to Prince's Hot Chicken in Nashville, the birthplace of the Southern delicacy.
Pops didn't know right away that chicken was his destiny, but he found himself craving the spicy sandwich more and more often. Eventually he realized that nobody was doing it in Tucson, and that he should be the first.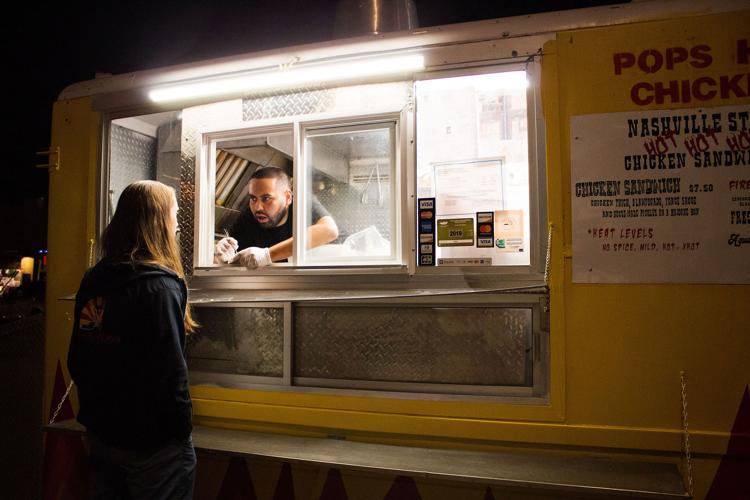 After nine years of working various jobs at the Pascua Yaqui Tribe, he decided it was "now or never." He quit his job and started working full-time on his recipe, traveling to the famed Howlin' Rays' in Los Angeles to study the craft. 
"I was going to Howlin' Rays' at least once a month, and I have the pictures to prove it," he said. "I'd leave Saturday morning, get there, eat the chicken and find a hotel and come back the next day."
Eventually the folks at Howlin' Rays' let Pops into the kitchen to see how the magic was made. Meanwhile, he was hosting dinner parties at his house in the Old Pascua neighborhood of Tucson, trying to figure out how to produce his new recipe in mass quantities.  
Full disclosure: This is where I got to taste the chicken for the first time. Our videographer Nick Murray plays in the band Sur Block with Pops, and invited me over for lunch one afternoon. I'd never had hot chicken before either, but after that meal I was hooked.
The main thing I remember was the skin; how crunchy it got when it came out of the bubbling oil; how it crisped up like a pork rind.  
It took another six months or so for Pops to start serving for real. He purchased an old taco truck from a guy in Marana and painted it yellow and red. Several days a week he parks the truck at his old workplace on the Pascua Yaqui Tribe, in the parking lot in front of the smaller Casino of the Sun.
He only has one sandwich on the menu, which you can customize with different levels of heat. For sides there's fresh-cut fries and "fire fries," which have all the sauces on top. (While we were there, we also saw someone order a secret menu item that was basically the chicken sandwich without the brioche bun, on top of fries.)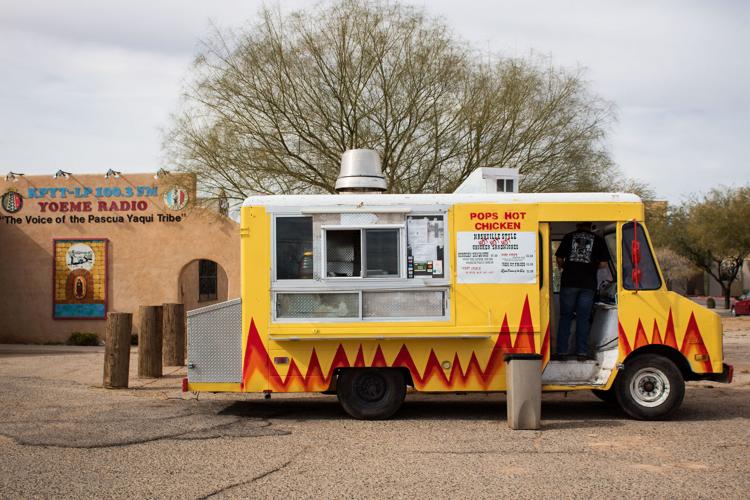 He started selling weekends in front of the Hippie Gypsy on Fourth Avenue too, but there you're likely to run into a line. After waiting for half an hour last Friday, Nick and I slammed down two of them in his truck. We agreed that the genius of the sandwich lies in "slawvocado" and vibrantly fresh pickles, which counter the heat of the chicken thighs.
There's also something to be said about the Yonce sauce, which is Pops' version of the traditional Comeback Sauce. (The first time I saw it I thought it might have been a Yaqui word, but apparently it's just a reference to Beyonce. 😂) The creamy chipotle sauce along with the avocado spread give the sandwich a Southwestern taste, which makes it feel like home.   
"I love the spice about it, and there's a sweetness about it," Pops said about his obsession with Nashville hot chicken. "Whenever I go to a restaurant, I always get a chicken sandwich. Having that spice component was everything for me. I love spicy food." 
You can usually find Pops Hot Chicken on Fourth Avenue and Seventh Street Thursday through Saturday from 6 p.m. until they sell out. Follow their Instagram for updates and locations.