Seven months after closing its doors because of the coronavirus pandemic, Hub Ice Cream Factory will reopen on Nov. 6 with a new look and new talent in the kitchen.
Kristel Johnson, the creative force behind Isabella's Ice Cream, has joined Hub Ice Cream Factory as its general manager, bringing a decade of experience making handcrafted ice cream.
Johnson joined the Hub team in May and set about reimagining the downtown ice cream parlor at 245 E. Congress St. from its decor to its dozens of rotating ice cream varieties, including re-creating some of her own recipes and tinkering with a few of the Hub's.
The ice cream shop at 245 E. Congress St. is across the street from its parent, Hub Restaurant & Creamery
"I'm really excited about it," Johnson said. "This is the best of both worlds. I get to continue making ice cream and take it up a notch. I get to see my dream continue."
Johnson and her husband/partner Dominic dissolved Isabella's in February after losing a $30,000 lawsuit against the owners of the Mercado San Agustin and the MSA Annex on South Avenida del Convento over a lease dispute. The couple had operated the business for 10 years, starting out with a 1920s Model T ice cream truck before opening a couple brick-and-mortar locations. They also sold ice cream to retail customers including grocery stores.
"Teaming up with Kristel has been wonderful because she has a great reputation. We're just excited to be working together," said Barney Confrey, director of operations for the restaurant, ice cream factory and Playground Bar & Lounge next to the restaurant.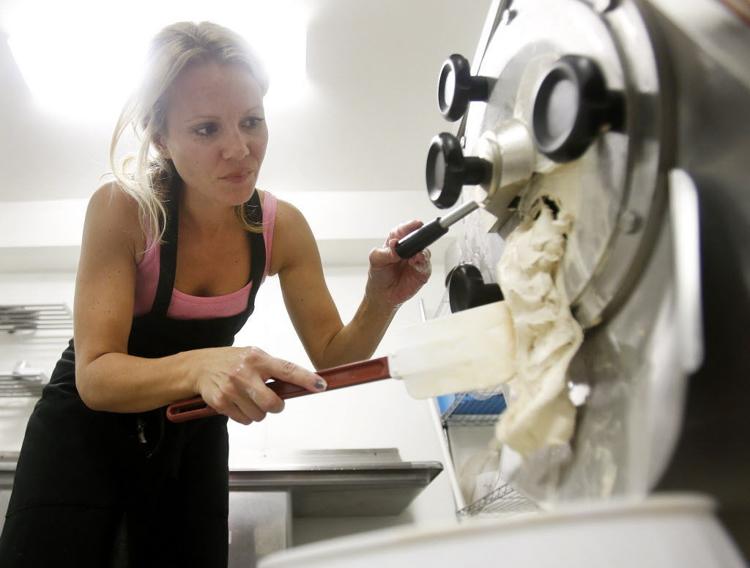 The Hub Restaurant has made its own ice cream since it opened in 2011, creating dozens of rotating flavors that were mostly sold through the restaurant with some retail sales to area hotels and movie theaters, Confrey said.
As demand increased, the Hub decided in 2015 to open the ice cream factory and parlor across the street.
When COVID hit early this year and Gov. Doug Ducey ordered restaurants to close their dining rooms in March, Confrey shut the doors to the ice cream shop and has yet to reopen, although production has continued. The Hub restaurant was closed from March through early June, when it reopened for a few weeks before closing again in mid-July.
"Cases were spiking and we didn't feel like it was the safest thing for our guests and staff to be open," said Confrey.
During the shutdown, Confrey said they tripled the Hub restaurant's outdoor seating to 16 socially distanced tables including taking up the front patio of Playground, which is still closed. He hopes to have a similar outdoor setup for the ice cream shop when it reopens. Confrey said he has applied for a "temporary extension of premise" from the city that will allow them to add tables onto the sidewalk.
When Hub Ice Cream Factory reopens, it will look drastically different. They've repainted the interior and added sparkly chandeliers and other touches to create a modern ice cream parlor feel.
The Hub also has acquired a pasteurizer, which allows Johnson to create the ice cream base in-house using locally sourced cream from area providers.
In addition to Hub favorites including S'mores, Bourbon Almond Brittle and Oatmeal Cookie Dough, the shop will include flavors created by Johnson with such local ingredients as prickly pear, mesquite desert honey, Sonoran chiltepins and Green Valley pecans. Everything from the peanut brittle to the honeycomb candy is scratch-made in-house, she said.