Around this time of year, the sidewalks of South Twelfth Avenue are lined with squash: big ones, small ones, veiny green ones with bell bottoms and curvy trunks, flat little pumpkins and puffy white ones with bumps. (Sorry, squash is so dang pretty it makes me want to write schlocky Dr. Seuss poetry.)  
They're usually at the stands that sell the corn. Farmers come up from the Southeast Arizona town of Elfrida to sell them, along with their Mexican honey and packets of dried chiles. When you ask what they're selling, the answer is always the same: "calabazas." (Simple as that.)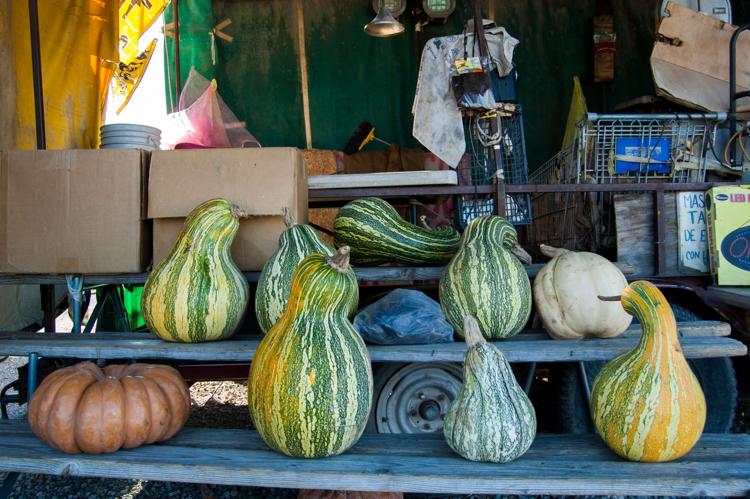 I did a little snooping around and I found out that most of them are actually Green-Striped Cushaw squash, also known as the crookneck pumpkin. This variety is primarily grown here and in the American South, where people like to use them in their pumpkin pies. The Slow Food website says the cushaw came up from Mesoamerica, and is currently grown by the Hopi and the Tohono O'Odham, who call it Ha:l.  
I have been cooking with this squash — which cost me $5 — for the past week. The seeds I roasted with salt and pepper, and have been snacking on at work. (They're a little less flaky than your regular pumpkin, but otherwise the same.) The light orange flesh I put in a pasta primavera with tomatoes, summer squash and Cotija cheese. The next morning I cooked an egg over the leftovers, and let the squash fry until it was crispy and brown on the edges.
I was buying some pumpkin empanadas at La Estrella Bakery the other day and I struck up a conversation with the woman who was ringing me up. She told me she likes to make that squash into a dessert. She boils it like you would camotes, or sweet potatoes, with a cone of the Mexican cane sugar piloncillo. Then she pours sweetened condensed milk on top. It's not something you buy at a restaurant, she said. You cook it at home. 
When I headed over to the Saint Mary's Food City for the piloncillo and the canned milk, guess what I found! The squash was right there, in a giant bin labeled "Mexican hard squash," two pounds for 98 cents.
I made some up this morning with my remaining two bowls of squash cubes. (Even a medium-sized Cushaw has quite a bit of meat in there.) I submerged the squash in water with a a couple of star anise pods I bought at Food City, the cone of piloncillo and a cinammon stick. I let it simmer for half an hour. When it came out the flesh was soft and rich and summery like a pumpkin's, but much less stringy. It soaked up the cinnamon and anise, which added a rich campfire feel without being overwhelming. 
I have never tasted anything like this before, but it felt so incredibly familiar. I'm still sitting here trying to recall a memory I've never had, of sitting around a table eating this with people I love. 
I guess I still have so much to learn about this place we call Tucson, but this lesson was easy ... I could do it in my sleep. 
Cushaw dessert squash with piloncillo and sweetened condensed milk
1 medium-sized Cushaw squash
1 cone piloncillo
2 star anise pods
1 cinnamon stick
14-ounce can of sweetened condensed milk
Cut stem off squash and then slice in half. Remove seeds and strings from inside of squash. (Seeds can be roasted separately.) Carefully cut away skin and chop flesh into 1-inch cubes. 
Boil four cups of water in medium-sized pot. Add piloncillo cone, star anise and cinnamon stick. When piloncillo is dissolved, add the squash and simmer for half an hour. Plate, and top with sweetened condensed milk, to taste.