Renae Moomjian pretty much gets the same reaction from everyone she tells about her new business, NipLips. 
In fact, it's the same reaction she had when her teenage daughter Helena Moomjian first told her about the concept. 
"I was driving my daughter home from school, and she was reading something called 'Uncle John's Bathroom Reader'" Moomjian recalls. (Uncle John's Bathroom Reader, by the way, is a trivia book). "And it was very quiet, and then all of a sudden, she said, 'Hey, Mom. Did you know your perfect lipstick color is your nipple color?'" 
To which Moomjian responded. "WHAT?"
Intrigued, Moomjian went home and tested the theory with the lipsticks in her makeup drawer. None of them matched. 
"So I was like, 'Let's take pictures and go to Walgreens' ... so we are walking around Walgreens, looking at our phones secretly and putting lipstick in our cart," Moomjian says. "It was about $110 worth of lipstick, and we went home and found our perfect match and one shade darker. And we both loved it." 
Neither would have normally selected those colors. 
"And I said to Helena, 'Maybe there's something to this,'" Moomjian says. That was in May 2018.
When the internet went crazy
The beauty trend seems to have taken off in spring 2017 when a segment on the talk show "The Doctors" made the connection between a person's nipple color and her ideal nude lipstick. The internet went crazy, and beauty magazines including Marie Claire and Refinery 29 tried it out, with mixed results. Some people loved the lipstick shade they picked and others, not so much. 
Margarita Potts GoDiva, a hair and makeup artist of more than 20 years and owner of I Do Hair and Makeup Artistry, says that the idea of using your body as a reference has been around for way longer. 
"The rule of thumb has always been, nature knows best," says Potts GoDiva, who does celebrity, print, film and TV makeup. The inner cheek and upper lip are go-tos for her when color matching. 
"For us in the TV world, you know if you're going with the inner cheek or upper lip or body, it's going to be a good match on camera," she says. "It makes people look fresher, youthful and more alive." 
Matching to your nipple color is the same premise. 
"Beauty trends come and go, but you can always come back to yourself," Potts GoDiva says, adding that it's also case-by-case. Getting too matchy-matchy can actually wash you out or make you look flat, she says. Plus, sometimes you just want to wear a bright, bold color. 
There's an app for that
A few months after Moomjian and her daughter did their own experimenting, Moomjian asked 20 friends to give it a try. She wanted to know if matching your lipstick color to your nipple was actually a thing. She says 80 percent of her friends loved their exact match and all of them liked one shade darker. 
The mother-daughter duo launched NipLips at the beginning of 2019 to help women find a nude lipstick that flatters their skin tone. 
Right now, NipLips has eight colors with Tucson-inspired names, such as Prickly Pear, Purple Agave or Burnt Adobe. Using the NipLips app, you can scan a close-up of your nipple to get matched to the closest color for you. 
"Nothing is ever saved on your phone or uploaded to us," Moomjian says. "I was very clear that there could never be any invasion of someone's privacy. The only thing we save is the color."
Moomjian also owns a medical device consulting business, which is why after she and Helena took their Walgreens field trip, sneakily checking their phone photos as they shopped, she knew tech could make the process easier. Hence the color-matching app. 
Eventually, NipLips hopes to customize colors specifically from your scan, but they're fundraising for that right now. 
Ada Trinh, a makeup artist in Los Angeles, is a brand ambassador for NipLips and loves the product. As someone who has seen plenty of beauty trends come and go, Trinh says the tech part of NipLips sets it apart. 
"You're not just talking about it," says Trinh, a celebrity, film, TV and print makeup artist. "They have an app that can actually show people that this is how it works." 
Keeping it au naturel 
Moomjian has also made a point to make NipLips a clean beauty business because that's the way she lives her life. 
"Because I bring new medical technologies to the market, I deal with very sick people ..." she says. "I feel like preventative medicine is the best medicine so I live clean and I eat clean." 
Moomjian says clean beauty means no synthetic or toxic ingredients. The NipLips website clarifies that products have "no parabens, phthalates, DEHP, SLS, petrolatum, talc, synthetic fragrances or colorants or silicons." So even if you're not keen to match your nipple color or use the app, the lipstick is worth checking out, at $22.50 each. 
"I've used it on a couple of clients," Trinh says. "On set, I couldn't do the nipple scan ... but I could tell them about the concept ... and use the product on them without the scan." 
Trinh says she has also used it on set to go from a day look to a night look just by adding another layer. 
"A lot of the colors are really poppy, but the app gives you choices if you don't want to be as poppy, you can use one that's more natural," she says. "The pigment is great and buildable, or you can use it almost as a nice tint that doesn't go on too harsh."  
The cosmetics are made locally, by the same lab that makes Sia Botanics, using some naturally-sourced Sonoran Desert ingredients such as prickly pear seed and jojoba oil. The next, soon-to-be-released NipLips collection — a gloss — will take its inspiration from the ocean. The one after that, the rainforest. The goal is to package all of it sustainably.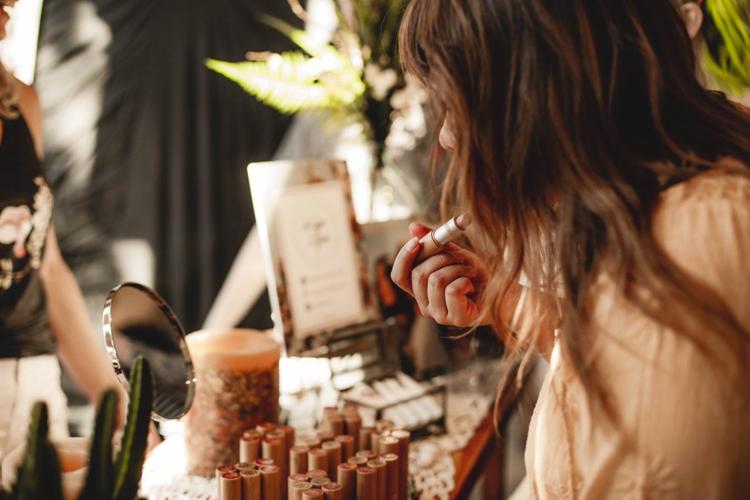 As the business grows, Moomjian wants to eventually support nonprofits that work in women's health issues, specifically heart disease and breast and ovarian cancers — all diseases that have impacted her family. In the meantime, Moomjian says they will gift lipstick to any woman with breast cancer or a mastectomy. 
Potts GoDiva adds that if you're checking your nipple color, it's also a great time to do a self breast exam. 
"That, to me, is a great reason for this," she says. 
A mother-daughter business
Before launching NipLips, Moomjian says she mostly wore bright reds and pinks. Helena, a student at University High School, mostly wore dramatic makeup for theater productions. 
"I'm not a big makeup person," Helena, 16, says. "But putting the right lipstick on is a boost of self confidence." 
The whole experience has been a ride, she adds. 
"When I was younger and imagined my life in the future, I never ever would have imagined such a wild thing," Helena says with a laugh. 
Although school keeps Helena busy, Moomjian says working together on the business has been one of the sweetest parts. 
"We do a lot together," she says. "And to see her excitement and input along the way has been really fun, and for us to work together like this has been very special." 
Try it out
Besides shopping online, you can try NipLips at upcoming markets including the Made in Tucson Market on Sunday, Dec. 1 and Cultivate on Saturday, Dec. 7. A privacy booth will allow you to use the app to find your best shade. You can also buy the lipsticks and try samples of the NipLips Desert Botanical matte collection at English Salon Spa, 27 N. Scott Ave., downtown. 
"For Helena and me, it's about looking within to define your beauty and who you are and speaking from that place," Moomjian says.