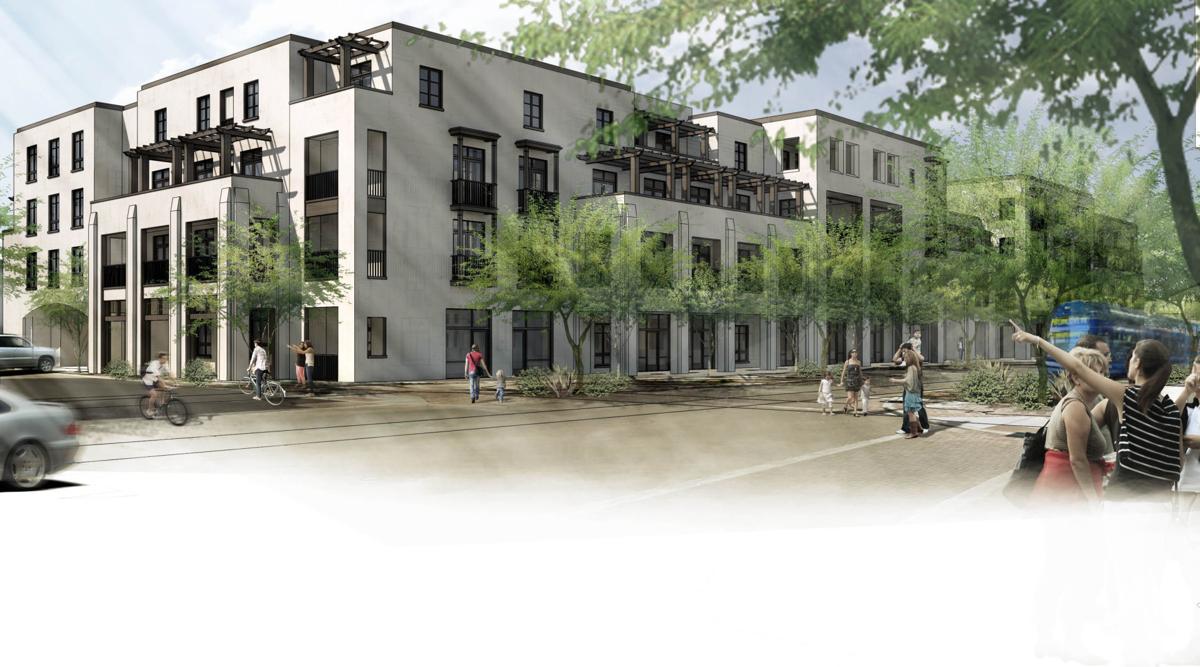 Redevelopment efforts west of downtown — once chided by critics — are now bearing fruit.
The success of Mercado San Agustin, its recently opened annex, the pending opening of West End Station and custom-home development have fueled enthusiasm for future projects.
A new mixed-use development by the Gadsden Co. is close to breaking ground on Avenida del Convento, near Cushing Street, west of Interstate 10.
The Monier would be a four-story complex with 122 apartments and ground-floor retail and office space. It would also feature underground parking.
The $35 million project has secured a HUD loan with a fixed rate of 4.28 percent, and $9 million in private equity, Adam Weinstein, president and CEO of the Gadsden Co. told members of the Rio Nuevo board at their recent meeting. A 12.3 percent increase in construction costs since the approval of the HUD loan resulted in a gap.
The board unanimously voted to provide a $2.4 million loan to the project pending review of appraisal, HUD loan terms and potential use of the Mercado San Agustin Annex as collateral.
Rio Nuevo would receive $1.45 million annually in revenue from such a partnership. The board will take a final vote on the loan at its September meeting.
If approved, the project could break ground as early as November, Weinstein said.
"This is a great project," board Chairman Fletcher McCusker said. "It is with partners we have worked with before, has dramatic sales tax revenue and continues to fill out the district's western sector."
Weinstein and Gadsden owner Jerry Dixon have worked closely with neighbors and city officials on the project.
"What I love about this family is it's a local family, they know the community and are part of the community who live on the west side and downtown," said Ward 1 Councilwoman Regina Romero. "Every step of the way they have involved the neighborhoods and council office."
She said market-rate apartments are needed on the city's west side.
"When downtowns change there's a lot of displacement that happens," Romero said. "We want to make sure we're planning ahead so families and young people can afford to live in the area, so a family with two teachers can afford to live there."
She said banks are still reluctant to approve loans for apartments, which makes Rio Nuevo's participation critical.
Ground was broken for the Cushing Street Bridge in 2011 amid much skepticism that development west of I-10 would ever materialize.
"Remember," Romero asked, "when people used to call the Cushing Street Bridge the bridge to nowhere?"