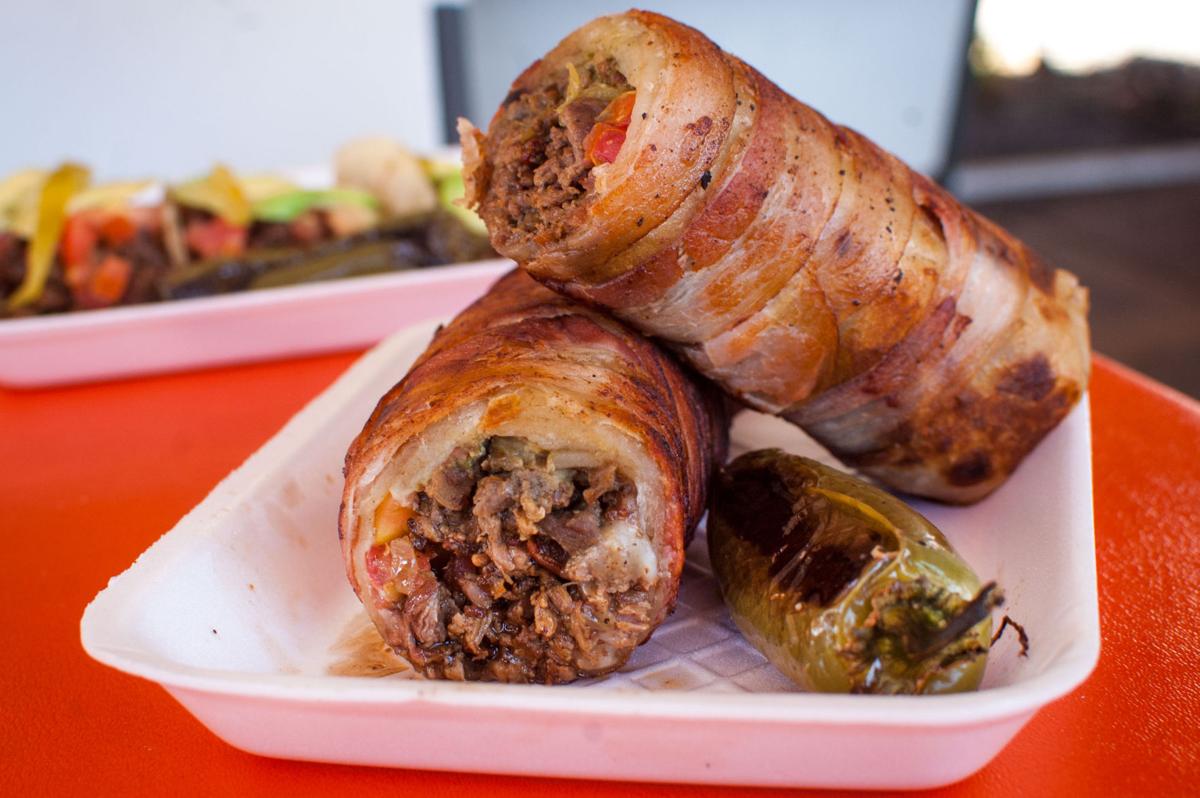 There was a bit of confusion when the tinfoil husk was peeled away, revealing two pucks of what appeared to be seared pork product. People were looking up from their tables, wondering what this was all about, what's going on over there. One guy even asked. 
"It's the bacon-wrapped burrito," I replied. My tablemates were quick to clarify: "You can get any of the burritos wrapped in bacon, for $1.50." (They failed to mention the Philly Cheese add-on, but that one is still shrouded in mystery.)
Nobody knew about it yet, because this option is pretty new. I just found out because I was in the neighborhood the other day, showing a Chicago food writer around. I like to take visitors to WhataBurro on Irvington and South Twelfth Avenue, because the truck serves real Sonoran food, from Hermosillo. I even named their carne asada Percheron the best taco in Tucson in 2015. (WhataBurro has since opened a second location on Fourth Avenue next to Creative Ventures.)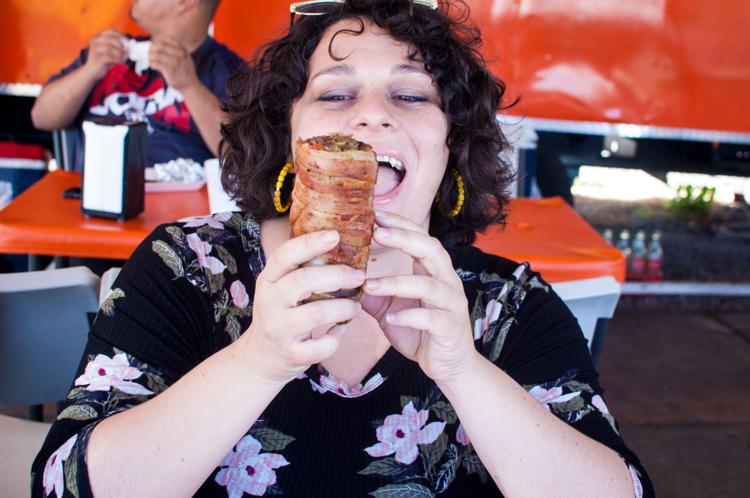 Well now they've got this obliteration. And I have to say, it's surprisingly awesome! I know I know I know ... When you see a burrito wrapped in bacon you immediately think, "publicity stunt," or "Pinterest crap" or "stoner food" or, "that's gonna be messed up going out the other way." But it's really, really not.
You have to remember, the cooking here is masterful, a near-perfect representation of Sonora's finest. And I'm starting to realize, that bacon-wrapped burritos just might be kinda Sonoran. Here's another truck I found in the border city of Agua Prieta:
And here's another one I found at a restaurant called Sonora Grill, in Moreno Valley, California: 
The most likely reason is that bacon-wrapped burritos are a child of the borderlands, where culinary influences flow both ways in a playground of cross-pollination. The other reason is that they are really freaking delicious, if done right. The bacon here is crispy and thin, adding a salty pork crunch to every bite. 
We got ours on the Sonora burrito, with carne asada, green chile, avocado mozzarella and yes, more bacon inside. It was mostly meat though. The other ingredients just padded the beef with savory moistness. 
Be careful, the burrito spews juice everywhere when you cut it! You're gonna wanna share though. Not just for your sake, but for everyone around you. When they see it, they're obviously gonna get jealous ...