What would the Pima County Fair be without outrageous food?
And this year, it is definitely outrageous: peanut butter and jelly Sriracha funnel cake. Candy apples coated in spicy Cheetos. And then there's the fried shrimp dunked in Fruity Pebbles. Yes, you read that correctly.
"You can go anywhere and get cotton candy, a corn dog, or caramel corn," says Dominic Palmieri, head foodie of Ray Cammack Shows — the family-owned company that brings the carnival to the Pima County Fair. "We like to come up with things that people can't get outside of the fair. The fair has always been a place of innovation. There's really no rhyme or reason to it. Our customers expect new products every year so we continually work to develop new, delicious products."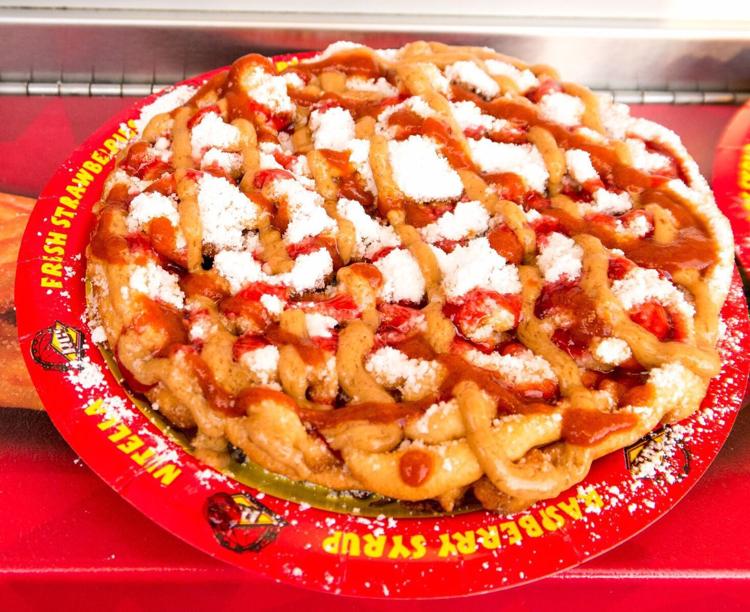 A sampling of the fine fair dining you can expect:
Biggy's — Spicy turkey legs, Flamin' Hot Cheetos cheese fries, Flamin' Hot Cheetos corn dog, caramel "crack" fries.
Candy Factory — Flamin' Hot Cheetos candy apple.
Corn Junction — Roasted corn on the cob coated in Flamin' Hot Cheetos or Takis.
Cowboy Kettle Corn — Nitro popcorn, nitro whip.
Dutchmen's Funnel Cake — Peanut butter and jelly Sriracha funnel cake.
Enzo's Pizzeria — Flamin' Hot Cheetos pizza.
Get Fried — Fruity Pebbles fried shrimp.
Moana's Fried Bread — New Zealand fried bread.
Sweet Dreams — Unicorn cotton candy, glow-in-the-dark cotton candy.
Totally Baked Cookie Joint — buckets of fresh-baked cookies, pizookies.
In addition to inspiration from restaurants and customer feedback, Palmieri also comes up with ideas based on trends in the foodie world, such as spicy foods. That's how the spicy turkey leg, which is marinated with a hot sauce, came about.
"You still get the smokiness and this moist, juicy, spicy flavor that's not overpowering, but has a nice kick," Palmieri says.
Flamin' Hot Cheetos are also a common theme.
"You have that creaminess of the caramel, and we grind up Hot Cheetos to really small pieces, so you get that crunch and spiciness," Palmieri says about the Flamin' Hot Cheetos candy apple."And then it has that sour flavor of a Granny Smith apple. It's a cool blend of those flavors."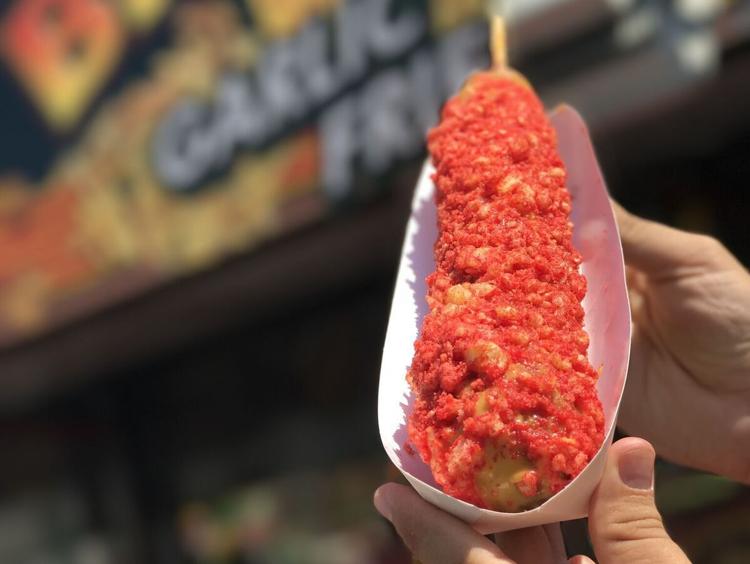 Last year, the Pima County Fair had nitro pop flavored kettle corn dipped in liquid nitrogen, and it will be back again. There will be a new nitro-dish: nitro whip, a flavored scratch-made whipped cream dipped in liquid nitrogen and served with marshmallow fluff, Fruity Pebbles, and snow cone syrup.
"It's like eating ice cream and it's made right in front of your eyes," Palmieri says.
And for the caramel "crack" fries — fries topped with salted caramel and Fruity Pebbles — will make a debut. Palmieri says he and his family came up with the idea after watching their kids dunk fries into their milkshakes from In-N-Out Burger.
Of course, you can get everyday food, too, such as Sonoran hot dogs, fried burritos, brisket, pulled pork and burgers.
"The best thing about the Pima County Fair is there is something for everyone," Palmieri says. "Whether you're looking for the wild and wacky, to the traditional fair food items, coming to the fair and going on a foodie grazing journey is one of the best experiences. Catch a concert, see the animals, find what's new and exciting in gadgets and widgets, and most of all, put on your stretchy pants and go grazing for some of the most delicious new foods."