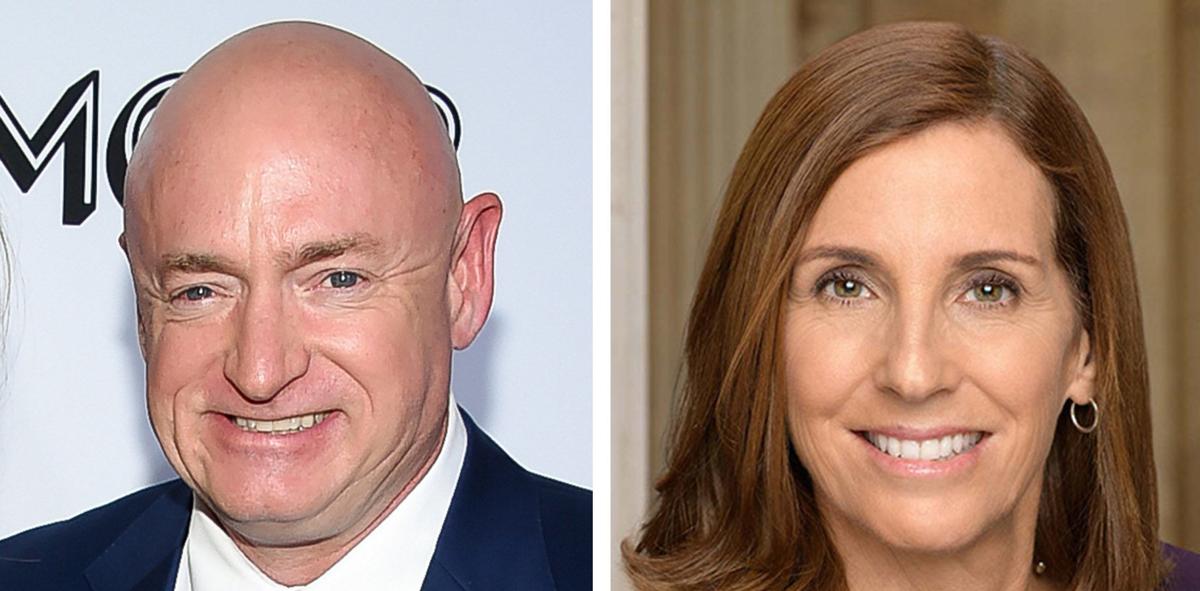 Based solely on their backstories, Martha McSally and Mark Kelly seem like two people you might find swapping war stories over beers at the local Veterans of Foreign Wars post.
Instead, the two accomplished combat pilots and Tucson residents are locked in a nasty dogfight for the Arizona Senate seat once held by John McCain.
McSally is the Republican incumbent, appointed to the seat in 2018 after two terms as a congresswoman from Arizona's 2nd District.
Before that she broke barriers in the Air Force as the first female fighter pilot to fly in combat and the first woman to command a fighter squadron, completing missions over Iraq and Afghanistan from the cockpit of an A-10 based at Davis-Monthan Air Force Base.
Kelly, a Democrat, is making his first run for elected office after 25 years as a Navy pilot and 15 years as NASA astronaut.
He flew 39 combat missions during the Gulf War and four missions on the space shuttle, twice as pilot and twice as commander.
The contest could prove decisive as Republicans look to hold onto their majority in the Senate and Democrats try to seize control of Congress and the White House.
Already, the race ranks as the most expensive in Arizona history, with well over $80 million spent so far to flood the airwaves with ads from the two candidates and from various outside groups, according to the nonpartisan Center for Responsive Politics.
On their approaches to leadership
After a pandemic-friendly elbow-bump greeting on Tuesday, Kelly chatted with the Star in the shade of a tree at Udall Park in Tucson.
He described himself as an independent-minded Arizona moderate in the mold of McCain, Barry Goldwater and "my wife, Gabby Giffords" — someone who will be guided by science and data instead of politics and is willing to work across the aisle to find consensus on big issues like health care, the economy and COVID-19.
"I was a registered independent two years ago, and I'm still somebody who votes for the person," Kelly said. "These are hard problems that we're facing as a county, and the only way you typically solve hard problems from my personal experience is you've got to get everybody involved, and you've got to do it together as a team in a bipartisan way."
"We're lacking that right now in the United States Senate," he said.
The McSally campaign did not make her available for a one-on-one interview for this story, but she did participate in a video chat on Monday with the Star's editorial board and some of its readers.
McSally said she is the same person she was when she was first elected to Congress in 2014: a "pragmatic problem solver" who consistently ranked high among her peers in both the House and the Senate for bipartisanship and getting bills passed into law.
"My record is fighting for Arizona, fighting for Tucson, putting legislation on both President Obama's desk and President Trump's desk that's good for Arizona," McSally said.
On the federal response to coronavirus
She defended the federal government's response to the coronavirus, blaming the severity of the pandemic on secrecy and mismanagement by China while arguing that the actions taken early on in the U.S. were consistent with what health experts were telling the Senate and the Trump administration.
COVID-19 was "a new virus," she said, and there were "a lot of things we know now that we didn't know then."
"I'm just telling you what the public-health officials were telling all of us at the time as we were learning about the virus. They were telling us not to wear masks. They were telling us the risk was low. They were telling us to go about our lives and not be fearful and not panic," McSally said. "We've learned a lot. We're doing the best we can."
But Kelly said the federal response has been a step behind from the start and still hasn't caught up, turning a public-health crisis into an economic crisis as well.
"We still need a national plan. We don't have one on testing and contact tracing. We lost months on this," he said through a mask printed with the Navy's blueberry blue camouflage. "We really have a failure of leadership that has made this much worse than it needed to.
"I mean there's only one metric you need to look at on this: We have 4% of the world's population, and we have more than 20% of the fatalities from COVID-19," Kelly said. "That's not a good record."
On leading by example and the politics of masks
Without mentioning McSally or Trump by name, Kelly also criticized leaders for politicizing the use of masks and other safety measures, calling it a missed opportunity to protect people.
"If we could have gotten everyone in Washington, D.C., on day one to say, 'Hey, we're going to set the best example possible, we're going to wear a mask all the time, we're going to encourage everyone to socially distance, wash their hands and then we're going to work really hard to get to a vaccination,' I don't think we'd be over 200,000 deaths right now," Kelly said.
McSally blamed "draconian" lockdown restrictions in some places for stoking frustration and pushback against masks, though she said she has been vocal in encouraging their use and wearing them herself in public settings.
"I'm just telling you what I'm doing," she said. "I think everybody needs to set the example for each other and use common sense."
As for the president, she suggested he is in the unique position of not having to wear a mask if he doesn't want to.
"Like he's in his own category, you guys," McSally told the Star editorial board, three days before Trump announced that he and the First Lady had contracted the virus. "He gets tested all the time, people around him get tested. Every time I've gotten tested, it's because I'm going to be around him, and so it's just, it's just not the same."
On fixing the health-care system
McSally and Kelly are scheduled to meet for their one and only debate on Tuesday, Oct. 6, hosted by The Arizona Republic, Tucson-based Arizona Public Media and Phoenix public radio station KJZZ.
Monday, Oct. 5, is the last day to register to vote in the general election. Early voting starts two days later.
The winner will serve until January 2023, completing the final term McCain won in 2016, two years before he died.
Gov. Doug Ducey appointed McSally to the post in December 2018, the month after she lost her bid for Arizona's other Senate seat to Democrat Kyrsten Sinema.
The two candidates also differ on health-care policy. Kelly favors building on the Affordable Care Act and providing a public option that would compete with private insurers.
McSally wants to jettison the "failed" ACA and opposes any government takeover of the health-care system, though both candidates have pledged to protect people with preexisting conditions from losing their coverage or being priced out of the market.
McSally's commitment on that front has drawn criticism and attack ads that point to her record of support for measures that would weaken or repeal ACA and its built-in protections for those with preexisting conditions.
She said Obama's signature health-care policy had great intentions — including some that she shares — "but intentions don't equal outcomes."
"I meet people every single day in Arizona right now, under the Affordable Care Act, who can't afford their health insurance. So they're uncovered," McSally said. "It's not working for them."
Kelly acknowledges problems with Obamacare that have led to high costs and limited choices for Arizonans, but he blames Congress for politicizing the issue instead of solving it.
He said more competition and negotiation is needed to drive down costs, starting with freeing Medicare officials to negotiate the price of prescription drugs.
On surprise billing and the Supreme Court
Kelly has also called for an end to unexpected and shockingly high medical charges that are driving some patients into bankruptcy, though he himself has been criticized for profiting off the practice.
As recently as February of 2019, Kelly served on the boards of two medical transport companies that fly patients long distances for life-saving treatments. The industry has made news in recent years for billing unsuspecting patients huge amounts of money — hundreds of thousands of dollars in some cases.
Kelly said he was brought in to advise the companies on air operations and flight safety, not the rates they charged for their services.
"My experience was about trying to make this as safe and as operationally effective a process as possible," he said.
He added that the work such companies do is "rather challenging," but he said patients deserve transparency and affordability from their medical care. "We need to end surprise billing," he said.
McSally and outside Republican groups have launched attack ads highlighting Kelly's connection to the medical transport business.
They have also slammed him for his other business relationships, including lucrative speaking engagements and his role with Tucson-based aerospace company World View, though independent fact-checkers have labeled some of those attacks as false or misleading.
The future of the Affordable Care Act could soon be in the hands of the U.S. Supreme Court, and predictably, perhaps, McSally and Kelly have staked out opposite positions on filling the vacancy left by the death of Justice Ruth Bader Ginsburg.
Kelly wants the confirmation process to be paused until next year, so those elected to the Senate and the White House can participate and voters can have a voice in the lifetime appointment.
McSally, who has already voiced support for Trump nominee Judge Amy Coney Barrett, said historical precedent and the Constitution call for the process to move forward without delay.
On gun control and getting things done
Kelly admits he might not be running for office right now had his wife's political career not been cut short by the Jan. 8, 2011, assassination attempt that killed six people and left her with a brain injury.
Since then, Kelly and Giffords have become outspoken gun control advocates, earning him an "F" grade from National Rifle Association.
He said the issue is obviously a personal one for him, but he comes at it as "a gun owner and a supporter of the Second Amendment."
Kelly supports what he called commonsense solutions favored by most Arizonans — namely background checks for all gun sales, stronger domestic violence legislation, and state and federal red flag laws that would allow guns to be removed from people who are a danger to themselves or others.
"Now we need to respect our rights and traditions," he said. "But we can never get to the point where we think a bunch of kids getting killed in the classroom is something we have no control over. Because we do."
The NRA "A"-rated and endorsed McSally said she is hesitant to enact new restrictions on guns, preferring instead to strengthen and properly manage the existing background check system to make sure dangerous individuals don't fall through the cracks.
Another way to reduce gun violence is by addressing shortcomings in the mental health-care system, she said. "But we also need to ensure that law-abiding citizens have their constitutional rights protected."
Whatever is done will require bipartisan cooperation, McSally said.
Photos: Pusch Ridge Christian Academy wins football opener, 41-6
Pusch Ridge Christian vs Eastmark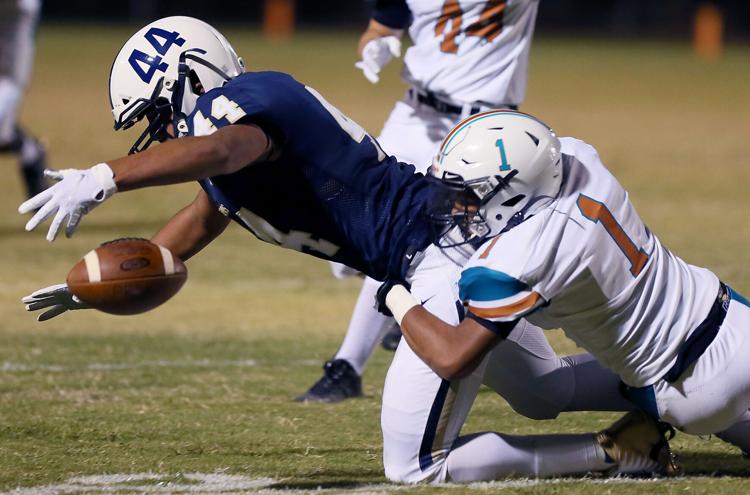 Pusch Ridge Christian vs Eastmark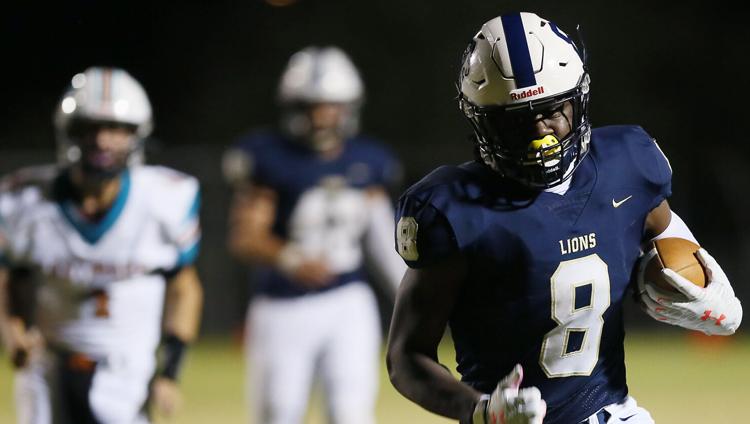 Pusch Ridge Christian vs Eastmark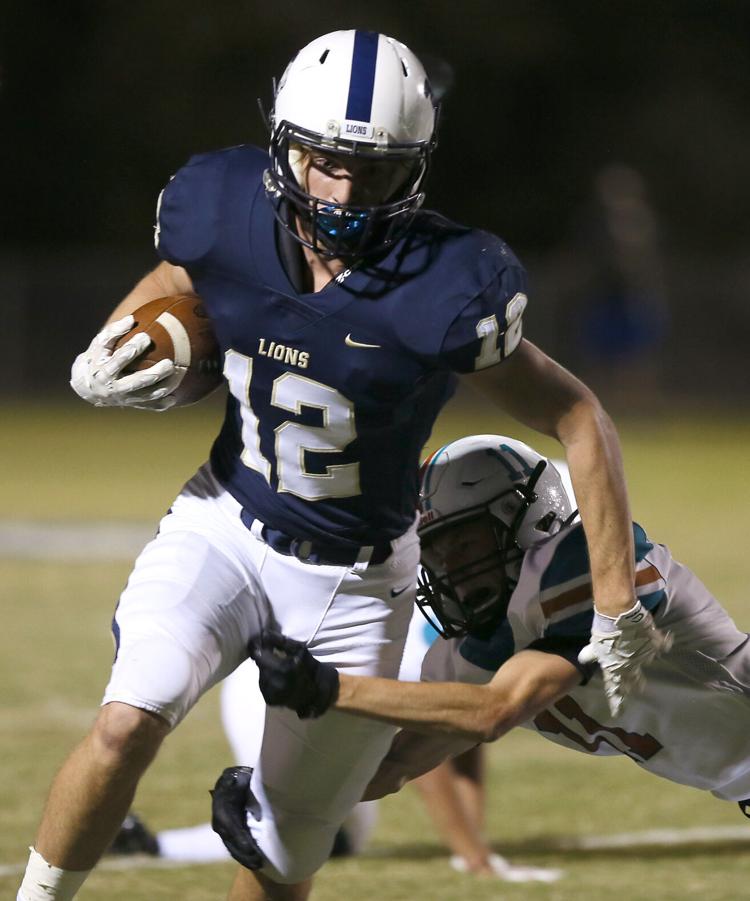 Pusch Ridge Christian vs Eastmark
Pusch Ridge Christian vs Eastmark
Pusch Ridge Christian vs Eastmark
Pusch Ridge Christian vs Eastmark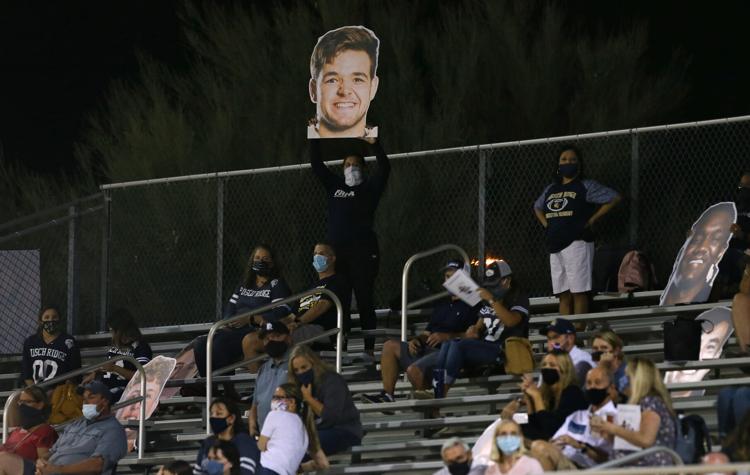 Pusch Ridge Christian vs Eastmark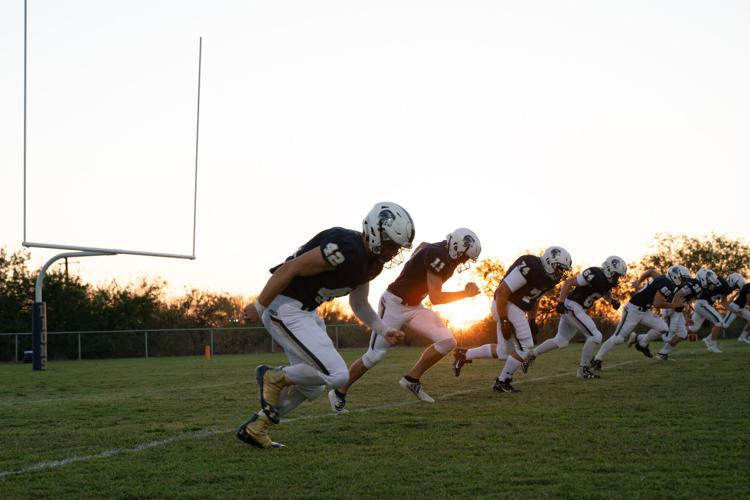 Pusch Ridge Christian vs Eastmark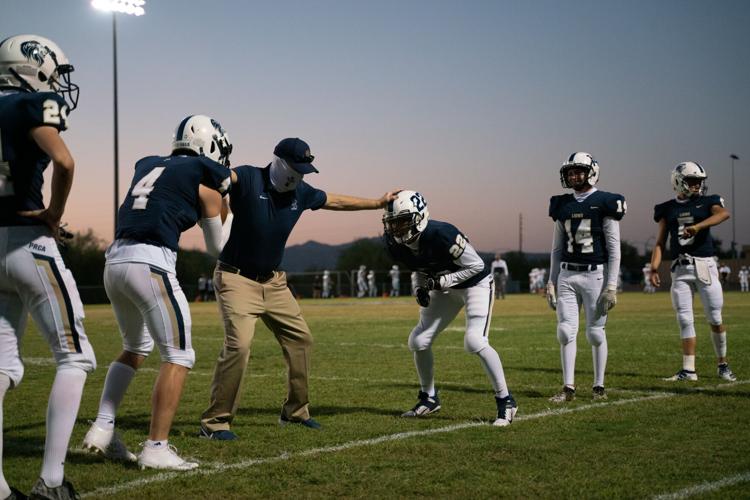 Pusch Ridge Christian vs Eastmark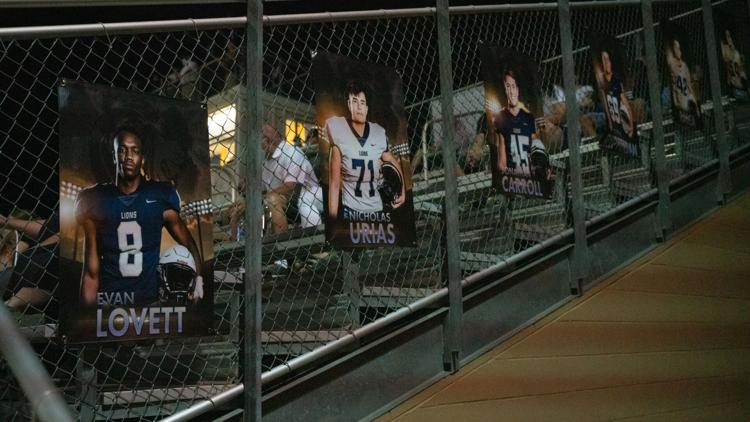 Pusch Ridge Christian vs Eastmark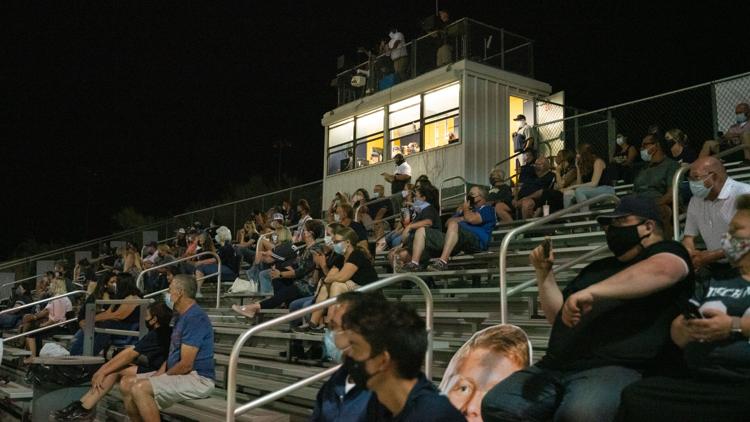 Pusch Ridge Christian vs Eastmark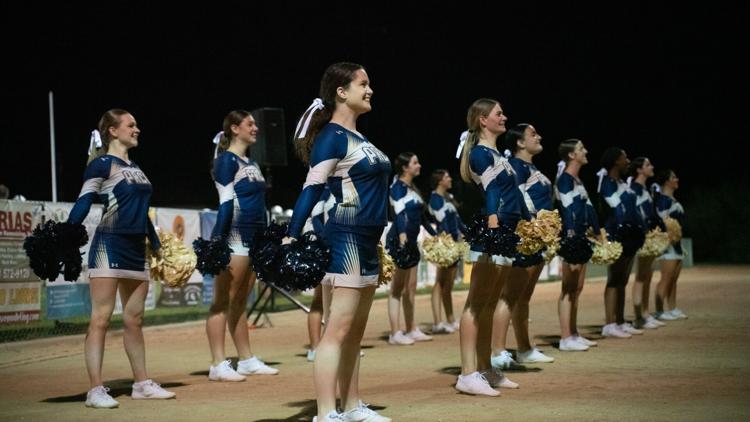 Pusch Ridge Christian vs Eastmark
"Often what happens in Washington, D.C., is you have people stand in their corners, and they just don't do anything to address issues," she said.
Contact reporter Henry Brean at hbrean@tucson.com or 520-573 4283. On Twitter: @RefriedBrean.