Last week, those same eggs cost just shy of $70.
"It's insane. It started gradually increasing; it went to $14 and then $21 and then it just skyrocketed," said Mitzi Satterfield, the longtime general manager of the restaurant in Bisbee's storied Lowell district, which also has locations in Tucson and Phoenix. "I don't think we went to the $30s; it went straight to the $50s."
At Tucson's popular Prep & Pastry's two Tucson locations (2660 N. Campbell Ave, and 6450 E. Grant Road) that use the more expensive free-range eggs, owner Nathan Ares has also seen a triple-digit increase in egg prices; he recently paid $96 for a case of 15 dozen eggs, he said.
"It's crazy. It just hasn't stopped. It keeps going up," he said. "We're eating costs at the end of the day because we can't keep raising prices. There will be a time when we are outpacing the market."
"Eggs are exactly the same price as one piece of shrimp," said Gerard Meurer, chef and kitchen manger of the Baja Cafe locations at 2970 N. Campbell Ave. and 7002 E. Broadway that are owned by his partner, Kim Scanlan. "It's really hard for me to wrap my head around going from $20 to $70 (per case); that's (nearly) a 300% increase."
Tucson restaurants that specialize in breakfast say the rising cost of eggs since early last year has put a hurt on their very thin profit margins, and many have no answer for the situation beyond incremental menu price increases and waiting to see if the market price of eggs eventually stabilizes.
Egg prices have been steadily climbing since last year, when inflation was on the rise and prices of everything were going up. But while some prices have started to drop as inflation eases, eggs have taken an even bigger leap since last March. That's when the CDC reported the country's first cases of bird flu impacting commercial and backyard poultry in 13 states.
By early December, 52.7 million birds in 46 states had been affected, according to the CDC, eclipsing the 2015 U.S. record of 50.5 million birds.
Farms that report even a single hen with bird flu are required to destroy whole flocks, which has led to a shortage of eggs nationwide and skyrocketing prices.
For the 70-year-old south-side institution Ajo Cafe, at 3132 E. Ajo Way, sometimes finding enough eggs is a bigger problem than the price. Employee Max Cano, who often shops for the restaurant at Costco or Restaurant Depot, said it has been hard some weeks to find enough eggs. Costco in recent months put a limit on how many eggs it would sell per transaction to keep enough product on the shelves for its members.
When he can find eggs by the case, Cano said the price is between $70 to $100 depending on the size of the eggs.
"Obviously this year we had to raise our (menu) prices again," he said.
The $1 increase matched the price hikes of Baja Cafe and Prep & Pastry, but the restaurant owners say the jump doesn't begin to scratch the surface of their costs.
Between the two locations, Baja Cafe goes through 60 to 65 cases of eggs a week, which Meurer estimates will increase the company's operating costs by as much as $150,000 this year.
"We have to find revenue to replace that," he said. "In places that go through four cases of eggs a week or so, it's not going to make a difference, but for a lot of the breakfast restaurants … it's kind of the area where you make your money. The egg part of the dish is the area where you could increase your revenues, but not any more."
When Scanlan opened her first Baja Cafe on Broadway in March 2014, she offered a weekday breakfast special of two eggs, choice of sausage or bacon, hash browns and toast for $3.75.
The price today at the Broadway location is $7, including coffee. That same breakfast on weekends and daily at the Campbell Avenue restaurant is $13.75.
"The goal when we opened was to offer fun, interesting breakfast at a reasonable price," Meurer said. "It's still fun, but it just feels like we're getting so far away from reasonable price."
"Honestly, I don't know how the little mom and pops do it," added Ares, who said the cost to produce Prep & Pastry's breakfast sweets has risen 10% with the increase in the price of eggs, butter, flour and sugar.
"We play it as a marketing plug; come in and grab a pastry and we'll make money in other areas," he said.
That is no longer the case.
"Literally everything we sell has gone up through the roof. We have raised some prices; nothing crazy, but we have adjusted," he said.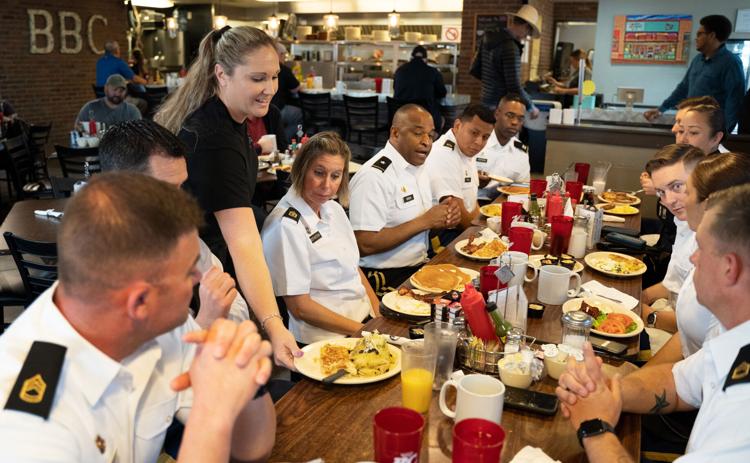 At Bisbee Breakfast Club, Satterfield is not optimistic that egg prices will go down anytime soon.
"I think it's just going to keep going up and up," she said. "We're not going to get a break."
Every time she has to raise menu prices, she sees a trickling off of regulars, diners who drop in daily to the popular breakfast and lunch restaurant.
"It's not extreme, but I see it in the flow of my restaurant. I see regulars who were in every day coming in once a week," she said. "I might be in Bisbee, this little tiny town that if you blink you're going to miss it, but I tell you, I got some amazing people and they come from all over and we are very, very blessed."