We realized we made a mistake when the pineapple came out. Sliced lengthwise, spread on a bed of lettuce fronds and stuffed with half the contents of the Monterey Bay Aquarium, the tropical fruit looked like something you'd pass around during a luau.
But here we were, sitting by the window staring out onto a Spanish breezeway of red bricks, the only thing that stood between us and Oracle Road. The table was filling up fast and they hadn't even brought out the chorizo burger yet ...  
We were inside the bones of one of Tucson's oldest restaurants, Club 21, which served classic Arizona-Sonoran Mexican food for 73 years until it closed last summer. Owned by the same family for its entirety, Club 21 had lasted six years longer than its sister restaurant John Jacob's El Parador, a lush jungle oasis of Sonoran food on Broadway.
In the end, El Parador's massive structure suffered the fate of the wrecking ball. But the cavernous space that held Club 21 is still kicking. And now, it's a trendy Central Mexican restaurant.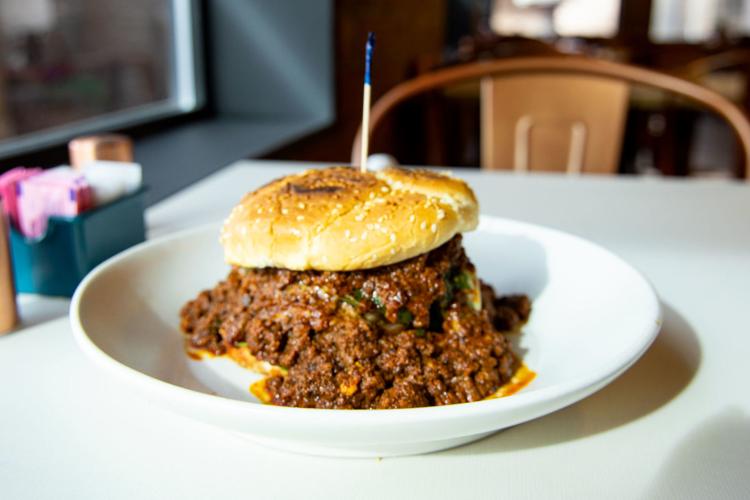 When Club 21's owner Taft "Skip" Jacob decided to shut his doors, he reached out to longtime friend Lenny Mark about taking over the space. Mark is the second generation owner of another iconic Tucson restaurant, Bamboo Terrace. This Chinese restaurant has been a fixture of the southwest side for 26 years. A stripmall spot on Ajo and South Mission Road, Bamboo Terrace is the kind of place where you'll hear people ordering egg rolls and moo shu pork in Spanish.
Lenny's wife Blanca Mark has been working at Bamboo Terrace for about 16 years, and is a native of Guadalajara, Mexico. For the new restaurant, she teamed up with chef Yaxkin Andrade from the neighboring Mexican state of Nayarit and developed a menu with popular dishes from across Central Mexico. She named the restaurant El Chinito Gordo, a loving term for a chubby Chinese guy (AKA her husband).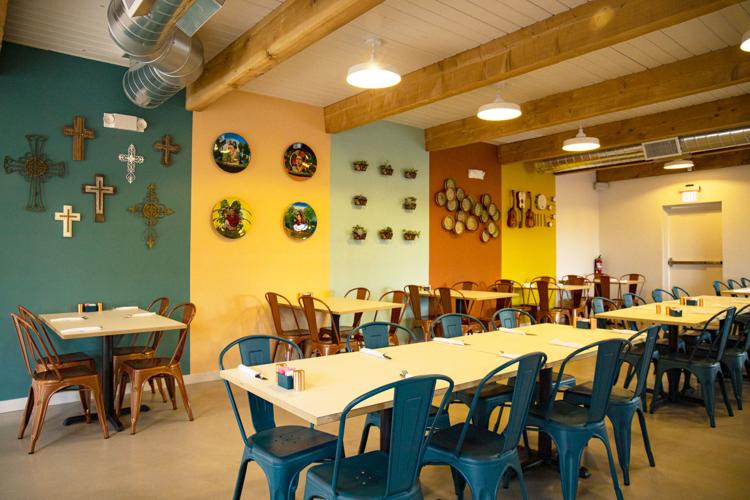 The new spot has a fresh and colorful look, with metal chairs and decorative Frida Kahlo plates on the walls. The menu includes many of the traditional Norteño foods we love, like chimichangas and egg-battered chiles rellenos. But they're scattered among more unique Central Mexican dishes like a chocolate mole and a chile en nogada with pomegranates and walnut cream sauce. There are also some heavy nods to millennial culture ... for example, a quinoa salad on the lunch menu.  
This is where we got into trouble. Let's just say, there are more than a few bangers on this menu. And when you're only a table of two, that becomes an issue. There was no getting out of the pineapple seafood boat, which we ordered for shear presentation alone. But culichi of any kind is imperative when you see it on a menu, as we did here with the eggless chile relleno con camarones. (Our server just called it the "eggless" for short, to differentiate between that and the Sonoran chile relleno also on the menu.) 
A staple of Sinaloa, culichi is that lovely green sauce made from roasted poblanos and cream, usually paired with fat little shrimpies in melty white cheese. El Chinito Gordo's version features a shrimp-stuffed poblano pepper that protrudes from the sauce like the castle at Emerald City. The pepper has just a bit of crunch to it, but sweetly gives away at the touch of a fork, allowing for the perfect bite of cheesy shrimp.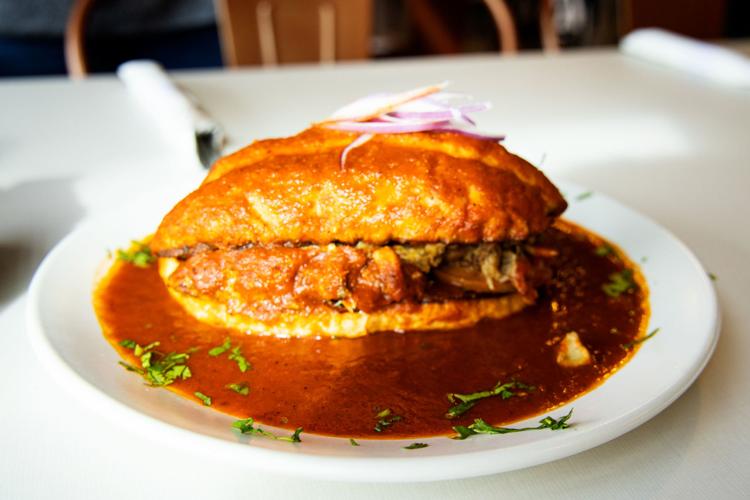 The sloppy Joe-style chorizo burger may be the restaurant's biggest seller, but my favorite item on the menu so far has got to be the torta ahogada. The drowned sandwich is the No. 1 specialty of Blanca's hometown Guadalajara, and she definitely does it justice here.
The soft bolillo bread is smothered in a silken chile de arbol sauce, only slightly spicy so that it gives a little zing on your tongue. And the roasted pork inside, yummm! There's a little crispiness and a lotta flavor, especially when you throw one of those red onions on there.
Make sure to get a housemade agua fresca to cool it down. (During our visit, they were serving strawberry horchata.) We were tempted to get one of their many margaritas, but we were just here for lunch after all ...
El Chinito Gordo is at 2920 N. Oracle Road. Phone: 520-822-8776. Hours: Monday through Thursday 11 a.m. to 9 p.m., Friday and Saturday 11 a.m. to 10 p.m., Sunday noon to 9 p.m.