As the spread of COVID-19 forces people to stay in their homes and dining rooms to shut down, restaurants are facing an unprecedented crisis. This is the first of a series that profiles Tucson restaurants — to show how they're fighting to keep their businesses alive during this uniquely challenging time. 
Keep calm and carry out at Renee's Organic Oven
The first symptom of coronavirus was an unsettling sound that wafted across the restaurant. Earlier this month as reports of the infectious disease began to stream in from around the world, Renee Kreager could hear the very beginnings of something big. 
"I'm looking at our dining room, and there's a certain elevation of noise that says, 'This is all right,'" she says. "When you get to that level of noise, you know all systems are go. That noise was there, and it didn't feel good."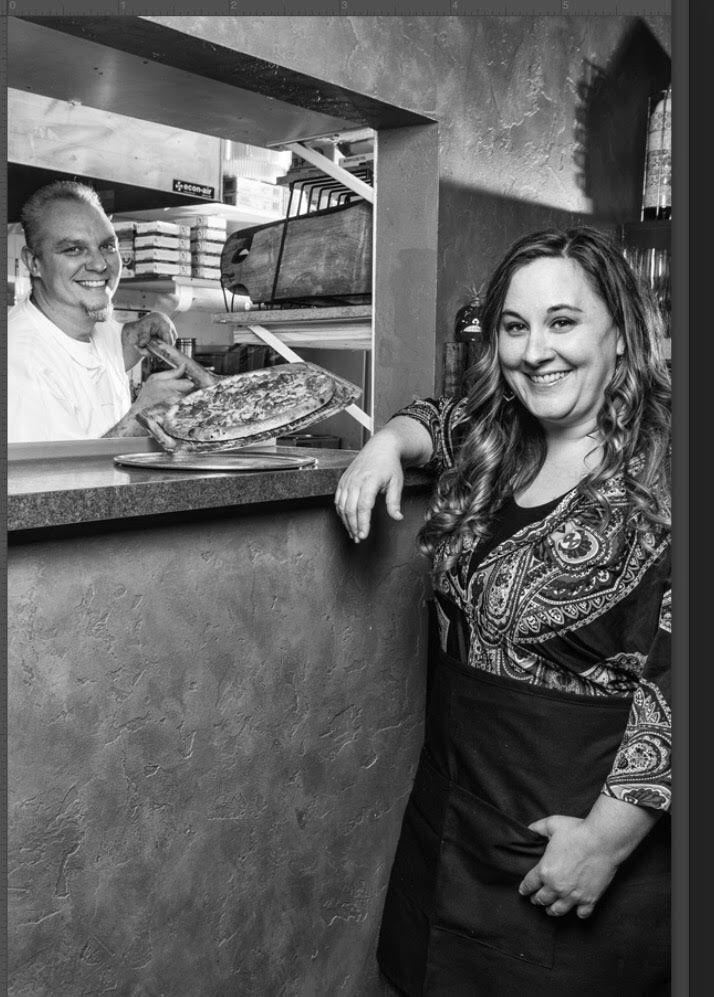 Along with her husband, Steve, Renee owns a health-conscious bistro on Sabino Canyon Road called Renee's Organic Oven. She has made a career out of being in touch with the general wellness of people around her. That night after feeling something was off, she reached out to a friend who was living in Italy. Her friend's response was so strong that Renee literally dropped her phone and started crying. 
"Her words back: 'Close everything now, this is not a joke. I urge you to do something right now.' To me, the message was so clear," Renee says. "We're in this small community, in one of the poorest counties in Arizona. We have a fragile system of everyone relying on each other. It just terrified me."
This talk led to a plan; Renee's Organic Oven would be one of the first restaurants in Arizona to close its dining room, several days before the city of Tucson mandated it on March 17. Her first step was to walk through the restaurant with a pen and paper, asking each staff member individually what they needed to survive over the next few weeks. Together they decided who would work and how much, and who would be taken off the schedule.   
Some employees wanted to help for free, which was not possible. And there was also another issue, that some employees could have people with health compromises at home. The hardest decision Renee had to make was to let go of four of her employees, a couple of whom had been with her since the restaurant opened 16 years ago. 
"I really wanted to be very clear with them," she says. "I can't save you. If we can't come up with a creative solution, I can't rescue you. I can only do this, and I'm gonna lay out what I can do." 
Meanwhile, Renee was extremely vocal on Facebook, sending daily updates about her restaurant's stringent new sanitation policies; a "touch-free" takeout menu where diners place an order over the phone and pick it up from an empty patio table outside; and even a GoFundMe drive to support the staff. So far, Renee's Organic Oven has collected $3,553 of their $15,000 goal.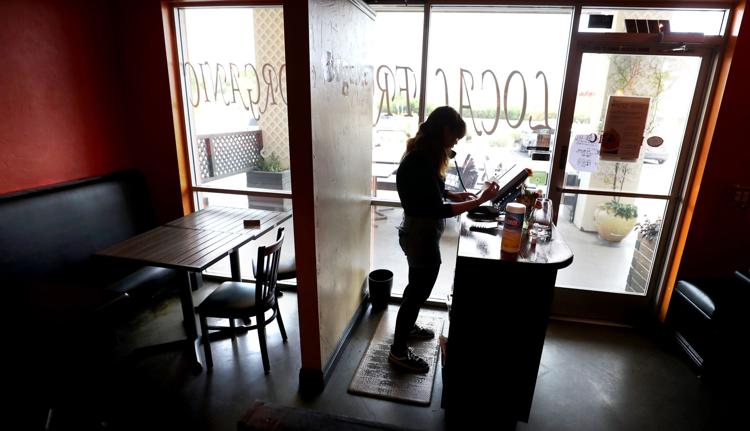 This early and clear response may have had a positive effect on business. Renee reported that so far, her dinner takeout numbers have been strong, even while lunch has been a little lacking. She is still very worried about the future, especially when it comes to supporting the local providers that supply her cheese, honey and more. For now, she has called off plans to move into a larger space around the corner. 
"I would not feel OK if I made any different choice," she says. "This whole (coronavirus) thing was made for my thinking. Some people went out and they bought all the toilet paper. This was my panic action: Find something that you can do about it ... It's gonna get hard, and it's gonna be extremely rewarding to see who we all are." 
Beautiful brunch spot pivots to curbside and delivery
On most ordinary Sundays, you can spot half of downtown Tucson waiting for a table at 5 Points Market & Restaurant. The airy dining room and beautiful red brick walls give off a unique Tucson charm, one that's earned the restaurant recognition in national publications like the New York Times.
But these haven't been ordinary Sundays, as Jasper Ludwig and Brian Haskins have started to find out. Over the past few weeks, the owners of the popular brunch spot watched their weekday numbers go from 200 covers a day to 150, and then to 50, and then down to just 20.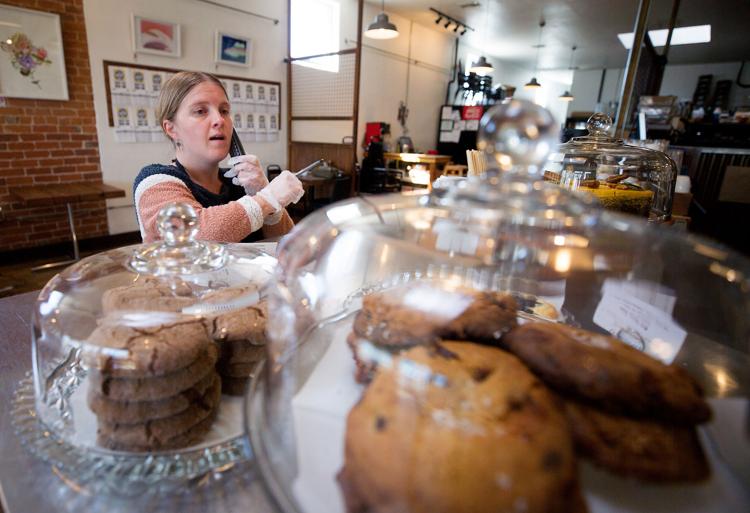 "The public is just really freaked out and understandably so," Jasper says. "There's not a lot of information coming our way, it's just the fear of the unknown."
As they saw this change unfolding, the two were eager to "stay ahead of the curve" by becoming innovators in their community, and promoting their plan on social media. The two would stay up until 11 p.m. brainstorming ideas like ditching the paper menus and putting QR codes on the table so people could scan their phones and see them online. The day before the citywide mandate, they removed half of the tables in their dining room and drew up a new floor plan that would allow for social distancing. 
"It was this fresh air, chill, quiet peaceful environment," Jasper says. "We were like, 'This is nice, we can ride this out.'" 
But it quickly became apparent that technique would not work, and the future of their charming little restaurant was at stake. Since business had been going well up to this point, 5 Points had been putting most of its profits into future projects like implementing a bar program and a possible expansion of the restaurant. As a result, they didn't have the cushion they needed to survive for weeks without money coming in. And on top of that, they had 32 employees to support. 
After the mandatory takeout order was announced, the two developed a plan. They would go full curbside takeout, and have their servers with cars make deliveries to people's houses. They also started a GoFundMe drive for their staff and have raised $3,821 out of their $20,000 goal. They are also feeding their employees with produce from the restaurant's urban farm.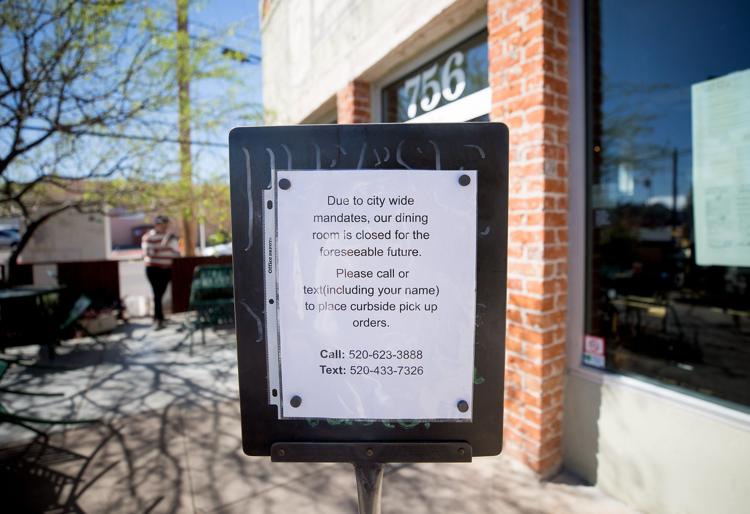 So far, they haven't had to lay off any staff members, but a couple employees asked to be taken off the schedule because they felt uncomfortable working in this risky new environment. They also had to halt their weekly Sunday 5 Points Farmers Market, as main vendors like Forbes Meat Company and Pivot Produce started to convert to a CSA delivery model. 
Brian is also looking into securing a loan from the local Community Investment Corporation to keep them going. "If we can do that, 5 Points is gonna be great. And we're gonna be a little smarter, if we're ever able to be a restaurant again." he says. "I think that we're on a great trajectory for making sure we come out on the other side."
Seis Kitchen goes back to its mobile roots
One of Tucson's most popular Mexican restaurants got its start as a food truck in 2012. And that casual approach may save it from #coronapocolypse.
"I feel totally lucky, our price point is quite low," says Erika Muñoz, who owns Seis Kitchen together with her husband, Jake. "That's the benefit of our business model (walk-up fast casual) is that people feel comfortable ordering to-go from us. We already have those systems in place."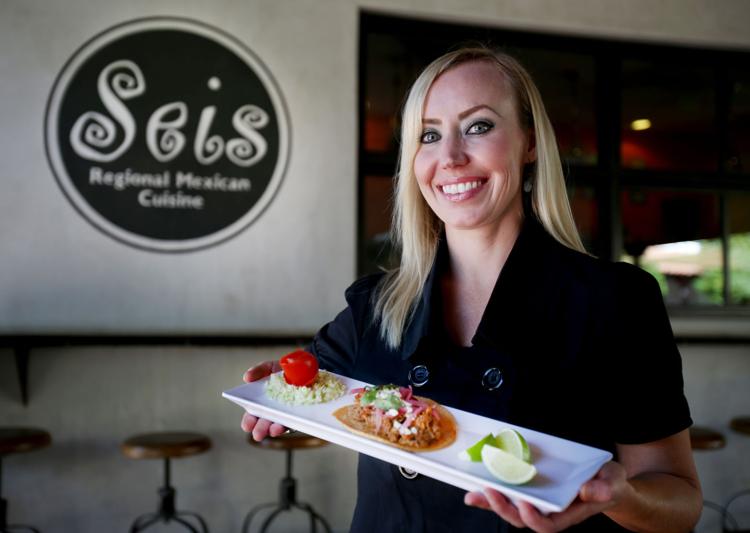 The trendy taqueria now has two locations, a walkup window at the westside Mercado San Agustin and a roomier restaurant in Joesler Village at River and Campbell. (They also deliver through Doordash, which recently announced it's temporarily nixing its commission fees to help out local restaurants.) Seis employs 85 people and has not had to lay any of them off so far, although they have had to reduce hours to adapt to the new takeout reality. 
Right now, customers can still walk into both the Joesler Village location and the Mercado San Agustin and take their food to-go. On Thursdays, the Mercado is also hosting a drive-up farmers market where you can pick from a small list of already-bagged fruits and veggies without getting out of your car. Many of the Mercado District's businesses like Presta Coffee, Kukai and Westbound have remained open for takeout as well. 
The taqueria also got a boost this Friday when Governor Doug Ducey's mandate went into effect, allowing restaurants to sell alcohol in takeout and delivery orders. People still "don't hang out and have margaritas and chow down on nachos" though, Erika said. So while the business is getting by, it's still not great.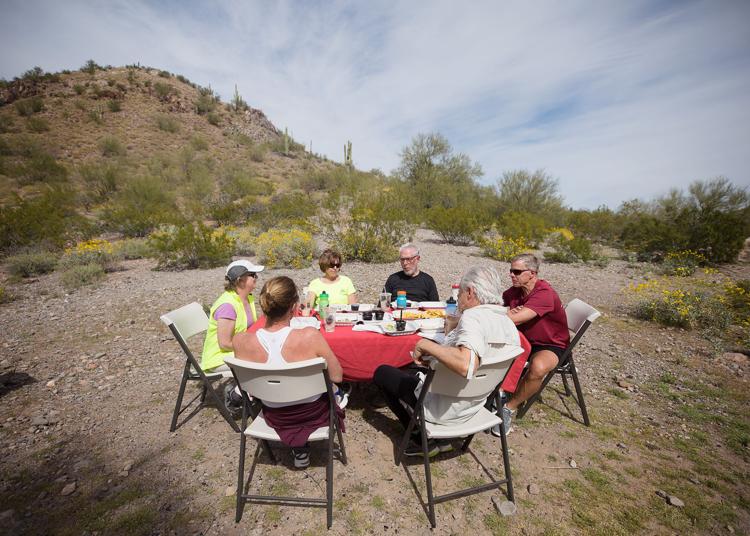 Their biggest fears right now are making sure that employees are safe and healthy. To help offset the reduction in hours, they've been giving employees free food boxes so they don't go hungry. They're also amping up their sanitation measures and making sure there aren't more than 10 employees working in each restaurant at at time, so that everyone can maintain social distance. 
Erika is worried about her vendors like Santa Monica Seafood, which until recently provided the restaurant's daily fresh fish special. Seis had to take that off the menu because it wasn't selling fast enough for the takeout customers.
"The hospitality industry is being hit the hardest right now. It's a trickle down effect: products, linen services, all of those purchases will decrease as well," she says. "(Restaurants) are a huge supporting industry that support a ton of other industries."