A population the size of Oro Valley, more than 45,000 students in all, returns to the University of Arizona this week to start another year of higher education.
Of those, close to 10 percent, or about 4,100 students, come from other parts of the world.
For many members of the UA's international community, some who have traveled thousands of miles to study in Tucson, food is often a way to stay connected to the countries from which they hail.
We asked three students where they go to dine when they are looking for a taste of home.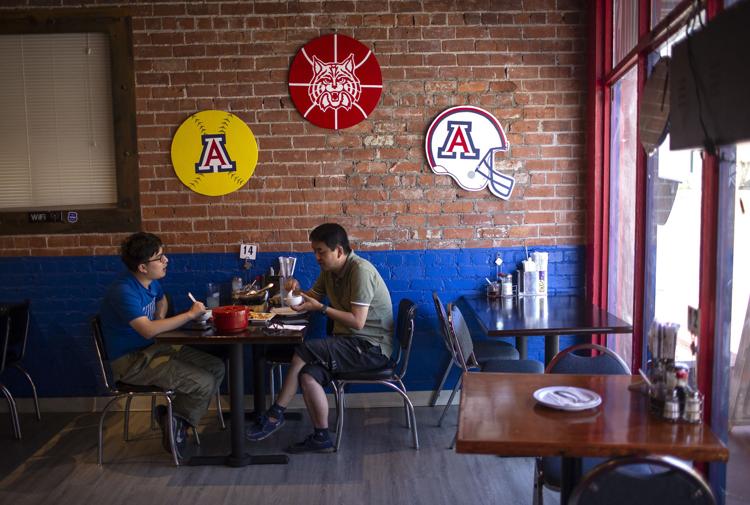 Xiaoyu Zhao, 21
When Xiaoyu Zhao first arrived in Tucson from Tianjin, China, to study geography and information science and technology at the University of Arizona, he turned to the person closest to him at the time for guidance on where to eat.
Zhao, who goes by Ryan Zhao, asked if his roommate could take him to a good Chinese restaurant in town.
They ended up at Panda Express.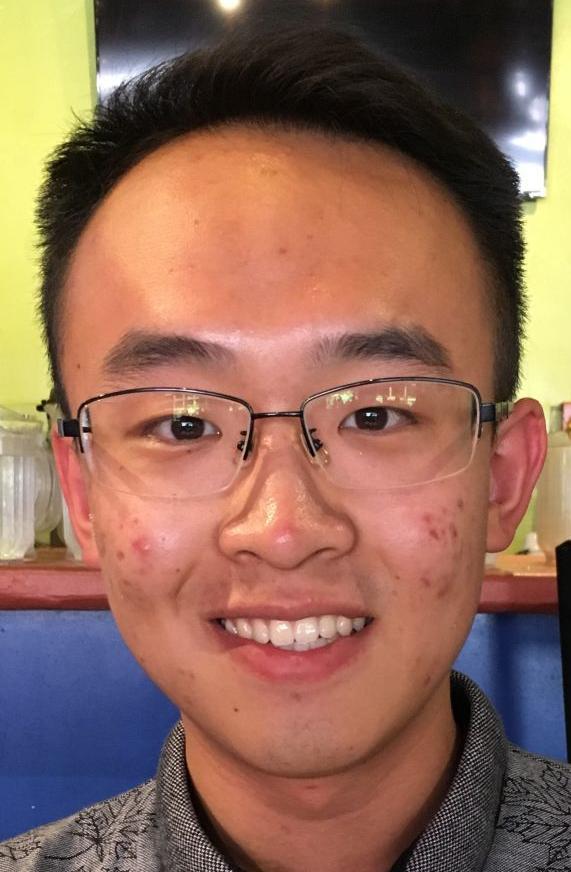 "I said, 'Wow! I lived in Beijing for two years and had never heard of Beijing beef,'" Zhao joked. "And teriyaki chicken is Japanese."
Three years later, and Zhao, 21, has a better grasp on where he can go in town for more authentic eats.
But Zhao's go-to spot when he fancies spicy Sichuan-style dishes is Panda House, just south of the UA campus at 1118 E. Sixth St.
Located in a space that was home to the Rhino Pub, Gooch's Grill, Aussie Cantina, Brew of A, and several other bars and restaurants over the last 15 years, Panda House opened two years ago this November.
Owner Hongjie Chen and her husband, Tianxi Shu, ran Hong Kong Restaurant in Florence before moving to Tucson.
Chen now runs Panda House, while Shu runs China Valley restaurant in Oro Valley.
When the couple first opened Panda House, one of the objectives was to attract the university's Chinese students, according to their daughter Yuting Shu, who helps her parents run both eateries.
About 70 percent of the restaurant's primary clientele are students from China, she said.
The family is from the landlocked Shanxi province, but Panda House specializes in Sichuan cuisine, a style of Chinese food known for its intensely hot, Sichuan pepper-driven dishes.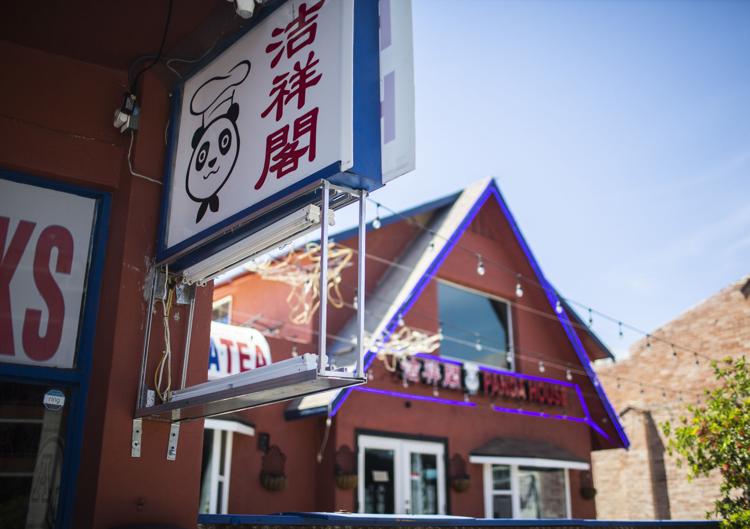 The chef is from Sichuan province, Shu said.
Zhao was born and raised in Shandong province in China, a coastal area with a diet more reliant on seafood, but learned to love spicy Sichuan meals when he moved to Tianjin, just east of Beijing, and started dating someone from Sichuan province.
"I couldn't have her bring me to her family and not be able to eat spicy food," Zhao said. "I needed to practice."
When Zhao is hungry, he hoofs it to Panda House for a bowl of Sichuan spicy noodles, its stewed beef with potato plate or the Ma Po Tofu, a popular Sichuan dish with tofu and minced beef, bean paste and chili oil.
Rarely a visit goes by that he doesn't order something off of the "Chef's Secret Menu," a separate menu written entirely in Chinese, "designed for Chinese tastes," Zhao said.
His favorite meal from that menu mixes beef, chicken and fish with potatoes, green onions and a variety of spices.
Zhao says he knows a number of Chinese restaurants have popped up in Tucson that strive to provide a more authentic dining experience, but nothing beats Panda House.
"If I'm dining out, I come here," he said. "If I have friends come to visit, whether they are Chinese or not, I take them here."
Shu said her family plans to heighten the experience by opening a boba tea shop in the building next door by October.
Panda House is at 1118 E. Sixth St. Its hours are 10 a.m. to 9:30 p.m. Mondays-Thursdays, 10 a.m.-10 p.m. Fridays, 11 a.m.-10 p.m. Saturdays and 11 a.m. to 8 p.m. Sundays. Visit pandahousetucson.com or call 888-8282 for more information.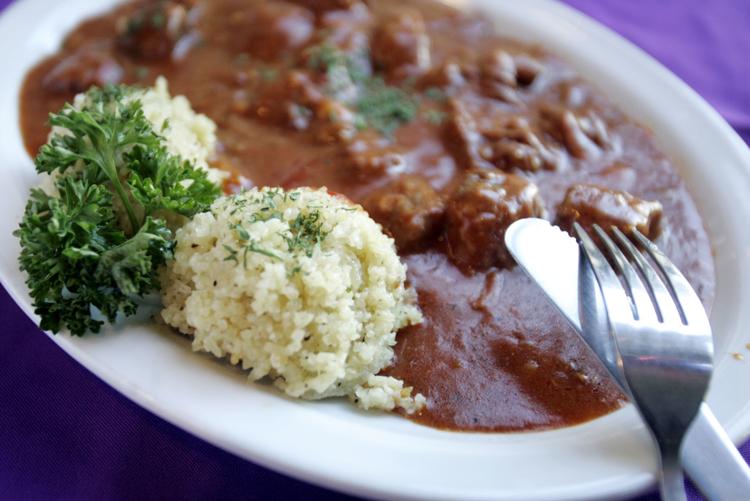 Monika Eres, 23
Google helped UA graduate student Monika Eres track down a restaurant in Tucson that served food the way she remembered from home.
Eres, 23, grew up in Pancevo, Serbia, a city of roughly 90,000 outside of the capital Belgrade.
Her grandmother, who lived with her family, made most of the meals, things like dumpling soup and rolled pork steak stuffed with kajmak cheese and ham.
Eres' favorite meal was cevapi, a grilled plate of beef sausages served with a type of flatbread called lepinja, a common staple throughout the Balkans.
A search for "cevapi in Tucson" online yielded one name over and over: Chef Alisah's at 5931 N. Oracle Road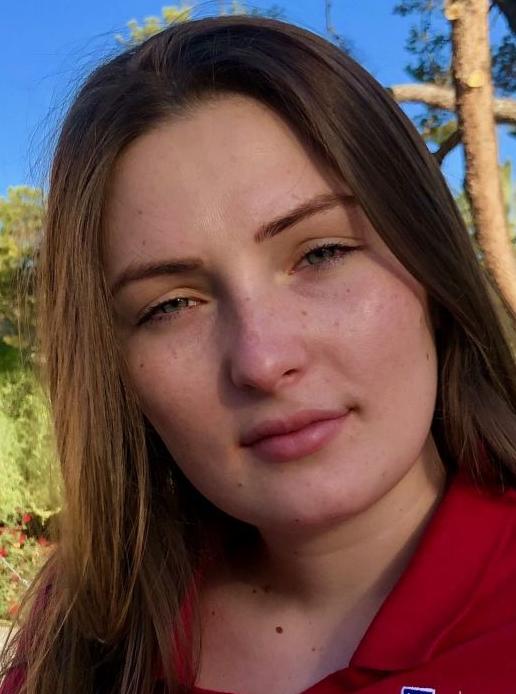 "I was excited to find Chef Alisah's," Eres said. "I was going to try to make cevapi at home, but I don't really know how to cook. I was happy that I could just order it."
Owned and operated by Ahmet Alisah, a Bosnian refugee who came to Tucson in 1998, Chef Alisah's offers a range of authentic Balkan delicacies.
Dishes include Bosnian meatballs in tomato sauce served with white butter rice, cabbage salad and homemade bread, and roasted lamb shanks offered up with a side of egg noodles.
The restaurant's cevapi, which comes with 10 or 15 sausages per order, is one of its specialties.
In 2008, shortly after the Chef Alisah's opening, Alisah bragged to the Star about his take on the popular dish.
"Nobody in the United States makes cevapi like me," he said.
The restaurant received national attention when it appeared on the Food Network series "Diners, Drive-ins and Dives" with Guy Fieri in 2018.
Eres, who earned her bachelor's degree from the UA in public management policy and criminal justice and is currently working on her master's degree in public administration, likes to order the cevapi at Alisah's with a side salad.
She also enjoys the sarma, cabbage leaves stuffed with ground beef, rice, onions and sauerkraut, and is partial to the restaurant's version of baklava, a pastry filled with butter, walnuts and sugar.
Eres said the restaurant reminds her of the type of restaurants you would see in Serbia.
"There is not a lot of décor," she said. "It is not fancy, but the food is great."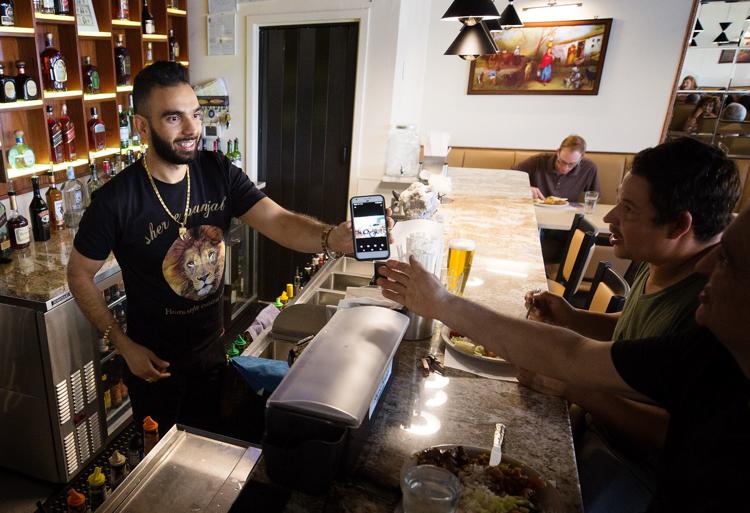 Jitendra Baid, 19
At 19 years old, Jitendra Baid is still a fresh face at the University of Arizona.
Baid came to the school in January and finished his first year of classes this summer, thanks to transfer credits earned through the International Baccalaureate program while living near New Delhi, India's capital city.
When Baid has a hankering for meals from home, he opts for Sher-e-Punjab, a longtime purveyor of North Indian food in Tucson, located in a strip mall at 853 E. Grant Road, just east of North First Avenue.
A vegetarian, Baid enjoys the variety of non-meat selections the restaurant offers in its daily buffet.
Manvir Singh, whose grandparents opened Sher-e-Punjab in 1998, said six out of 10 dishes offered at its daily buffet are vegetarian.
"When you eat at the student union on campus, a lot of times your options are limited as a vegetarian," Baid said. "(At Sher-e-Punjab) you can have a little of everything."
The restaurant also has a wide variety of vegetarian dishes on its regular dining menu, more than 26 in all, including a vegetable biryani, flavored basmati rice with vegetables and cashew, and a selection of meals with paneer, a popular style of cheese in India, as the main ingredient.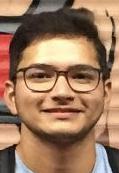 "Their paneer meals are really good," Baid said. "There are many variations."
When Baid wants something that really hits close to home, he orders a side of roti, a flatbread made from whole wheat flour, to have with his main dish.
As a child growing up in Kolkata, his mom used to make chapati, a variation of roti, on a regular basis.
"They are kind of like tortillas," Baid said. "I loved when mom made them. I used to eat them with vegetables, cooked cabbage."
Sher-e-Punjab isn't strictly vegetarian.
The restaurant also has an extensive selection of meat dishes, ranging from tandoori chicken to fish tikka masala.
"When friends ask me if the chicken curry is good, I tell them 'I don't know.'" Baid said. "I say, 'You have to try it at their own risk.'"
Note: This story was originally published in the Arizona Daily Star on Aug. 23, 2019.